Healthcare industry is witnessing massive technological innovations with every passing minute. Given how huge the industry is, these come under various verticals. One of them being: Hospital Management Software.
From healthcare apps, on-demand nursing homes facilitation, on-demand doctors, doctors appointment to even medicine supply, the various kinds of hospital management software cover them all!
Certainly, you're aware of apps like Practo, Lybrate, 1mg and DoctorInsta. These healthcare apps have made it possible for integrating technology with healthcare. If you consult any experts, they'll tell you about the rapid growth in various demands of the industry over the years. Nursing homes are catering to comparatively new demands like on-demand doctors and medicine supply.
Big hospital chains like the Apollo group even have their machinery set to deliver medicines at home within 24 hours. But, did you know that the scope is much greater than that? Managing multi-speciality hospitals would've been a daunting task if technology weren't there. Such apps fall under the category of Hospital Management Software.
What is Hospital Management Software?
These applications or software comprise of computer or web-based software facilitating management/ functions within a hospital or any medical set up. Basically, it is like an alternative to paper-records given how difficult it can get to manage and stack them.
These kinds of software integrate important information regarding various strata of people involved. For instance, patients, doctors and other hospital administration staff members' details.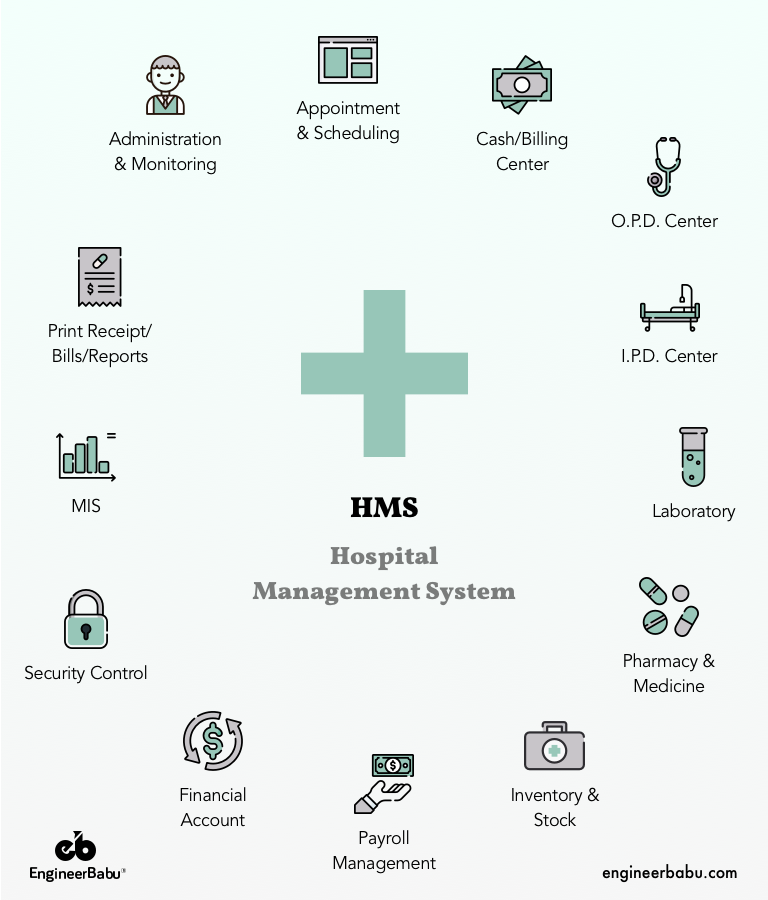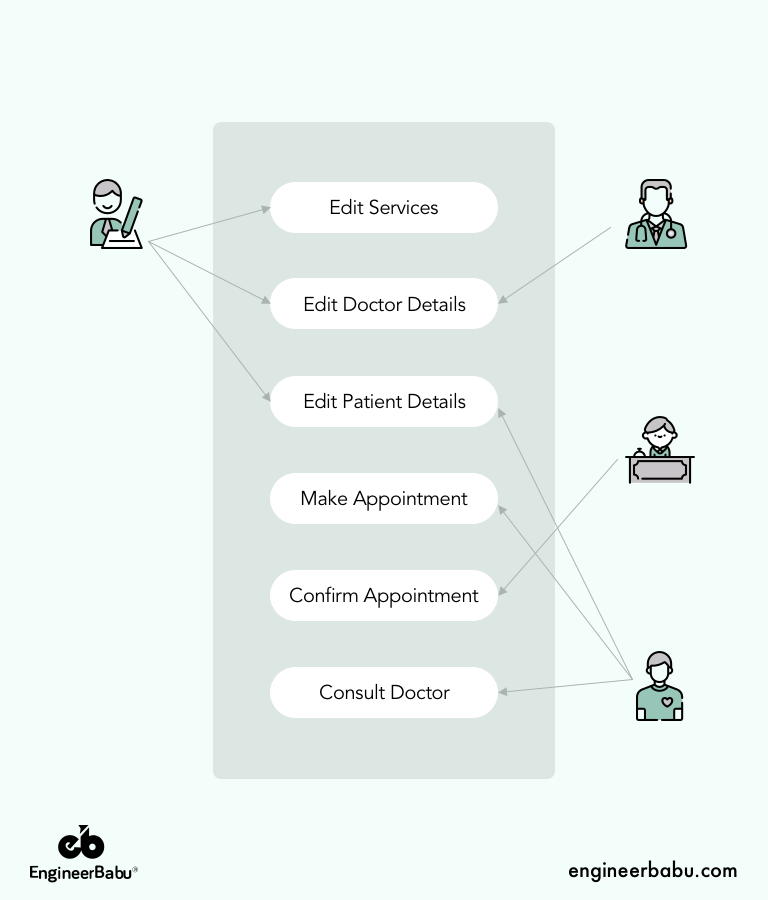 Robust computer or web-based hospital management system software can help in automation of patients as well as the medical professionals. There are numerous advantages for doing so: efficiently managing operations like quick diagnosis, timely patient care, collection of data for future reference, booking appointments, fast billing and generation of EMR (Electronic Medical Record), etc.
Recommended Reading: Top 10 Healthcare Companies in the US
In addition to that, doctors can quickly check the treatment history of their patients and test reports while taking time-crucial medical decisions. Patient management automates the process for various departments to work together and thus, provide optimum patient care. This has become a really important factor behind the growth in turnover of the healthcare institutes.
Patient Management Automation:
Patient management software is also commonly referred to as clinic management software, medical patient software, patient management software, or medical practice management software (MPM).
Such kind of applications or software can comprise of numerous automated systems developed to track patient information. This majorly includes their diagnoses, current and old prescriptions, interactions, encounters within healthcare organizations like medical clinics or hospitals. While some of them might just focus on general patient management, others could be to automate processes such as inpatient tracking or blood testing.
---
Common Features:
Let's take a look at some of the common features incorporated by the top hospital management software companies in the development of such apps:
1. Easy Access To Medical Records
The ability to store, track and access patients' medical records is a vital feature. While some hospital management software offer their own charting modules, others integrate with independent EHR/EMR solutions. Some companies integrate with other medical software for easy transfer of electronic health records between the care providers.
No matter what option you go for, charting features must record, update and archive the patient data within the software for access during future encounters. It produces flow sheets for each patient. These list chronic issues, previous diagnoses, surgeries, immunizations, test results and other important data.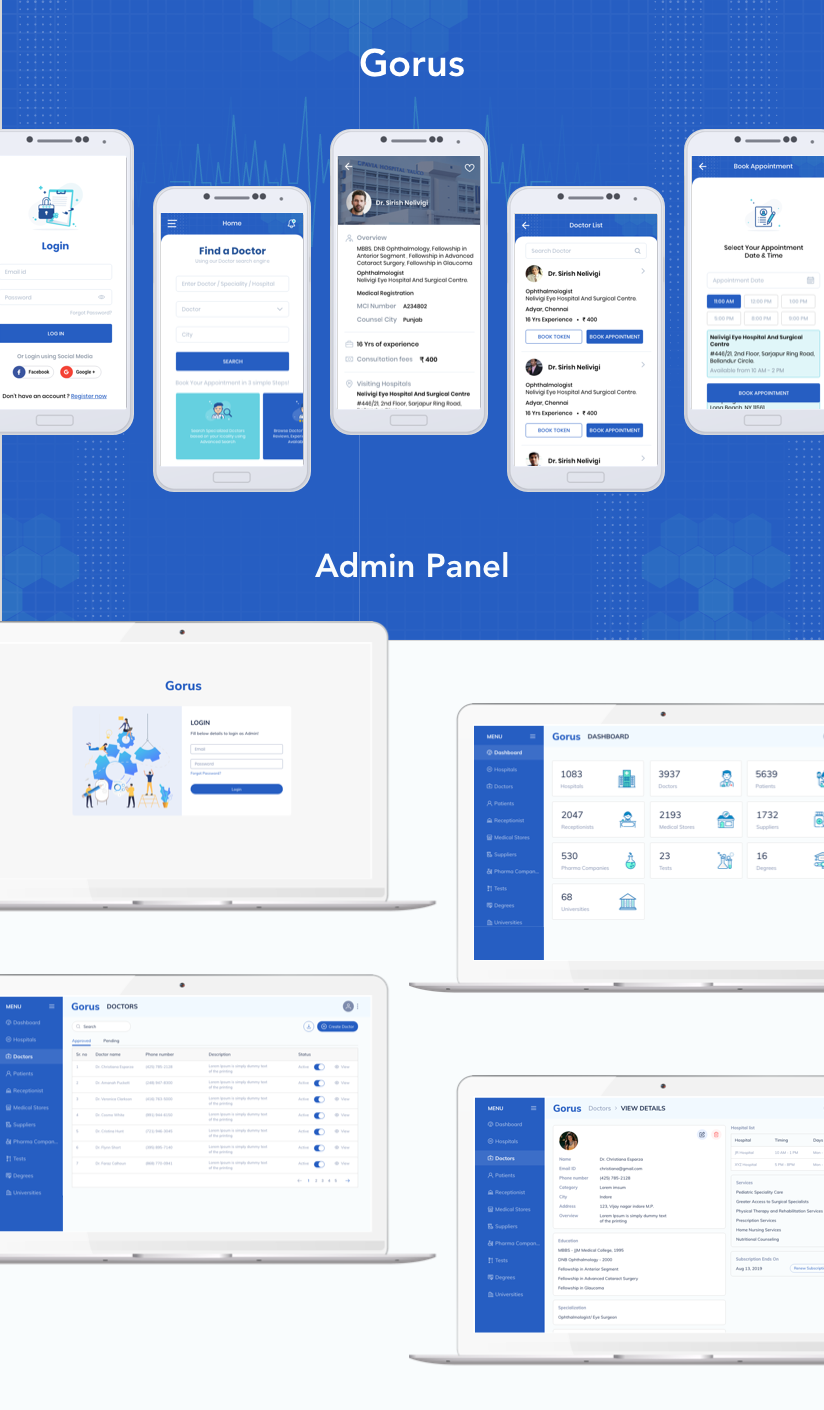 2. Access Patient Encounters
This category of patient management software is developed for tracking and managing the patient's previous medical encounters. It is facilitated by making the patients fill in electronic intake forms, prior to their visit to the medical facility. It streamlines a patient's initial hospital visits to reduce the time otherwise spent in filling out such forms manually.
Once the patient has arrived, they have the option to check-in electronically. The application also monitors exam room availability, while tracking the progress of each exam. Once an appointment is over, the application automates checkout procedure, including payment of the fee and follow-up appointment scheduling.
3. Scheduling Doctor Appointments
The management of every professional space has entirely transformed with technology. Nobody uses telephones anymore to make appointments. In the medical industry, hospital management software now come with a scheduling module. It allows patients to book their own appointments online with 24/7 access to a patient portal.
Another feature of this module is automated alerts when routine preventive care appointments have been due. For instance, if somebody's medicine prescription is very close to expiring, they would get an automated email from their doctor. It's helpful in promoting the number one thing people must do to stay healthy: get consistent preventive care.
Recommended Reading: Innovations in Healthcare to Watch Out this Year
It even has features like cancelling and rescheduling appointments within the software. This eliminates the need for your desk staff to do so. Once somebody makes an appointment, the patient management software sends automated appointment reminders via various sources: email, text or phone call. It reduces the likelihood that patients forget their appointments. These apps include appointment histories, including no-shows.
4. Medical Billing
During a medical emergency, it might get difficult to prioritise the order of things, especially the billing procedure. Hospital management software offer billing modules as well. The purpose is to reduce the stress incurred in the revenue cycle management process. It keeps a record of all past and present diagnoses and payment information.
Suppose a patient has checked in, the medical billing module will verify insurance eligibility to ensure both parties are on the same page about deductibles and copays. After encounters, medications, surgeries and other medical services, HMS automates the entire billing process for standardizing bill and payment collections. In case payments have been due, the software can issue automated payment reminders for patients to pay directly via online portals provided within the application.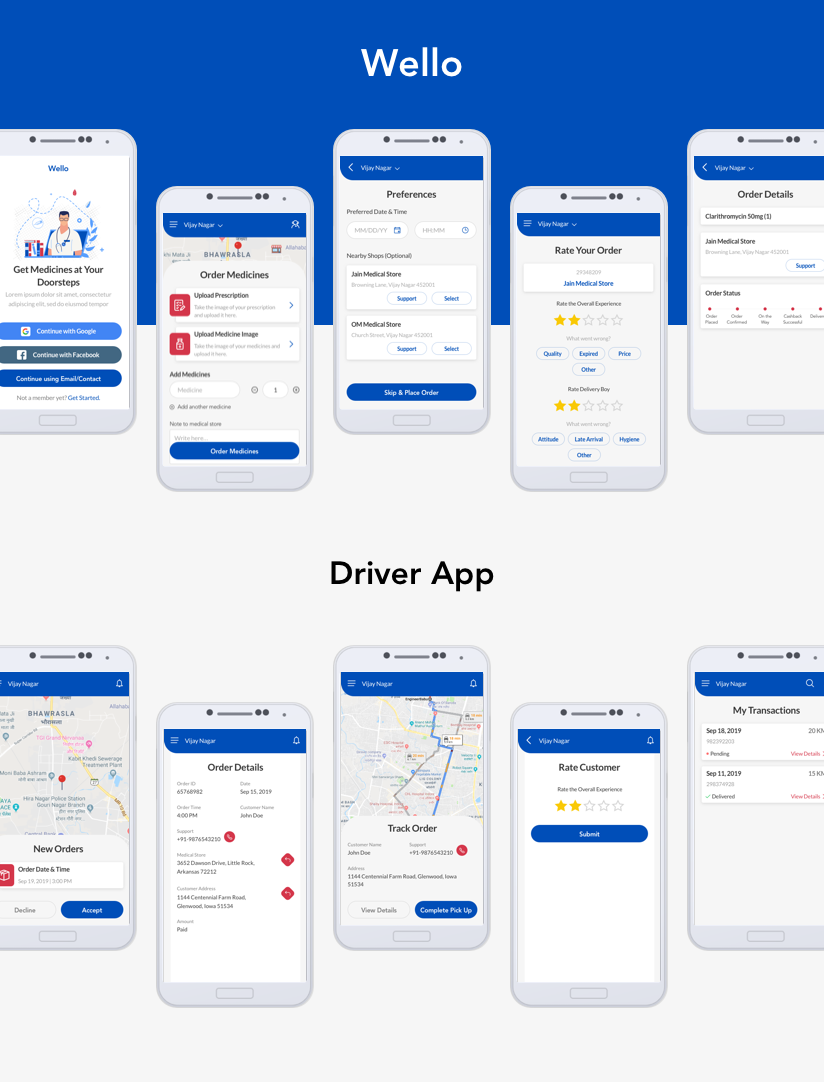 5. Inpatient Encounters
Some hospital management software even manages the information once the person has become a patient. From managing admission, tracking wait times to connecting with the healthcare provider, this feature integrates everything. Once the person has been admitted, the management can track their location, schedule operations and surgeries and co-ordinate in case of emergencies.
Also, scheduling and accessing bed occupancy, preventing over-crowded wards and maintaining hygiene. These software facilities help in managing medication doses. It's crucial to ensure that patients receive the right amount of the right medications. Once the patients have recovered and are healthy enough to go home, the software allows the users to plan and execute discharges.
6. Facility and Security Requirements
Some software also offer direct messaging system internally. It facilitates the patients to directly communicate with their doctors. While the system seems like it is convenient and saves time, it cannot be overlooked that transmission of sensitive information is taking place. It becomes vital that the system is sufficiently secured enough. One of the most important parts of being a healthcare provider is to ensure that your patients' data is secure.
All medical practices and patient information system software must be HIPAA compliant to meet federal security standards. Code implementation is important to ensure that the diagnoses entered into the software can easily be read and understood by other medical providers universally.
---
Development of Hospital Management Software:
The development process and machinery required for a healthcare application like this is unique. It is very different from the development of regular mobile apps in other domains. Also, the needs differ depending on factors like the size of the facility, independency vs being a part of some larger medical group, etc. The software can deploy linking practices and medical offices, keeping in mind that it is not too technical for medical professionals.
Some time back, a study was conducted on 100 companies that had shopped for patient management software. This questionnaire asked them about what was the most important thing they wanted to be integrated into their app. This was their response: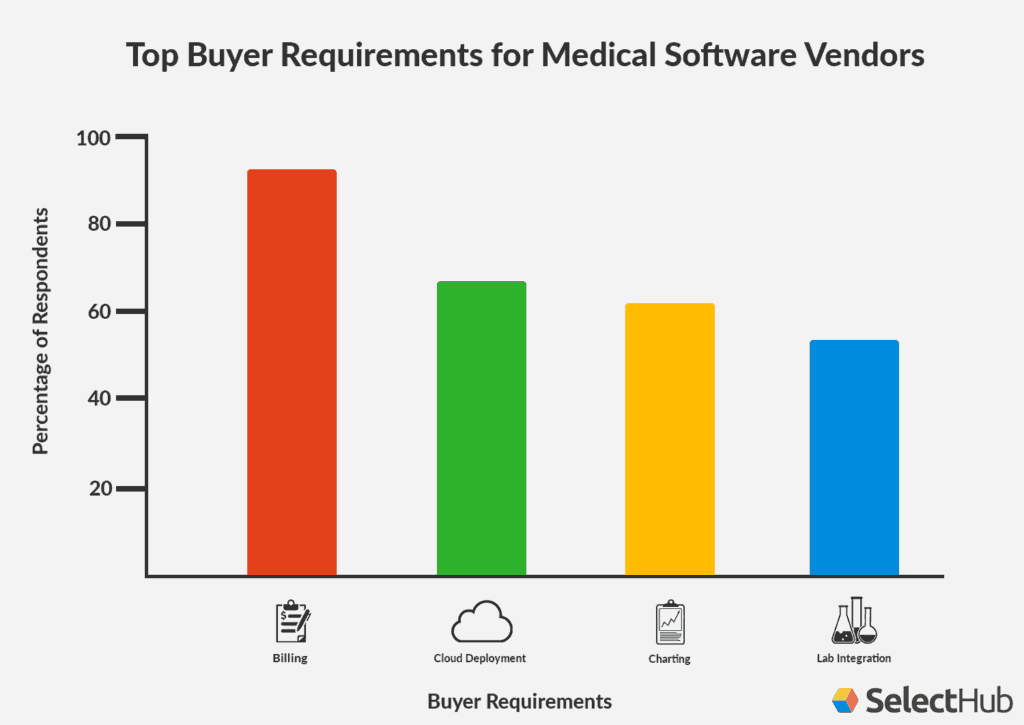 Also, most of these companies were not the first time buyers with this requirement. More and more of these were researching for replacements. They were looking for the second generation of implementing systems. Thus, it's evident that these applications are not only very unique in their structure, but also need constant updates. Secondly, the possibilities with types and sub-categories can be endless.
Hence, not every software development can deliver the requirement of hospital management software. Look for one that can offer you expertise in the domain.
Here's the UX of one more HMS developed by EngineerBabu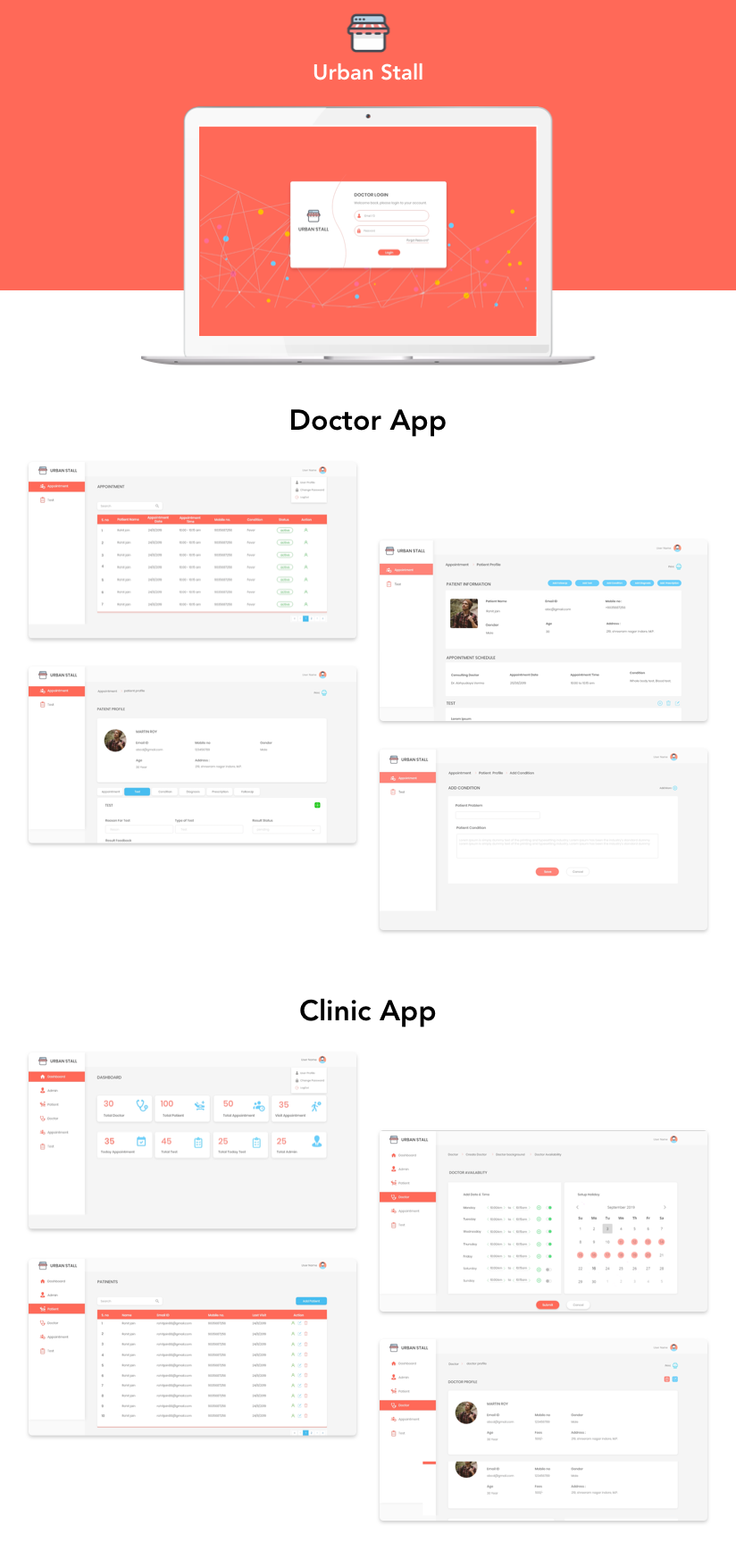 ---
To sum up…
Technology has taken massive leaps in the direction of making our lives better in every way imaginable. Everything is accessible at the tip of our fingers. However, in some special cases like the medical industry, it's really important to keep everything under a thorough check. While looking for an app development company, you must choose one that uses ethical practices and can guide you better in the legalities.
EngineerBabu is an app development company with a very wide portfolio. Our team has worked in various sectors like EduTech, Networking, FinTech, Grocery delivery, Travel and a portal for Service providers. Talking about the medical industry, our previous clientele includes Shalby, Gorus, Doctor G and some more still under the development process.
Did you like this information? Need us to edit or add something? Just let us know in the comments section below. You can also drop an email at [email protected], or 
---
Recommended Reading: