Health and Science are facing their biggest challenge due to their inability in having a smooth communication. The whole ecosystem of healthcare involves many different entities including the doctors, patients, researchers, government, etc. When the communication between all these entities is disturbed knowingly or unknowingly, leading to a lack of Coordinated Care Healthcare, there's a high risk of ineffective working.
The significant flaws due to poor communication are a result of the ongoing methodologies in the healthcare system. An answer to this is the current leading technology which holds the capabilities to share the data seamlessly and allow users to consume information and process it for obtaining a better solution to existing problems.
There are many reasons why the healthcare industry is being affected by ineffective communication tools, some of which are as follows:
1. Healthcare or Medicare providers such as doctors, caregivers, social workers, and nurses go through a lot of situations where the lack of communication puts them in trouble. According to estimates, the statistics state that around 30% of healthcare malpractices in the period of 2009-2013 are a straight result of communication gap. 
Though there's no reason for the providers to do this intentionally, the number of growing healthcare requirements, increasing patients and cases, complex information recording systems as well as the inability to interact is making the overall ecosystem suffer for the worse.
2. Competitiveness among the hospitals is leading to a lack of information sharing which leads to miscommunication and sometimes even no communication at all.
According to an Accenture report, in U.S. hospitals, a loss of around $12 billion a year occurs due to poor communication. These numbers do not even include the extra costs that are incurred in follow-ups and second opinions on the treatment of the patients after leaving the hospitals.
3. Medicine and healthcare highly depend on quality research. It is the study, research, hypothesis and practical implementation of solutions that have taken the medical field this far.
However, due to the lack of a secure and a shared common communication channel, researchers aren't able to share their work correctly.

These statistics and data if appropriately shared could lead to a lot more progress regarding the understanding of what's working and what is not, and eventually, practical methods and procedures can be implemented properly. In such cases, researchers need to come forward and communicate their ideas openly, to make people aware of the latest advancements.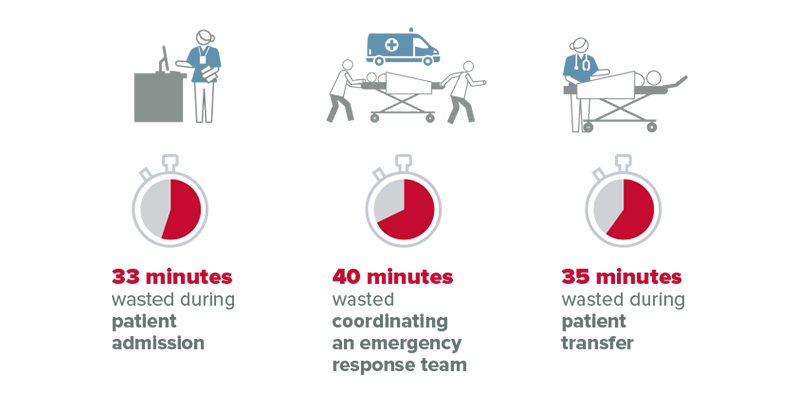 4. Healthcare is a sector that needs a considerable involvement of government and its authorities in one way or other. However, reaching out to people who can be a bit intimidating, as in most cases, the authorities are mostly too busy to focus on every general healthcare issue.

Sadly, for the spectrum of broader issues and chronic diseases doesn't get the attention that they need due to this system. Solutions and research that could get funded by authorities and lead to better outcomes go unnoticed most of the time. This creates negativity amongst health experts and researchers involved, as their efforts are not appreciated.

5. Another vital facet where communication suffers is the EHR vendors and companies. High-edge businesses and competition don't run well hand-in-hand so to keep the competitive edge on their sides; the EHR vendors refuse to share data. Moreover, considering the interoperability factor, hospitals don't share their records too as they have a fear of risking their significant incentives if they do.
Additionally, EHR vendors also wish to protect their proprietary technology at substantial levels, and since they are accountable to hospitals and not to patients, they find no value in revealing data or communicating openly from a patient's betterment perspective.
What Exactly Is Care Coordination?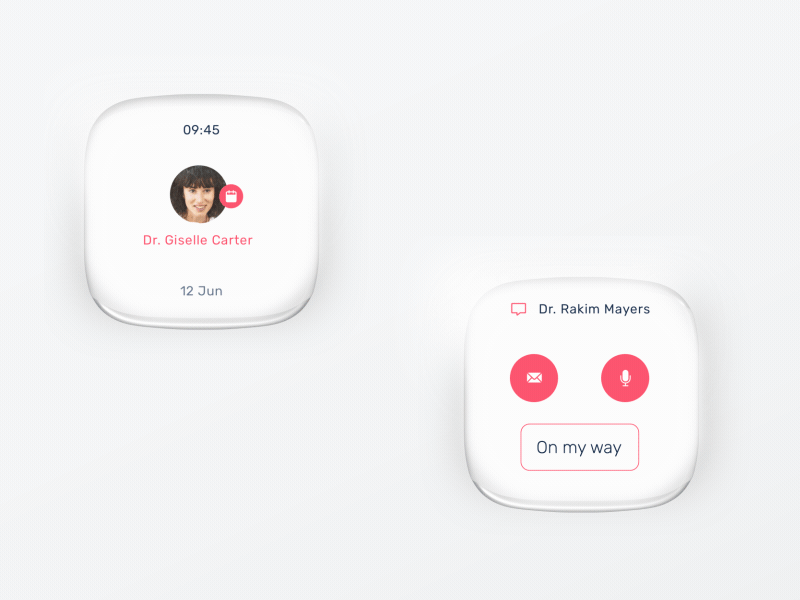 Care coordination refers to the process of synchronizing a patient's healthcare data and communicating it effectively between providers, specialists, and vendors. Coordination, as the word suggests, is to keep the details and updates in a manner that every member of the process is on the same page. And when it comes to healthcare, care coordination plays a significant role as many people are involved in the overall treatment of a patient, and when all these people are not sharing data as well as understanding, everything can quickly turn into chaos.
Coordinated health care aims for improvement of the standard of health outcomes by making sure that the information and care from disparate sectors are delivered seamlessly, thus reducing the overall healthcare costs by removing useless and repetitive procedures and tests.
Following are the five major elements of coordinated healthcare:
Smooth accessibility concerning healthcare providers and services

Effective care plan implementation methods

Data transitioning between providers

Dedication towards a patient's healthcare needs

Easy and understandable information
Since coordinated care plays a vital role in the healthcare ecosystem, healthcare providers are implementing it in all aspects. Primary as well as long-term care is being embedded with options of coordinated care for better treatments.
Here's how care coordination is working on improving all the levels of healthcare: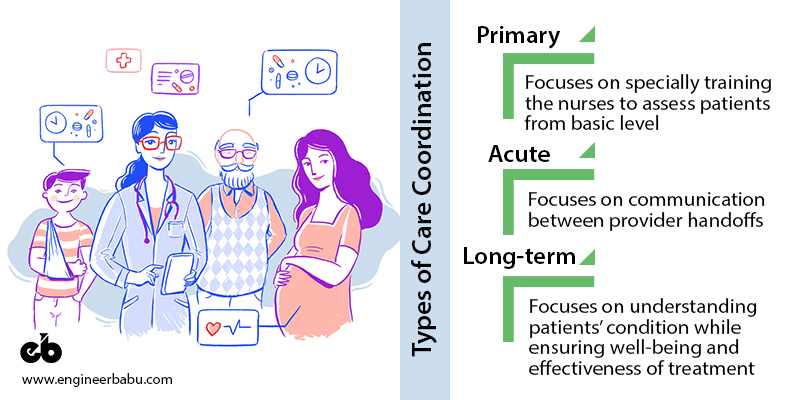 1. Rise of Primary Care Coordination
Patients with chronic diseases like diabetes and high cholesterol need special care. To accomplish this, some providers have already adopted a new approach called Guided Primary Care. In this model, an expert registered nurse works with the patient for care and coordination purposed. These nurses are specially educated to deal with patients having multiple chronic diseases or conditions.
In the guided primary care approach, the specially educated registered nurse assesses the patient at the most basic level and develops a care plan with the primary care providers according to the patient's care requirements. The nurses also coordinate with specialty care and ensure that no aspect of required patient care is missed or taken lightly.
The model of this research was developed by researchers at the John Hopkins University to address the need for elderly American patients. In a study, this kind of coordination care method was responsible for decreasing the healthcare costs by 11%. Moreover, such approaches have also shown good results in achieving a reduction in hospital readmission records.
2. Acute Care Coordination
Another care coordination approach that speaks for itself, is the acute care coordination approach. This is suitable for patients with acute health issues such as a stroke or heart attack as such patients are in dire need of additional care, as the problem in most of the cases is unpredictable. Emergencies like heart attack or strokes can happen anytime and anywhere, and in such cases, patients are often taken to the nearest hospitals rather than the ones that are in their regular network.
The risk of data redundancy, communication breakdowns as well as errors is highly escalated in such cases. Therefore, it becomes increasingly important to ensure better-coordinated communication and healthcare for such patients. Acute care coordination that focuses on communication between provider-handoffs is an essential factor for success according to studies.
In such a process, the patient gets care even after he/she is discharged from the care facility. Moreover, the coordinators performing acute care ensure proper and smooth care transition in the form of follow up calls and visits, updating prescribed medications with patient's pharmacy, etc. Once the patient is released from the hospital, acute care coordinates continue to follow-up on a regular basis to keep a close eye on the patient's progress. Acute coordinated care is aimed to help the patients and reduce the rate of hospital re-admissions etc.
3. Long-Term Care Coordination
Rehabilitation recipients might often require moving along between long-term care and post-acute care facilities regularly, as per the necessary level of care according to their condition.

According to an AHA study," A majority of patients admitted to post-acute care are later transferred to a second post-acute setting." The patients in such cases are mostly are seniors with memory issues, mental health problems including physical ones too in some cases. Therefore, long-term coordinated care is the right solution in such cases to update care plans and manage medications and transfers.
With the success of this model, many licensed social workers or care coordinators work with patients who need this kind of coordinated care. They understand the patient's condition and care plans while ensuring that the patient is cared for to meet the effectiveness of the treatment. Moreover, the coordinators also ensure to provide referrals and support according to the facility for the patients, in order to give them the best quality of life treatment.
Current State of Coordinated Care
As per the NEJM Catalyst Care Redesign Insight Report, the healthcare organizations are utilizing the coordinated care practices at different rates. Some of the statistics concerning care adoption are as follows:
Patient's care was fully coordinated between healthcare settings- 7%

Mostly coordinated- 30%

Somewhat coordinated- 53%

Not coordinated- 10%
Despite the continuous implementation of coordinated care initiatives by healthcare providers, challenges such as lack of uniformity, communication gaps among providers, etc., remain. For care coordination to work effectively in healthcare, team support and communication is highly valuable. Proper infrastructure, resources and a supporting culture with synchronization between different teams and people are what makes coordinated care successful.
How Can Technology Improve Care Coordination
In the current medical and healthcare practice, the doctors and experts are used to working in silos. Nobody holds any clue of what the other person is doing, which leads to loose communication and medical haphazard. Since the approach is fragmented, it also turns out to be more expensive and inefficient for the well-being of any patient. A solution to all these problems is simply coordinated care. And to achieve that, systematic changes in the inside system need to be implemented.
New and updated technology solutions can help achieve this as they can quickly provide information, such as, which doctor is assigned to which patient, and the medical records of the patients as well. This could be more beneficial for senior citizens who often need someone reliable to take care of their health.
Here are a few ways in which technology can improve coordinated healthcare.
1. Electronic Health Record System (EHR)
An EHR is taken as the basis of any coordinated care effort. It is a system that allows caregivers and providers to work smoothly through integrating and organizing the patient's health-related information while ensuring proper and timely distribution among doctors and practitioners.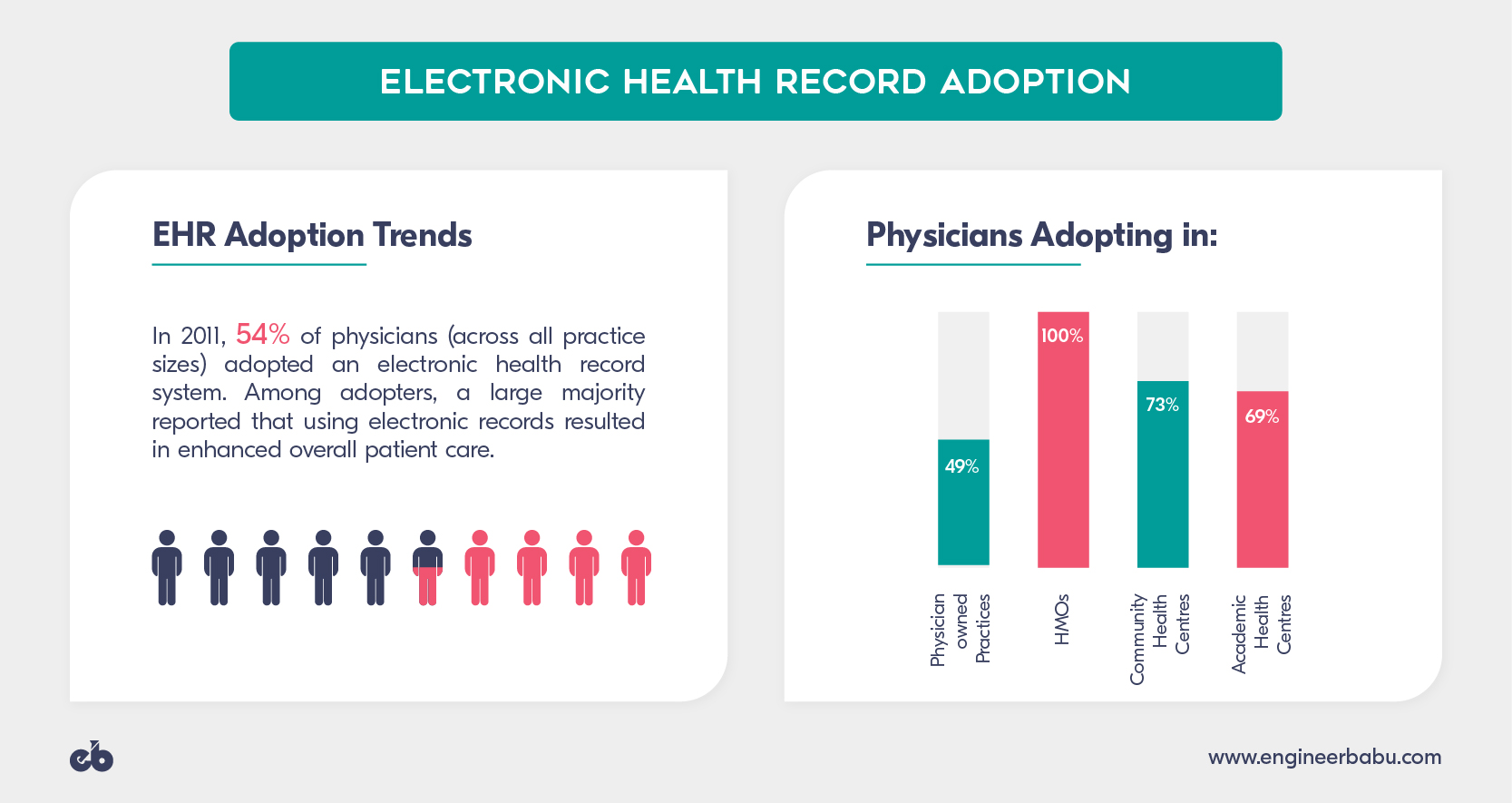 The technology embedded in EHR systems allows it to run and operate on its own without the requirement of any human being. Once the system is set up and commanded to perform, it has the power to distribute information automatically, at the same time ensuring the data privacy of the patient. For senior and elderly patients, this turns out to be more useful particularly as they might need to visit multiple doctors for different purposes. Care coordination allows the patient to get all the details in one place and saves them from recalling all the reports while visiting different doctors.
2. Computerized Provider Order Entry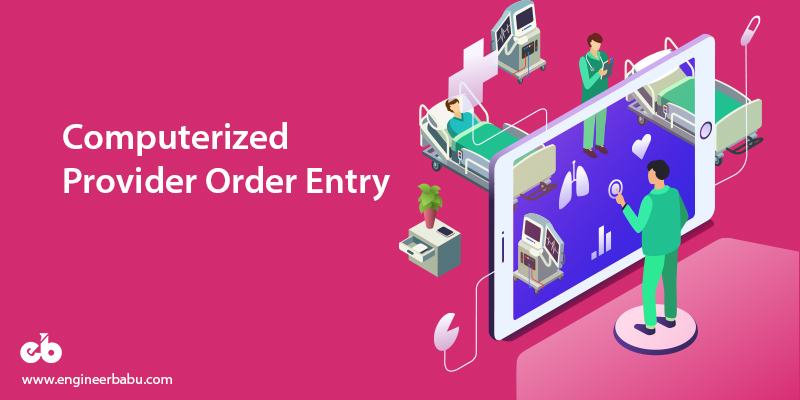 Computerized Provider Order Entry (CPOE) is a technology system that is designed in a manner to replace the paper-based ordering system of hospitals. These systems allow the people to write all orders, maintain online records for medicines and review the changes for every order with ease as they are stored electronically.
CPOE also provides safety alerts in case of entry of unsafe orders such as duplicate drugs. The technology behind these systems provides the physician with the ability to enter medication orders along with other procedures, and tests into a directly communicating system.
The CPOE systems can also perform the function of ensuring coordination amongst caregivers and doctors by checking the consistency of orders between different doctors and how these orders are working out for patients. It also allows automation to take gear in the process and ensures better and safer medicine.
3. Interoperable solutions
Interoperability in healthcare refers to the ability of different systems to communicate and synchronize with each other. These solutions apply to multiple technologies which allow practitioners, doctors, and nurses to conduct open communication. Currently, medical records sharing systems don't offer the best value when it comes to data sharing as they were not built for that purpose initially.
Interoperability may include multiple policies, services, technology standards or compatibility of software. Aligned adequately with technology, it leads to, more efficiency, time-saving, malpractice risk reduction, increased care coordination, improved research and fewer unnecessary tests. With care coordination improving with interoperable systems, healthcare, on the whole, can lead to better satisfaction for patients and easy management for the providers.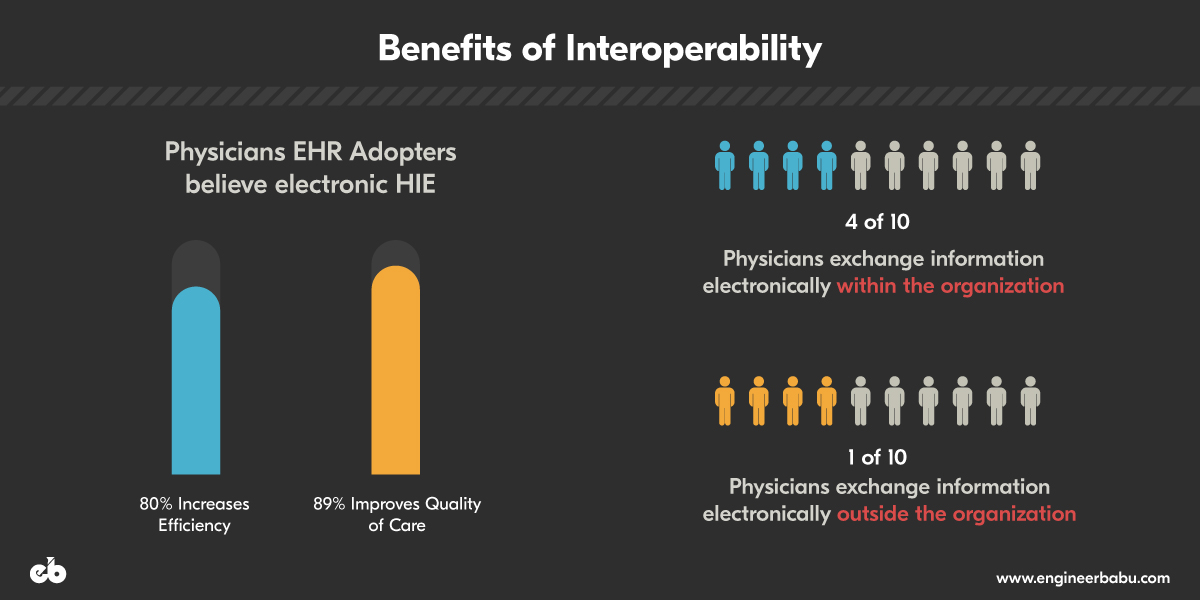 Benefits of Care Coordination
Coordinated care is highly beneficial from providers angle as it allows them to achieve all three goals, namely, better patient care, low costs, and improved community health.
Care coordination benefits providers in the following manner:
It allows them to operate at top of their credential. Doctors can get more quality time to care for their patients, as patient care coordinators (PCCs) can handle or help the doctor's care team with a wide range of patient care related tasks.

Help them with better management concerning team utilization. Care coordination provides doctors as well as other care members of the team to focus on proactive care, rather than react to high-charged acute care episodes.

Allows patients to participate in their self-care. Patient care coordinators can participate with the doctor as extensions and stay in close connection with the patient. Communications on a regular basis allow patients to engage better and focus their attention on preventive actions for better health.

Allows providers to participate in value-based contracts with higher confidence. Most of the value-based healthcare models demand providers to showcase and prove the ongoing quality improvement, satisfaction levels of patient and reduction in costs. With coordinated healthcare, these goals can be achieved with better structuring.
---
The Way Ahead…
If healthcare organizations are looking to improve the quality standard of the services provided while reducing the care costs, it is high time to consider care coordination as the key element. Care coordination is the most effective strategy to achieve the three primary goals of the industry – improvements in care, reduced cost, and patient satisfaction.
Not only is it effective for better outcomes but also for improving the overall practices for value-based payment models. Though the current technology still needs more advancement to experience smooth care coordination among the systems, the first step is to initiate the process at the initial level and accept it for the betterment of the overall ecosystem and the patients.

With an extensive portfolio of developing several successful products in the healthcare domain, we have proven our mettle numerous times. 
That's precisely why we understand the ins' and outs' of this realm and how to scale your business to tremendous heights.
So, if you are on the lookout for developing a cutting-edge technology product then look no further, contact us asap!
---
Recommended Read: