You might have come across various referral program apps offering handsome profit sharing benefits to you as a customer. Community commerce is the next big revolution in e-commerce. The idea is quite simple- bringing together people who have products and services to sell, with those who have a community following through which these products and services can be promoted.
We introduce you to- GroupPal, the fastest growing branded business networking and profit sharing referral company in India. It's an exclusive platform where all businesses, vendors, service providers, recruiters, consultants, job seekers, franchise seekers and investors form a Group as Pals exchanging contacts, referrals and turning them into benefits for each one of them.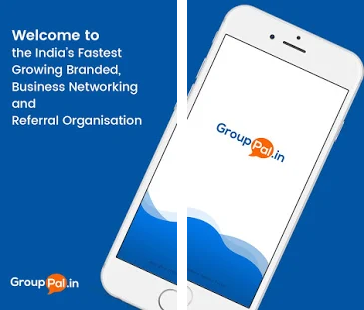 It's the 1st of its kind profit sharing networking app where each of the members get solutions from the experts in the Group. Along with this, there's an assured perennial passive income for life! GroupPal is built to deliver an extremely productive business networking experience, consistent prospective leads and a life long income via this mobile application for android.
Profit Sharing and Networking at one place:
The cost of advertising or visibility creation has become huge today. Yet, there's no guarantee that you will end up with the right customers or service providers. GroupPal is a successful attempt at solving the puzzle easily by creating a network of intensely loyal Pals who will get you connected to your solutions. GroupPal provides a perfect ecosystem to every member where they get what they actually need, be it a service, job, an employee, investment or selling a product. It's a unique one stop solution for all your needs.
GroupPal mobile app is free to download and use. Just spend 2 minutes to sign up and become a part of a community which has committed, genuine professional, certified service providers, vendors, recruiters and investors and avail the services of these 6 C Champions who will deliver quality at the best prices along with a special offer every time you connect!
---
Demands put forward by the client for the Development of GroupPal:
The only challenge for us as a team in the app development of GroupPal was the development of the 6 level hierarchy of the referral program. The client wished for this feature to be an exclusive one to keep the community commerce and profit sharing mobile app as trustworthy as possible. The referrals could be up to a 6-level hierarchy only. A separate provision was to be added for those who did not have any referral code- they will contact the GroupPal team and get themselves thoroughly verified as professionals. This meant- every time a new user signs up with the referral of another user, the first user would get an advantage as profit sharing with the new users.
In addition to this, whenever a user would search for, say, an android developer hiring company, he would be able to select whether he's looking for a company to hire him within his locality, within the city, the state, or across the entire country. Similarly, say an electrician is setting up his profile. He would be able to enter the service providing location zone- the specific area of a city, the entire city, state, or country.
---
Our Approach-
About the team:
The client approached us last year in September with this unique project. After multiple change requests, the project got completed in May. Our team consisted of 7 members-
one designer,
one android developer,
one API developer,
one QA,
one project manager
one back-end developer/web developer
one Business Analyst
Development Model & Wireframe:
If you're a business owner looking to grow your business, there are certain things to keep in mind before developing an app. For developers, we have our methods to decide upon the approach once a task has been assigned to us. The approach that was used for GroupPal's development was the Agile model. The requirements were understood by the sales team initially, and were then provided to the design team.
After all the layouts had been created, it was the task of the developers to implement it. Back-end developers were working on the principle of modularity. The entire system and application components were divided into modules in order to carry out tasks on various elements at the same time without affecting the work of the other. Dividing the entire project into modules allowed various developers to work on the project at the same time in order to reduce the burden of doing the task on a single developer and in turn, reduce the time required to complete the project and hand over the product on time.
Engineerbabu believes that an intuitive UI and an easy to go User Experience are the key to a successful mobile app. For GroupPal's development, we built low fidelity wireframes and developed a flow. When the analysis of the flow was given a green flag by the client, we worked to build high fidelity wireframes using tools like Adobe XD, Illustrator and Invision.
Tech Stack used:
Following is the list of applications we used to create GroupPal (Android as well as iOS)-
IDE – Android Studio
Build System – Gradle
UI Designing – XML, Material design standards
Web Services Calling – AQuery
Image and Data Caching – AQuery
Programming Language- Java
Push Notifications – Firebase Cloud Messaging
Backend-
Programming Language – PHP
Database – MySQL
IDE – SubLine
---
Results-
Features of the profit sharing-cum-business-networking app-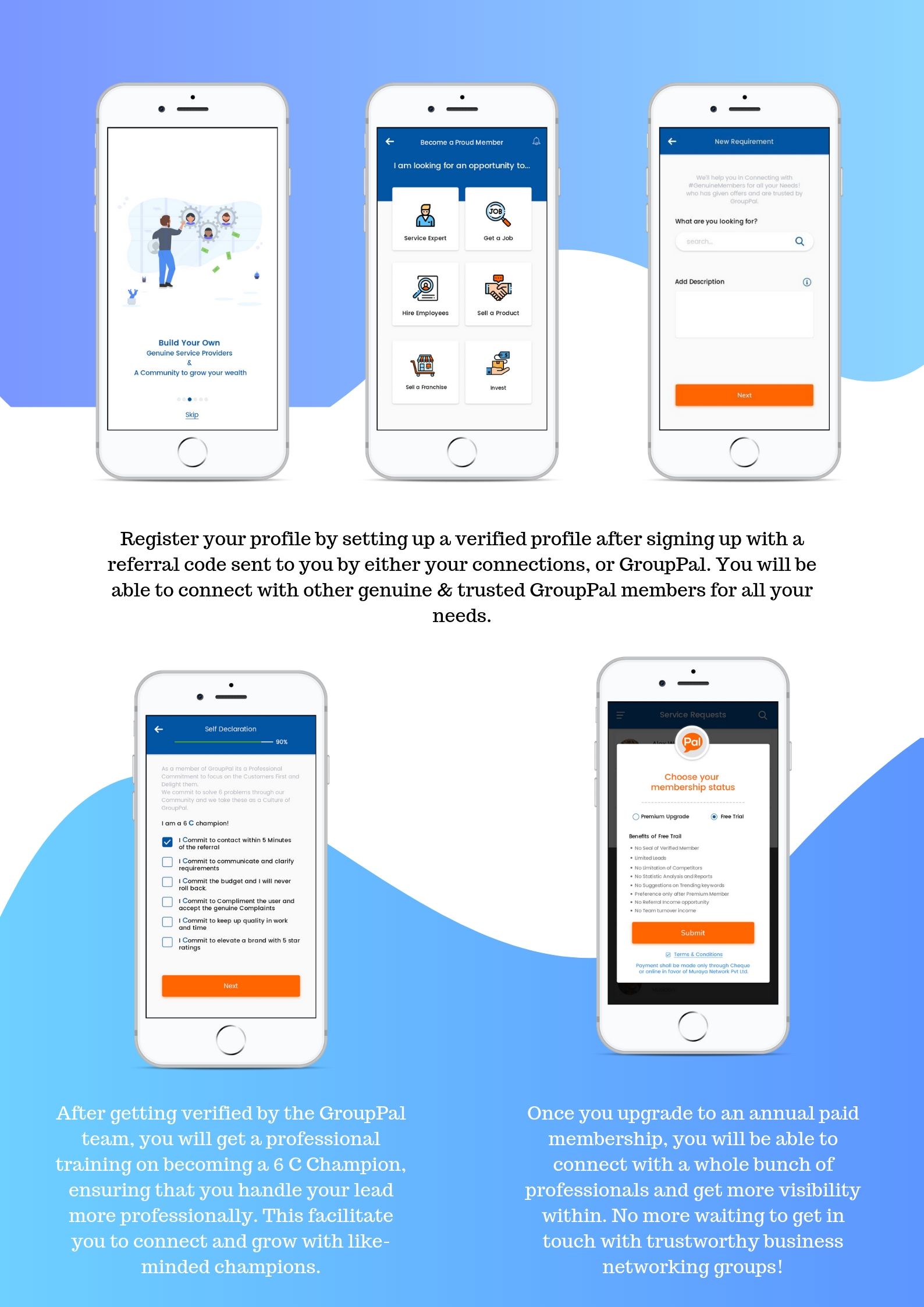 After setting up your profile, you will get access to the following features of the app within-
1. Find a Service Expert-
Professionals like Doctors, Trainers, Engineers and Experts in a given service like Plumbers, Acting Drivers, Insurance Agents can register choosing this menu. They will be connected to customers via these keywords.
2. Get a Job-
The app comes with a huge base of entrepreneurs and service providers across all the states in India. If one aspires to get a job in a given industry, they have to register here and to get the connect of such industries.
3. Hire Employees-
Getting a right person for a job is the need of any business's HR department.. Companies and individuals can register here to get the connect of candidates who are looking for their interested industries.
4. Sell a Product-
From a pin to a plane… be it any product, register here to get more visibility and direct connect of customers for your products.
5. Sell a Franchise-
Get registered here to get the connect of excellent franchisee opportunities from entrepreneurs across the country. As an upgraded member, user will also get an opportunity to get the connect of people who would like to get the franchisee of the business.
6. Invest-
People who like to invest in new ventures or a great business ideas can register here. As an upgraded member they can also get an opportunity to talk to investors who would like to invest in the business or ideas.
---
Have you come across such other profit sharing referral mobile apps? Well, this one was unique. Let us know in the comments section below, if you have used this application and liked the UI/UX of this app! Also, we have previously developed mobile apps for several other sectors like- Grocery Delivery, EduTech, FinTech, Service Providers, Travel, etc.
We come across various interesting project ideas often. Projects like GroupPal help us achieve our financial goals in addition to being the fuel needed to channelize our energy into doing what we do the best- creating beautiful mobile applications for our clients and their users.
We welcome small and big entrepreneurs alike, who happen to have interesting ideas to boost their business. We're always glad to work with them. If you're one of these entrepreneurs, just drop us an email at [email protected]. You can even  right now!