Almost every single one of us has had tiresome experiences looking for basic home service providers- be it a failed Air Conditioner's repairing in a scorching heat wave, or a broken tap. It is especially more difficult, when you have just moved to a new city and know nothing about! You must be wondering, what if there were a mobile app for service providers- to solve every single household issue at just one tap on your smartphone?
Last year, in September 2018, we were approached by a client from Lebanon with a one-of-a-kind project idea for mobile app development. It aimed to solve every frustrated citizen's most basic issues- from internet services, pest control, laundry to even solar panel installations, furniture painting and car renting!
Read our case study to know more about this application that has revolutionized the service providing online portal industry in Lebanon.
Dale3 Application: Redefining the Lebanon Service Provider Industry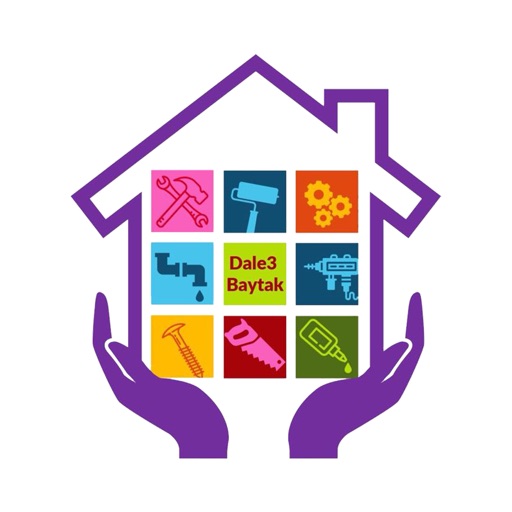 Dale3 Baytak is owned by AJA Trading & General Services Company SARL, a Lebanese company start in 2017. They have their Head Office at the Al-Marj Main Street, West Bekaa – Lebanon.
Dale3 Baytak is the first Online Service Provider in Lebanon, with a mobile application providing more than 30+ home services – from Plumbing, Elevator & Appliance Maintenance, Repairing, to even Car Rentals! Here's a complete list of services provided to the users at one click-
| | | | |
| --- | --- | --- | --- |
| Furniture Paints | Appliance Maintenance  | Wallpaper | Roof Insulation |
| Solar Energy | Prefab Houses | Building Services | Plasterer Services |
| Tiling Services | Blacksmith Services | Aluminum Services | Glass Services |
| Carpentry Services | Natural or Artificial Stone | Curtain Services | Gypsum Decorations |
| Parquet Services | Elevators Services | Design | Car Wash |
| Insurance | Internet Services | Pest Control | Security Cameras |
| Gardening Services | Swimming Pool Services | Photographer | Laundry |
| Programmers & Developers | Shipping | Paints | Car Rent |
| Smart Device Repairing | Satellite & TV | Electrician | Cleanliness |
| Air Conditioner | Appliance Installation | Plumbing | |
With the mobile application Dale3 Baytak, the way to buy services online was simplified to help change the way people live. For customers, it means more choice, higher quality and competitive pricing. For sellers, it means reaching more customers and growing business faster. With dedication to exceptional customer service that the company is famous for, technology has been used to deliver the services in a new way. This mobile app for service providers is a solution for both customers, as well as sellers.
Dale3 Baytak is not only an application or a team that offers maintenance service. They also refer to themselves as private advisor to improve the level of services inside the users' homes or companies. The aim is to use the principles of home services in a fair manner, for the benefit of the users, while adhering to all laws and regulations.
---
Challenges in the Development of Mobile App for Service Providers-
The only challenge for us as a team in the app development of Dale3 was- language barrier. Since the application was set to launch in Lebanon, the client wanted us to develop it in English, along with Arabic- Lebanon's national language.
We were more than happy to execute the idea, since it meant that the services would be reaching the majority of the desired user-base. Formal publications in Lebanon, such as newspapers, are typically written in Modern Standard Arabic, French, or English.
However, since EngineerBabu is based in the Indian subcontinent, we did not have any team members who could understand Arabic. It was a huge task for us to decode the client's demands effectively. Almost all of the information to be uploaded on the mobile application was given to our team by the client himself, and we could not conduct any QA from our side.
However, language was the only barrier but we did not let it become an issue. Apart from this, there was no other technical difficulty. The rest of the projection execution was smooth.
---
Recommended Reading: 10 Things to Keep in Mind while Developing an App
---
Our Approach-
About the team:
When the client approached in September 2018, we immediately began working on the project. We completed it by December 2018- a record 4 month task! Our team consisted of 10 members for developing Dale3- Two iOS developers, two Android developers, one Back-end developer, two QA, one Project Manager, one Designer and one for HTML.
Development Model for a Service Provider's Mobile App:
If you're a business owner looking to grow your business, there are certain things to keep in mind before developing an app. For developers, we have our methods to decide upon the approach once a task has been assigned to us. The approach that was used for Dale3's development was the Agile model.
While the requirements of the client were understood by the sales team initially, they were then provided to the design team. When the layouts had been created, it was now the task of the developers to implement them.
Our entire team works on the principle of modularity. All the components of application are divided into modules to carry out tasks on various elements, at the same time. It happens without affecting the work of the other teams. And this is what we did with Dale3's development as well. Dividing the entire project into modules allowed all the developers to work on the project at the same time. It reduced the burden of doing the task on a single developer. Thus, reducing the time required to complete the project and hand over the product on time.
Wire Framing:
We built low fidelity wireframes and developed a flow. EngineerBabu designs an intuitive UI and an easy to go User Experience for their clients.  After we got a green flag for the analysis of the flow by the client, we planned to build high fidelity wireframes with these tools- Adobe XD, Illustrator and a flow prototype in Invision.
---
Result-
Dale3: Baytak application was launched on Android and iOS, along with a website for the same. The website was launched as well. Also note that, there were 2 separate apps launched simultaneously- one for the users looking for service providers, and the other for service vendors. It was a successful on-time delivery that made both; our client and us very proud. Let's look at some of the features incorporated in this mobile app for service providers and users.
Features of the Application: For Users
This application was developed with an easy UI to reach maximum target audience from Lebanon. As mentioned earlier, the client wanted it in English as well as Arabic. Location was also important to keep in mind when searching for a service provider, since the variables would be different for each region. These two features- Language & Location have to added manually by the users, even for registering.
This is followed by an easy log-in and sign-up using OTP sent to the mobile number from which the user is trying to register.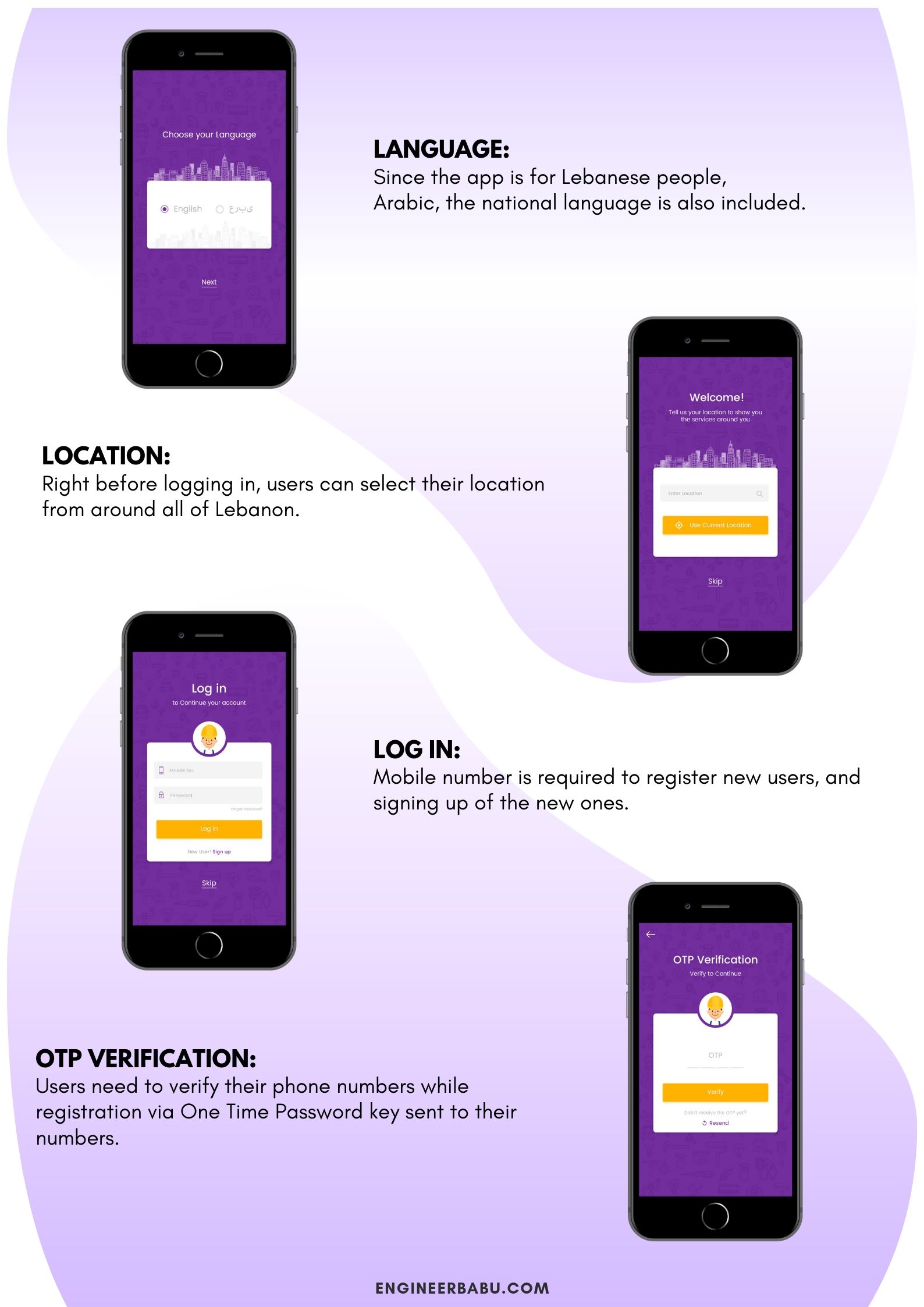 Once the user is redirected to home screen, they can access numerous categories of services that they might be in need of for their homes or offices. Upon selecting one, there's also the option to opt for one particular service from all the sub-categories.
For instance, if a user has to get their bathtub fixed, they will have to contact a Plumber. After logging in, they can select "Plumbing" from the home screen, and then "Bathroom". Here comes the interesting part, a user can also upload a picture or the video of the service that they would be getting done from the provider, to further explain their issue to the service provider in detail.
When the user has saved the information, they will get an estimated cost and the service charge for getting the job done. However, until now, the client had only requested for cash payment upon completion of the task. Along with that, user can also pinpoint their exact location on the map.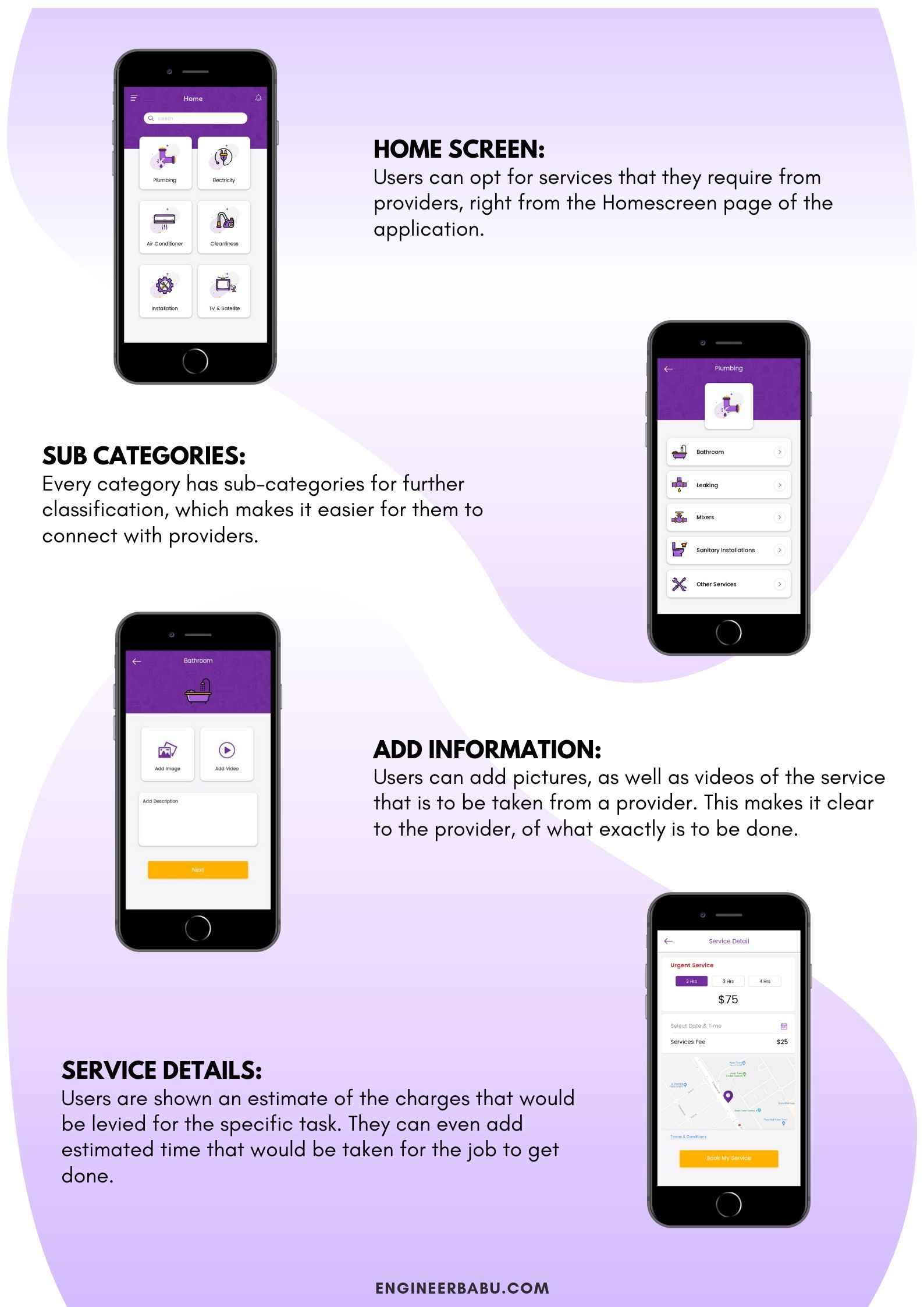 After having checked out everything, including pricing, user can confirm the booking with service providers. The application also gives the users an option to track all of their bookings, not to mention the current as well as old.
Once the task has been finished, an invoice is generated along with a thank you note!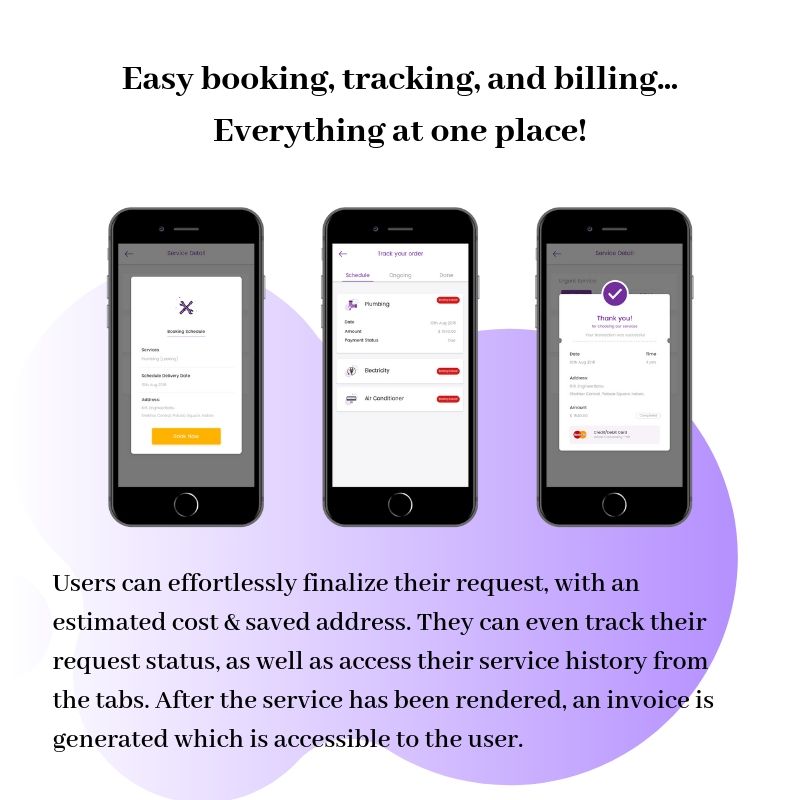 Features of a Mobile App For Service Providers
Service providers have been facilitated with a separate app than the users who would be requesting for their services. They are required to fill in some additional information submissions along with signing up.
Also, when users add details for the services they require, service providers will also get a summary along with every other information (pictures or videos). This ensures they have a clarity of what is their task before having accepted it. And just like a customer is able to view his service request summary and track them, service providers also have a history of every task that they have completed or scheduled.
This mobile app for service providers has been developed keeping in mind that the users do not need a complicated application since most of them could get confused with a difficult UI.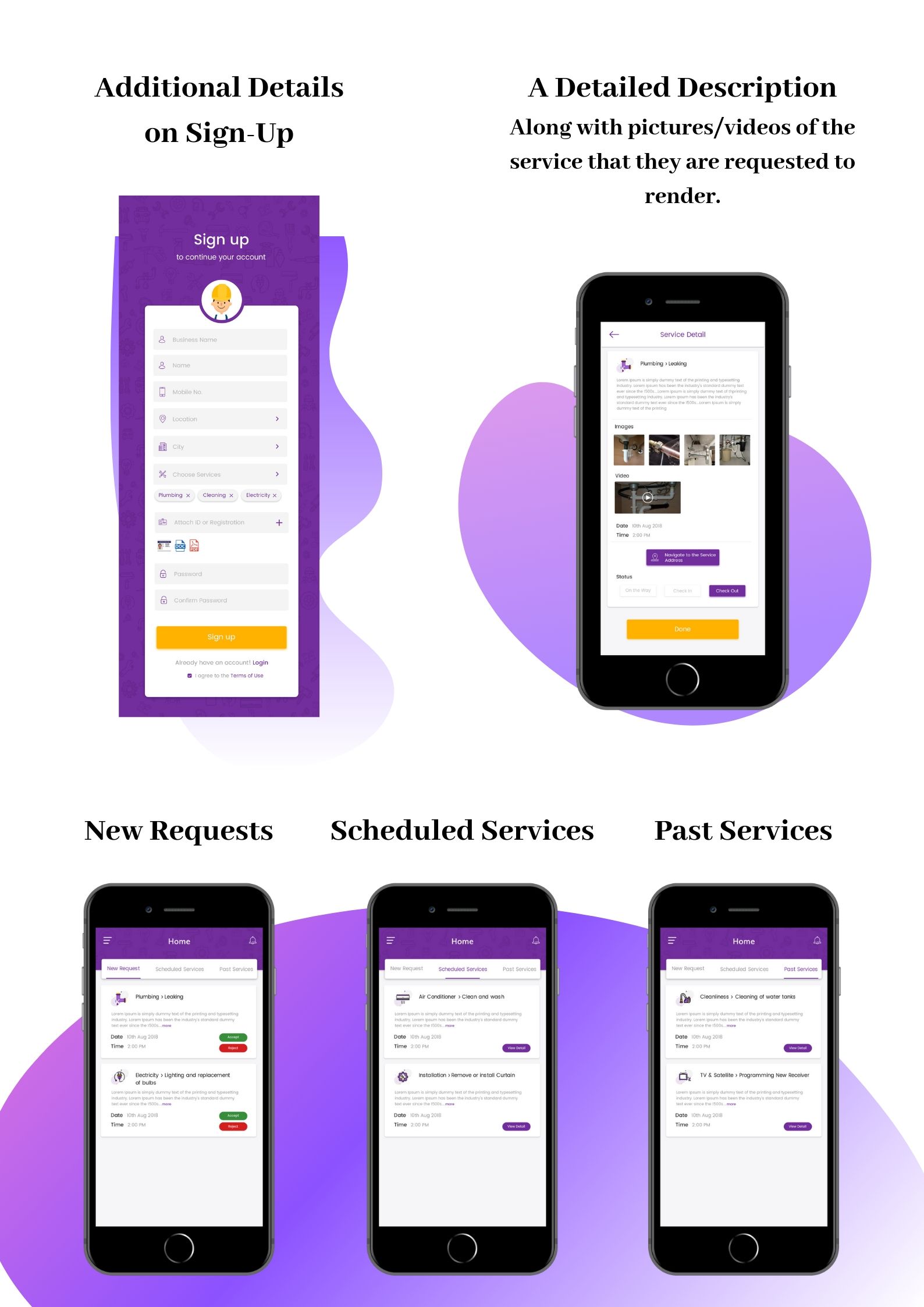 In-App Communication for Service Providers and the Users:
The client had this very specific demand about facilitating the service providers and users with an in-app communication channel. For this, we worked on the Live Chat feature for them.
A service provider can directly talk to the user that he would be providing his services to. However, this can be accessed by both the parties only after the service provider has accepted the task by the user. Also, they can contact the Admin of Dale3 anytime (24/7 in-app support).
---
Recommended Reading: Top 12 Customer Retention Strategies to Drive Resales for Products or Services
---
What does the Client have to say about his finished project?
When the client approached us with the idea- it was a very unique concept for us. We were very eager to work on it, and completed the project with every requirement that had been conveyed to us by the client. Upon completion of the project, the client was extremely satisfied by the work done by team EngineerBabu. In fact he left us with a 5 star rating on Clutch!
In his words: "We can reach out to them at any time. Neither service providers nor users have reported issues with the apps, which are constantly being updated by EngineerBabu."
Here is a detailed review left by the client-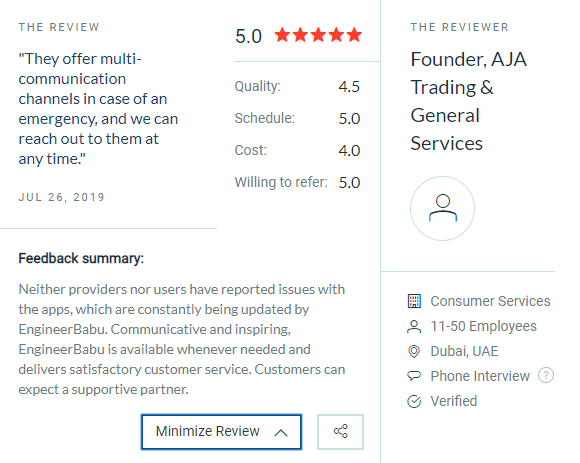 Tech Stack used:
Following is the list of applications we used to create Dale3 (Android as well as iOS)-
IDE – Android Studio

Build System – Gradle

UI Designing – XML, Material design standards

Web Services Calling – AQuery

Image and Data Caching – AQuery

Programming Language- Java

Push Notifications – Firebase Cloud Messaging
Backend-
Programming Language – PHP

Database – MySQL

IDE – SubLine
---
Wrapping up:
We come across various interesting project ideas often. Projects like Dale3 help us achieve our financial goals in addition to being the fuel needed to channelize our energy into doing what we do the best- creating beautiful mobile applications for our clients and their users.
Let us know in the comment sections below, if you have used this application and liked the UI/UX of this app! Also, we have previously developed mobile apps for several other sectors like- Grocery Delivery, EduTech, FinTech, etc.
Are you an entrepreneur who happens to have interesting ideas to boost your business? Just drop us an email at [email protected]. You can even right now!
---