While technology has been leaving its footprints on every turf, healthcare is one of the most positively affected areas. Undoubtedly, technology has played an instrumental role in transforming the workings of the healthcare sector. New advancements in technology have helped in shaping the healthcare industry in the right way.
From research and treatments to data collection, innovation has paved the way for such incredible changes in the healthcare industry. Changing trends in the technological world have improved the quality of healthcare that people receive in a significant manner. Several attributes that need to be taken into consideration in order to bring a positive change includes the need for maintenance of accuracy, quality, efficiency and more.
Let's have a look at some of the major innovations happening in healthcare:
Top 10 Innovations in Healthcare to watch
1. Internet of Medical Things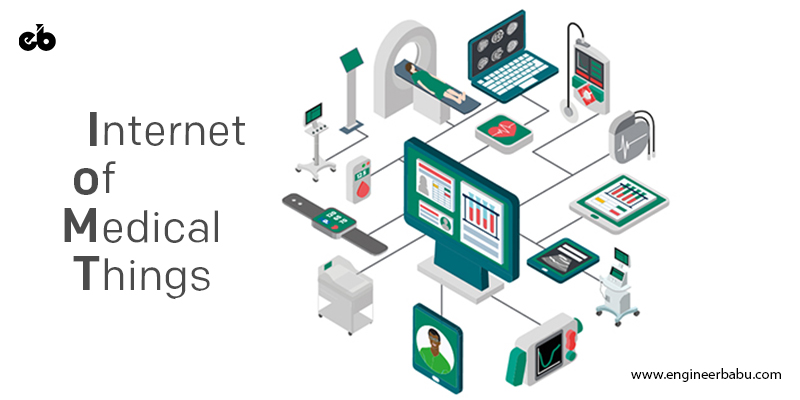 IoMT, as a part of IoT, refers to a collection of medical devices and applications that connect to healthcare IT systems through online computer networks. Medical devices connected with Wi-Fi allow a machine to machine communication which stands as a base to the IoMT.
Some of the ways in which IoMT can help the healthcare industry are:
1. Remote monitoring of patients with chronic symptoms.
2. Easily tracking down the medication orders of patients.
3. Location of the patients admitted to the hospitals.
4. Allows communication with medical experts even in remotest places.
5. Increased operational efficiency.
An excellent example is a partnership of Salesforce and Philips which have collaboratively created a platform to enable smooth functioning of medical devices in conjunction with complex sets of data.
2. Artificial Intelligence
Artificial Intelligence has played an integral role in transforming the healthcare industry in unimaginable ways. From managing day to day data and medical records to be up-to-date with personal data, artificial intelligence has been successful in bringing the legal changes in the workings of this industry.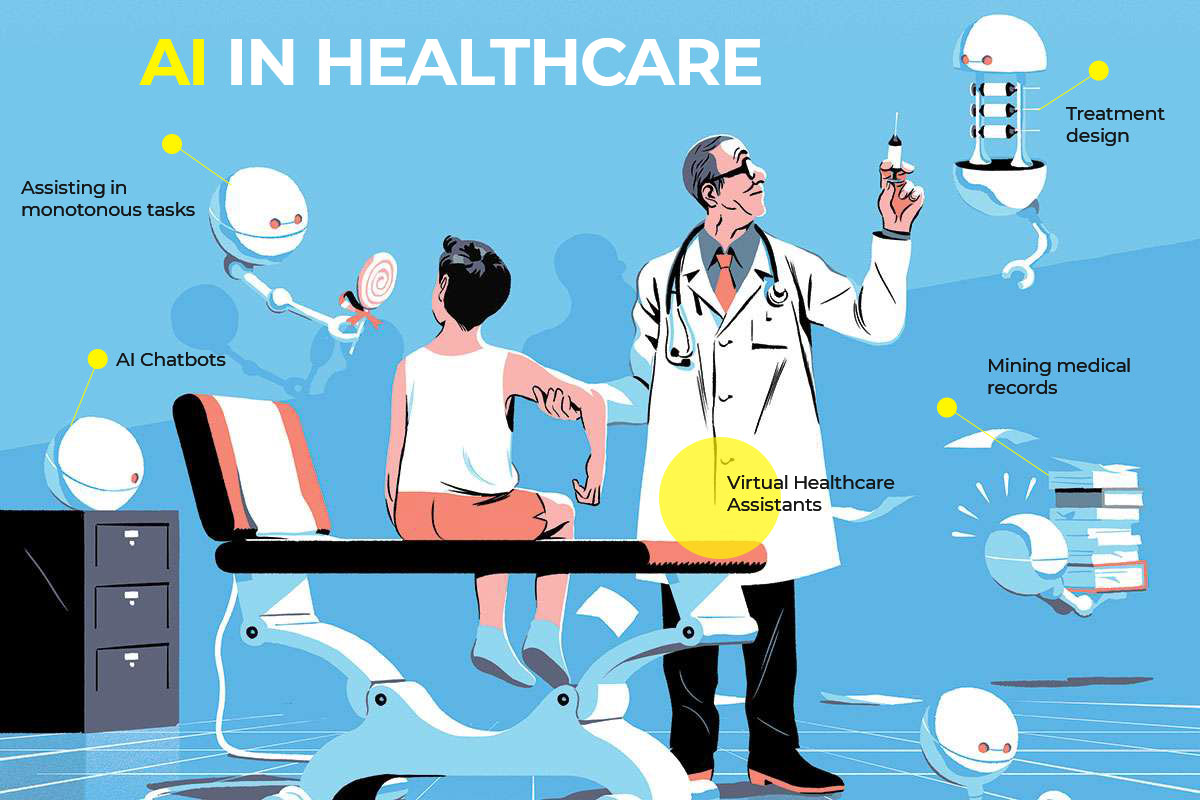 Apart from that, artificial intelligence can also help with managing the medication, monitoring the health of patients, the creation of drugs, the list is endless.
Here's how AI is changing the dynamics of the healthcare industry:
1. Managing medical records and data: Health industry cannot do away with this very first step. What lies at its heart is analyzing and compiling the information. Robots help to store, collect, trace and re-format data to provide faster access.
2. Doing repetitive jobs: Mundane tasks of the day can easily be managed with the help of robots. Radiology and cardiology are two disciplines where the amount of data to analyze can be time-consuming. Hence, artificial intelligence can help in minimizing human efforts.

3. Treatment design: Selecting a customized treatment plan becomes more comfortable with AI as it can analyze data relating to a patient's previous history records, clinical expertise, external research and more.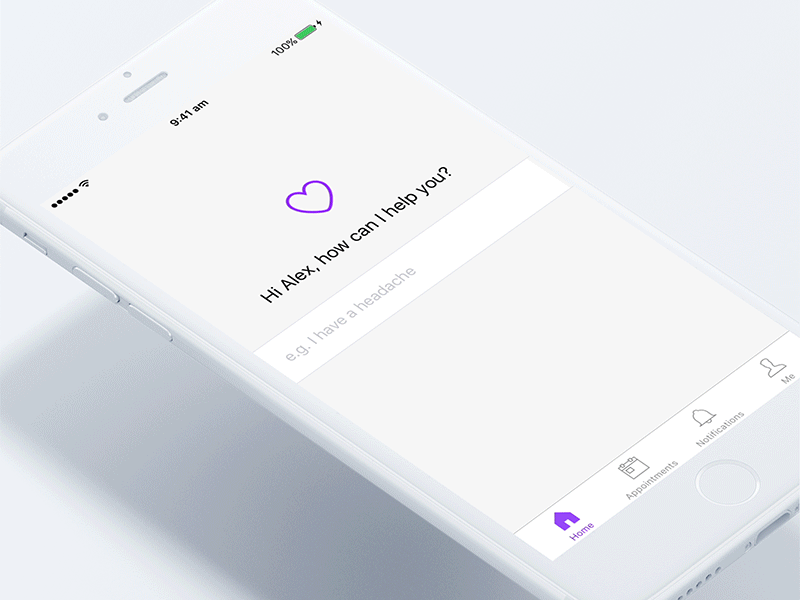 4. Digital consultation: Apps like Babylon have been very helpful in giving valuable advice to patients based on medical knowledge and personal medical history. It has succeeded in breaking barriers between doctors and patients. Users can easily report their symptoms in the app by using speech recognition feature to compare against a base of illnesses.

5. Virtual nurses: Digital assistant who helps people to do follow up treatments by monitoring patient's condition. It uses machine learning techniques to support patients.
6. Health monitoring: Health trackers like Garmin, Fitbit, and others can help one keep a check over the activity levels and heart rate. They can provide useful information to doctors regarding the regular habits of the patients. Doctors can then prescribe a proper medical treatment based on such crucial data.
For example, Oncore Medical aims to help in cancer treatment especially radiation therapy. Radiation oncologists can now access, collect and organize medical records electronically through an integrated digital database. Also, it can help doctors design treatment plans for patients.
Similarly, Sentrian is another remote patient intelligence company wants to bridge the chasm between doctors and patients by using smart algorithms. It allows easy prediction of whether patients will become sick even before they experience symptoms. Also, its remote patient monitoring technology enables it to collect patients' data from various biosensors and then deal with this data by continually detecting problem areas.
3. Centralized Management of Hospitalized Patients
Managing a vast number of patients can be cumbersome for the management of large hospitals. Hence, some of the critical tasks can easily be decentralized by relying on advanced technology. Easy monitoring is possible even without the doctor-patient interaction on day to day basis. With the use of sophisticated equipment like HD cameras and sensors, regular monitoring of the patient's heart rate, blood pressure, and pulse oximetry can be carried out without any hassles. Thus, it eliminates the need for the physical presence of a doctor and can be extremely helpful during actual emergencies.
Apart from that, it also enables patients to book appointments online, receive test reminders and updates regarding appointments, and communicate doctor through chat features and more. Such technological changes have played an active role in managing time and money resources effectively. If such things are executed properly, then they can allow patients to have easier access to scheduling, reduce stress for staff and lead to increased revenue as all critical conditions will be managed appropriately.
4. Patient Engagement Technology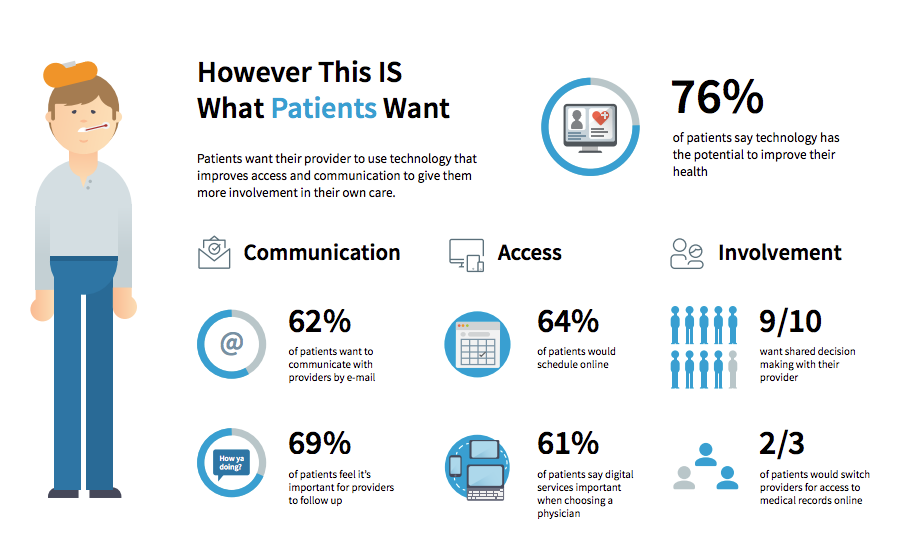 Digital patient engagement techniques are aimed at providing patients with access to clinical and administrative support in a personalized manner. These engagement tools have helped patients to connect using remote patient monitoring capabilities. Patient engagement is the first step to getting better clinical outcomes by improving communication between care providers and patients. They allow timely access to healthcare by enabling efficient illness management.
The ultimate goal of adapting this technology is to improve the quality of healthcare by reducing costs. In spite of various barriers like a fragmented end-user market, substantial investment requirements and more, patient engagement technology makes use of innovation to the fullest. The need to make healthcare more customer-centric has been realized in the recent past. Hence, the use of patient engagement technology is bringing about an overall positive change in the experience of patients.
For instance, Welvu helps healthcare providers to customize patient education content which includes disease illustrations, treatment plans for each patient and personalized medical photos. Also, mobile-based platforms can read information directly from record visual features, EHR and share educational video for review.
5. Hybrid Closed-Loop Insulin Delivery System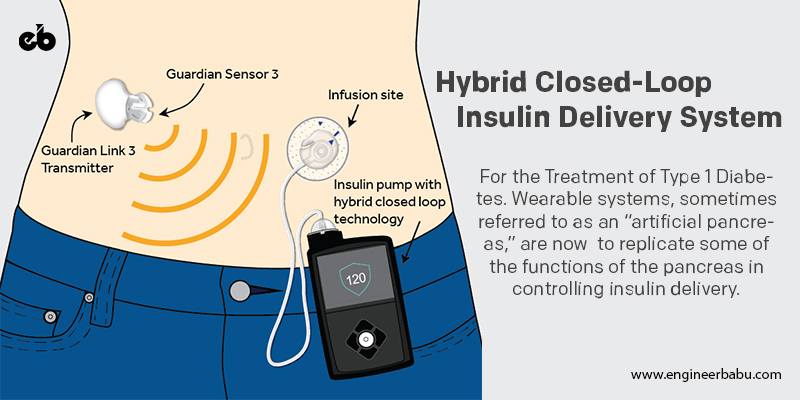 This is an essential technological advancement in the medical field especially for the people who suffer from Type 1 1 diabetes. In this condition, the body is unable to produce sufficient insulin which leads to day to day suffering. Hence, keeping a check on blood glucose levels becomes necessary several times in a day. Taking insulin injections in proper dosages at fixed intervals is thus essential. A hybrid closed-loop insulin delivery system is the perfect solution to this problem. Currently, the MiniMed 670G is the only licensed hybrid closed-loop insulin delivery system in commercial use. The next step in healthcare technology innovation is developing a full proof automated delivery system that allows constant monitoring. However, it comes with its share of risks which include its failure to reach out to the patients at a broader level. Its use is to monitor the glucose level with a pump for delivery of insulin in the right manner. This will eliminate the need for those who are suffering to test and manage their insulin levels by themselves.
For instance, in the year 2016, Ochsner Health Systems provided its hypertensive patients with wireless blood pressure cuffs. This resulted in better control of hypertension of patients as this device successfully allows secure transmission of data to the medical experts.
6. Payer-Provider Analysis and Software
Claiming insurance money for treatment has always been a very tiresome process. It comes at the cost of disrupting the mental peace of patients who don't have enough time to indulge in various complicated paper formalities. Such situations can lead to bitter experiences in case of emergencies in case the person fails to arrange the money needed for treatment and recovery.
Hence, bridging this chasm is the need of an hour for the healthcare industry.
Innovation in the field of healthcare has helped increase the efficiency of insurance companies as they can now quickly access data about the patient as well as reliable service providers.

This benefits both the payer and the provider because they no longer have to be dependent on online reviews like Google and Yelp. With factual data and detailed information, one can be assured of connecting with the right provider. The easy access to in-depth analysis has helped to evaluate the credibility of providers in the market. The information is more reliable as compared to hard facts. The ultimate goal is to improve safety for individual patients and improve the quality of care. The coordinator between the patient and the specialist will have all the information about the specialist, ranging from experience, affiliations, and network to even the proximity with the patient. The coordinator can now even rank the specialist for further reference.
Referral MD is one such carrier that provides complete analytics and referrals to enhance workflow and optimize the decision-making process in the healthcare system.
One such instance is the successful partnership between Granite Health and Cigna. Both have claimed improvement in their cost scores and quality which can be attributed to process improvement for providers and payers.
Some of the significant changes that occurred after this development:
Advanced imaging was shifted down to 7%.
Medical costs were recorded to be 1.2% lower.
ED was measured 4% lower.
7. Non-Invasive Diabetes Monitoring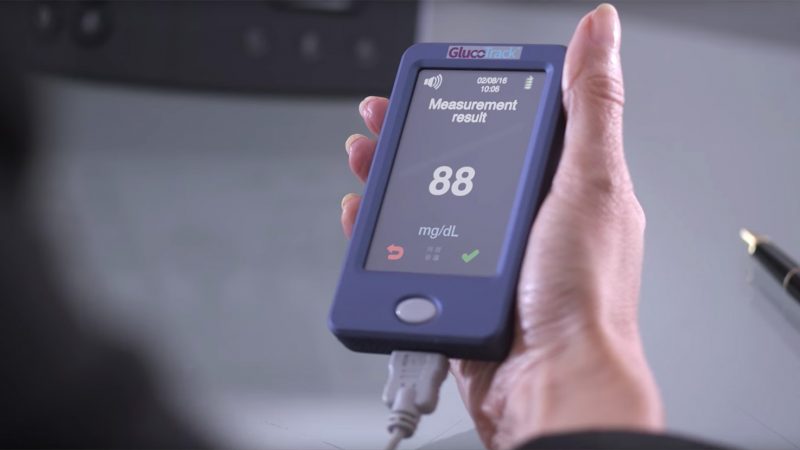 People with diabetes need to regularly check their blood glucose levels to keep track of the fluctuating levels and the prescribed medications to use. This monitoring is usually done with a finger prick blood test. Undoubtedly, this test is very much accurate, but at the same time, it can turn out to be pretty inconvenient and messy. Also, many patients feel that they are unable to test themselves as frequently as they should be. Hence, a pain-free, non-invasive and straightforward method can work as a significant improvement in diabetes care. Some of the advantages of this useful technique are:
Continuous glucose monitoring can indicate the direction and magnitude of change in glucose levels
Enhanced metabolic control
Improved quality of life due to reduced hypoglycemic levels.
8. Gene Therapy for Inherited Retinal Diseases
While children share their parents' genes, they also inherit diseases by default. Scientists are now developing technologies that would directly treat the genes of the parents so that the child does not inherit these diseases and leads a healthier life. There are very few cases of inherited retinal diseases, but there is extensive research going on for the specific genetic etiology that might restore vision loss in patients. This technology can treat retinal diseases caused by biallelic RPE65 mutations.
9. 5G Mobile Technology
With increased dependence on online methods to reach out to doctors, there has been a dire need for 5G network technology. 5G mobile speed holds the potential to enhance hyper-connectivity which can ultimately lead to quick service. This technology also paves its way into your virtual world, wherein you don't have to travel to meet the doctor.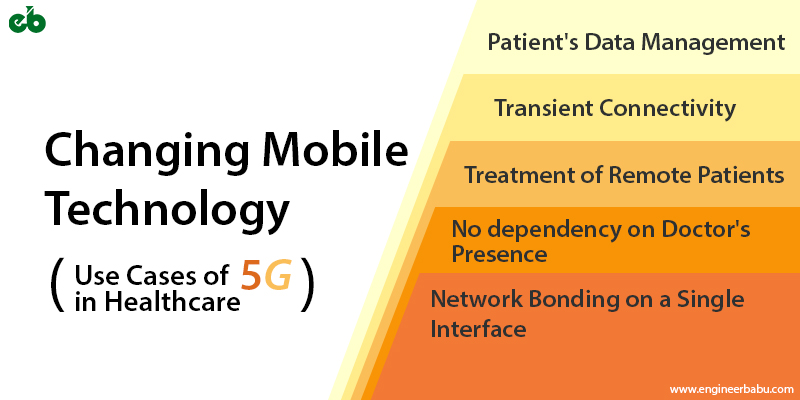 Reaching out to the doctor online can thus become easier. All he will do is analyze your condition and provide a personalized solution immediately. These are some of the advantages of 5G network technology on healthcare market:
Effective and efficient handling of patient's data
Offers an opportunity to gather all networks on one single interface
Extensive broadcasting data can support more than 60k connections
Uniform, consistent and uninterrupted connectivity across the world
Eliminates the need for physical presence of the doctors
Easy and comfortable treatment for patients who are located in remotest parts of the globe
For instance, recently, Nokia was involved in a multi-partner research project with Oulu University Hospital which is situated in Finland. Its motive is to convert it into a 5G hospital to test and develop advanced healthcare use cases.
10. Big Data Analytics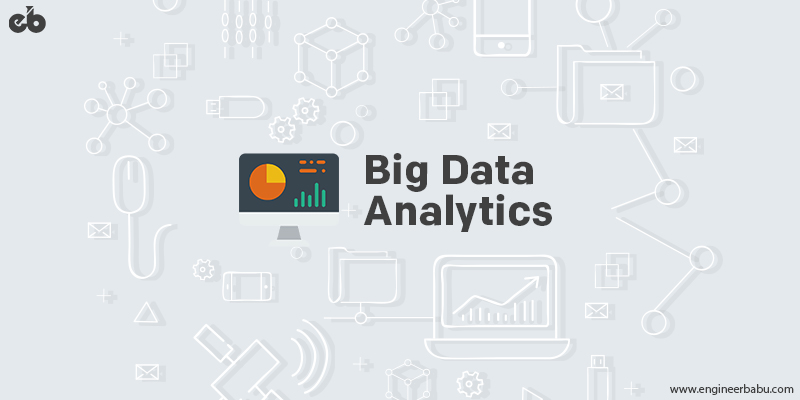 Big Data has changed the way we can leverage, analyze and manage data in the healthcare industry. It holds immense potential to predict outbreaks of epidemics, reduce costs of treatment, improve quality of life and more.
Its applications which can be adopted in the healthcare industry are:
• Patients predictions for improved staffing:
One of the biggest challenges which are faced by the healthcare sector revolves around availability of staff to manage the patients. If there will be too many workers, then the hospital will have to bear unnecessary labor cost. At the same time, also few workers can profoundly impact the customer service outcomes. In such cases, big data can help to solve the problem where data can be analyzed to come up with hourly predictions of the number of patients which can be expected at each hospital.
Using "time series analysis" techniques, one can use machine learning to predict future admissions trends. Hence, big data can be used to reduce waiting time for the patients and ensuring better healthcare facilities.

• Electronic Health Records:
It is one of the most sought-after applications of big data in medicine. Every patient has its digital record which includes detailed information relating to medical history, allergies, demographics, laboratory test results and more. Doctors can implement new changes without paperwork procedures and data replication.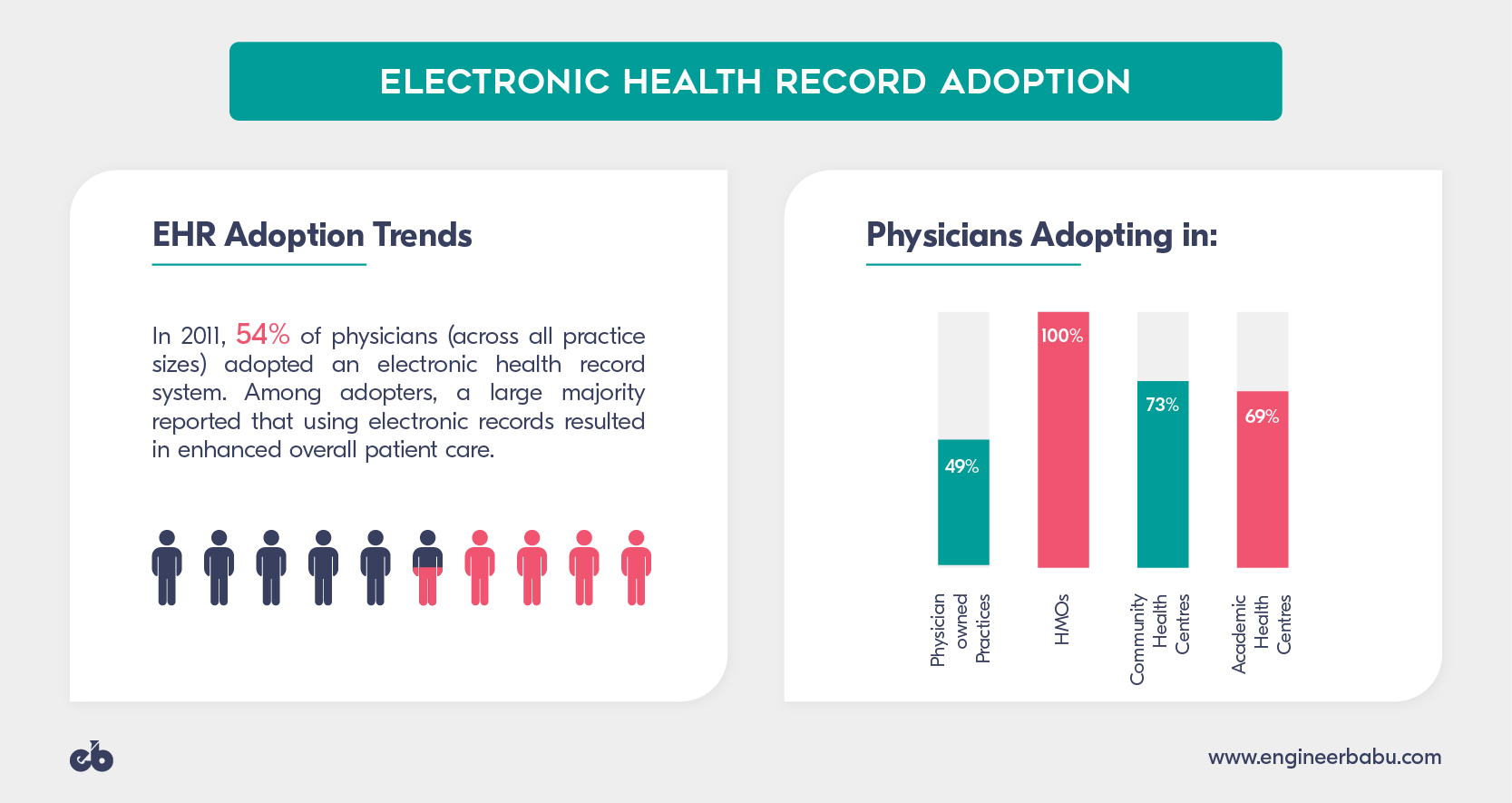 • Enhanced Security and Reduced Frauds:
According to studies, the healthcare sector is most vulnerable to data breaches than any other industry. It is 200% more likely to suffer significant consequences. As personal data is precious, organizations have now started using analytics to prevent security threats by identifying changes in network traffic or reflecting on other suspicious activities like a cyber-attack.
The Advantages of Innovation:
• Digitization of Data Records:
Proper maintenance of data is essential for the smooth functioning of healthcare industries. From filling patient treatment histories to analyzing diagnostic reports, healthcare facilities need to maintain plenty of records. Thus, the introduction of Electronic Health Records has brought about a positive change in eliminating paperwork. It has been a game changer for healthcare professionals as everything can now be managed through a centralized digital system. Input information relating to a patient's weight, vital symptoms, and test results can now easily be tracked on a single interface. Apart from that, scheduling appointments, submitting medical claims, updating patient records with diagnostic codes have become more comfortable with digitalization.
• Increased Efficiency and Easier Workflow:
Managing things in an organized and systematic manner becomes hassle free with feeding data into a computerized system. It is less time consuming and leads to increased efficiency due to the replacement of paper-based methods. Also, it reduces the risk of human errors while maintaining financial details and patient data.
• Lower Healthcare Costs:
The transition to electronic health records has the potential to reduce the cost by 3%. According to the researchers, this can lead to savings of up to$5.14 per patient each year.
• Better Treatment Options:
New technology has helped to provide new machinery and equipment and improved medicines which has, in turn, led to the improvement of the quality of life of people.
• Improved Communication:
It can be challenging to get in touch with doctors due to busy schedules and limited timings. Technological advancements have facilitated in bridging this chasm between doctors and patients. Some of the exclusive options like translation software allow easy conversion of a doctor's spoken words into another language. Also, social networks provide a collaborative platform for doctors who can easily interact with each other. This increased communication has helped the industry in a significant manner.
• Remote Monitoring:
It allows patients to access the records from the comfort of their homes. Usage of home monitoring systems can help to save a lot of cost and time associated with frequent visits to hospitals for regular check-ups. This specially designed device allows doctors to detect specific medical issues with the patients. Also, this device enables health specialists to analyze data of their patients and forewarn them in case something doesn't seem right.
---
Concluding View
Healthcare industry holds the potential to grow leaps and bounds. The need of the hour is effective and proper utilization of available technological resources to bring about that positive change. These are some of the baby steps which have been taken to enhance the overall functioning of this promising industry. Due to improved connectivity through consumer demand and mobile technology, the healthcare sector is touching new heights every single day.
Statistics state that about 90% of the healthcare executives are investing in building telehealth programs for the overall well-being of their patients. Also, these innovations are exponentially on a rise as distance health technologies are becoming popular with time.
The ultimate aim is to provide personalized services to patients in a hassle-free manner.
Hence, in a nutshell, innovation in the healthcare sector can be a blessing in disguise as it can easily displace traditional practices which are becoming obsolete in this changing world. Apart from that, the need of the hour is to adopt rigorous evaluation methods to find new ways of incorporating technology in healthcare. Evolution is necessary to meet with the increasing requirements of patients. Thus implementing these solutions is integral to the workings of the healthcare sector.