We

 

don't

 

like

 

to

B

rag,

 

but

W

e're

C

hanging

 

the

G

ame
When our Clients win, We win too
TracFlo just won $50k at Harvard business school's venture competition. Being employee #1 of the company, it brings me an immense joy to get an award for all the hardwork that the team at TracFlo has put through over the last three months, and everything came together this weekend.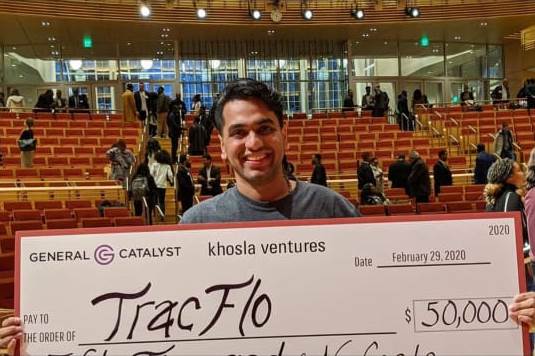 ---
Client Review and Feedback – Friday Night Labs, Inc.
EngineerBabu's work helped to launch an MVP in a cost-effective manner. The team was highly capable and organized.
---
A shout out for TracFlo being selected for NYC Demo Day
Feeling proud to be part of your journey as a tech partner.
This is what we like the most about our work, people like you, entrepreneurs and the Startups we work. And your success is our success.
All the best Anjaneya Naik and whole TracFlo, Inc., team for the journey ahead. And a big Thanks for trusting EngineerBabu.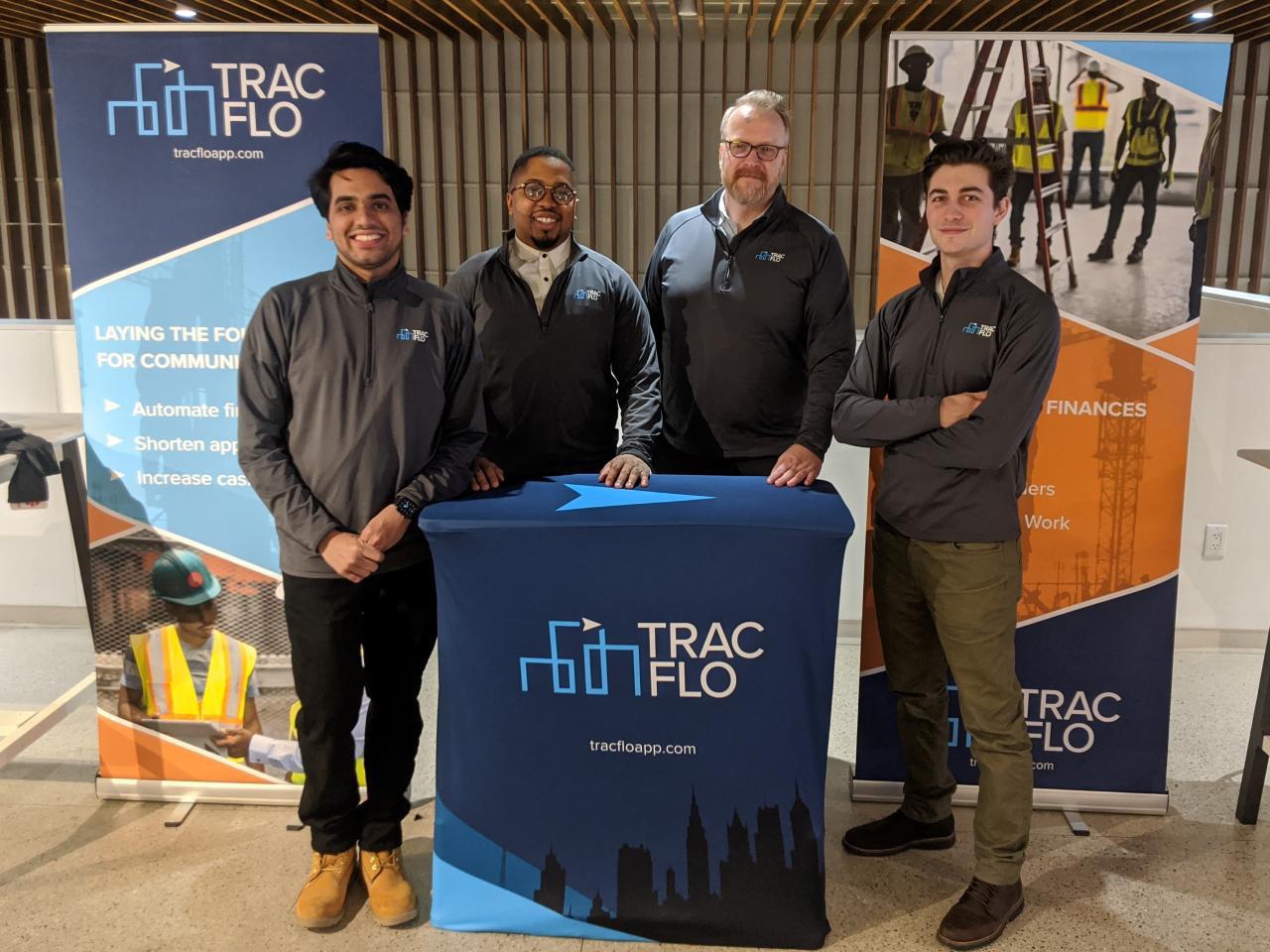 ---
Clutch featured EngineerBabu as a Leading Mobile App Developer in India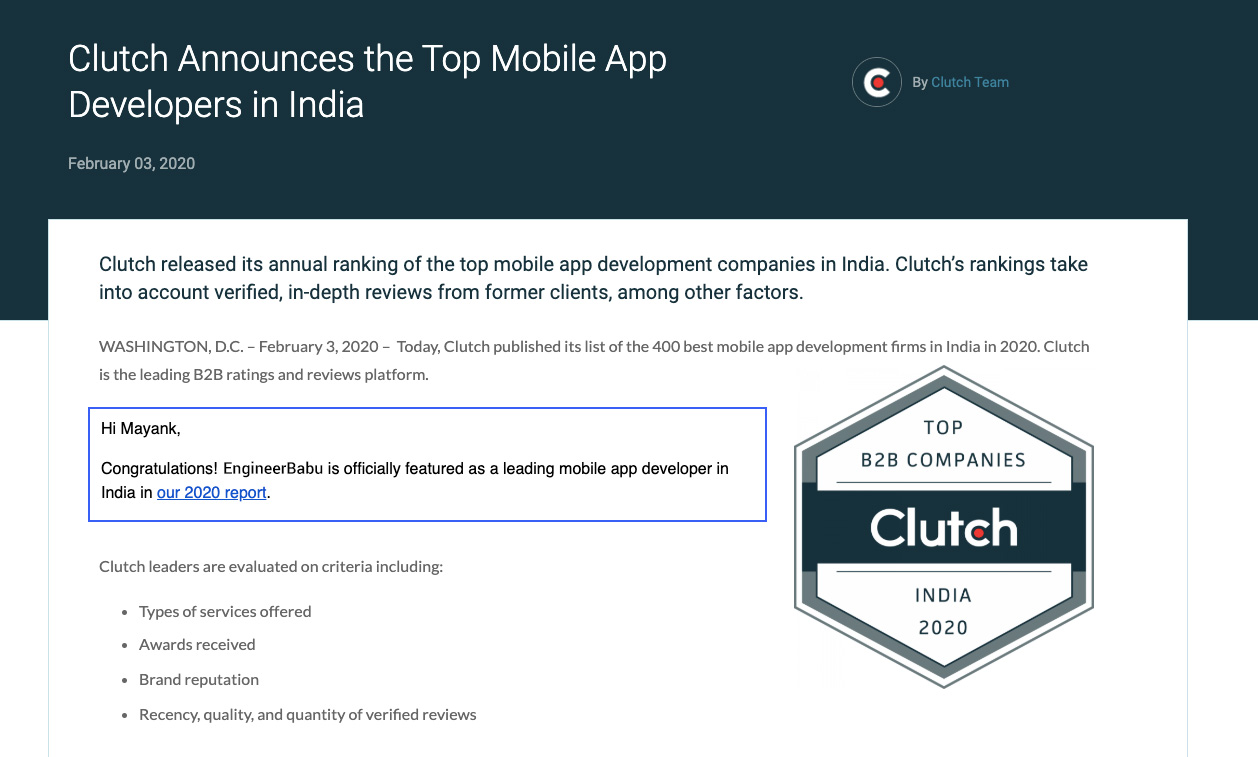 See, what our clients have to say about it …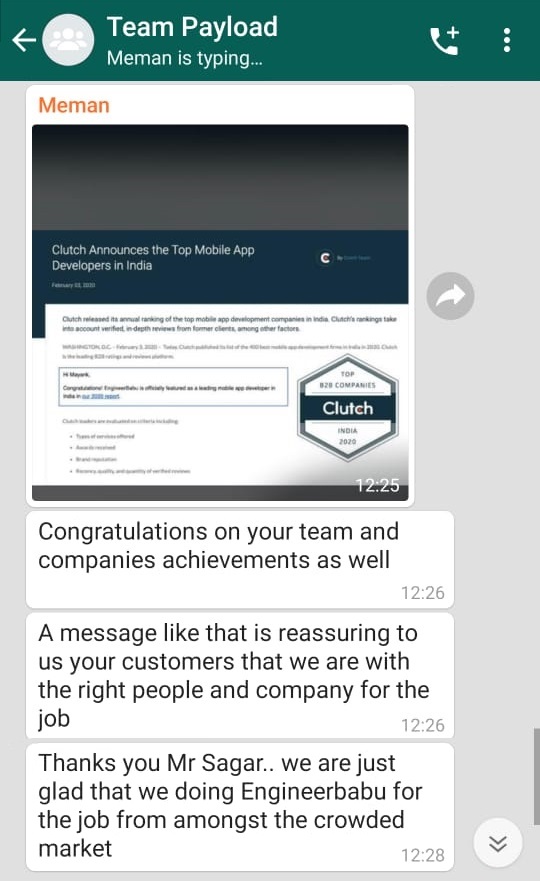 ---
Client Review and Feedback – SPARR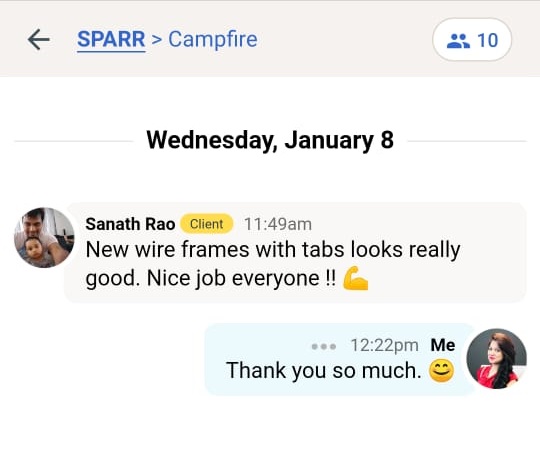 ---
Client Review and Feedback – Payload
---
EngineerBabu Reviews by James our Client, Event App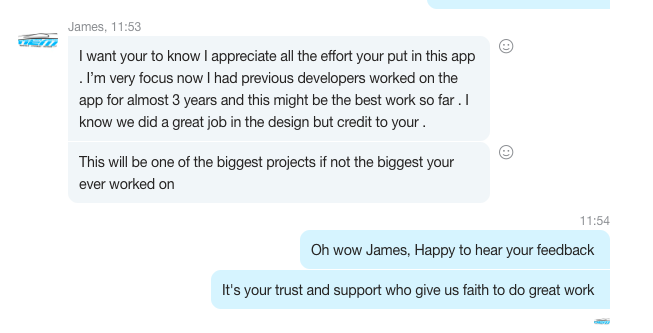 ---
EngineerBabu Reviews by Lakmikant, Food App Customer from SA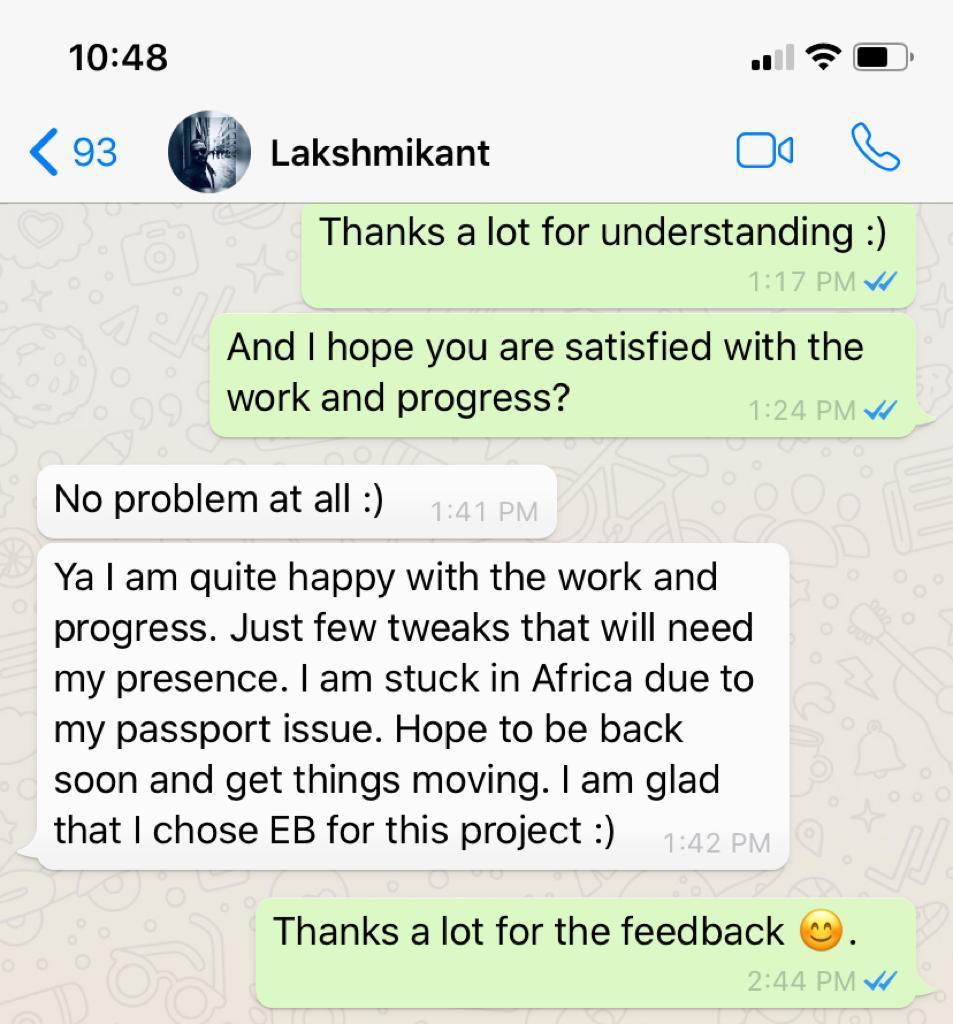 ---
Edgistify, Logistics Startup Made Yourstory Top 30 and we are really proud
Congratulation Team Edgistify for making Yourstory top 30, we are proud tech partner !!

More success to come…@vijayshekhar@drriteshmalik@aditiEB @EngineerBabuInc@BluerangApphttps://t.co/SHagHx3eDs

— Mayank Pratap Singh (@mayankpratapEB) October 13, 2019
---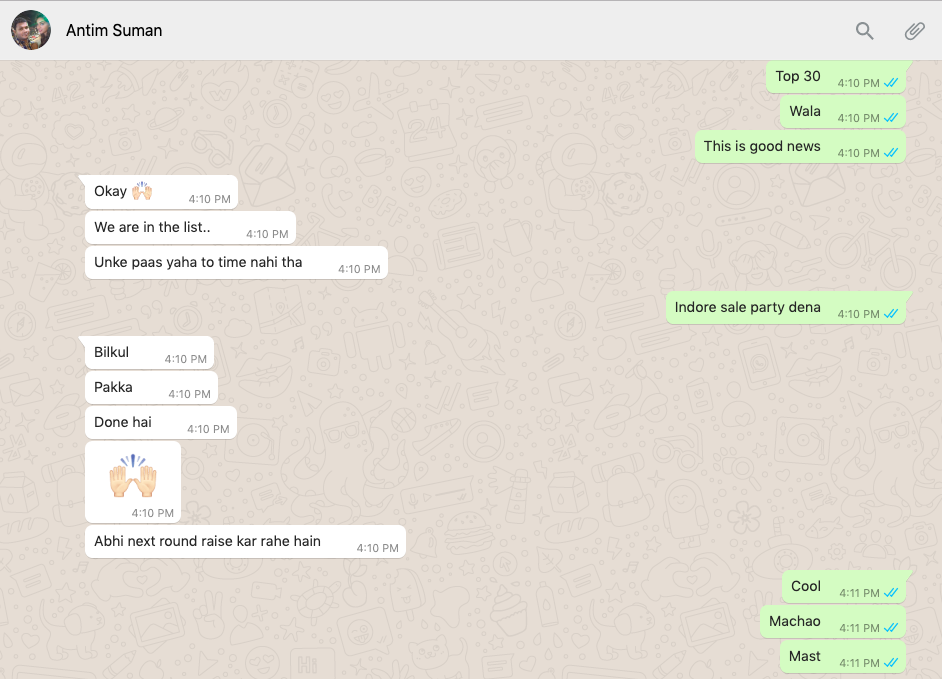 ---
Ashish Gurnani asked Dr. Ritesh Malik for a trustable tech partner when his existing tech partner was not able to match with product growth. He suggested EngineerBabu, We helped him upgrading the tech and making it ready to scale.
I am proud to see CP Gurnani (Tech Mahindra CEO) tweet today.
Proud of my son, Ashish and his best friend and business partner Aashray. All the best team @PostFold ! https://t.co/VgdfhT4W9X

— CP Gurnani (@C_P_Gurnani) October 20, 2019
---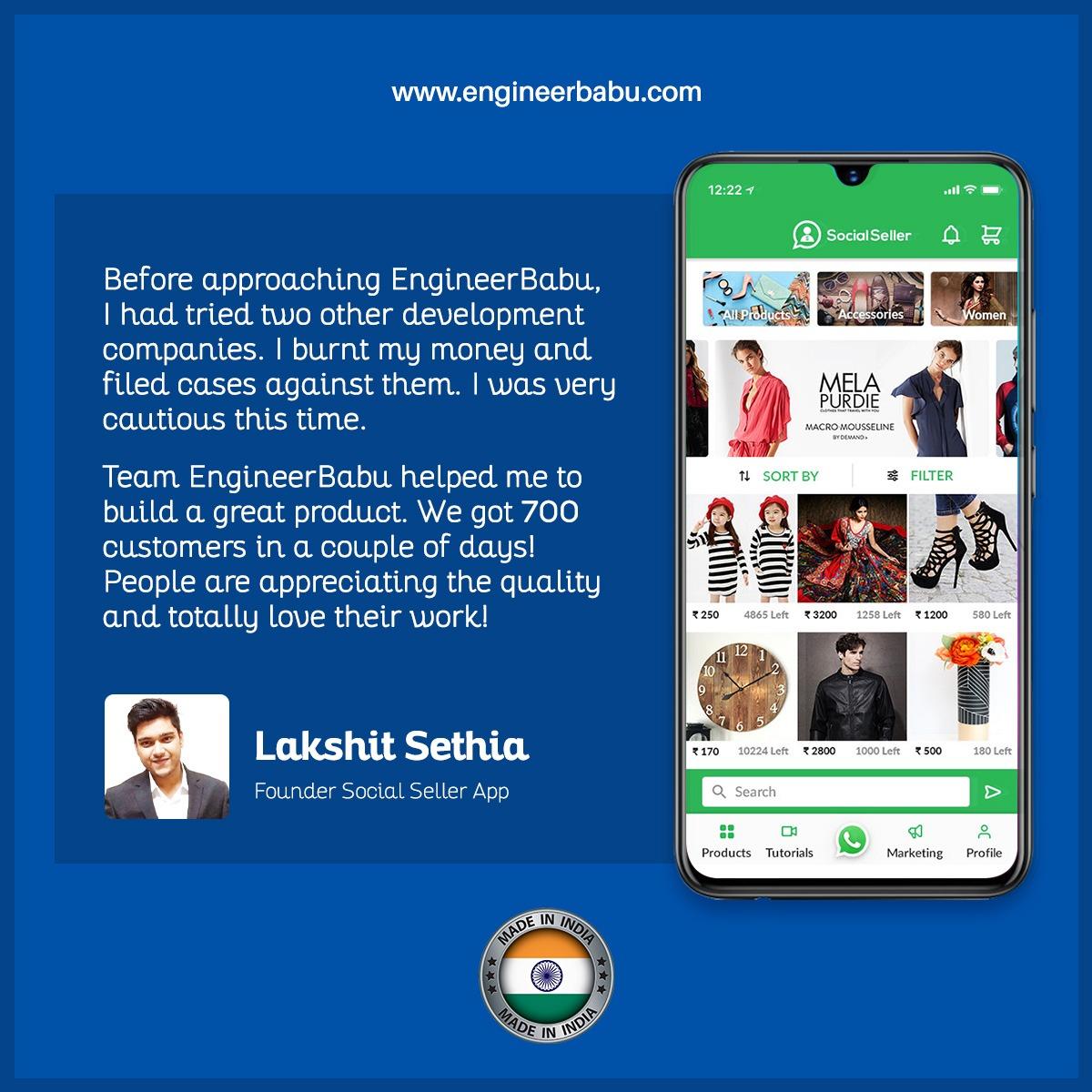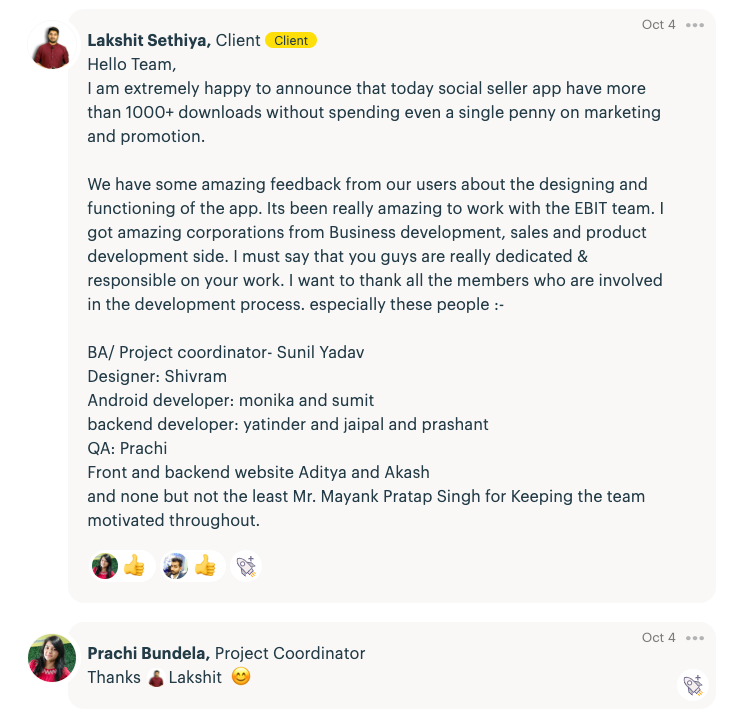 ---
Product Design Feedback by Ashish, founder of Salarymonk USA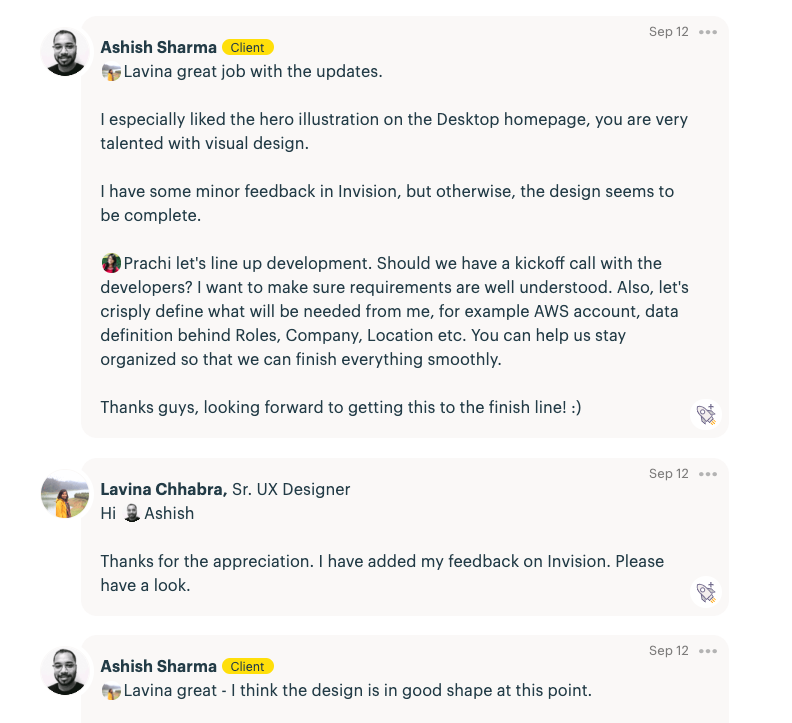 ---
Ongoing Support – founder of Grouppal

---
Client Review and Feedback – Buddy
Hello Everyone

This is an acknowledgment of how happy and satisfied we are as a client of engineer babu.

Thank you for understanding what exactly we need in our project and always doing the work within the deadlines. I would especially like to mention about my point of contact "Prachi Bundela". She has good problem-solving capabilities and understanding client needs.

I would also like to thanks the app designers and developers for their commendable work. Overall it was a brilliant experience with the Company "Engineer babu".

Hope to keep working together in future.
---
Client Reviews and Feedback – Tyko
Hi Team,

Happy New Year to the Team EB!

Thanks for the update! We will check the changes.

We are planning to launch the app. by 15th Jan on the occasion of Makarsakranti, and we expect it to be completely ready by then. Please try and finish whatever is pending and let's connect over a call on Monday to discuss the pending points from the last update and if anything is missing.

I must say, you guys have done a fabulous job, Android app looks amazing. Now, this is the time to let others know about the concept and push fish into the water to swim.

Try and wind up the good work by 10th Jan so that we can do final testing before launch, I will really appreciate if you guys can re-check again for any bugs.

Cheers!
---
Client Reviews and Feedback – The Bay/Bling
Hi team,

Thank you is a small word, the efforts you have put till now are commendable. The deadlines have also been met on time to time basis. And the work has been completely amazing.

Would like to appreciate you all for this kind of work. It has been a great pleasure till now working with the team, one of the best teams I have worked with. Just amazed by all the efforts you have all put it.

Thank you
---
Client Reviews and Feedback –

FrameBazar


---
Your Team just an Email Away, Working with us is very easy. See how it goes. Keeping all stakeholder aware of the progress

Logistics App Recently Delivered for UAE