How many times have you come across a person who told you about "the best idea'' regarding a software based business model that was sure to succeed? A lot of times, probably. How many of those ideas have you actually seen taking shape? Not a lot, right? If you're here to understand the ABCs of dedicated hiring and how to hire dedicated PHP developer for yourself, keep reading because we'll be answering the following queries for you-
How do you become a successful entrepreneur in the 21st century?
What is PHP?
What is dedicating hiring of developers and why do you need this method of hiring?
What will dedicated hiring from EngineerBabu offer to you as a client?
How much will it cost you?
For what platforms do we have developers and how do we ensure quality?
How does our internal communication work and what are some special tools that we have for you to monitor progress?
What to do if you aren't satisfied with the dedicated employee you've hired?
What are some of our success stories based on this model?
If you happen to be one of those 50% startups that do not wish to fail within their first four years, let us take a look at the third point from this very interesting statistical report taken right from the startups graveyard.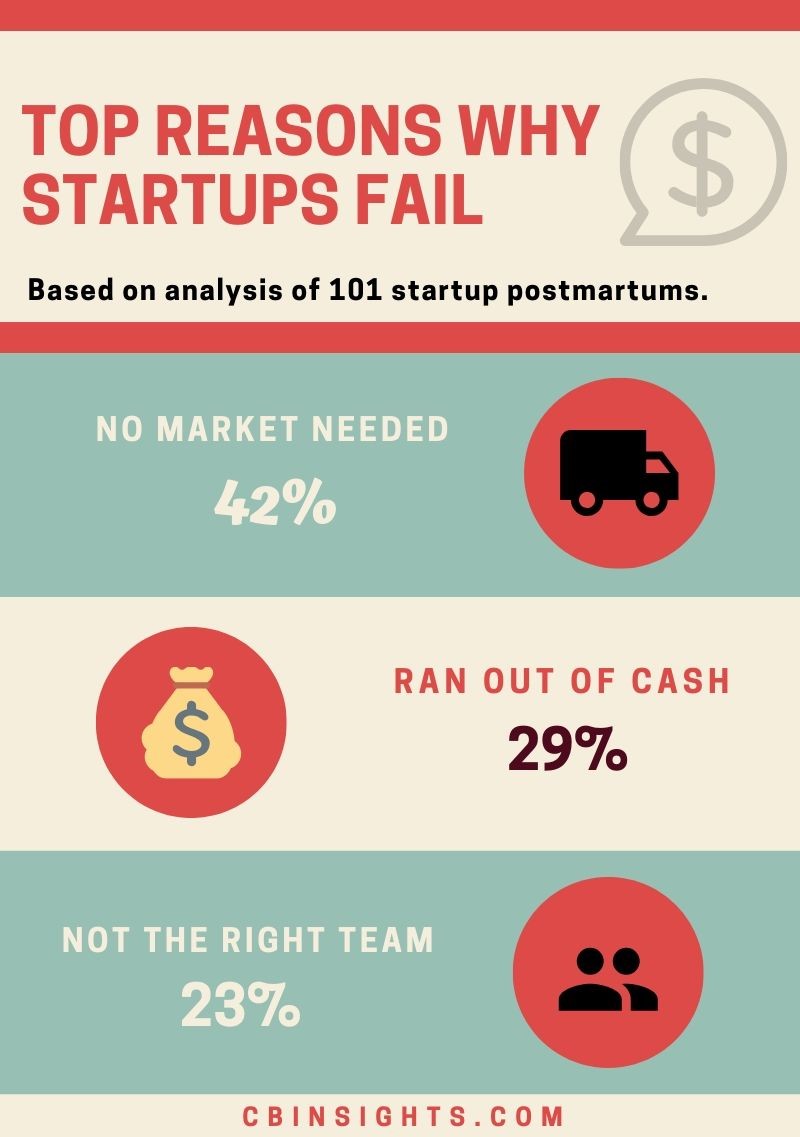 If you've come this far into researching for your new business model and have stumbled across this post, by now you're probably aware about the importance of having the right team for your business.
We at EngineerBabu believe that to become a great software company, you need the best engineering.
In this age where technology is progressing at a rapid rate, the way you're being represented to your online clients is very essential for any business to succeed. And a website or the UI of your app is the face of your company or business. All of the little touches in your app or website matter- be it a smooth UI and UX, the right words in the right place, a well organised and clean code without any bugs or crashes.
There are many software languages like C, C++, C#, Java, Java Script, PHP, Pearl, Ruby etc. The flexibility of PHP, along with the ease to use interface makes it the most important, powerful and easy to grasp language and proven to deploy strong web applications. PHP stands for Hypertext PreProcessor. It is a server-side scripting language used to develop Static websites or Dynamic websites or Web applications. Its benefits include-
It is open source and free!
It is cross platform; this means you can deploy your application on a number of different operating systems such as Windows, Linux, Mac OS etc.
Short learning curve, as compared to other languages such as JSP, ASP etc.
Most web hosting servers support PHP by default, which cannot be said for other languages such as ASP that need IIS. This makes PHP a cost effective choice.
Since PHP is a server side scripting language; you only need to install it on the server. The clients' computers requesting resources from the server do not need to have PHP installed; only a web browser would be enough.
Did you know that out of the 10 websites that you come across each day, 8 of them are PHP driven. This means that 79.8% of the web runs on PHP based applications. For sure, learning PHP can be a very successful venture for developers. Let us look at this infographic summarising an article about "Top 20 Websites Built In PHP". These include PHP operators that most of you use almost every other day!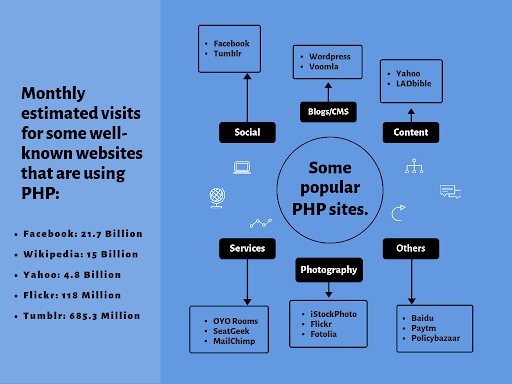 As per BusinessInsider, when Instagram was acquired for $1 Billion it only had 13 employees. Of these, less than 50% were software engineers. And did you know that when Whatsapp was acquired by Facebook for $19 Billion, their team had only 35 developers and had already reached more than 450 million users!
Wondering how that happened, aren't you?
Well, even today, Whatsapp employs only about 50 engineers, when the number of WhatsApp users has doubled. This little engineering team runs things almost entirely on its own. In a world where so many internet services have rapidly expanded to millions upon millions of users, WhatsApp is showing us the way forward—at least in part. Both of these startups were able to grow massive business values on the work of a few software developers.
If you feel that staffing in your organization is more than what is required and despite that, the goals you have established for your company are not being met, then downsizing could be one of the options for you. You can even replace the current staff with a smaller but a dedicated developing team.
What exactly is, dedicated hiring?
A dedicated development team is an engagement model involving a client (looking to hire a developer) and a software development (outsourcing) company. The outsourcing company matches employees for the development resources who will suit the client's project framework and scope, among other requirements. The client provides a few necessary details for the project and has full control over it along with a team consisting of skilled developers, while the outsourcing provider hires dedicated developers, house team members and administrative support.
Why prefer dedicated hiring instead of the traditional way?
If you happen to have any friends in the HR department, ask them how many times they've smiled in a day while going through numerous monotonous boring resumes. The answer definitely would be, ZERO!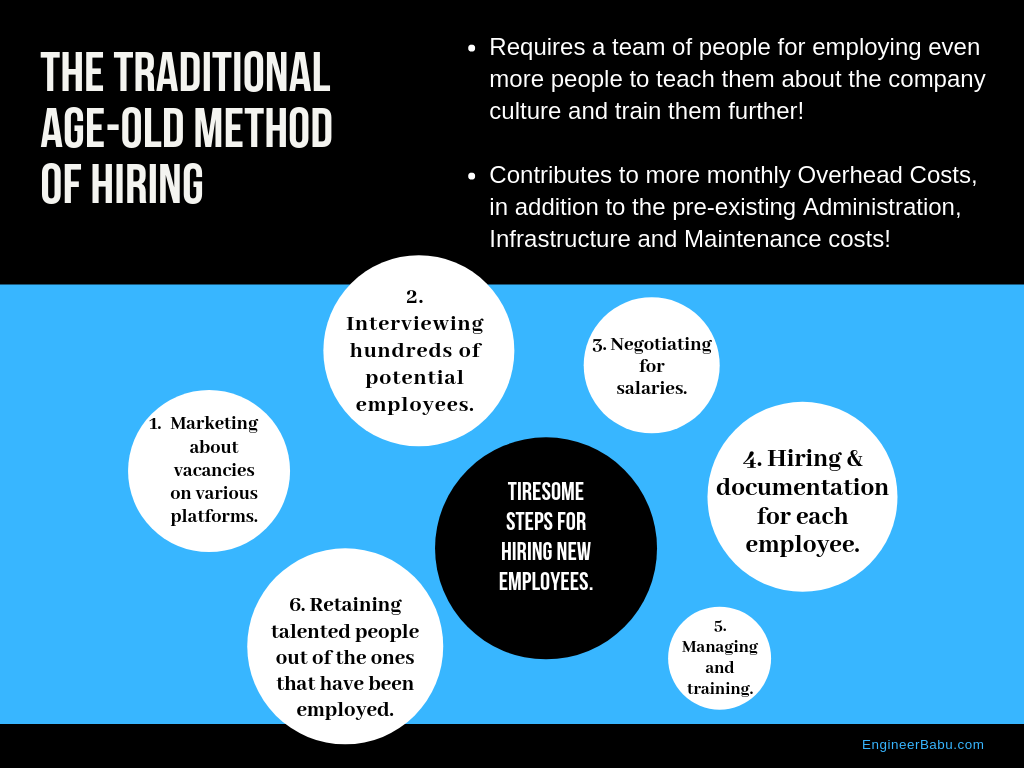 Just like it's never easy looking for a job, let's accept the fact that for you as a company, the hiring process isn't a cakewalk either. This is where hiring dedicated PHP developers will come into play. And we're more than happy to assist you throughout and after the process.
According to a report by AT Kearney Global Services Location Index (2017), the top 5 countries for offshore PHP developers outsourcing are- India, China, Philippines, Indonesia and Brazil. Now out of these countries, you would probably prefer outsourcing your software development from India. This is because, being a developing nation, the country has no shortage of developers or any other professionals from the IT sector at a very reasonable price.
Hire dedicated PHP developer from EngineerBabu and get in return…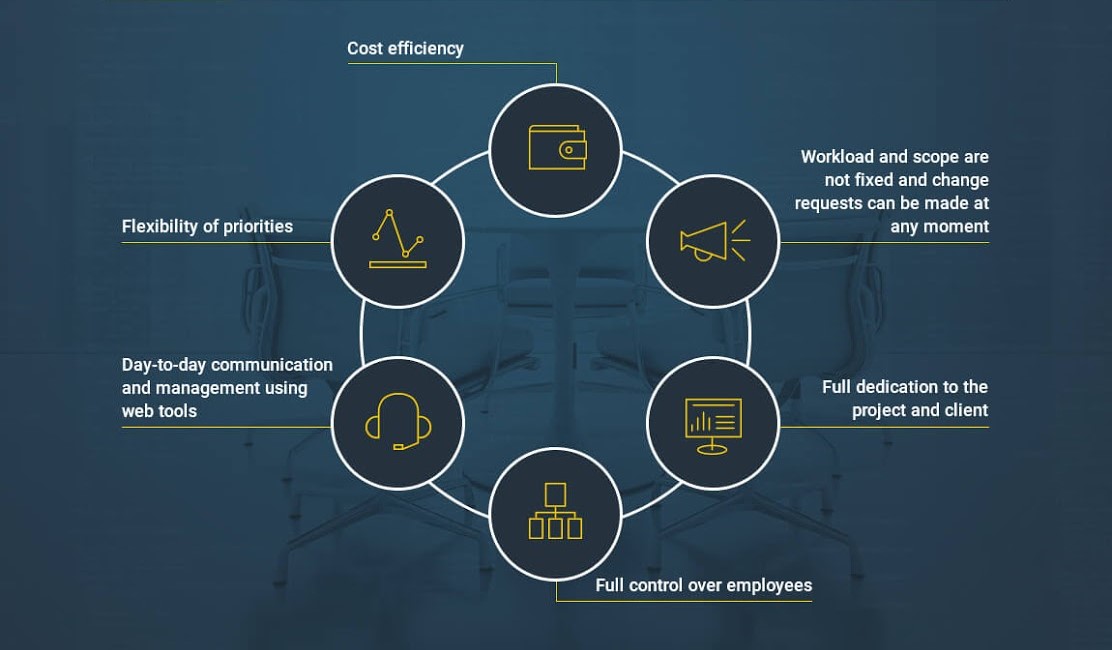 If you choose to opt for the new method of hiring with us, it is rather simpler and takes merely 2 days. Instead of a stressed out HR department, what this method to hire dedicated PHP developer offers to you is something that every business strives for in their initial days of starting up-
Reduced costs and time saving:
Your budget is extremely crucial while deciding to hire developers or any other new employees for that matter. If you have taken up a number of projects in a short span with only a limited amount of staff working on them- instead of hiring different professionals for yourself, consider hiring a reliable staff that can multi-task efficiently and is experienced in completing the multiple aspects of your project. With the best pricing options and zero hidden overheads, you can manage to do as much or even more quality work than 10 cheap freelance developers.
Availability of the professional:
Dedicated developers are employed to work on projects as per the requirements. If we compare this to freelancers, their availability and full focus is highly skeptical due to multiple projects at their hands at a given time. Depending upon the amount of work you want and its importance, you need to think about whether your freelancer developer will be available to handle last-minute adjustments, bug fixes or other emergency situations speedily and efficiently. However, this isn't an issue for dedicated employees.
High-end security:
When you hire dedicated developers from us for a short period (say, on a monthly basis), we take the responsibility of security. Your project data is highly secured when you get the project done within the given time and budget.
Professionalism:
You need someone to possess the best skills to develop your mobile app or website. Hiring dedicated developers from us gives you the ability to bring in an expert for your project. We have a team of intelligent and tech-savvy developers, who are experts in their specific domains.
Access to resources:
Since the dedicated developer would be working with us, a pre-established company, she/he has access to all the pre requisite support for the project in form of resources that a freelancer might not have.
In addition to all of these aforementioned perks, there's cooperation with talented specialists, excellent quality and higher output, during and after the project completion. And here's a reassurance from our side- Our selection process is tough. Before hiring, we ensure that a person is competent to work & deliver faster. With us, you do not have to worry about these minor issues coming in the way of your success.
Once you send your requirements to us, we will refer to you only the resumes of the most efficient developers who are rich in experience by working for quality software development. You call them in for interviews, and if you're impressed by how they can add value to your work, you shortlist them. We invest in their training and quality of work regularly.
Hiring a dedicated development team seems like an overwhelming task at first look. But once you do it, you will get enough time to focus and plan a strategy for your business- app promotion and marketing, launching and publishing it beforehand. Hiring dedicated developers can save your cost of staff and equipment. Meanwhile these employees do the rest of the work for you! Simple, right?
Read our blog "Best Way To Hire An Android Developer" to know more about hiring a dedicated android developer.
Have further queries? Let's answer them, one at a time.
How much does it cost?
As said by a famous blogger about the programming industry, "years of experience are years of irrelevance". We want to make things simple for you when it comes to pricing and there are no hidden costs, no matter who you hire. We charge flat 2000 USD, per developer, per month.
At EngineerBabu, we have developers for you who are excelled to work on various platforms including- Angular 7, WordPress, PHP, Node.js, DotNet, Java, CI, Laravel, etc. All of our apps are HIPAA & GDPR compliant. We have been building secure and scalable codes faster. We know exactly what kind of architecture is required.
How does internal communication work?
In order for any business to work, internal communication between all the employees is the one thing that cannot, and should not be neglected. It's the first step to make sure that all the people working for a project are on the same page. We use Skype and Basecamp for project management with the remote employees.
Basecamp is a project management tool that is the best way to manage your remote team. It allows you to see their progress, what's being done, what's pending, give them deadlines and your feedback. And if you're from a different timezone, this will be super easy for you.
In addition to these, you can reach out to the hired developer via other platforms of your choice as well.
Some special tools that we use to monitor progress.
If you're hiring a remote employee, you might be wondering how you'll be ensuring that he's putting in as much effort as all of your 9-5 employees? Well, this isn't an issue when we assign a developer to you. We've trained all our employees to use some special tools to keep up with the quantity and quality of work that you desire.
Timedoctor is one such tool that will help you keep track of the employee's working hours and productivity.
Everhour is an app for timesheet management, where you get to know which task took how much time, and will sync with Basecamp, so that there's no need to add a manual task.
Got more ideas that you would like for us to deploy in your project completion? We're always open to ideas, please let us know in the comments section below.
And just in case, you don't like their work..
We conduct an internal audit for all the employees that you hire from us. But, it's your reviews that matter the most to us because, after all, you have the last say in deciding what's best for your business. At the end of every month, we take feedback and reviews where we ask you to rate your hired dedicated developer based on his
Communication,
speed, and
quality.
In case you find difficult to work with our guy anytime during the project, we will replace him or return your money.
What other companies have we worked with, on the same model in the past?
ShowGround is one such success story that was catered to by our team from overseas! To know more, you can watch this video When Our Customers Win, We Win Too! Or simply to get more information.