Imagine being so ill that you cannot even get out of your home to buy medicines. What would you do if there's absolutely nobody at your beck and call? If you had an option to get your medicine delivered at your doorstep,you wouldn't miss that chance. An online pharmacy app is one of those inventions that have blessed mankind.
An online pharmacy app like Walmart Pharmacy can revolutionise our lifestyle with healthcare and prescription management. 24 hours pharmacy delivery and medicine apps are multi-problem solving innovations. How? Let's take a look at the features:
Easy onboarding and order tracking
Smart search and substitutes
Refilling prescription
Medicine reminders
Simplified shopping with reorders and refills
Providing information about side-effects
Booking of lab tests and consultation facility
If you look for 'pharmacy near me' and still don't find what you want, it's a mood buster. Buying medicines has become hassle-free by the use of such applications by major game-changers of the industry. As per Statistica, in 2014 the global online pharmacy (e-pharmacy) market was estimated to be worth some 29 billion U.S. dollars. By 2023 it will reach around 128 U.S. billion dollars!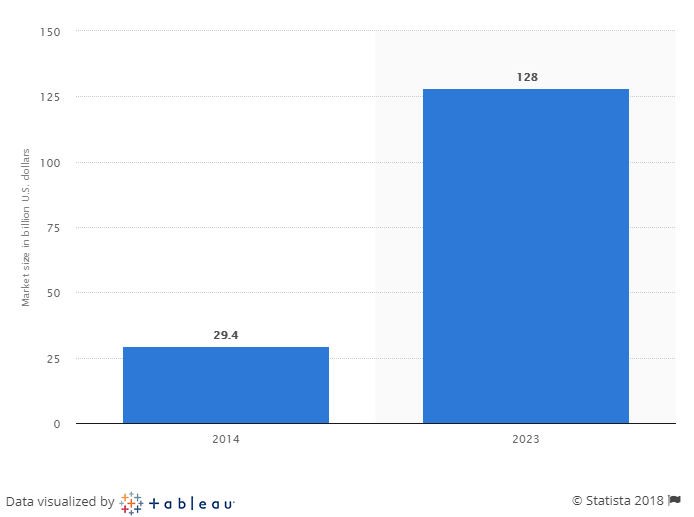 You can now make patients' lives easier by developing your own online medicine delivery app.
EngineerBabu has developed such apps in the past and can guide with every bit of information regarding the same. The motive here is to uplift the health industry. Before moving ahead, it's important to note that this field of service is critical in a patient's life. It has to be a secure, fast and powerful process.
How Do Medicine Delivery & Online Pharmacy App Work?
The process is quite simple. Let's take an example of an MVP for this category of mobile applications. First, search for the required medicines. The end-users of the pharmacy delivery app browse through the categories of medicines that they want to purchase. Secondly, they add medicines of their choice to the cart. Now, they proceed to checkout.
Recommended Reading: Hospital Management Software: Automation Solution For Patient Management
Lastly, they pay and can even track their orders. With the help of such user-friendly medicine home delivery apps, users get real-time updates when they track the order. Moreover, these pharmacy delivery apps are highly secure in terms of payments and storing details.
The various kinds of pharmacy delivery apps:
Enriched medicine ordering app for your customers must have user-friendly characteristics supported by all the platforms including Android and iOS. The features are totally dependent on what services you would like to offer to your patients. There's a magnitude of options to choose from. An effective supply chain management is essential for the proper and real-time functionality of your app.
Pharmaceutical CRM Software offer cloud-based CRM to customers for storing detailed information of the customers securely. The details can include but are not limited to customer records, customer basic details, and inventory details. You can connect consumers with local pharmacies by on-demand medicines delivery from the nearby medical stores.
In addition, you can even sell directly with a centralized inventory. Usually, big Pharma companies directly connect with their target customer base without a middleman. Also, you can digitize your own retail pharmacy physical chains with an app. If you have an existing brand, you can have an online pharmacy network to acquire new customers and grow the business faster and in a smarter way.
Then, there are inventory management software. It helps pharmacy businesses to track important data and store it in properly in organised way. This includes tracking orders, shipments, inventories, and requirements of the medicines. With an integrated 24 hours pharmacy app, you can have a sales and distribution software. Software or apps that support both online and offline storing of data for your sales and distribution process will simplify data-records.
Why does your online pharmacy app have to be secure?
It's a given that all medical practices and patient information system software must be HIPAA compliant. We make sure that all of the apps developed by us meet the federal security standards. Also, code implementation is important to ensure that the diagnoses entered into the software can be read and understood by other medical providers universally.
You can take a look at some of the apps developed by us for our clients in the healthcare industry:
Gorus

---

Wello

---

Urban Stall
---
The Process & Cost For App Development Of An Online Pharmacy App:
As an owner or developer of such an app, you will need to purchase some medical insurance in the case of a liability claim. The average cost of a pharmaceutical claim would be more than $14,000. Let us take a look at the various cost deciding factors: Tax Registrations, Pharmacy Business registration, Pharmacy license, Storage facility or partner with pharmacies, and the cost of web and mobile app development.
Pharmacy License: It is mandatory to have a drug or Pharmacy License if you want to start an Online Medicine Delivery Startup. The issuing of these Drug License is controlled by the state or the government. Usually, it is only issued to those personal who are certified with a degree or diploma in pharmacy.
While looking for an app development company, make sure you choose somebody with a domain expertise for the same. Moreover, if it is related to the healthcare industry, it becomes even more important to hire the right company. The cost of developing these mobile applications is subjective. As mentioned in our article earlier, it depends on the number of features you wish to integrate. However, an estimate can be generalised within the range of USD 10,000 to 20,000.
---
To sum up
Healthcare industry is booming rapidly when it comes to technology integration. The development process and machinery required for a healthcare application like this is unique. It is very different from the development of regular mobile apps in other domains. Also, the needs differ depending on factors like the size of the facility, independency vs being a part of some larger medical group, etc.
The software can deploy linking practices and medical offices, keeping in mind that it is not too technical for medical professionals.Although, it is one of those industries where you have to be very careful in picking up a development partner.
EngineerBabu is an app development company based in Indore with a wide portfolio. Our team has worked in various industry sectors like EduTech, Networking, FinTech, Grocery delivery, Travel and a portal for Service providers. Talking about the medical industry, our previous clientele includes Shalby, Gorus, Doctor G and some more projects that are still under the development process or under confidentiallity terms.
To conclude, let us know if liked this information or need us to edit or add something. Just let us know in the comments section below. You can also drop an email at [email protected], or 
---
Recommended Reading: