Difference between Indian Developers and International Developers
There is these very unusual and hot buzzing topic people seem to debate upon i.e. "Indian Developers v/s International Developers". It has this same intensity of aggression as it is with "Android v/s iPhone" thing. People never get tired or bored after millions or zillions of discussions.
Well, being an entrepreneur and a CEO of a successful start-up, I've heard and got feedbacks from tons of people, mostly good ones.
But, there were few clients who raised some impending questions against our Indian developers and the overall system which nurtures our IT domain.
There was this client from the USA who bluntly once said, "Indian Developers are not at all Good". That hurts, right? A lot! I replied to him saying that
"These are the same developers who once move to the USA and are managing the CEOs designation with pride, may it be Google or Microsoft".
Meanwhile, I asked him out of curiosity, "What all challenges were being faced by him while working with the remote teams and hiring freelancing teams?".
The replies were quite suitable, "Lack of professionalism, miss the timelines, no deadlines managed, incompetence and so on."
Thinking about all of the things mentioned above, the problem is not with the developers but in the system under which they are raised and nurtured to work on projects.
The problem is the process that fails to take the right decisions because you can't expect a graphic designer to code and expect 100% efficiency in return.
There is no damn way it is possible, it's sheer stupidity you commit while recruitments are going on.
Right candidates are not about the competency of a person to be sound technically, but the competency of a person to suit perfectly for the job designation.
One must compliment the ethics, morals, and working culture of a company in order to deliver the results. Training a right person for a job is possible, but vice-versa is a waste of time and money.
Start-Ups here are all about skills and performing a given task where off-shore companies make sure that the skills of the employees are aligned to the company's culture and environment form a strong foundation.
But if, the foundation itself is weak, how could you aim for sustainability for such a plan? Airbnb sets one great example before us when it comes to culture.
So, how would you help your company/start-up eradicate such problems? Well, I may have some solution:
Problem 1. It's people's first and then company's:
There is no doubt about it that your company is your brand name and has got a brand value which in turn brings ROI for the company.
But, actually it is not the company that builds projects, it's the people that do. Confused? Let me explain.
Say, few employees holding 15 years of work experience plan to start a business/start-up.
The efficiency of these 10 employees working in a small firm will be more than the efficiency of 10 employees from a big company.
Thus, it's the employees that matter the most and are prior to the company and not vice-versa. They are the company's richest assets.
Problem 2. Don't thrive on retaining your potential client if you can't do it:
This is the most common and widely made mistake which can cost a company a loss, a giant loss.
Say, you managed to build an iOS app for one of your clients. Your work highly impressed that client and became your one-of-the happy customers.
Now say, one day that client comes over to you with an inquiry for Digital Media Marketing service, if your company doesn't provide such services, say NO.
Don't give a nod or YES if you can't because if you fail to deliver it, your client is gone forever.
It is perfectly alright to say NO to the services you don't offer. Concentrate on delivering quality than quantity.
Problem 3. You are merely a drop in an ocean full of employees:
I remember an instance of my life where once I worked in an MNC. I was a part of a giant project like 700 other developers.
Working in MNCs and under such a crucial environment, you get to work on a minor part of the project.
You're not even aware of what your fellow team is dealing with or in fact what are you dealing with.
You have bloody no idea of what is the project about. Down the line, you are in a lost world working 9-5 confined to a monotonous task.
You don't get to explore or learn anything beyond the fence that is created around you. The essence is lost.
But, with smaller or establishing companies, developers are the ones who handle more than 70% of the project making it very easy for them to associate with the project.
Execution becomes subtle.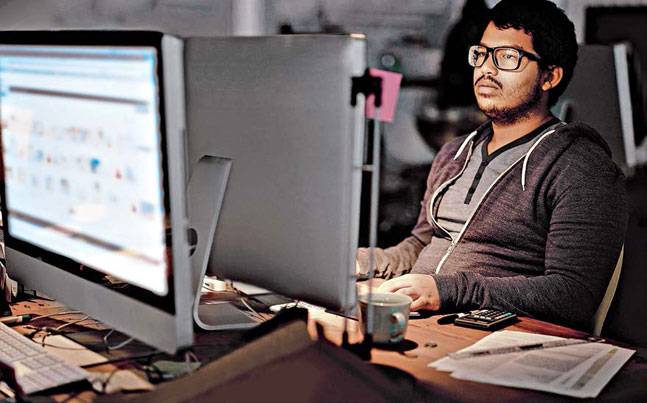 Problem 4.  Because Alfredo and Potato are not the same:
Give your developing team to develop a dating app besides knowing the fact that they are into developing chatting apps.
How far would they go in terms of developing the app successfully? Yes exactly, they won't be able to do justice. Domains matter a lot when it comes to app development.
The team which holds expertise in developing social media websites cannot deliver the same results for developing an e-commerce portal.
Domain specialty increases the success rate exponentially. This is what we personally implement at EngineerBabu!
Working for the past 7 years with our Golden team at EngineerBabu, we are associated with more than 1000 freelancers and remote teams nationally and internationally.
So far it has been a spellbound journey of ups and downs. Recently, at an award function, EngineerBabu was honored with a 100 Emerging StartUp award. Trust me, it is a journey worth every effort.
The moral of the story is the way you nurture your development team. If you'll not let them explore the opportunities and problems, they'd never learn anything and never be able to contribute to your company's growth and development.
Thus, change in the environment and working culture, rest will follow automatically.
If you faced these problems to hire developers. EngineerBabu is an easier, faster, smarter way to hire freelancers. Discuss your project.