We all use social media and other applications, and if you are surprised with local ads, then blame the Geofencing technology. In this competitive market, now, Geofencing has become a great marketing strategy. It has evolved the market and has taken the businesses by storm. 
Geofencing Technology helps businesses to target their favorable audience just by providing virtual boundaries. When the targeted customers enters into this virtual boundary, they automatically activate ads and push notifications for that particular business or the mobile application.
This technology is majorly used for GPS and RFID (Radio Frequency Identification). There are many other uses of Geofencing Technology, for example, Google Earth which manages it with the help of satellites and represents the boundaries of a specific geographical area. 
The Geofencing technology is also used for the latitude and longitude boundary of the user and the web-based maps. Whereas, in Mobile Marketing Strategy, Geofencing technology gives an opportunity to local and multi-channel businesses to interact through mobile devices with potential nearby customers. 
Due to such technology evolution, the mobile marketing world is moving ahead towards more relevant and contextual customer targeting. When it comes to mobile, the time and location are the two most important elements. The devices are always on the move and eventually changes in location, therefore, to trace the devices Geofencing Technology is very apt and useful in this situation.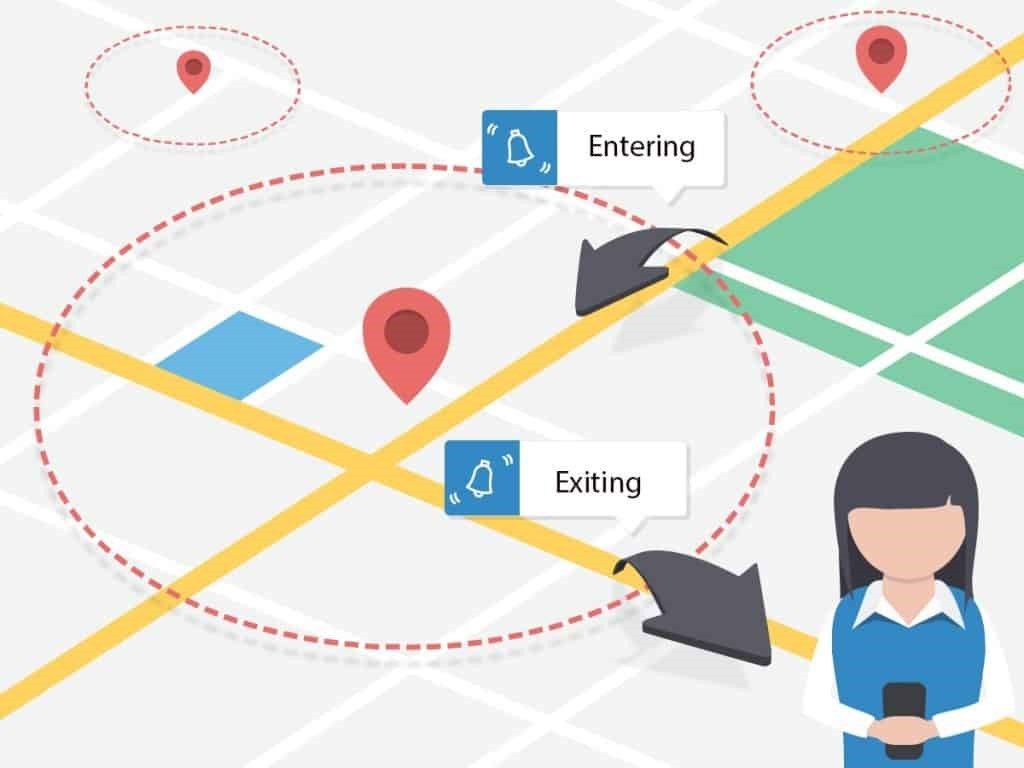 Source: HigherEducationMarketing Website
What is Geofencing Technology?
Geofencing is a location tracking technology. Its services are used in mobile application and other software. It uses GPS, Wi-Fi, RFID, or Cellular Data to initiate a pre-programmed action when the mobile device or RFID tag enters and exits any virtual boundary from a geographical location. This whole process is used in exercising Geofencing Technology.
Depends on the device configuration with the Geofencing, triggers the push notifications or text message alert. It also can activate the delivery of targeted advertisements on social media, allow tracking of associated vehicles, disable certain technology, or can even deliver location-based marketing data. 
Geofencing is a very small yet effective marketing strategy which can target customers based where they are with respect to the businesses. Geofencing technology is broadly divided into 2 categories.
1. Active Geofencing- Active Geofencing depends on the end-users. It can easily use location service to track the users based on business requirements. It can also be done with the help of some specific smartphone applications.
2. Passive Geofencing- Passive Geofencing is active all the time and doesn't depend on the end-users. It only depends on the Internet connection via Wi-Fi or cellular connection. Passive Geofencing always works on the background when the user switches on the location on their smartphone.
Advancements in Geofencing
Eventually, every technology evolves in a period of time, likewise Geofencing. Developers have evolved and presented a variety of updates in the Geofencing technology. The developers introduced a hand-full of ways to apply this technology in a much more resourceful and creative way. In multiple ways, technology has been implemented in applications like WhatsApp, Facebook, and travel apps like Uber.
For Uber apps, Geofencing is the sole concept on which each activity of Uber is based on. It helps in ride search and confirmation based on which location it is. Still, the technology is evolving in the app to provide much more precise service to the customers. 
Uber also used the Geofencing technology to prevent clogged parking spaces at the entry and exit points of Airports. Even the renowned retail and wholesale brand Walmart is also using Geofencing technology which helps them to drive more sales.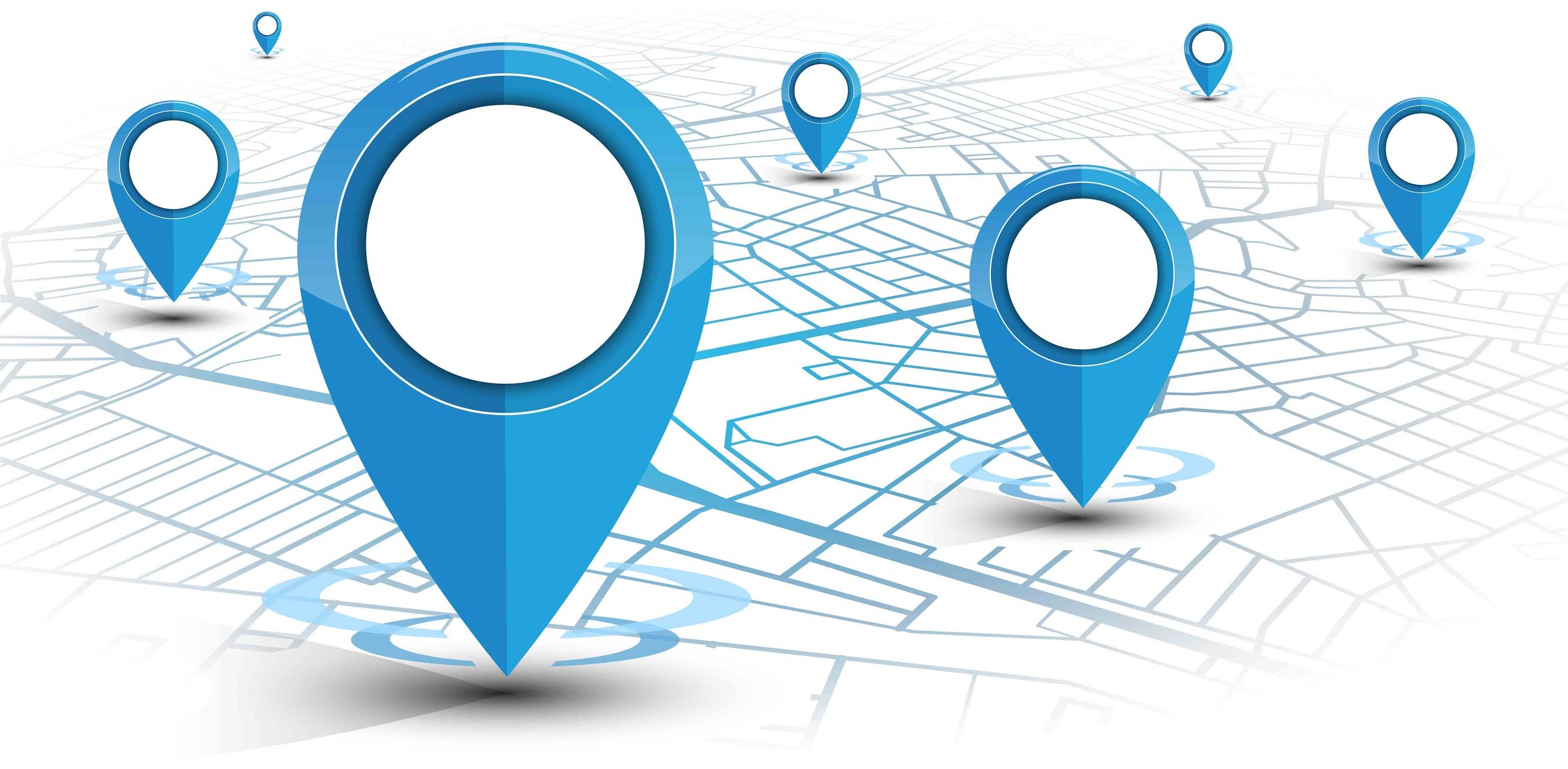 Source: 911Cellular Website
How is Geofencing appropriate for a Business?
Geofencing targets a majority of qualified audience by presenting them ads for the specific product or services when the user steps into your targeted geotargeting. Those advertisements could be in the form of text messages, push notifications, or PPC ads in a Web Browser or Application. Let's see some points which could prove that Geofencing could be an easy and right choice for the growth of your business and are as follows;
1. Easy Customer Reach: Geofencing is a great business option to reach customers easily because technology makes sure to notify or inform the customer about your product/services. This technology just traces every new prospect when it reaches to your defined geographical location and instantly performs the assigned action. 
2. Instant Consideration: You can grab the immediate attention from the prospect customer and make them aware of the respective product or services, without uttering even a single word from your mouth. The Geofencing technology instantly nudges a message to the prospect that might interest them and makes them visit the nearest store to check out the latest deals and offers. 
As a matter of fact, almost 90% of SMS are read within 3 minutes of time. So, Geofencing could be a significant boost to the business and help consumers to get informed and make instant decisions. 
3. Increases Brand Awareness: The Mobile Marketing Strategy with Geofencing allows local and multi-channel businesses to communicate with their potential customers who can or ready to purchase through mobile phones. 
These advertising messages and notifications serve as a reminder to consumers and motivate them to choose their brand among the thousands of other similar businesses in the location.
4. Reduced Marketing Budget: Geofencing technology is playing a great role in minimizing the expenses over Marketing. As it is only focused on local consumers and these local consumers are likely to buy from local businesses.
It is quite like an extension or medium of taking your business ahead. Thus, Geofencing technology makes sure that the owner doesn't require to present in their shop store and call the local passersby to sell your product, it is just because you have already identified your potential and local customer.
Such an evolution in marketing strategy has also supported the new marketing opportunities for online entrepreneurs. A lot of brands have gained success through Geofencing technology; especially those who have highly classified data and require maximum security for that.
How does Geofencing Work in an App?
Geofencing helps to keep control of your business by notifying you when the potential customer is near your store, or a competitor's store, or even entering into your predefined geographic area.
To perform such geographic marking, you require Google Maps to mark the areas you want to geo-target. Once your area is mapped, you can easily target your customers through mobile phones GPS. 
The virtual geotargeting will then trigger instantly when the new device enters or exits the geotargeting area as defined by the business administrator or the developer. Mostly, the geotargeting is defined within the code of a mobile application. Therefore, the user can opt-in to location service and allow the geotargeting to work for their device as well. 
A geotargeting can also be set up by the end-users using this technology in their mobile apps. Such as the iOS Reminder app, which allows you to choose an address or location where you would like to initiate the specific alert or push notification. 
Geofencing is not only a mobile application whereas it is also used in monitoring vehicles in the shipping industry, animals in the agriculture and wildlife area. It is also a very effective technology in programming drones, as they are pre-programmed to geotargeting the specific area. The drones are usually set up at open-air venues, airports, sensitive military regions, and many other places where it is difficult for humans to reach quickly. Some drones geotargeting also require user authorization, where it carries the user's identity with the drone so that it becomes easier to keep track of illegal activity or unmanned drones. 
Geofencing technology uses the following procedure for geotargeting through a mobile app; 
1. Location Tracing Services: To locate the user's device, Geofencing technology uses internet connection or GPS. Though Wi-Fi or Cellular Internet connection is advised, as both are reliable sources, whereas the GPS-based solution is an extremely battery-draining option.
2. Format: To implement Geofencing technology, you don't require any external or extra hardware. It is available in the form of Software which can be easily integrated into the mobile device app and can be effortlessly managed through an online dashboard or API.
3. Target Range: The implementation of Geotargeting feature is much more beneficial for targeting outdoor large-range. It works effectively and covers minimum and maximum area about between 50 meters to 50,000 meters in radius. For example, the area of a shopping complex and the nearby areas as well. 
4. Privacy: Geofencing technology requires users' permission to monitor the location and send notification while using it through a mobile app.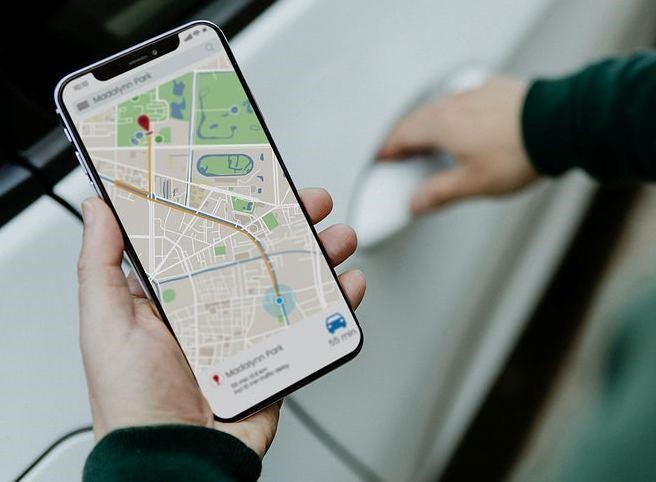 Source: RawPixel Website
Applications of Geofencing
With the increasing trend and popularity of smartphone use, Geofencing technology has become a very common and necessary practice for a huge number of businesses. It provides a pool of endless opportunities to the businesses for what they can do. Such practice has become very much popular in the social media and marketing sectors. 
Even many retail brands and hospital businesses also set up geofences around their competition. So, when you reach that specific area, you will receive a push notification requesting you to visit their store or hospital for better service. The push notification depends on the app you have downloaded on your device. Suppose, you have a grocery app on your device, then you are going to receive the notification for that when you approach the geotargeting area of that business. 
Here, are some common applications of Geofencing:
1. Social Networking: One of the most evident and visible uses of Geofencing technology has taken place in Social Networking applications mostly witnessed in Snapchat and Instagram. The location-based filters, stickers, and other media are all possible due to the Geofencing facility in these mobile applications. The images or videos shared on social media platforms by using promoted filters at a concert, using custom-made filters at any party, sharing location-based stories, all these activities are only possible with the geotargeting feature which defines the virtual perimeters.
2. Marketing: Geofencing is also a very effective and efficient way for businesses to make in-store promotions by alerting you as you step in the range of the store. This technology also helps businesses to target ads on a specific audience to analyze the best strategies which work for such location-based users. 
3. Smart Appliances: As the technologies are changing, likewise our home appliances and other gadgets are also getting smarter. For example, with the Bluetooth feature in the Refrigerator, it becomes easier to program it and set a reminder for every 3rd day to buy milk from the nearest grocery store as you are going out of milk now. With such a smart device, you can also make sure the thermostat is set at the perfect temperature by the time you reach home after work. All this can be easily done by using Geofencing technique. 
4. Human Resources: Some companies use Geotargeting feature to monitor their employees. This feature is mostly applied and used over employees who used to spend their major working hours on-field. Companies also use this feature to automate time cards, clocking employees log in, and logout time in the office premises. 
5. Audience Engagement: Geofencing technology is also very effective in engaging crowds of people at any event organization, like concerts, fairs, festivals, rallies, and many more. For example, a concert or a rally can use Geofencing to make people aware of such activity and crowdsource the social media post or share details and location of the venue or any event.   
6. Security: Geofencing is a little intrusive in the personal space of people, and it also has the potential to sometimes feel like a massive dependence over how it is used. But Geofencing is a great technology to gain more security with your mobile device. For example, you can set your home lock and unlock with your smartphone by using Geofencing or can also receive an alert when someone enters or leaves your house. 
7. Telematics: Geofencing is a valuable technology and can be effectively used with telematics. It allows companies to draw a virtual zone around work premises, sites, and secure areas. It can get activated when a person or a vehicle tries to enter that defined virtual zone and alerts the operator with a warning sign or an alarm.
Benefits of Geofencing
Geofencing is still a new practice, so it shouldn't be overemphasized. But the rate of success it has achieved in such a short period of time is immeasurable. The research and study have also revealed that the users appreciate the facility and assistance they are receiving on their phone is quite helpful and impressive too, as it maintains the location relevance and interest of the end-users.
Therefore, Geofencing beneficial for its users, and the benefits are as follows;
1. It works as an Ads Portal: Yes, you read right, Geofencing works like an ads portal. When the potential customer is near to your store, and you get the notification for their presence. As a result, it sends new product information, free products, offers, or discounts to the potential customer instantly and attracts their attention to consider it and visit your store. 
2. Targets Potential Customers: Social Media platforms provide an enormous amount of marketing opportunities. Such platforms are loaded with a lot of potential consumers who are willing to check out your messages, shared posts, and stick to your brands too. 
But, to find such potential customers is a tedious task to perform manually. Therefore, with Geofencing, you can focus your campaign on the users who are more likely to get converted as the consumer, especially the local consumers, are targeted initially. 
This will definitely persuade consumers to visit your store and make purchases after seeing your products and brand ads. 
3. Supports your Offline Business to make Online Presence: As mentioned above, to target the potential consumers by notifying them when they are near to your geofence area. Likewise, you can also notify passers-by to check out the social media accounts, and this will result in better customer engagement.
In fact, such activity will provide a path for your business to make their presence on social media and gain a reputed identity in the market.
4. Provides Real-Time Analytics: A good marketing strategy requires an appropriate and quick response to the customer's query which increases customer satisfaction. Thus, Geofencing Technology makes it possible and more effective two-way communication between the customer and the business.
It becomes possible because Geofencing technology instantly notifies the activity of customers or their entry into your market region. This will help you to get ready in advance to guide them and make their shopping experience more convenient and friendly in your store. 
5. Offers Services: Well.. the use of mobile phones is expanding widely, and users like to be online for 24 hours a day. So, offering them free Wi-Fi when they visit your restaurant, hotel, bar, and the hospital will definitely improve the customer experience. It also motivates them to visit such places again and recommend it to their friends and relatives too.
Such customer assistance can be achieved by sending a message to the passer-by through Geofencing and notifying them to enjoy the free Wi-Fi available at your place. 
Geofencing is not only used for Geotargeting and tracking the location. Whereas, it is beneficial and profitable technology when used in a proper manner. It can easily connect your customer with the Geotargeting and location tracking features. Geofencing technology is used to develop applications which can open new doors of opportunity for your business. The proper use of Geofencing technology will quickly build loyal customers and maximize your business conversion rate.  
If you are looking for such quality apps equipped with Geofencing technology for your business idea. Then, you can easily hire a dedicated team of qualified and experienced developers from the EngineerBabu platform. For other details and discussion, you can contact us and take your business idea into reality.