What can be an Upwork Alternative
Problems hiring through freelance website (like Upwork)
When someone posts job in freelancing website; price varies from $1000 – $10,000, Time Varies from 1 month to 3 Months. Hiring takes 15 days and 80% freelancing jobs are unsuccessful.
Reviews



Read more reviews here https://www.trustpilot.com/review/upwork.com
The possible reasons are;
1 .If you find an expert freel
ancer, he is just a front phase. He has a junior developer who will do your work, you have no way to restrict or check that.
2 .You are talking to sales guys, not actual developers.
3 .In most of the cases, there will be time management issues you will face.
4 .Most of the clients' don't know the right way to provide complete features. Later which cost as requirement change and extra charge.
5 .Once you take a hiring decision after filtering so many developers, you don't want to look back and do your research again.
In most of the cases, there will be time management issues you will face.

Looking Upwork Alternative: How to find the most suitable web development company
Time, Cost, NDA, Wireframe, Maintenance, Server, Marketing all answers at one place. This is a complete guide which will help you finding right tech partners.
How much are top Web development companies charging per hour?
How to protect your idea and Sign NDA?
How to prepare requirement document?
How to design wire frame?
How to divide your project into milestones?
How to decide the realistic timeline for your project?
How to plan project payment?
How to take regular project updates?
How to make sure they are writing right code?
How to make sure design is following standards?
How to plan test cases for your project?
What to do if you got a new idea during development and want to change scope?How to deploy the first version?
How to make changes in next version?
Which server should you choose? What's the monthly cost?
How to deploy final version?
How much does it cost for maintenance?
How to start product marketing?
How to get your product story published on a website?
HOW TO FIND THE MOST SUITABLE WEB DEVELOPMENT COMPANY?
If you Google "best web development company in India", you will get 3,46,00,000 results –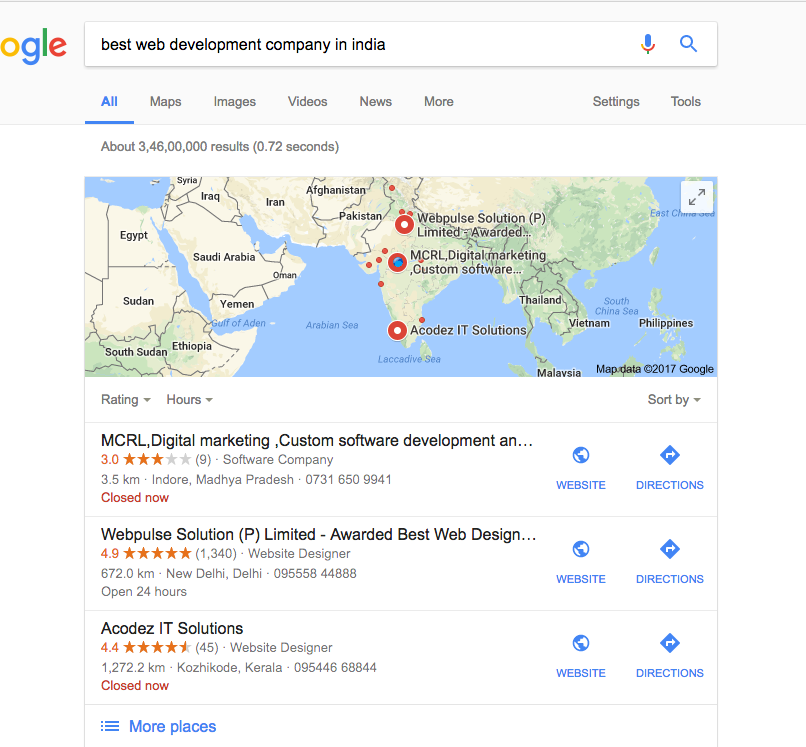 People do want to outsource work to India but often they don't hire due to lack of trust factor. They are not sure if they work would be delivered on time with quality. Business looks for quality and on-time delivery, cheaper rates is not their priority, let me tell you.

Problems in Outsourcing to India ( Why you should look for Up work Alternative: Guide to Hire Perfectly)
1.Everyone says they are a great company. There is no verification.
2.People have committed that they have 100+ Team but in many cases, there were only 3-4 people.
3. People commit they have senior developers but they assign juniors.
4.While hunting for projects, they seem proactive but during the development, the same attitude is not seen, in terms of quality output.
5.They don't have domain knowledge, you have to teach them every single point.
6.An employee left the company and now project knowledge is a challenge.There are not enough suggestions from the tech side. You don't want to hire workers you want to hire smart tech partners.
7.They may take a project at less price but start charging for every single change.
8.A big company has a long process, bulk documentation, and less work.
9.Company cheated on the technology. You asked for the native and they created your app on Hybrid without intimating you.
10.During the finalization of the project, they will commit you to regular updates and will not give the updates at all during your project process.
11.Once you release all the payments to the company, they will generally stop messaging you or giving you any updates.
12.Maintenance Period: These are just two words for some companies with no meaning. As once your project will get completed and you will release all the payments, then your project will go on low priority and you will get ignored by that company.
13.Language barrier.
Q1: How to find the right/most suitable company?
Answer: Let me define the right company for you. The right company is someone who has experience of delivering similar projects matching your project needs and fits your budget. If you want to build an e-commerce website and you hire someone who has experience with food ordering, it ain't for you.
Of course, anyone can make your project but if the company is experienced in particular domain,  they will enlighten you about some more features. They can share what they did in previous projects and what other founders changed over the time. Learning is important.
Key point: Hire a company with domain experience, check the pricing.
Q2: How much do top web development companies charge per hour?
It depends on who is hungry. There are many variables in your pricing.
1.Duration: Whether this is a long-term (5 Months+) projects or this is a short-term (1-3 months) project. Hire a developer at a low price for long-term and charge a better company for short-term projects, even if it charges more.
2.Location: If you are outsourcing to companies in Bangalore or Mumbai, chances are the price would be higher than those from Indore or Chandigarh, because office expenses and salaries of developers are higher than those in Tier-2 cities.
3.Hourly rates: Short duration project $10-$15, Standards $10, Long-term $8/.
AI, Angular, React in the web has a higher price compared to PHP and .net
Q 5. How to Protect your idea: SIGN NDA?
1.The client will provide regular software development work to EB (Developer) as and when required on the project basis for development, support and maintenance of their or their client's products, projects as per the mutual understanding and terms & conditions defined in this agreement.
2.A client will pay an agreed amount for development, support and maintenance for the same to EB as per payment terms described in agreement project wise.
3.All the IP rights, codes and ownership will be of Clients and EB will not have any authority to reuse, reproduce or market any of the product, projects, software, app in EB's any of the project.
4.In case of a mutually developed business opportunity both the parties will own the codes and IPs and can use in their profiles.
5.The client will generate a certificate of appreciation for the work done by EB as and when requested by EB and totally depend on the willingness of the management of the client.
6.Support and maintenance terms will be decided project wise
EB will complete the Job work for Client and will deliver it on time else Client will have all the rights to terminate the agreement.
7.In any case of failure in Delivery or payment, a notice of 7 Days must be served before respective parties.
Same development company can also sign NDA with you with concerns like ( upwork alternative ) –
You won't hire any of his developers directly.

You won't outsource any work directly or indirectly to that company.

A client has to respond within 24 hours in case you ask any questions.

If there is payment delay, they have rights to pause, stop or ask a high price.
We have a template, which I can share with you, write to us at [email protected], We will email you back. All you need to change are your name and developer's name and project title.
Q 6. How to divide your project into milestones?
Dividing your project into milestones is quite an easy task. First, you should know what all features you wish to develop first and you can also share the same with them.
Ex, you want an e-commerce app, so at the initial phase, you can inform developers to create the vendor/seller panel. In the second phase, ask them to create the buyer's page and in the third phase, ask them to add the payment gateway to add to their product.
In the next phase, you can ask them to make order tracking portal and next you can get developed an Android and iOS platform. You can divide your project in particular order.
Q 7. How to plan project payment with an App Development Company?
It usually happens in two ways.

Milestone Payment:
Once the scope is fixed then you can ask for the milestone payment. Normally, companies charge as per the milestones and divide the project into four milestones.
Initially, they charge upfront which is close to 25-30% depending on your negotiation then they give you a beta built that goes to another milestone like 25% and then you can keep 25-30% remaining for the project delivery and after the delivery 10% for the maintenance charge.
Hourly Payment:
Pay as you go, Indian developers are comfortable in working 40-50 hours a week.
Q 8. How to take regular project updates?
You can take regular project update as you can fix the proper time-frame every alternate day.
It may be one hour or more and later on, you can fix weekly meetings. In the same way, you can check what all progress they have done and checked the progress every week.
This will surely lead to the project progress as there are lots of questions which need to be answered on a frequent basis and that would be nice for the project.
Q 9. How to make sure they are writing the right codes?
Initially, you may be looking to develop the app by an outsourcing partner but later on, you might have your in-house team.
So it should be very important to understand the code for future for your in-house team. The team would be able to modify the codes accordingly to update the app.
You can ask them to use Git and commit source code regularly. You should have someone who can check code quality.

REQUIREMENT DOCUMENTS QUESTIONS:-

GENERAL INFORMATION
Your name & contact details:


Do you currently have a website?
Please mention the URL for the website: www.la.com
A proposed new website will be named as newwebsite.com
What is the main purpose or objective of developing this website and what would you want the users of the website to do? (Please tick the most appropriate options)
    ✓
  Learn more about your business or organization

   Hire you for the services you offer

    

✓
   Select and buy your product(s)

   Get employment in your organization

    Further, interact with you

    For some other reason (Please specify)

Objective / Purpose –
We will be selling customized curtains and blinds to the USA customers. By checking the online store, we aim to reduce the hassle a customer has to face by going to a store and checking everything. We hope to provide the same service from the comfort of their own home.

What industry do you operate in?
Window coverings
What do you provide to your customers? Please tick the most appropriate option.
| | |
| --- | --- |
| ✓ |   Products |
| |   Services |
| |   Both Products & Services |
| |    Access to a Community |
Who is your Target Audience? Please tick the most appropriate option.
  Individuals

  Businesses / Organizations

   ✓

  Both Individuals & Organizations
(If Any Other, Please State)

DESIGN, AESTHETICS & CONTENT
Do you have any kind of branding material/identity? (For e.g. A Brochure that you are currently using) Could you provide us with a soft copy of this, if possible?

Please list down some sites that you find appealing in terms of the design and layout. Please note these websites may not necessarily be from your industry. Also, if you could highlight the components of these web pages which you relate to the most.
| | |
| --- | --- |
|  Reference URL's |  Highlights |
|  https://www.curtainwo.com.au/ |  Special offers, design of website |
|   http://jmaxons.com/ |  Large full width slider. |
|  http://www.denesigns.com/ |   Newsletter registration and the slider with animation. |
|   http://wireandtwine.com/ |  Product pictures,  organization, very neat and clear. |
Also, if you could list some sites of your competition. This would give us an indication of how you would need to display your products or services.
Competitor URL's

What you Like / Dislike about the site

http://www.bliline.com.au/

 Likes –  When you select a blind to customize, they have all the   options for the blinds like bracket color, base rail color and shape,  roll direction , recess or face fit. It would be nice to have these options organized in a better way. They also have the system in steps which is pretty cool.




Dislikes – too many things pop up together. It is kind of confusing to make a selection and customize an order.

http://www.supdsmart.com.au/

Very standard website. Nothing stands out or looks attractive.

http://www.thcompany.com.au/

Pretty looking website. The content is quite organized too from their products to their videos and blogs. Not much to dislike.

http://www.riceblinds.com.au/

Very basic website. Not much to like. It does cover everything though.

http://www.ds.com.au/

Likes – Their product search option is very good. Gives clear indication as to what a customer wants and filters through everything. The tabs for product clearance, bestsellers and specials are helpful too.

What is the predominant color(s) you would want on your website?
Soft muted blue and red (any other similar color will be fine) along with white background to give fresh look.

If you already have a website and want to re-design your site, what are the things you dislike about your current site in terms of the aesthetics?
What would you want your website 'look and feel' to be? (Select multiple options if you wish to)
| | | | | | | | |
| --- | --- | --- | --- | --- | --- | --- | --- |
| |  Traditional | | |   Formal | | |   Corporate |
| | | | | | | | |
|   ✓ |    Contemporary | | |   Casual | | |  Personal |
| | | | | | | | |
|   ✓ |   Cutting Edge | | |    Serious | | |   Friendly |
Would you be providing the content for the website?
 Yes

 No

✓

 Will provide reference material and the content would need to be further developed
Could you please give us an idea on the number of pages you require or would have on the website? An approximate number also would be good to know.
We are not sure at this stage. We will let you know at a later stage.

FUNCTIONALITIES AND TECHNOLOGY
Please select from below the functionalities you would require on the website. You could also mention and describe additional functionalities that you may require by attaching separate documents to this questionnaire.
✓
Contact Form
Email Auto Responders
✓
Site Search
Members Area
✓
Content Management System (CMS)
Message Board
✓
Payment Gateway
✓
E Commerce Engine

Booking Engine

Others (Please specify in case you require any Customized Applications)
­­­­
Do you have any preference of Technology and Database?
| | | | |
| --- | --- | --- | --- |
|  ✓ | Yes | | No. Would leave it to you to decide |
If yes, please specify your preferences:
­­­­­­­­­­­
PROJECT MANAGEMENT AND SCHEDULE
Who will make final decisions / give approvals as far as this project is concerned? Will it be a single point of contact or would need to be passed by more people?
Mike <[email protected]>
Are there any sections on the website that need to be updated by you often?
If yes, please specify the nature of content (i.e. text, images, video, documents etc.)
All content pages –  
­­­­­­­­­­­­­­­
Do you have a deadline for getting this website online? Please tick the most appropriate option.
| | |
| --- | --- |
|   ✓ |   No, Preferred Date: ASAP |
Do you have the proposed site map ready
If Yes, kindly attach it along to this document.  Will be sent soon after this.

If No, could you please give us an approximate idea of the number of pages (A4 page, with double spacing?)
HOSTING AND MAINTENANCE
Do you have a domain name booked on the website?
Have you decided on where to host the website, or would you want us to take care of the hosting as well?
| | |
| --- | --- |
|  ✓ |   Yes. Name of the Company ______Net virtue |
| | |
| --- | --- |
| |   No. I would want you to host the site. |
Do you plan to maintain and update your website on your own?
Maybe, Acodez will do it

.
 Would you be looking at promoting your website on search engines?
| | | | | | |
| --- | --- | --- | --- | --- | --- |
| ✓ | Right away. | Bad SEO scoreThe focus keyword 'Web Development Company |  Subsequently. | | Not thought of it yet. |
If you are in a different timezone, Co-founder is in a different location. How to manage the project?We are using Base camp since last 6 years. Base camp helps you to manage remote team perfectly.
You can chat with team.
You can upload any file, comment on a progress report.
Record video, To do list, Milestones.
Every day you will get project progress email.
How you can pay to Remote Team in India

Paypal is favorite however they charge 4.3% and 2 Rs. Dollar to INR difference.
Xoom is the best solution for freelancer payment, you can also pay to company owner's account. Within 5 min he will get the payment.
Note: Try to avoid personal payment, if anything goes wrong you can't do anything to the company.
How much server charges:   
AWS provides free for 1 year, Register there. People who manage AWS for you they usually charge.
$150 / Month, up to 1000 visitors per day
$500 / Month, 1000 – 50,000 visitors per day.
I am sure now you can outsource your work easily and found Up work Alternative.