Nowadays, businesses are thriving by investing a good amount of money in mobile app development as it has the capability of converting potential customers into loyal customers.
Businesses are increasingly turning to build their own mobile apps as it adds to the credibility of the brand.
Also, mobile apps are more convenient and accessible to customers than desktop browsers. Hence, finding the right mobile app development companies in the USA can help in the exponential growth of your business.
All you need to know is that not every mobile app development company can cater to your requirements in the best possible way.
Thus, to ensure that you make the right choice, this list of 10 Mobile App Development Companies in the USA will give you an idea of what services you can expect from them.
Here is everything you need to know about Top 10 Reputable Mobile App Development Companies in the USA before you can make a wise decision.
TOP MOBILE APP DEVELOPMENT COMPANIES IN USA
1.Contus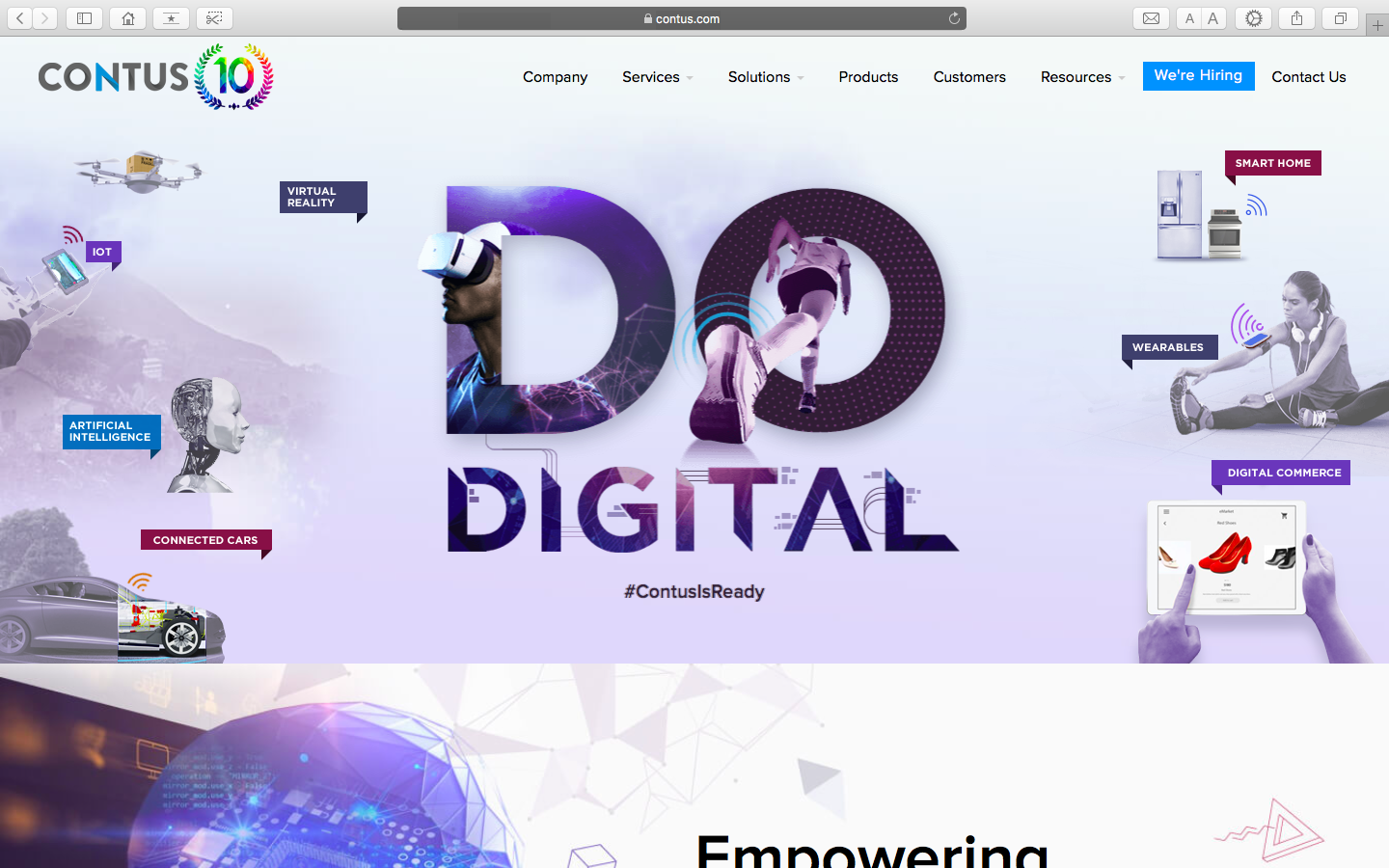 Contus is a renowned Web and Mobile Application Development Companies in the USA which has its client base in more than 40 countries.It has a team of over 150 highly experienced and dedicated professionals who excel in web development, mobile app development, and software development.
When it comes to mobile application development, its area of expertise is the Mobile Enterprise Application Platform (MEAP), Near Field Communication (NFC), POS Application Development and Geofencing solutions.
It develops mobile applications for Windows, Androids, and iOS. What makes them stand out in the crowd is their ability to analyze customer needs and develop apps according to their requirements.
Some of the other services which Contus provides include full stack development, mobility, e-commerce, Internet of Things and Cloud Solutions.
Some other core areas of specialization include Ios Development, Android Development, and Windows Development.
2.Savvy Apps

Savvy Apps is a Washington, D.C. mobile design and mobile development company serving global brands and cutting-edge startups.
It was founded in the year 2009 and since then it has helped businesses to grow exponentially by playing an instrumental role in their brand awareness and visibility.
This top-ranked Washington DC mobile development company focuses on  Android, iPad, iPhone applications. It is headquartered at 1850 Centennial Park Drive, Suite 100, Reston, Virginia-20191, USA.
The company was founded in the year 2009 and has established itself in the market by working with high profile startups namely Homesnap and LifeFuels.
Their team of professionals includes product managers, marketers, designers, group strategists, and developers. Their core service areas include Strategy, Visual Designing, Marketing, Development and more.
3.Envative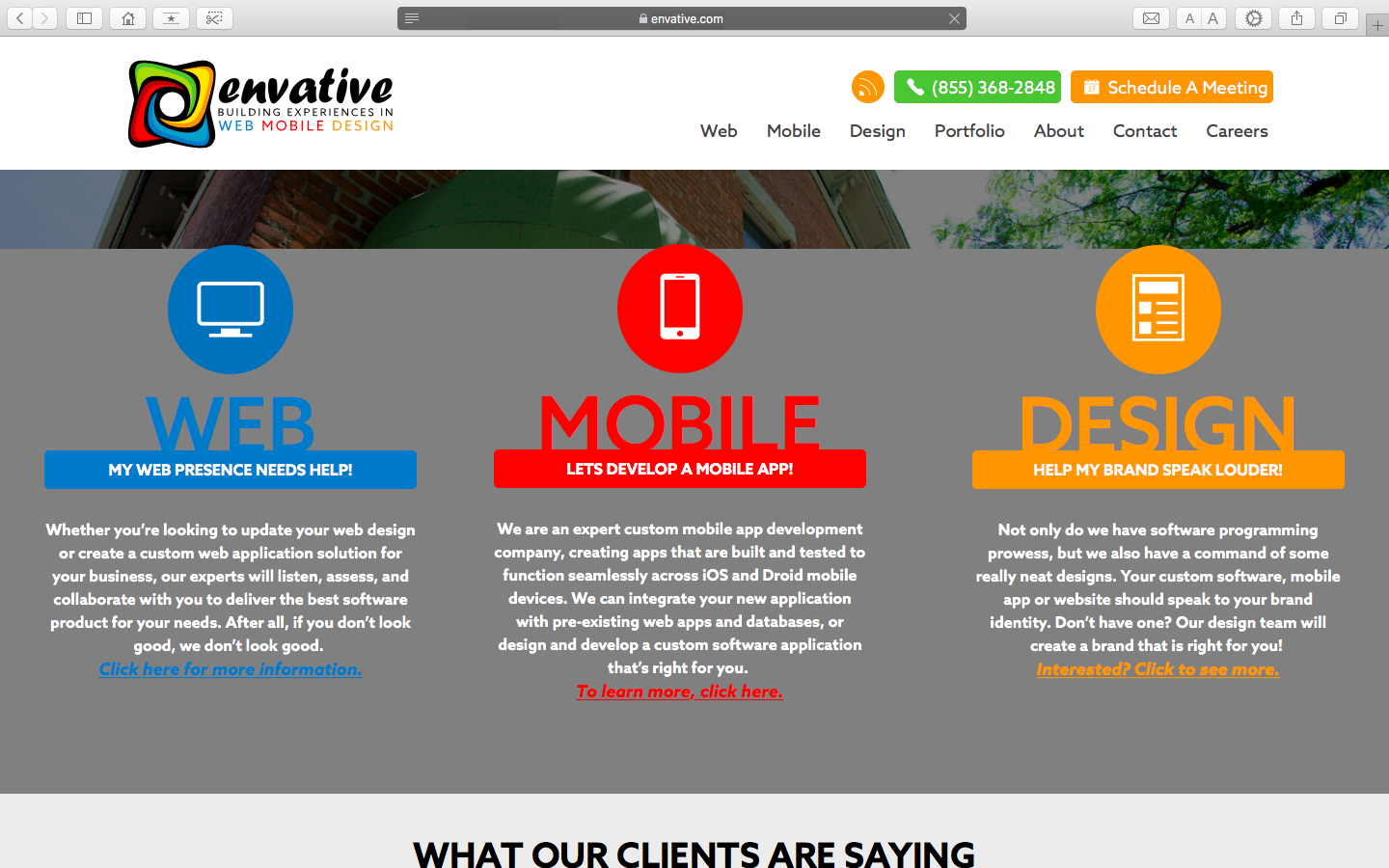 Envative is known to be one of the best Mobile App Development Companies in the USA in New York.It strives towards enhancing the user experience by offering customized web and mobile development services. What makes them stand a class apart from other mobile development companies is their use of innovative technology.
It includes the incorporation of the latest design and UI/UX elements with the latest technologies.  It aims at developing, testing and successfully implementing a project.
Some of their other specialized areas are coding, database, set up and API configurations. Also, they aim at the building, designing and delivering personalized, artisan built and solution driven applications.
There other areas of expertise include Prototyping, Design Services, and IOT. They also build in creating unique and custom designs for websites and mobile applications.
Apart from that, this I phone development company in the USA which develops B2B, Mobile Apps, Social Apps, and Enterprise Level Communication Apps.
4.Appsquadz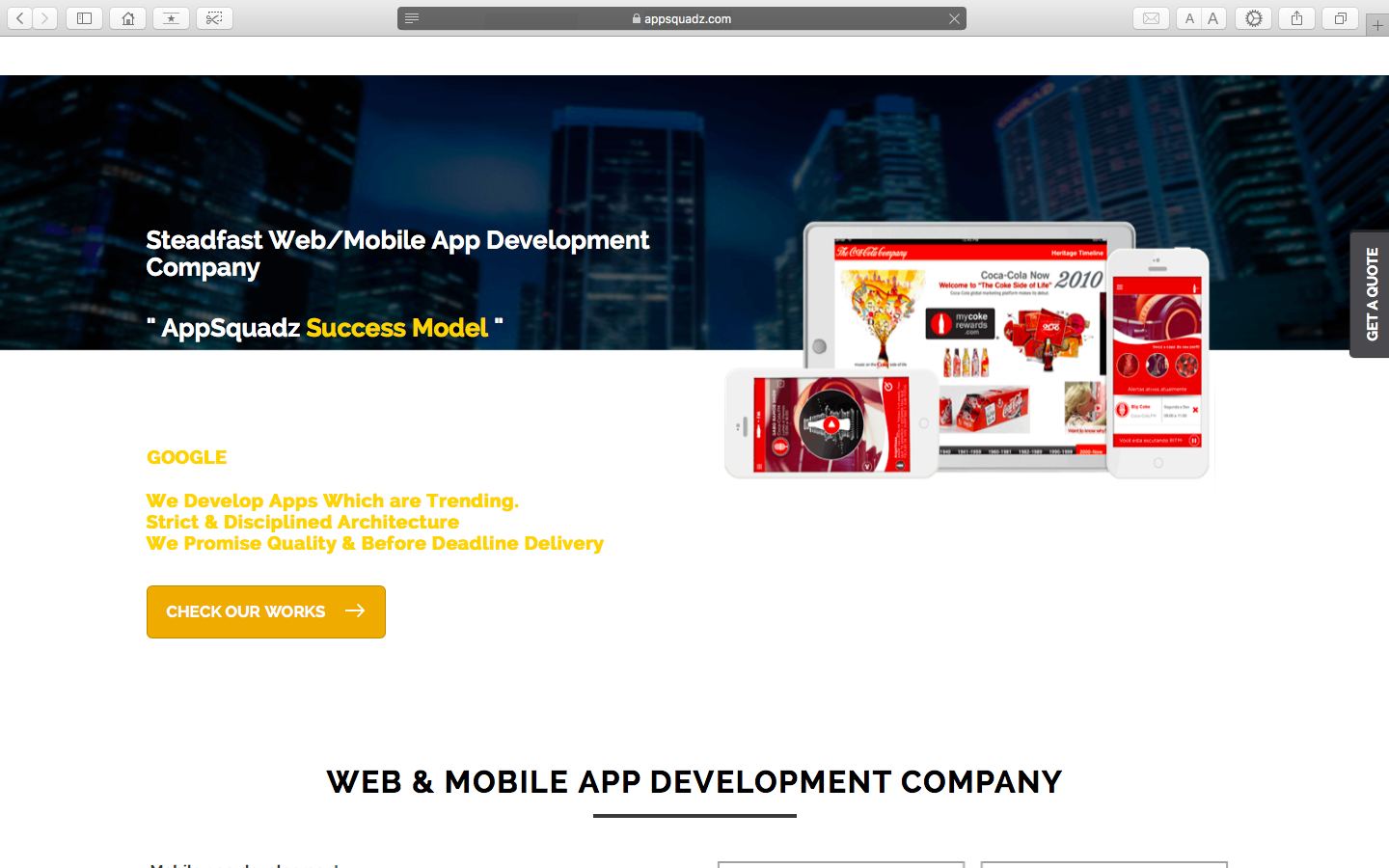 Appsquadz is a steadfast web and mobile development company. Its Google certified developers have developed over 450 apps. It caters to all your requirements ranging from conceptualization and development to marketing and management. Its proficient team can fulfill your mobile application development timely and efficiently.
They have an experience in providing mobile application development services globally. It has more than more than 80 associates including designers, developers, strategists, quality analysts, and marketers.
Their areas of expertise include iPhone Apps Development, iPad App Development, Android App Development, Content Management System, Web App Development and E-commerce.
It is a well renowned Mobile App Development Companies in USA which caters to the needs of enterprises, businesses and online investors who are looking to make a long-lasting impression through the immense potential of the web and mobile applications.
They have designed more than 120 applications for sectors like Health, Transport, Entertainment, Education, Real Estate, Logistics, Augmented Reality and Finance.
Also, this industry leader in mobile development can architect, design, implement, test and deliver World Class Mobile Applications for iOS, Android, Windows and beyond.
5. Willow Tree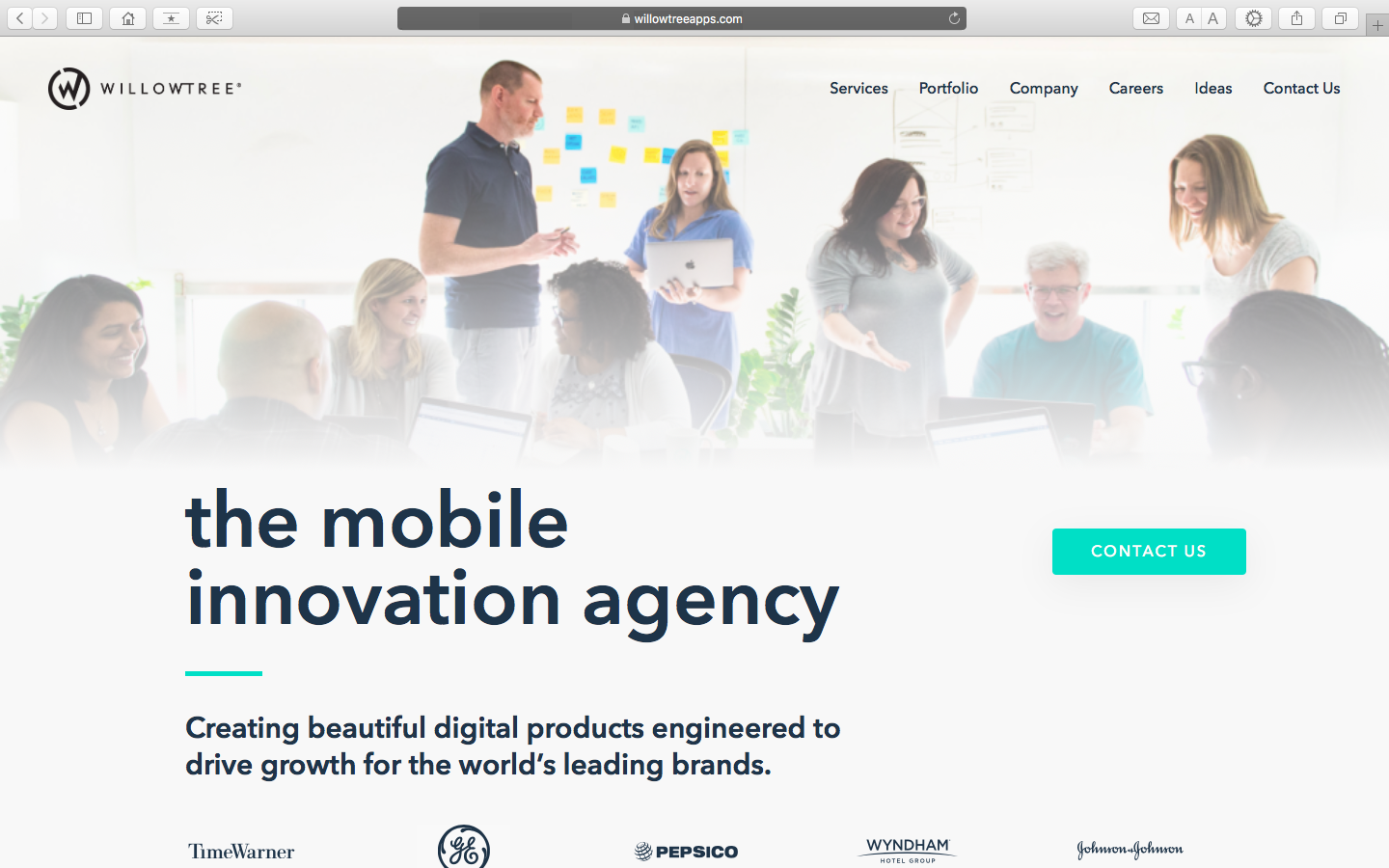 Willow Tree Apps is one of the most renowned names when it comes to the field of technology services.No wonder that it occupies the 5th position when it comes to digital designing and product strategy. Its headquarters are in Charlottesville, Virginia, USA.
They specialize in building apps for the commercial and retail sector. Their apps are built for day to day purposes.
Their area of expertise includes Mobile Product Strategy, iOS Development, Rapid Prototyping, Android Development, Web Development and UWP Development.
It also aims at creating digital products designed to help world's leading brands. Apart from that, other core areas in which they specialize include building apps, responsive websites and any digital product that can interact with the users.
To put it in 21 Awesome Mobile App Developer Resources You Don't Know About most simpler words, Willow Tree App strive to excel in quality as well as innovation
6. Innovation
InnovationM builds software products & end to end technology solutions for its customers on mobile, web, middleware, server back-end & cloud.
This renowned company is headquartered in Toby's Lane, New Canaan, USA. They are best known for building technology solutions for big brands.
They have been recognized by leading companies namely GoodFirms, Nielsen Norman Group and SourcingLine. Some of their integral services include Product Engineering, Custom Application Development, Integrated Mobility Solutions and UX Designing.
It is known for its versatility and customized services in the market. It developed the first ever Socially connected Mobile Wallet on iOS and Windows Phone for India's Largest Payment Solution Provider.
Also, it is known for bringing a revolution in designing, engineering, and digital sectors.
It was also awarded as one of the Best Software Development Company in India for it specializes in building End to End Technology Solutions for its customers on Android, iOS, iPad, Web, Middle-Ware, Server Back End, UI/UX Design, AWS, and Cloud.
Undoubtedly, it is one of the most reputable mobile development companies in the Mobility Space. What makes them stand out in the crowd is their specialization in building software products for the customers.
Undoubtedly, they have been recognized as one of the founder companies when it comes to Product Engineering.
7. Wedigtech


DigiTech is a renowned Mobile App Development Companies in the USA offering iOS, Android, and Windows app.
It is a web and mobile apps development company in India with sales offices in California, US.
They provide solutions for Mobile App Design and Development, Custom Software Development, Web Application Development, Scalable e-Commerce and Retail, Branding and Conversion Optimization, Game Design and Development, Enterprise Content Management System, Cloud Deployment and Mantainence, Quality Assurance and Testing.
Its founding members are Ashish Sharma and Pranay Mathur. It was founded in the year 2010. Their area of expertise includes creating world-class web and mobile development related solutions by utilizing extensive technological expertise.
Some of its vast range of mobile development services include gaming apps on iOS, Facebook, Blackberry, Android, Enterprise Mobility Solutions, IoT  Apps, Geo Location Apps, Utility Apps, Enterprise Apps, Productivity Apps,  M-Commerce Apps, Windows and Web App Development.
Apart from that, they have worked with most iconic brands in the world including Red Bulls, Vodafone, AVU and many more. Primarily, their focus in the present is on Outsourced Product Development, Digital Marketing, E-Commerce, Designing and Internet Of Things.
8. Zco Corporation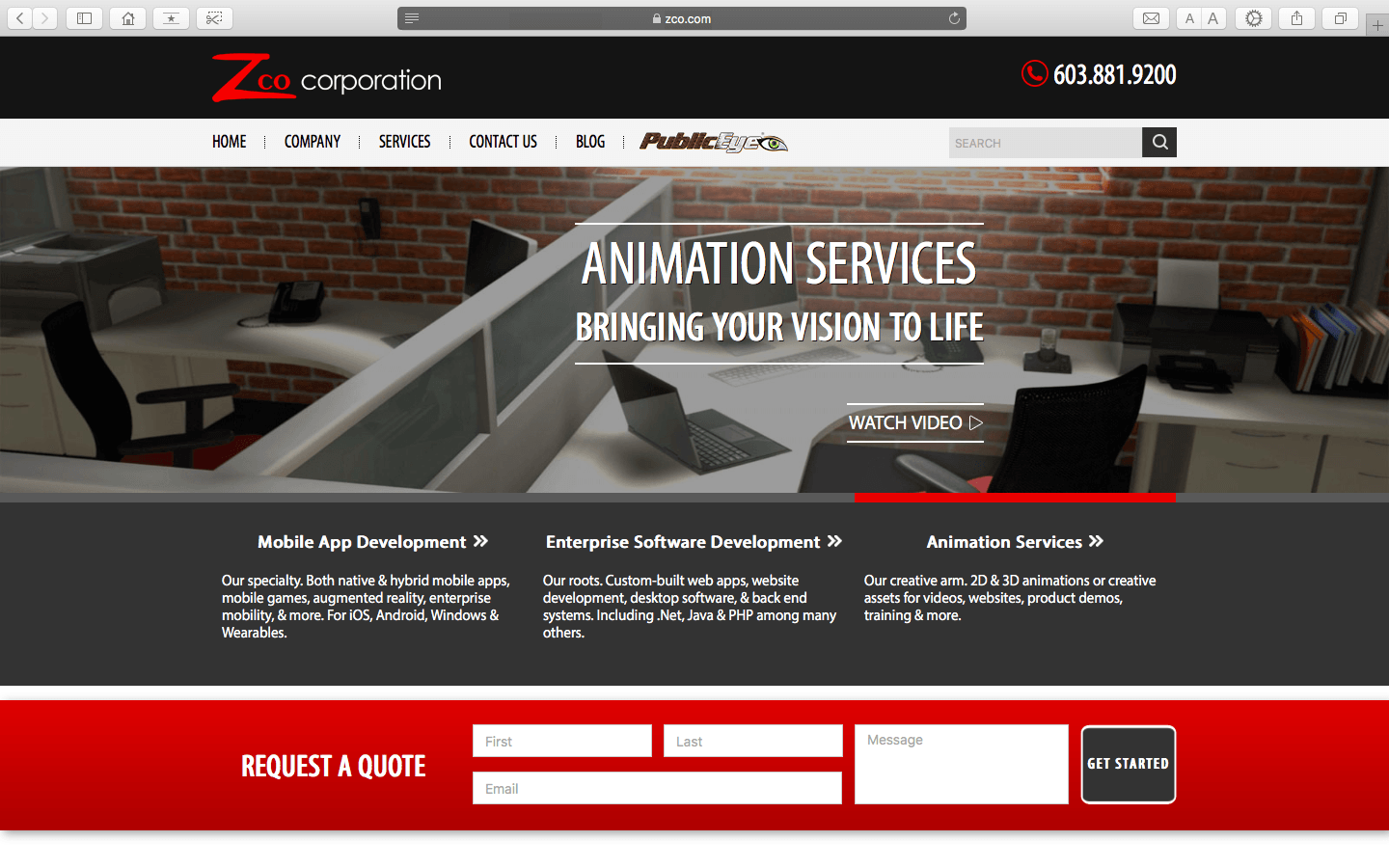 Zco Corporation is one of the top-ranked mobile app development company in the USA, with its headquarters in Nashua, New Hampshire, USA.
The Technicians at Zco specializes in both native & hybrid mobile applications, as well as mobile games featuring an augmented reality.
The team is also adept in Enterprise Software Development, that is building web apps from the scratch along with website development and back-end systems.
Some of their top-ranked services include Mobile App Development, Enterprise Software Development, and Animation Services.
They have established themselves in the market for more than 25 years now. Their other core areas of specialization include programming, marketing, account and project management, and animations.
What makes Zco Corporation unique app development company is the fact that it has helped many Enterprises and Startups in gaining momentum for their business growth.
Its experts have over 25 years of experience in technological solutions and therefore they understand the nitty-gritty of your business.
Their passionate and dedicated team is for various verticals and the list of several big clienteles include Verizon, Microsoft, BBC America, Motorola, and others. Apart from that their services include all major mobile platforms like iPhone, iPad, Windows, and Android.
9. July Rapid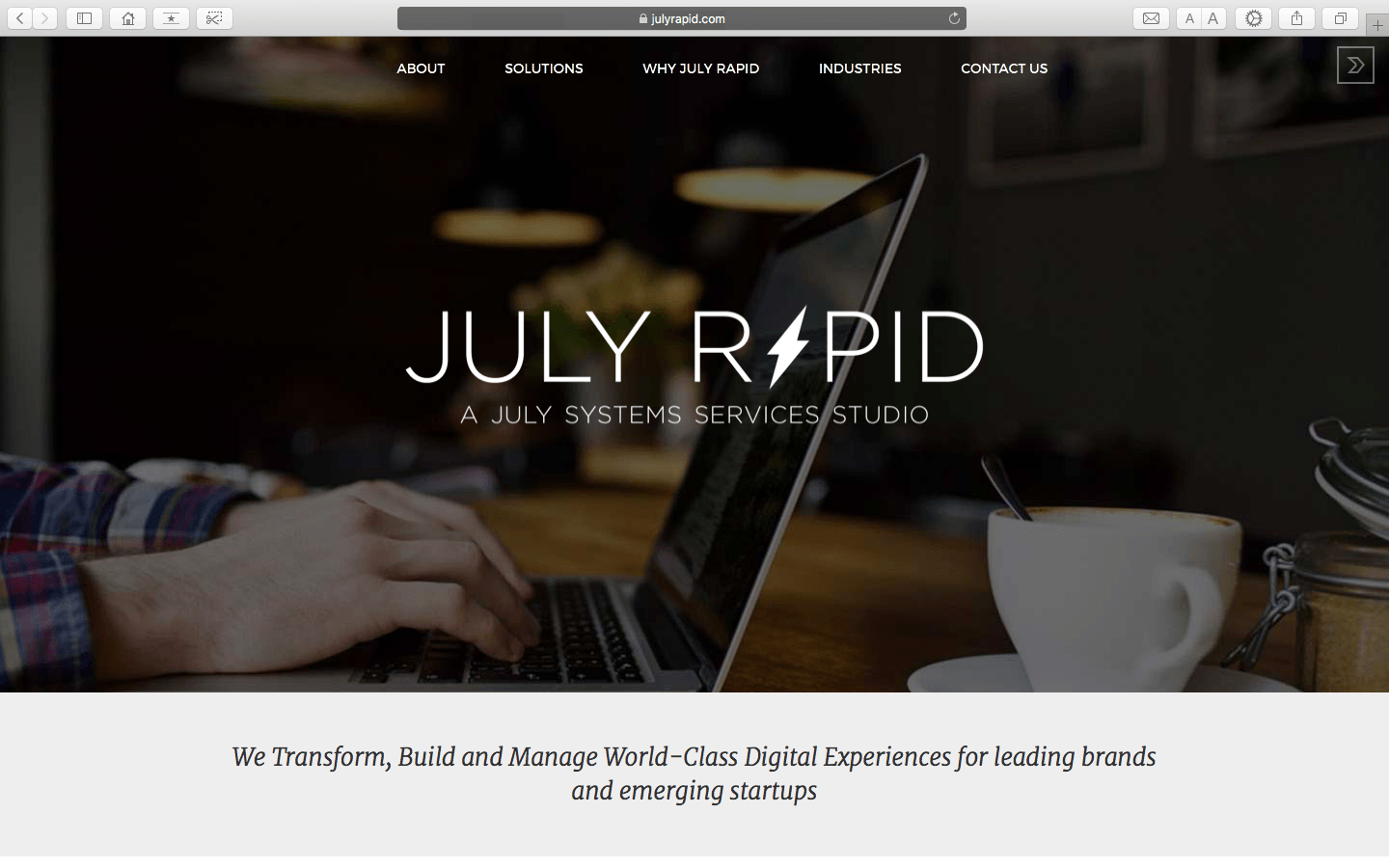 July Rapid is an innovation and design-focused mobile app development services studio of July Systems that aims at transforming the world through the click of a mobile button.
Mobiles can play an instrumental role in redefining the workings of the business and July Rapid majorly aims at this aspect.
Their sole purpose is building native and hybrid applications for reputed entrepreneurs, small businesses, funded startups and large enterprises.
The range of devices ranges from iPhone, iPad, Android, IoT, etc. Some of the reputable brands which have worked with July Systems include Intel, CBS, FOX, Hilton, Conde Nast, NBC Universal, ESPN, CNN, ToyRUS, LVMH and more.
They are well known for designing, developing, deploying and managing cutting-edge consumer and enterprise applications.
This leading mobile app development company is headquartered in Burlingame, California. It has been acknowledging as one of the top mobile app development companies by Westbridge Capital, Updata Partners, Intel Capital, Footprint Ventures.
Some of their key services include Innovation Strategy, App Designing, iPhone App Development, IPad App Development, Android App Development, Wearable App Development, App Management, Web Development, App Testing, and App Marketing.
10. Cumulations
Cumulations Technologies is one of the most trustable mobile app development companies in the USA having R & D unit in the USA.
They aim at understanding your requirements and developing user-centric and full-fledged mobile apps catering to your needs in the most effective manner.
Their expertise is in building Android and iOS applications. They were also acknowledged as top 5 mobile app development companies by Siliconindia.
Also, they build mobile apps for B2B, B2C, and B2E business environment. They specialize in multi-platform mobile app devices for small and medium businesses, government organizations, and large enterprises.
Also, they have developed apps for various sectors ranging from healthcare to entertainment. Their key areas of expertise include Internet of Things and Wearables.
Their skilled professionals are well versed with Wifi, Bluetooth Low Energy, NFC Technology, Zigbee, etc. Their ultimate goal is to help you exponentially grow your market by reaching out to customers in every nook and corner of the world.
They aim at delivering quality services to their clients. Also, delivering profitable, user-centric solutions to their customers is their sole motive.
Undoubtedly, they have grabbed one of the top 10 positions in mobile app development companies because of their efficient services and increasing credibility and reliability in the market.
Their team has skilled and experienced engineering team members who are well versed with trending technological advancements.
They have worked with organizations like Puma India, Titan and Kotak Old Life Insurance.
Hence, in a nutshell, these Top 10 Mobile Development Companies in the USA have done wonders in the overall functioning of the apps.
These companies are not only the most reliable and credible when it comes to customers' needs, but also most innovative and user-friendly.
While making a choice, all you need to do is analyze their areas of specialization before you decide to choose one.
11. RipenApps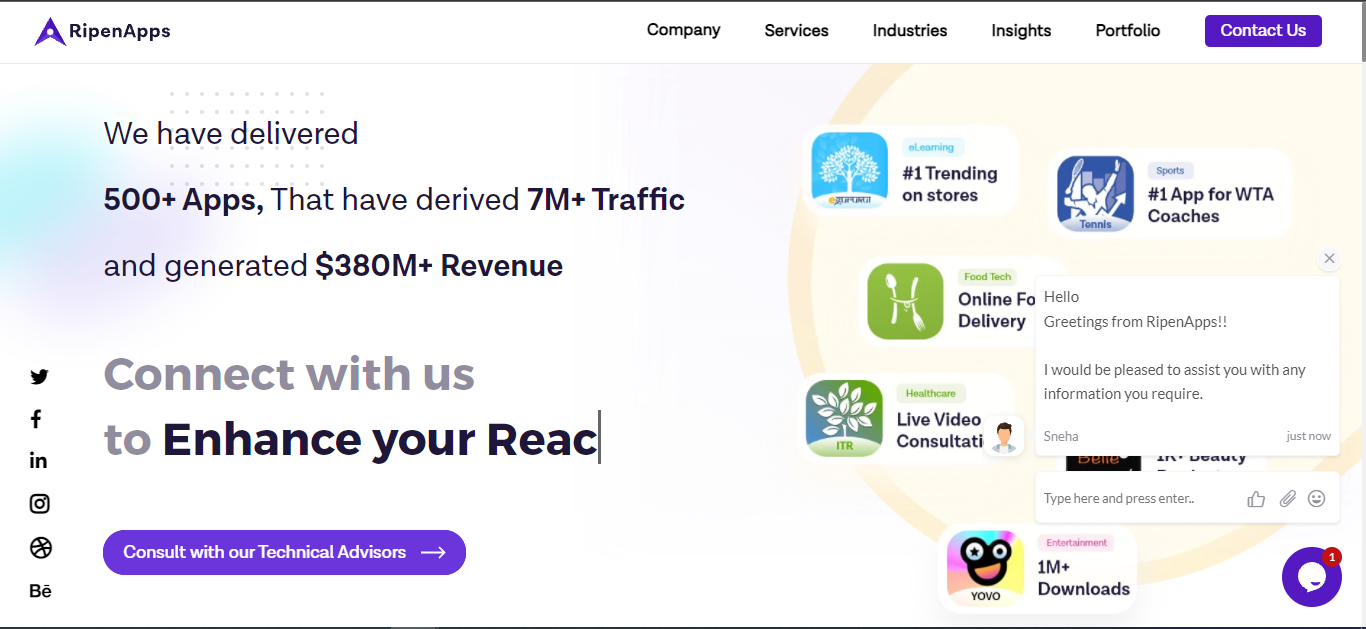 RipenApps is a globally renowned, leading, and top-reviewed mobile app development company that has set a new benchmark of mobile innovation and services' quality in the app market. It was born to build next-gen mobile applications for startups/entrepreneurs and enterprises.
Since its inception in 2017, RipenApps has gained a unique position globally with its vast expertise in mobile app development technologies. It has designed and developed 500+ mobile and web apps, out of which many apps are creating buzz and have become hot-seller (Top Trending and Gigantic download counts) apps on app stores and Play Store.
The company has delivered beyond excellence to almost every industry, including travel, education, dating, healthcare, real estate, enterprise, entertainment, and finance. It has a team of more than 150+ highly skilled, experienced, and innovative tech-geeks who have expert knowledge of the tech-market requirements and the potential influence on the latest technologies like Artificial Intelligence, Internet of Things, Chatbots, Beacon technology, Augmented Reality, and Virtual Reality.
How to make sure that you hire the right mobile development company?
If your business doesn't have the mobile application yet, then you might be missing out on a lot more than what you can imagine.
Yes, you heard it right. We live in a tech-driven which is governed by the click of a button.
Hence, having a mobile application is an indispensable part of your business. Nowadays customers are more tech savvy and they prefer a device which is more accessible and easier to operate.
Hence, in this age of mobile revolution, you cannot think of isolating yourself by not switching to smartphones and tablets. They can play an indispensable role in the growth of your business.
If you are planning to hire a mobile application development company, then make sure that you keep the following things in mind.
Hiring the right mobile app development company can do real wonders for your business. With around 2.3 million individuals working as mobile app developers across the world, choosing the right developer company can indeed be a tedious job.
But, don't make a hasty decision without analyzing and researching the right mobile app developer company.
Intensive Research and analyzing the trends can make the difference
Before you think of hiring the right mobile developer for your business, make sure that you have extensive details about the companies past experience and its success rate statistics.
If you are looking for the best for yourself, you simply cannot rely on any mobile app development company. Make sure that you look through the minutest of details and specialized areas of the mobile development company.
1.  Choose a mobile app development company which is more interested in your business than making money
Right app development companies would strive for perfection and their sole aim would be to guide you right and design mobile products according to your requirements.
It would be more keen to put its experience and knowledge into practice. Therefore, you would get to know if they are more interested in your business or the amount of money you are willing to part with.
The right mobile app development company would focus on yielding the best results for your business.
2.  Make sure that you look at its past portfolio and access it personally
You have to know all the details regarding the appropriate skill set of the developers before you can trust them with your project.
A peep into their previous works will give you a fair idea of what you can expect. Designing mobile app is not a cakewalk and thus don't entrust anyone with this tedious task.
Choosing out the right mobile app development company can thus be a lot of hard work.
Also, you need to keep an eye on their previous works, his clients, projects and references to ensure that you can expect the right results for all the monetary investment that you plan to make.
3. Talking to the previous clients is recommendable
Having a detailed talk with previously worked clients so that you know what you can expect from your developers.
Make sure that you have the actual facts and figures with you before you entrust them with the tedious task of designing a mobile development app.
Hence, in a nutshell, hiring the right mobile app development can be a pain in the ass. But if you know the right tricks then you won't regret giving it a chance.
You need to understand that running a business is not easy. Therefore, managing all the tasks by your self isn't possible.
Hence, don't shy away from outsourcing some important services like mobile app development, etc.
We have published a complete guide for hiring, managing your project.