Top 10 Mobile App Development Companies In India: Curated List
If you want to scale great heights in online business, then contacting a top-notch mobile app development companies in India truly helps you in reaching that goal.
There has been a tremendous change in the way of doing business in the last few years.
But, with the use of smartphones becoming a necessity in our lives, it has become the device of choice to browse and interact online.
The ease of use combined with the speed and security one can avail on a mobile browser has led to the switch from web to mobility.
The right kind of mobile app can grow your user base exponentially, thus increasing your ROI.
The domain of online business is diverse, and so is the type of app you can deploy to make higher profits.
It is necessary to embrace Mobility Solutions to transform your business productivity.
Whether it be banking, food, e-commerce, retail, beauty, and fashion, or anything else, you need a flawless mobile application to capture the market and draw more users to your business.
This task can be completed by hiring the right professionals for the work, that will furnish your app as per the latest trends and features.
Confused about how to proceed with Mobile App Development companies in India?
Check out these top mobile app development companies in India, that will furnish you a great mobile application, as per your precise requirements.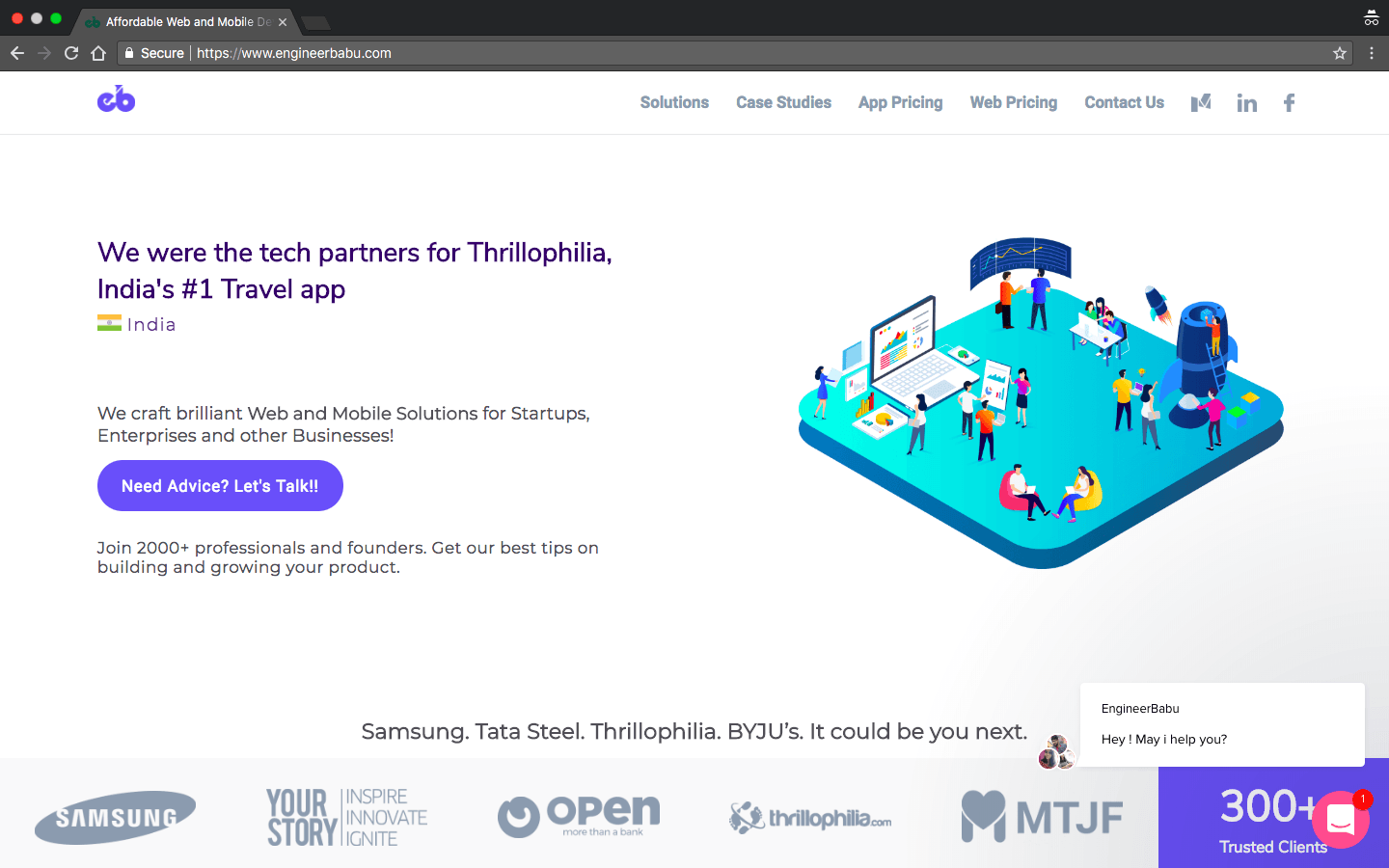 Based in the heart of the country, EngineerBabu is digitally born company, raised by ideas. Since our inception in the year 2014, we have served over 10 million users worldwide.
We have a trustable team of 65 In-house creative Designers and Developers from Top colleges with a 97% retention rate. Our designs are out of the box and stay in the market for the long run. This is one of the reasons for us winning Most innovative Design in Premier Design Awards' five times!
Over the years, we have worked with more than 100 non-tech founders and stimulated several startups. We are the only IT service company in the world whose products have been selected in Y-Combinator in 2016 & 17 and have received funding from over 30+ companies.
We outclass in every segment we enter. Till date, we have worked in Automotive, Finance, Insurance, Healthcare, Manufacturing, Public Sectors, enterprise, dating, travel and lifestyle, entertainment, banking, real estate, education, fitness, gaming, publishing & media domains.
"Design is not just what it looks like and feels like. Design is how it works." –Steve Jobs
We provide back-end support to big banks like Yes Bank and ICICI Bank. And very recently integrated with the popular food delivering app Swiggy. Our dating app MTJF featured in Apple India's list of top 20 iOS applications.
We love listening to new ideas and making them successful. If you have one in mind, or email us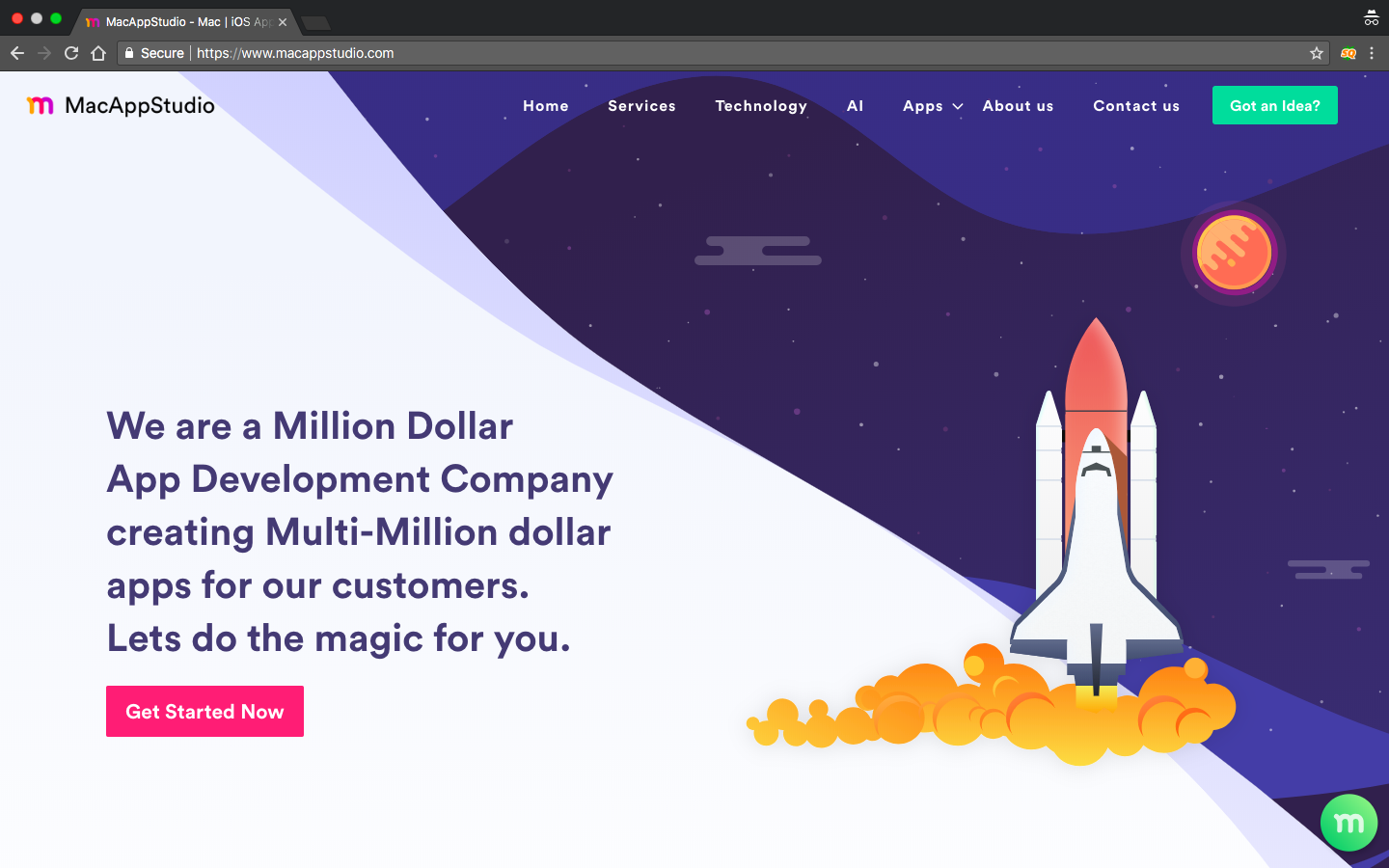 MacAppStudio is the place where you can find the world's most valuable developers that have revolutionized the business of their clients by furnishing them a sturdy and flawless application.
This mobile app development company in India has achieved great heights since their establishment in 2012, in Chennai, India.
They are proficient in creating apps for Mac OSX, iPad, iPhone and Apple watch, along with being adept in the Windows and Android framework. They have also created bundled apps for iPhones.
With their assistance, you can complete the journey from dream to reality and draw huge return on your investment.
Their portfolio boasts of over 120+ apps in almost every single platform available.
Being Intel BlackBelt recognized clearly showcases their technical expertise. Their developers have an in-depth knowledge of XCode, Swift, Android Studio, Eclipse, Java, PHP, CSS3, HTML5 and much more.
Apart from that, they also specialize in for integrating the latest technologies into your application, and technology consulting for OS and platforms.
You can also get a first live version of your app from them for free.
Having a totally transparent development process, MacAppStudio is a great company to contact for native as well as cross-platform applications.
They provide amazing mobility solutions at affordable prices.
Also, they have got an excellent rating of 4.9 Good firms, which speaks a lot about their work quality in itself.
You can get in touch with them through a Skype call or call directly at their contact number to present your business idea and get a quote.
Founded in 2013, GoodWorkLabs has been delivering classic mobility solutions since its inception.
It is the recipient of many prestigious awards and is known for its client satisfaction rate.
With its offices in Banglore, Kolkata, and San Fransisco, it caters to people all over the world.
They have established themselves firmly in Mobile App and Software Development, simultaneously working as a top notch UI/UX Design Agency.
The blend of all these services can provide you great success with your business and amass a great number of users, thus increasing your profits.
The experts are highly trained on all major mobile platforms, that is iPhone, iPad, Android, and Windows.
Their expertise in PHP, Ruby on Rails, NET, Java, Perl, MySQL, Oracle and several other technologies can help you in launching a powerful and stable application for your business.
They improve the user interface and visual design of their solution as per the business requirement, leading to consumer satisfaction.
GoodWorkLabs has helped many start-ups as well as big Fortune 500 companies with their mobile applications, Big Data Technologies, Artificial Intelligence and Machine Learning.
Their programmers are well versed with all the latest technical progress and use it to the best advantage of the application.
You can also contact their developers for Mobile Gaming technology coupled with a scalable and bug-free code.
It is recognized as the 5th fastest growing tech company at the Deloitte fast 50 awards.
If you wish to contact them for your project execution, you can mail or call them and get a quote to get started, One of the best mobile app development company in India.
Vinfotech provides a vast array of services ranging from consultancy and design to engineering and full community management support.
They started by offering custom social network solutions but are now one of the top mobile app development companies in India that provide intuitive and trustworthy Mobile Application Development.
Their team of professionals has great skillsets and complete knowledge required for the creation of a highly functional custom-made mobile application.
They finish all of their projects well within the stipulated time and that too without any error or glitch.
Whether you are a start-up or a mobile app business, they will build you a flawless and swiftly be working app, that will help you in capturing the market.
The developers at Vinfotech utilize a human-centered approach to overcome the glitches in app design.
The focus on end-user empathy and rapid prototyping help them to achieve their goal without sacrificing on time.
The project is handled with the utmost concern from its inception to the launch.
Start a project with them if you are looking for fast development without compromising on the quality of the application.
By hiring them you can be sure of a reliable and secure app built on a proven framework.
Get a quote from them by submitting a brief query on their page or call them directly.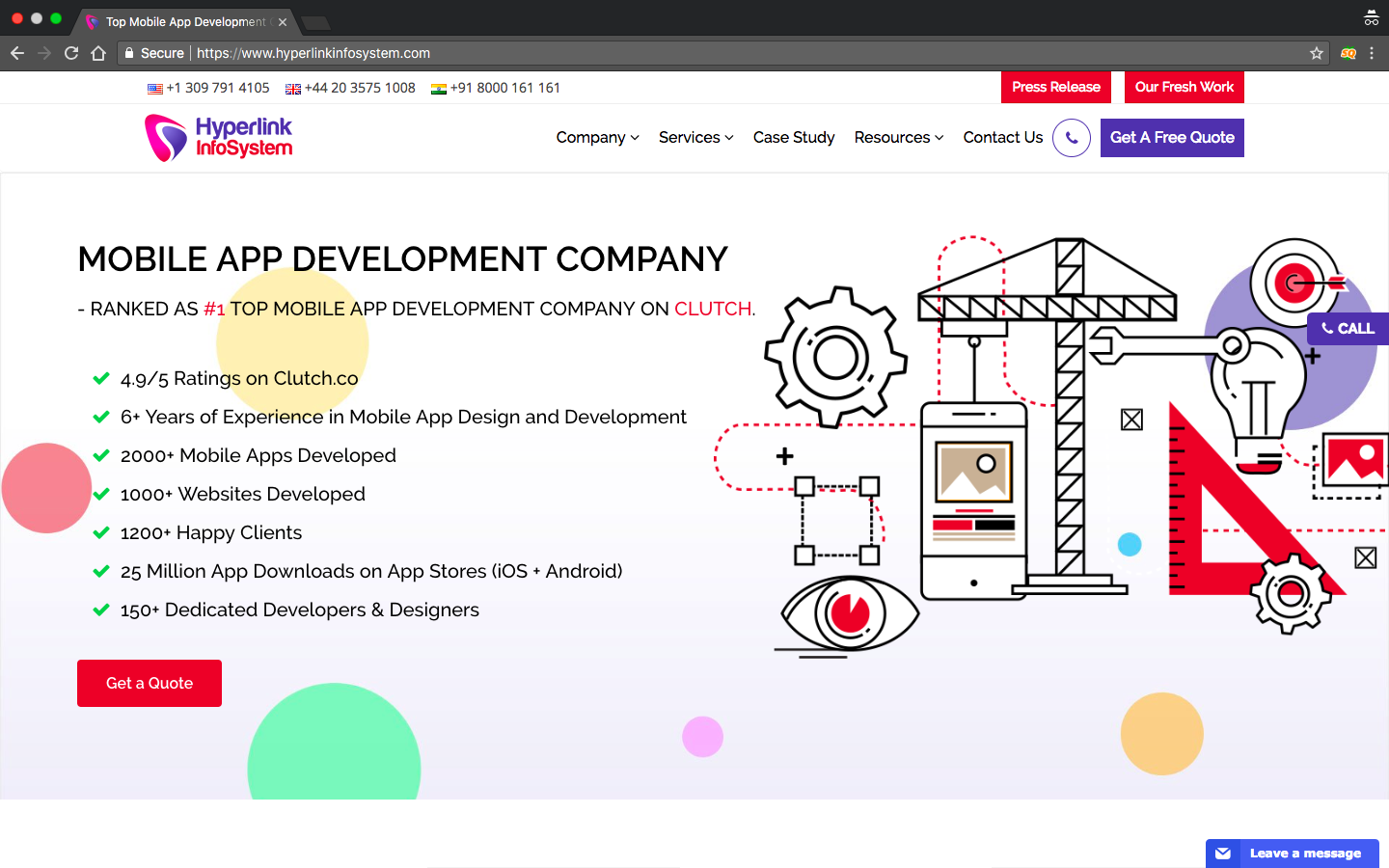 It is one of the prominent mobile app development companies in India and has its clients all around the world.
Set up in 2011, they have quickly made their name in the domain of mobile app development and has some top brands in its portfolio.
Their experienced professionals can help you with the specific enterprise needs and configure the app as such to obtain the maximum Return on Investment.
They are equally adept in creating apps for various operating systems such as iOS, Android, and windows.
You can discuss your idea with them and they will develop a great application that is fully customized as per the market standards and matches your expectation.
They believe in applying stringent quality methods in all of their projects and making them available at affordable costs.
Any application is fully tested before handing it over to the client.
They are also well versed with PhoneGap development that is based on the open-source software Apache Cordova and can be used with the various OS.
Inducing an interactive interface with the app is of utmost importance and that too without compromising on the speed.
The developers at Hyperlink are proficient at achieving it and incorporating other innovative technologies in the application.
You can also contact them for Mobile Game Development for iPhone, Android, and Window devices. Allure more users by integrating Virtual and Augmented reality in the gaming interface.
If you are looking to capture your audience with your mobile application, you can call their team or mail them to discuss your idea in detail and get a quote.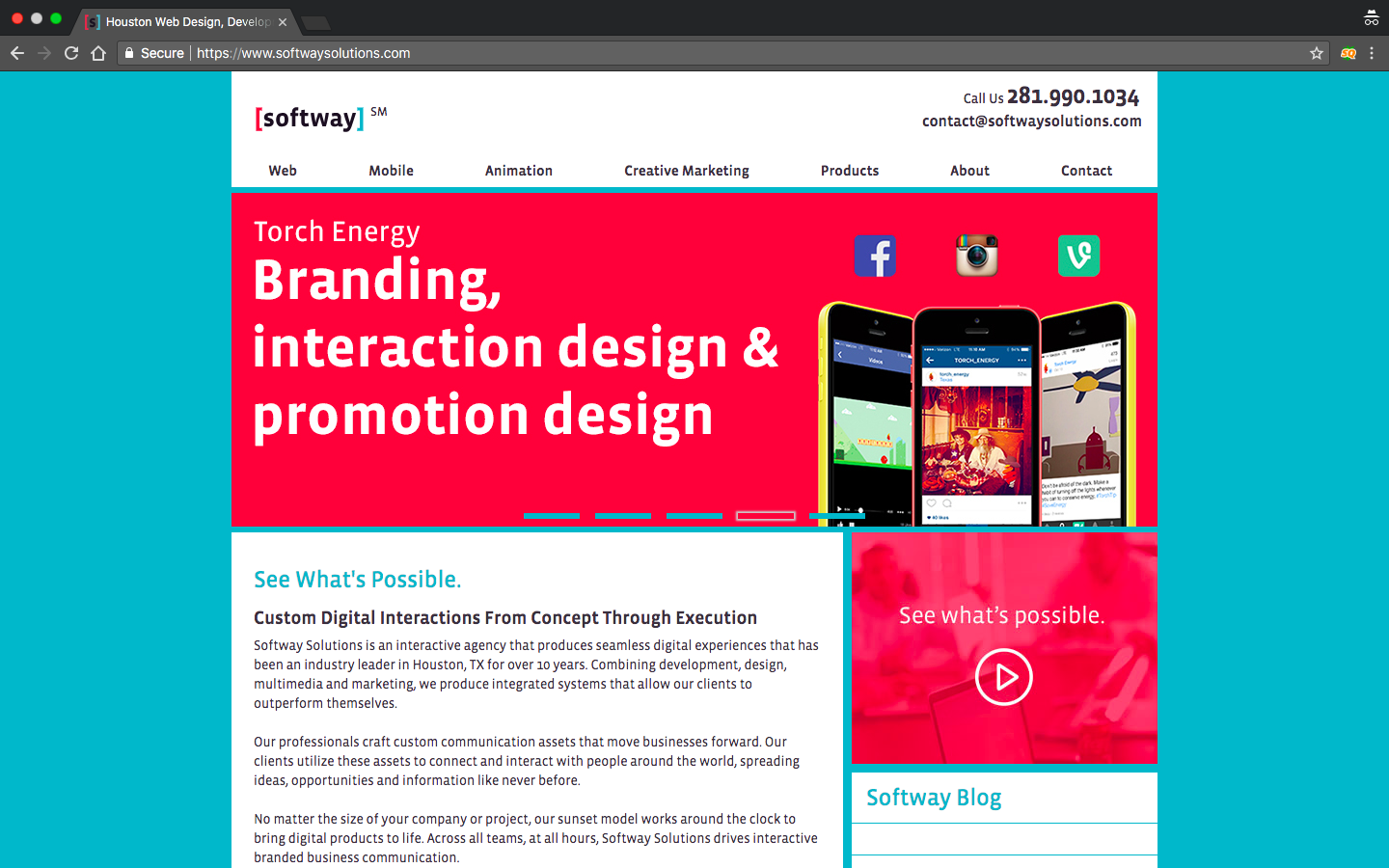 Softway is located in the Silicon Valley of India, that is Bengaluru. They have a team of passionate engineers that boasts of exceptional knowledge and unmatched skillsets.
They are experts at creating top-notch mobile applications that help you in clicking with your customers and increasing your profits.
They are well adaptive with all the latest technologies and features needed to create a powerful and relevant mobile application.
It will help your customers to interact with your brand easily, along with giving them a great user experience.
With a rich portfolio that boasts of thousands of apps with satisfied clients, they are the pioneers in developing a highly functional mobile app.
A properly designed app clubbed with a user-centric design can simplify your work considerably.
The programmers at Softway always strive to meet their clients' expectations with their work.
Discuss your idea in detail with them and get an insight whether to invest in iOS, Android, or Hybrid app development.
One of the best mobile app development companies in India. Browse through their portfolio to get an understanding of their work potential.
If you like their approach, they are just a phone call away. You can also submit your query and they will get back to you, to take the idea of your project forward.
7. Lochbridge
Lochbridge is a company that has been driving mobile innovation for many years.
They have helped numerous clients in reaching their goals and increasing the profits manifold by unlocking new business opportunities.
It holds a strong presence in various sectors such as Automotive, Finance and Insurance, Healthcare, Manufacturing, Public Sectors and others.
With their award-winning deployments, they have enabled over one billion IOT interactions which have driven huge revenues for their respective clients.
Their team of strategists and technologists can tailor-make your desired application with their in-depth knowledge of industry-specific Mobile Technologies.
A great app can enhance the way you connect and interact with your customers, side by side streamlining the operations.
Every business needs an application that prioritizes usability in design, simultaneously blending innovation with technology.
The experts at Lochbridge can be contacted for the integration of intelligent systems in web and mobile based applications.
This will transform your business and increase the consumer loyalty and revenue gains. Their services are cost-effective and provide secured information solutions.
Along with web and mobility solutions, they can also be contacted for Cloud Computing.
They develop an impeccable Cloud transformation strategy and roadmap to generate more leads for your business. One of the best mobile app development companies in India.
They are adept at Hybrid Cloud Strategy and Transformation of applications into Software as a Service (SaaS) models. Learn more about their work by getting in touch with them.
iMobdev is another reputed company that excels in iPhone and Android app development. With their head office situated in Ahmedabad, Gujrat, they have a strong global client base spread all over the world.
They have around 7 years of experience and can render your app with all the latest features, necessary to generate more users and more profit.
Their team of 100+ professionals has successfully completed more than 500 projects worldwide.
Having created mobile apps for different sectors, such as enterprise, healthcare, banking, real estate, education, fitness, gaming, and many others, they have gained an extensive experience.
They are pioneers in converting your ideas into a great application through which you can achieve your goals.
Provide a great experience to your customers by utilizing their cutting-edge development services.
Their other areas of expertise include UI / UX Design, Web Application Development, Internet Marketing, and Cloud SaaS development.
Having a flawless and powerful website is a pre-requisite for any business to succeed, and the experts at iMobidev are there to help you with this concern.
Always eager to hear their clients, they are always passionate about their work and work dedicatedly to achieve the targets within the deadline.
Their programmers are well versed with latest web technologies and multiple app development platforms and follow a streamlined strategy while working on any project.
They cater to anyone looking to succeed in online business, whether it be a start-up or small or large organization.
One of the best mobile app development companies in India. Contact them to establish a long-term business relationship.
Diaspark is a CMMI Level 5 company that provides an array of information technology solutions.
It has over 20 years of experience and has catered to brands from all over the world, which also include some fortune 500 enterprises.
It is your one-stop solution for app development, integration, quality assurance and security, and consulting.
What makes them a trusted company in the domain of mobile app development is their vast experience and the use of latest technology during the development process.
They completely support your application, right from the conceptualization to its development, and till the deployment.
The experts in their team ensure that the application is designed as per the business requirement and your investment brings bountiful results.
They have helped a great number of businesses by creating a rich blend of mobility and IT consulting solutions across jewelry, healthcare, energy, retail, ISVs, and publishing & media domains.
One of the best mobile app development companies in India.
Following a 360-degree business, an approach is their way to understand the client's vision and thus increase the efficiency and improve the return on investment.
Increase your brand awareness and visibility by hiring the top programmers at Diaspark at economical prices.
They have received numerous awards and certifications that proves their strength in the field of mobility solutions.
You can also choose to integrate the app with backend systems and wearable technology for a better user experience.
An error-free and easy to use app will indulge the customer in interacting happily, along with leaving a good impression on his mind about your company.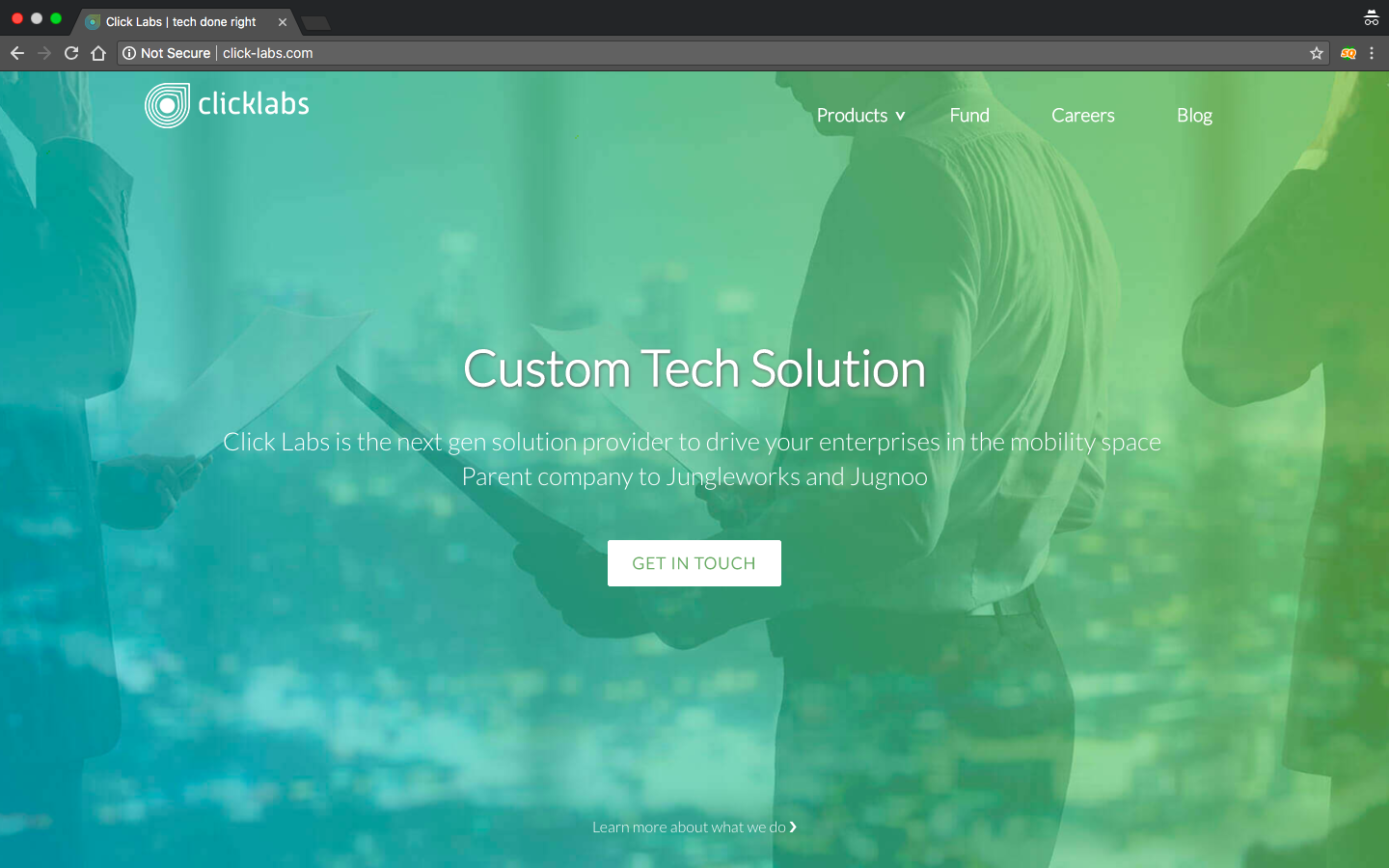 ClickLabs is a top-level company to contact for on-demand mobile app development.
Their programmers have accumulated an extensive experience and great knowledge to build your dream app from the scratch, as per your business demands.
An entirely customizable solution molded to your business needs will provide you a large customer base.
They also provide advanced analytical solutions to maintain good customer relations and improve your services.
You can contact them to create a real value for your business and to provide an omnichannel experience to your customers.
Efficient operations combined with real-time updates will give you a solid edge over other competitors.
One of the best mobile app development companies in India.
Since its inception five years ago, they have powered more than 100 platforms and helped them towards their journey to success.
They have been recognized as the Top Software Developers by GoodFirms and has received several other awards.
They focus on maximizing their client's ROI through their mobility solutions.
Submit a query on their page so they can get back to you and discuss the possible business opportunities.
There are thousands of mobile app development companies in India, of which I've compiled a list of the top few.
This list is based on the client satisfaction and the performance of the apps furnished by these companies.
It can indeed be a mammoth task to select the right type of company for the development of your project.
You can discuss your business idea in detail with them and have a look at their portfolios to have a better understanding of them.
All of the companies listed above in our updated list, have made business-growing apps for years and equipped them with the latest technological trends.