Ultimate Guide To Finding Your Travel App Developer. Usage of travel apps has become quite popular these days.
With things happening with just a click of a button, travelers are nowadays becoming more dependable on technology for being able to manage their vacations effectively.
Some of the features which tempt the travelers to plan their holidays smoothly include location tracking, easy booking of hotels and flights, travel journal features, travel tips and guides, in-app navigation controls, etc.
No wonder, that these extremely user-friendly travel apps can play an instrumental role in fulfilling your requirements in the best possible way.
Why do you need to hire professional travel developers for designing your apps?
Technology has been the major catalyst behind the transformation of travel and tourism industry in recent past. Did you know that about 60% of the travelers depend on travel apps to plan their vacations?
With increasing customers switching to using more convenient ways of planning their tours, travel companies are looking for newer ways to cater to the needs of their potential customers.
Hence, in this era of technological advancement, the hiring of professional travel developers has become a necessity.
Many travel app development services include google map integration, language translators, time converters, online bookings and online payments.
All these attractive features are enough to tempt the travelers to try out travel apps which are not only easy to navigate but also customizable according to your needs.
What are the exciting features which your travel app development needs?
Travel freaks would prefer features which can help them plan their trip without any hassles.
After all, vacation should be more about fun and enjoyment than about planning the tour expenses, bookings, and destinations to visit. Isn't it?
Therefore, as a travel app development company, some of the most demanded features for your travel app could be :
Travel Itinerary Generator
Travelers crave to explore destinations which are famous and low on budget.
A travel itinerary generator can automatically create a travel plan for the users so that they can visit the places they yearn.
It is one of the most demanded features as you can systematically plan your travel trips efficiently.
Geo Tracking Services
Nothing can be better than being able to find local attractions, restaurants, hotels after you reach your desired destinations.
Geo tracking has thus become one of the most sought-after alternatives for tourists these days.
In-App Language Translator
This can be one of the most attractive features which you can offer to your customers.
It can make your travel app stand out in the crowd as the travelers will be easily able to communicate with the locals in their regional languages with the help of this unique feature.
Currency Converter
You can trace out the currency exchange rates without any hassles. It is all at one place and tracking current and past variations in the currency is no big deal with this exclusive feature.
World Clock Time Converter
It would be amazing to have this wonderful feature in your travel app. The whole idea is to help the users calculate the time for different time zones across the world.
Tourists no longer have to worry about calling or messaging their relatives at a wrong time and it can save them from a lot of confusion.
Hence, in a nutshell, building a travel app can be a tedious task at hand if you are wanting to include every best feature possible.
All you need to know about is which features can make your app stand class apart from other hundreds of travel apps.
Therefore, hiring the best travel app developer company can give you an edge in the competitive market.
What would make the ultimate difference would be the user-friendly interface and multiple features which your app can offer.
What are the questions you need ask your travel developer company before hiring them?
Can I see your already built apps which have been successful?
May I speak to some of your past clients who availed your services for the same industry as mine?
How skilled are your developers who will be working on my travel app?
What is your approach towards creating a user-friendly app for app development?
Do you completely understand my business model and requirements?
Hiring the right travel app developer should be your priority as it should be worth your precious time, money and effort.
Answers to these questions would give you a brief idea of what you can expect from your app developer company and whether they possess the skills to actually handle your project successfully or not.
What are the possible ideas for building travel apps?
Travel Ticket Booking to help travelers make your bus transactions easier.
Travel Guide Booking App to help travelers explore new countries and cities without any hassles.
Travel Booking Apps can help travelers select trips based on your interests, preferences, and prices.
Self Help Travel Guides which can help travelers plan their own trip conveniently.
You can be assured of getting the best of travel services at Engineerbabu for building a successful app for any of the above categories.
Its team of dedicated and professional app designers is well versed with the latest trends in the market and specialize in building customizable apps.
Let us now explore each of the above categories in detail so that you get a comprehensive idea about which category can be most suitable for you.
Bus Ticket Booking
Booking tickets through a travel app can be time-saving and hassle-free.
To put it in three simple words, it is easy, secure and faster. All you need to do is :
Search and select your desired destination.
Choose from a wide variety of bus services options available.
Select your preference for the same.
You get the options to simply choose your Departure times, Prices, Bus types, Pickup &  drop off points, Choose seats and Pay securely using popular payment options in your country.
Bus Ticket Bookings can help you to avail exclusive discounts and great offers.
Also, you can enjoy seamless online booking experience with the user-friendly mobile interface which allows you to complete your booking in just a few clicks.
With the ratings and reviews at your disposal, you can choose the best option for yourself.
You don't need to compromise at any point as you have multitude options to make an informed choice.
For instance, you can choose from a variety of buses like seater, sleeper, semi-sleeper, A/C, non-A/C buses, etc.
You can now transact on the app using online banking, credit cards, debit cards and wallets.
These online options make it easier for you to make quicker payments.
Key Features:
One touch secure payments- Save your card details & book tickets with a single tap.
One touch cancellations – Cancel tickets using the application with a single click.
Live bus tracking – Track your bus live on a map and send tracking link to your loved ones.
Instant notifications- Get to know about instant fare drops, amazing discounts, instant refunds.
Key Points:
Convenient, secure & fast booking.
Great discounts, deals, offers attractive cash backs.
Refer & earn – Earn exciting rewards by inviting your friends and family to join App.
Hassle free cancellations with a click of the mouse.
Travel Guide Booking
We designed Tooreest App in order to make the traveling experience even more memorable for the tourists.
This app allows the users to know everything about the destination they plan to visit beforehand.
Also, they have the option of booking a virtual guide service to make arrangements with the local guide over messages or calls.
It also allows the users to book a physical guide service using variant search filters.
The app should be an open and simplest platform which can help tourists to connect with locals so that they can make best out of their traveling experience.
This user-friendly app ensures that the traveler feels safe and enjoys as the locals do.
Hence, it can be of great assistance to those who are traveling with just an app in their phones.
Users from anywhere in the world can sign up for this app and search for locals.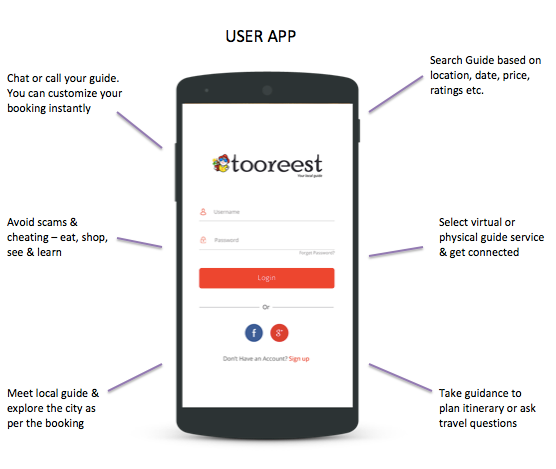 Tooreest Guide (Service Provider) App: Anyone can be a guide and people interested to help travelers can sign up and while doing this they can also make extra income.
We also welcome all the tour guides and operators to sign up as a service provider and you will have ready customers always on the list.
Locals from available countries can sign up for this app to become a guide.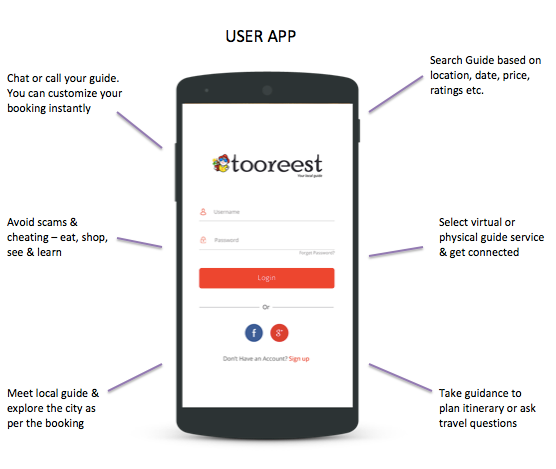 Trip Booking App
We designed Thrillophilia App and it allows the tourists to explore everything amazing with just a click of a button.From planning variant tours, activities and experiences, tourists can choose from a wide list of options to enjoy with your family.It allows you to choose from over 5000+ activities across the country at over 150 destinations.What does the App exactly do?
Discover and book awesome delightful activities for your family.
Find amazing activities near to where you stay.
Enjoy adventurous fun activities within your vicinity.
Amazing sports and fitness activities for your fun-filled trip with family.
What are the benefits of the app?

Save up to 50% with 'App Only Deals'.
Access travel itineraries and activity details conveniently.
Read reviews of real travelers before booking.
Safe and secure payment gateway with various options.
Electronic vouchers.
Share and invite your friends to get exclusive discounts.
Get your travel bookings history with one click.
With the help of Geo Tagging, access a list of activities and experiences happening close to you.
Browse tours, activities, and experiences all over the country with the 'Far' feature.
Scroll to see a list of trending activities happening in your city.
Thrillophilia Supplier's app is one of the best online booking platforms. No wonder that it has become one of the most popular travel apps for tourists.
Undoubtedly, thrombophilia has successfully transformed lives of 4,000+ service providers across 15 countries. With this wonderful travel app, tourists can create, manage and make bookings in one go.
How did it work?
Our technology helps create an interface between you and the customer. You can review the customer's bookings and accordingly respond to their queries. Also, you can directly message the customers in order to resolve their issues or use the calling feature to connect with the customer.
Check out all the reviews that the customers are writing about your services. Dashboard to see a number of leads, revenue, and converted bookings.
Convenient and tech-savvy: Scan customer vouchers to prevent fraudulent bookings.
Keep on top of bookings: Get push notifications whenever you get a new booking or a new customer review.
Easy filters to sort revenue, bookings, leads based on dates or specific tours.
Self Help Travel Guides Apps
Nothing can be better than planning a trip according to your wish in minimal time.
Self Help Travel Guides Apps can come to your rescue when you make spontaneous plans with your family. Some of the great features which you can enjoy include Wanderlists, Guides, Offline Functionality and much more. You can also share your own experiences by uploading pictures and videos.It also offers you exquisite features like curated itineraries for landmarks, hotels, neighborhoods, restaurants and more.
These travel guide apps are becoming increasingly famous as it gives the tourists the opportunities to plan the trip according to their own will.
Also, with everything served to the traveler on the platter, planning a trip becomes more of a fun than stress.
Self Help Travel Guide Apps allows the travelers to experiment with everything they want to without any hassles.
Why is hiring a travel app developers becoming a necessity for travel companies?
Travelers are looking out for something different and unique when it comes to exploring the world.
None of us would have imagined that planning a holiday would be so much easier with the mobiles.
Hence, hiring travel app developers are becoming a necessity as travelers are looking out for interesting features which the apps have to offer.
It is more than just mere designing and layouts. Travel apps ensure that they cater to your requirements in every possible way.
Also, personalized services and custom solutions are only possible with travel app developers who are acquainted with the latest trends in this highly competitive market.
Traveling is more than just exploring the destinations. It is also about staying at the best of hotels, eating at the lavish restaurants and spending quality time with your family.
Hence, travel apps have become increasingly popular as they allow you to make the most of it. Hiring the right travel app developer can thus not only increase your customer base but also holds the potential to increase your profits by leaps and bounds.
Some do's and don'ts while hiring a travel app developer
Going with the most expensive travel app developer/ company doesn't guarantee good results.
You might hire the most expensive travel app developer but it can still not work in your favor. Make sure that you hire someone who understands your business goals better. Higher price doesn't ensure the successful completion of a project. Lookout for a professional and dedicated team who have the good amount of experience to deliver your project timely.
Not establishing a budget and timeframe for your app Hire a travel developer who can actually stick to the stipulated deadline for completion of your work.
Also, drafting a fair budget once you decide to hire your traveler app developer is recommended.
It is better to discuss the pricing with your travel app developer to avoid the confusions later.
Asking for work samples should be a must on your list
Don't shy away from asking for a few work samples before making a choice of hiring your travel app developer.
It would give you a fair glimpse of whether the developer is worth your time and effort or not.
A reputable travel app developer will have a strong portfolio and would confidently communicate with you.
Giving out a dummy app project to check the skills of your travel app developer
If you are doubtful whether you hired the right travel app developer or not, you can begin by giving them a short project to check their skill set. After all, this is the best way to judge their capabilities. If you feel satisfied, you can decide whether they can be entrusted with your project or not.
Conclusion
Hence, in conclusion, it won't be wrong to say that hiring the right travel app developer can make or mar your business. Therefore, don't hesitate to weigh the pros and cons of hiring a particular travel app developer for your project.