When the world is getting smaller and easy-to-reach, there are major technical advancements happening in the IT sector as well. These days, the apps are changing the way they were built and the way they are built now. The apps these days are getting more and more dedicated and customized to a major functionality. When the world is on spree with clicking the selfies and posting it on various social media platforms, there is this application "Selfieism" into the markets. Yes, as the name suggests it focuses on the selfies.
Since the past 2 years, selfies have been a booming thing and has successfully created a buzz about it. How wonderful is the idea of clicking photographs of your own-self all on your own? You do not have to ask that nasty friend of yours nor request anyone to click your photographs because you do it for yourself.
Recommended Reading: How we built the Awesome Travel App: tooreest
Selfieism is basically a platform where all the Selfie and Velfie crazies can connect, post and share their flick moments through pictures or videos with the loved ones. The best part about the application is that it has hassle-free and trendy functionalities and features to portray and show-off your fabulous profiles. The app not only allows you to post but express your views, likes, dislikes in many forms like creative, adventurous, awesome, beautiful, funny, crazy or impressive. You won't miss out a bit of update about the hot-buzzing selfies posted by celebrities.
Features of Selfieism
Free: Oh yes, Selfieism is absolutely free. All you need is to download the application without any registration fees or subscription charges.
Login Feature: Selfieism makes sure that your selfies and velfies are well secured over the internet. Thus, it has got the login feature in order to prevent it from any unauthorized access and misuse of your photographs and videos you upload.
Image Filters: There are various filters available to add that magic touch to your photographs and videos.
The caption to your pictures and Videos: A cool caption always adds up to your pictures and videos and you can do it here even while adding your post to profile.
Add new friends: You can add and follow your friends, family and all the near and dear ones to get the latest updates of their beautiful memories captured via camera.
Various reactions to express: You can react in a multiple number of ways about anyone's post. It can vary from adventurous to crazy till impressive.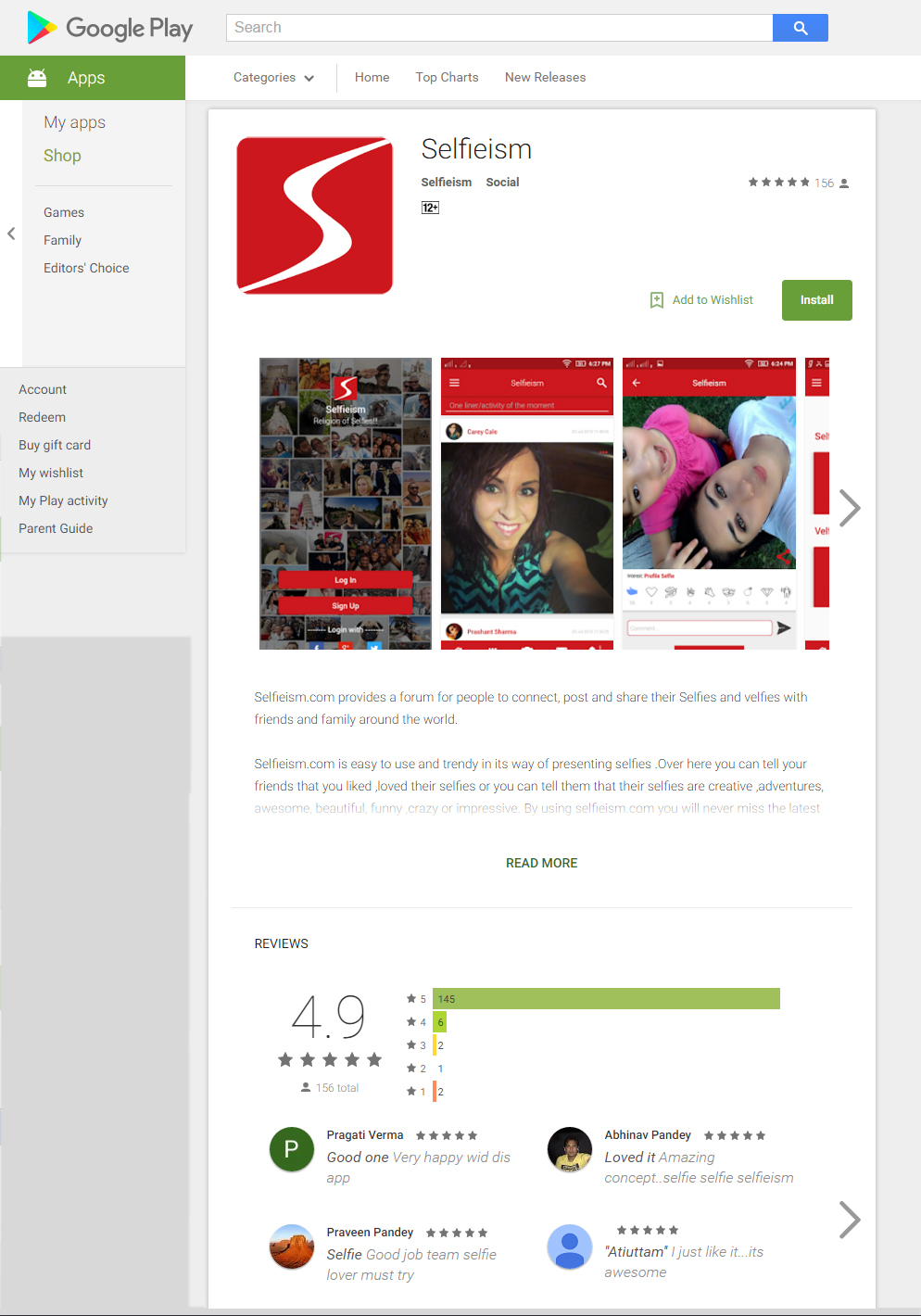 How Selfieism works:
Register: You have to register yourself for the first time to create your own profile which is a normal drill followed while registering. The registration can also be done via Social media platforms like Facebook, Google+ or Twitter.
Login: Once you are registered successfully, you are all set to go and update your first Selfie or Velfie.
Selfie/Velfie: You can either browse from the photo gallery of your cell phone or click a fresh picture i.e. Click a picture or Pick picture. Similarly, for videos, it's picked a video or pick video.
Adding Filter and Caption: Once the upload of your image/video file is complete you'll be given various image filters if you want to and also a cool caption for your upload.
Search option: There is a search option available from where you can search for your friends and family members using this app in order to follow their updates regularly.
So, it sounds cool until now? If yes, then go and you are just a few clicks away from posting your first selfie or velfie through this dedicated Selfieism App. Download Now!
---
Handpicked Content for You