At some point in life, everyone has come across the anxiety for their further education; which college/institute? Which place? What fees? So on and so forth. These have always been haunting questions for all the students.
As you would read through, you would be envious of the people who are so well placed in time that they get to carve their futures with so much of ease.
Mr Atul Asati, one of our clients came to us with an amazing idea, an idea which would provide all the information needed about the institutes and universities abroad at the tap of your finger. It is sort of an education aggregator.
More About The Education Finder App:
The beginning of an idea:
The idea of Education Finder was born when Atul Asati, the founder had been working in Florida, US with a pharma company. He was struck by an idea of creating an information source for the students aspiring further education out of their countries. Thus, making it much simpler to get the first-hand information about their potential alma-maters.
To start with, he created a Facebook page to address to the queries related to VISAs, entrance exams and other admission details for various international colleges and universities.
Also Read: A-Z Guide For Developing A MOOC LMS (Like Coursera)
As the popularity grew, he decided to get a new platform for his stemming idea- an app which can reach out to masses in much lesser time and can be very handy enabling students to access information anytime, anywhere. Of course, with a lot of accurate and precise information.
The client approached EngineerBabu:
Mr Atul approached EngineerBabu for the implementation of this idea. Our team heard him out, and we instantly got interested. Not only because developing IT products and services is our business, but because the idea was stunning and fresh.
The idea came to be known as Education Finder. Take a look at the final product we designed and developed for the client: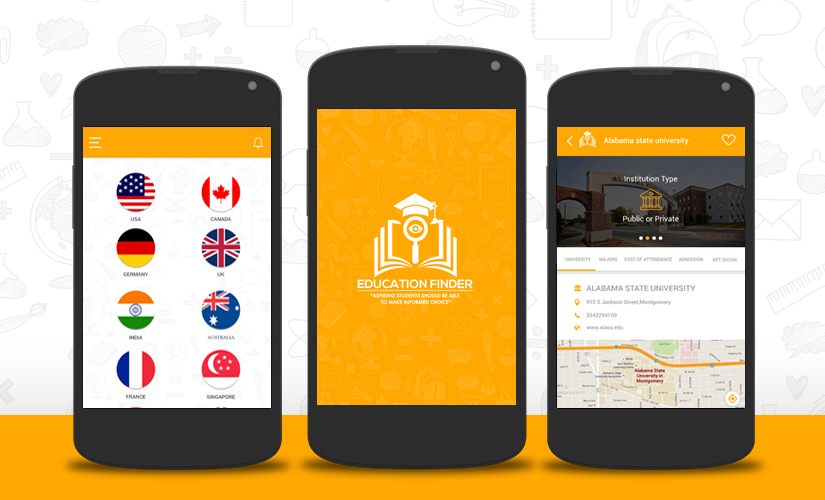 The Development of Education Finder:
---
Challenges:
This was a very different project for us. However, irrespective of the challenges, it gave us an amazing insight of the education industry. Our biggest challenge was to process the huge amount of data which we were going to deal with. Consequently, the crawling and refining of such humongous data was difficult.
Education Finder covers 12 different countries and covering 12 countries means covering a bunch of languages. Finally, with all that hard work we were able to transform the world class idea into an app.
Results:
We were not only focusing on UI, but we cared about UX also. That is why users find it easy to use. App shows universities in Google Map which ease users to find the exact location of the university. As a result, university searching became very fast and easy using our efficient searching algorithm and Google Places APIs.
Consequently, multiple social logins i.e. Facebook, Twitter, LinkedIn, Google+, Email were integrated so that users can login or register easily. Android App was developed in Android Studio IDE and iOS app in Swift Language.
To share a few features
with the readers:
1.
Information of institutes across 12 countries:
Education Finder

encompasses the data of more than 25000 institutes and universities spread across 12 countries-UK, US, Germany, Canada to name a few.

2.
Fees and other costs:
The app gives you a deep insight on the fees structures and boarding costs. It also provides information on over 100,000 scholarship programmes across all degrees, institutes, universities.
3.
Social profile:
Just like any other social media, you can create your profile on

Education Finder.

This enables you getting updates of universities and institutes, searching colleges, and communicating with them.

4.
Filters:
The app provides a filter with many filter criteria like- name, location, tuition fee, etc. It empowers you to refine your search as much as possible.
5.
Simple Design:
We have developed this app considering the audience very well.

Education Finder

is an app for students, and one can find the reflection of this thought in its design.

6.
Cutting Edge Technologies:
With beautiful material design, the app captures the attention of users. It uses latest material themes, card layouts for designing beautiful graphical interface.
7.
Multilingual:
With spread across 12 countries, the app is available in 40 different languages which provide a vernacular connect to the users which are spread across such a large geography.
Client Review For EngineerBabu Team –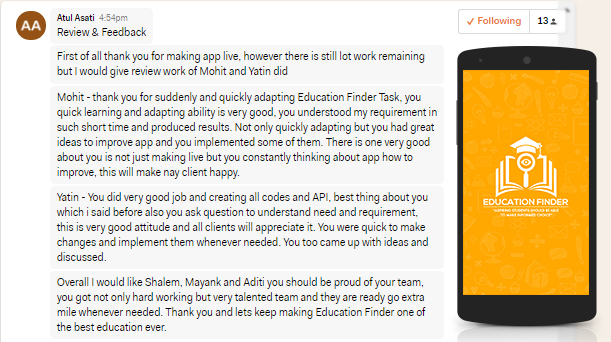 Tech stack used for the app and website
Android –
IDE – Android Studio
Build System – Gradle
Web Services Calling – AQuery
Image and Data Caching – AQuery
Programming Language- Java
UI Designing – XML, Material design standards
Push Notifications – Firebase Cloud Messaging
Backend-
Programming Language – PHP
Database – MySQL
IDE – SubLine
---
To sum up…
EduTech industry has gradually evolved in the last few years and is revolutionising the way we perceive technology for students. It is set to grow in the coming years drastically. At EngineerBabu itself, we keep receiving requests for apps in the EduTech industry ranging from small to big scale.
Take a look at our previous products and the complete company portfolio here.
Interested in getting your product developed with us? You can share your ideas with us without worrying about leaking your precious ideas. We work with our clients after having signed NDA. Get in touch to get a free price quotation from us now!
Drop an email at [email protected]. Cannot wait for an email response? Don't worry, we're right here. 
Recommended Reading: