The best freelance full stack developers tend to gravitate towards premium platforms. Every website goes through a rigorous vetting process to get freelance full stack developers onboard to ensure standards are high. The best advantage of hiring a remote full stack developer from the official websites is you find the properly vetted talent so that it takes a huge risk away from you. Hiring offline is expensive and time-consuming. Freelance platforms hire talent from all over the world, enabling a degree of geographic arbitrage. It's not just about just delivering the code —it's about finding the services that will best meet your business objectives no matter which technology stack is used.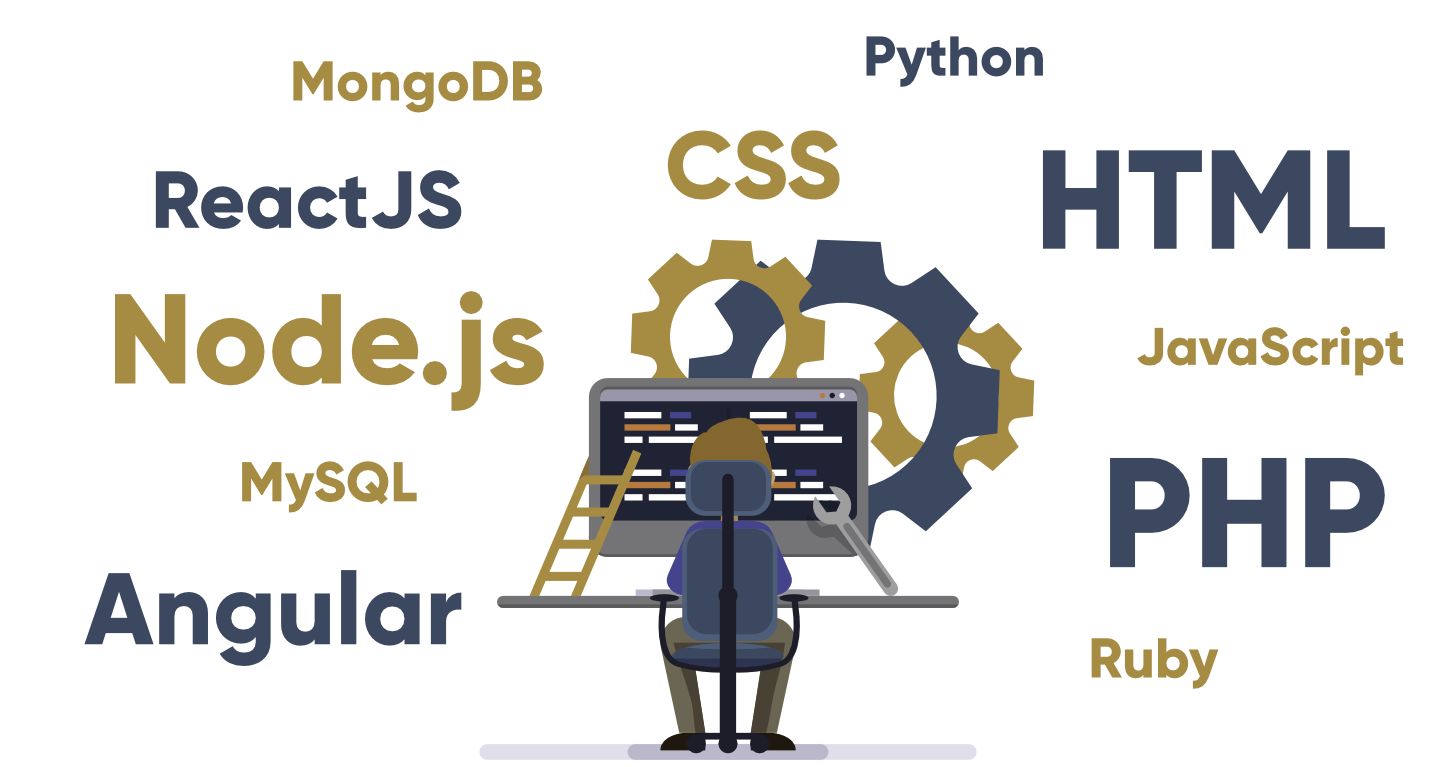 Before signing up on any freelance platform to hire a freelance full stack developer, it is first important to know how each platform works under the hood. You may find each of the platforms functioning in a similar way but they are fundamentally different in terms of the talent pool, vetting, pricing, and support. When you hire full stack developers then you must test and check developers' technical knowledge, developers recently completed project, developers project development process. etc. If you find all things are good in that freelance full stack developer then you continue with that full stack developer and its team.
Recommended Reading: Top 10 Freelance Full Stack Engineers
You can hire freelance full stack developers from freelancing websites and review-based websites. Let's look at top 10 websites to hire freelance full stack developers:
1. Toptal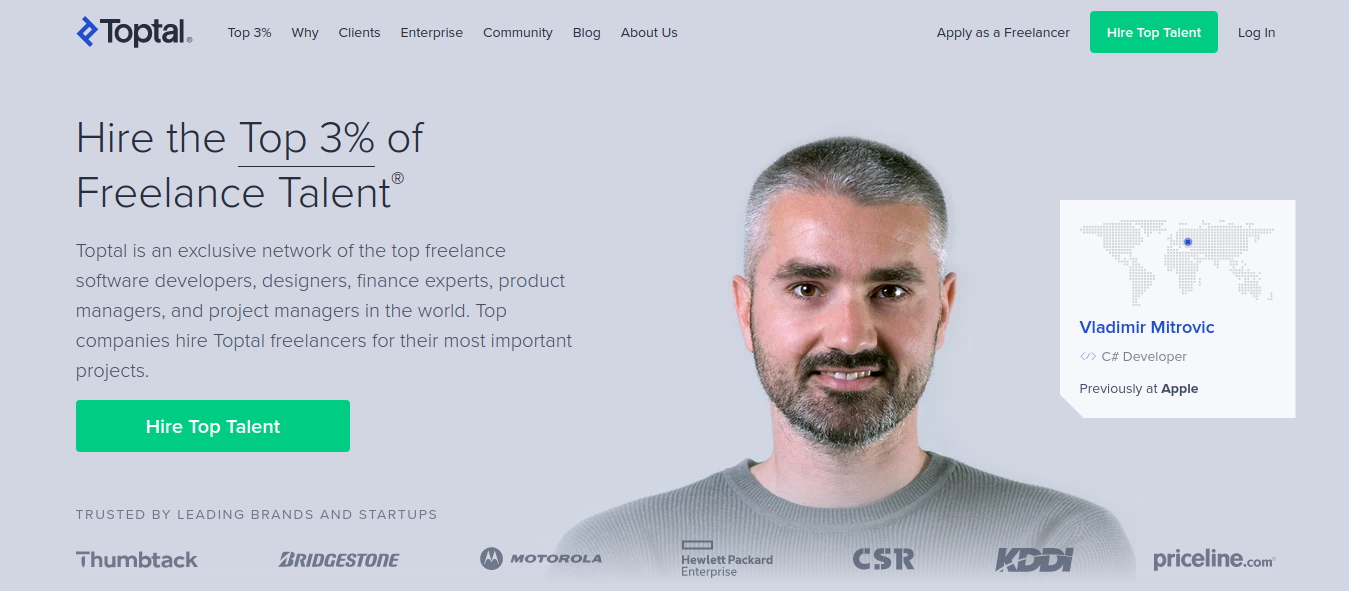 Toptal is indeed a top platform to hire freelance full-stack developers. Developer vertical is Toptal's bread and butter. The main reason to keep Toptal at the top is their elite developer base. A global remote company is a professional talent matching service that connects businesses with software engineers, designers, and business consultants. Developers need to pass a very difficult 5 step interview process to get onboard on Toptal. It takes a month to finish a normal interview (including a 2-weeks test-project). This seems a bit longer than the usual hiring process on other platforms but this is what makes Toptal a platform of top developers around the globe. According to Toptal, only 3% of applicants make it through their battery of technical tests and their comprehensive vetting process. So if you want to hire an expert full stack developer, who builds a brilliant product with exceptional code then Toptal is likely your best option.
" Community is another strong advantage of Toptal, as Toptal member, I can communicate, discuss, and learn with other Toptalers in order to improve my skills and knowledge. Toptal has a great team of professional editors and recruiters, I am so grateful with their help in order to make a professional profile and be more confident at Toptal."
2. Upwork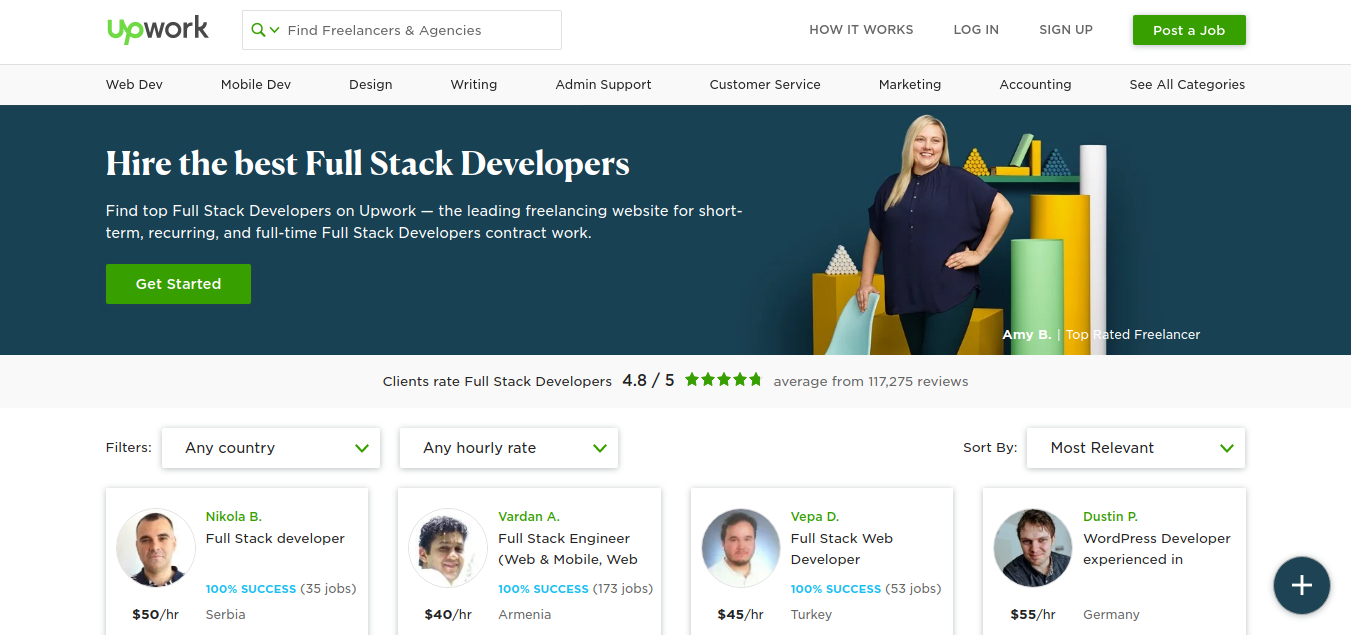 Upwork is one of the most popular freelance marketplaces consisting of over 12 million contractors. It empowers businesses with more flexible access to talent solutions. It is a platform from where you can choose your freelance full stack developer among proven professionals. Upwork is a leading website to hire freelancers to scale their teams dynamically to meet business needs. Upwork's main mission is to provide opportunities to skilled professionals to make their lives better. The community of freelancers working remotely via Upwork spans many categories including software development, web development, sales and marketing, creative & design, finance & accounting, consulting, operations and customer support. Hence, Upwork isn't a platform exclusive to developers. Thousands of freelance full stack developers are available to hire through the network, but you'll have to vet and interview them yourself unlike Toptal which does it for you. An advantage of Upwork for employers is that they can browse thousands of profiles, check work history, comments, and reviews for freelancers. Another advantage Upwork offers is its secure payment system.
"I've used Upwork on both sides. Once you're all set up (including connecting payment, any verifications, ect.), it's fairly straightforward to use. It's easy to communicate with applicants, create job listings, and sort through proposals from applicants. Additionally, you can also search for freelancers with certain criteria and skills and send them invitations to interview/discuss the role. In my experience, there's a lot less "spam" or applicants that aren't qualified (you can set up qualifiers in your post)."

– Linda M
3. GitHub Jobs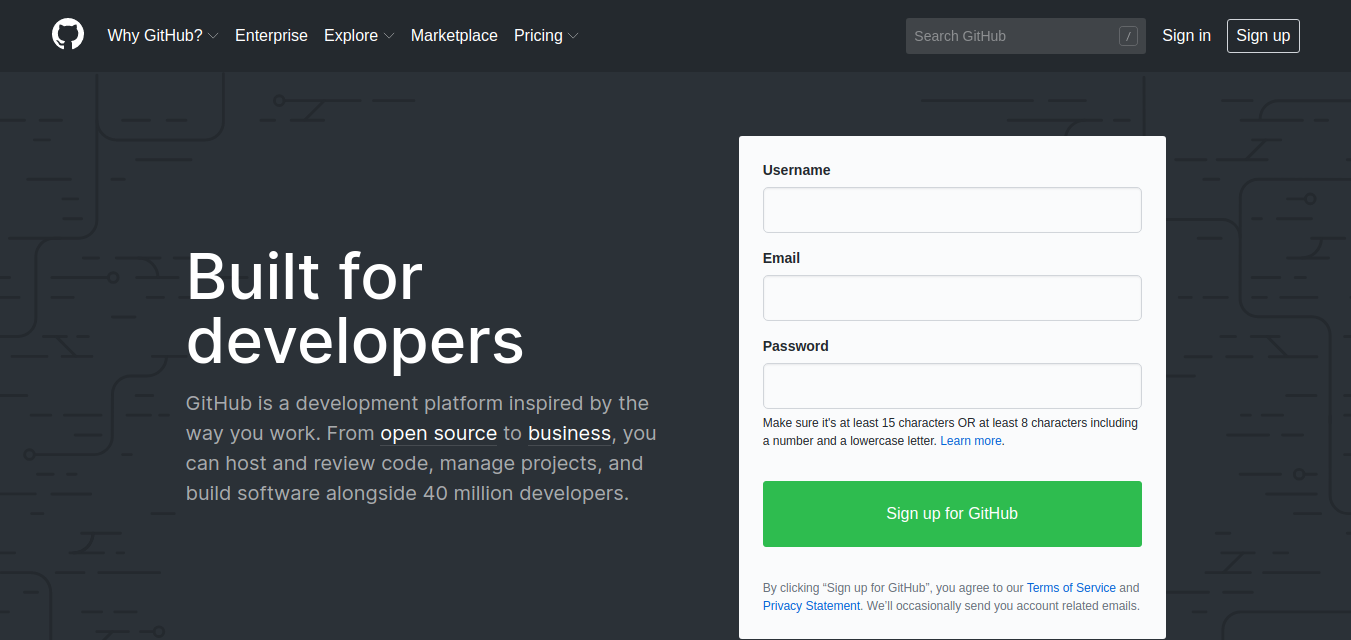 GitHub is the niche website dedicated to developers hence it can be the best place to search for the perfect remote full stack developer. Instead of searching for a full stack developer on general job boards, it is better to go to the right place and get it done. So, Github is that right place for you. GitHub is the most popular code treasure house in the market today, attracting millions of independent developers and tech companies. GitHub, Inc. is a US-based global company that provides hosting for software development version control using Git. It is a subsidiary of Microsoft.
Recommended Reading: Best Way to Hire Developers for Remote Jobs
Projects on GitHub can be accessed and manipulated using the standard Git command-line interface and all of the standard Git commands work with it. GitHub also allows registered and unregistered users to browse public repositories on the site. Hence, it is the world's largest community of developers to discover, share, and build better software. Key features of Github are Code review, Project management, Integrations, Actions, Packages, Security, Team management and Hosting. Github no doubt is Best For Software development for both small startups to large enterprises.
"GitHub is a platform that is designed and geared towards collaboration on open source projects. I like it because we can contribute to the development or improvement of other people's software. In addition, it also allows us to publish private projects, which can only be managed by members of our organization. It is easy to load the code of our apps using its version control system."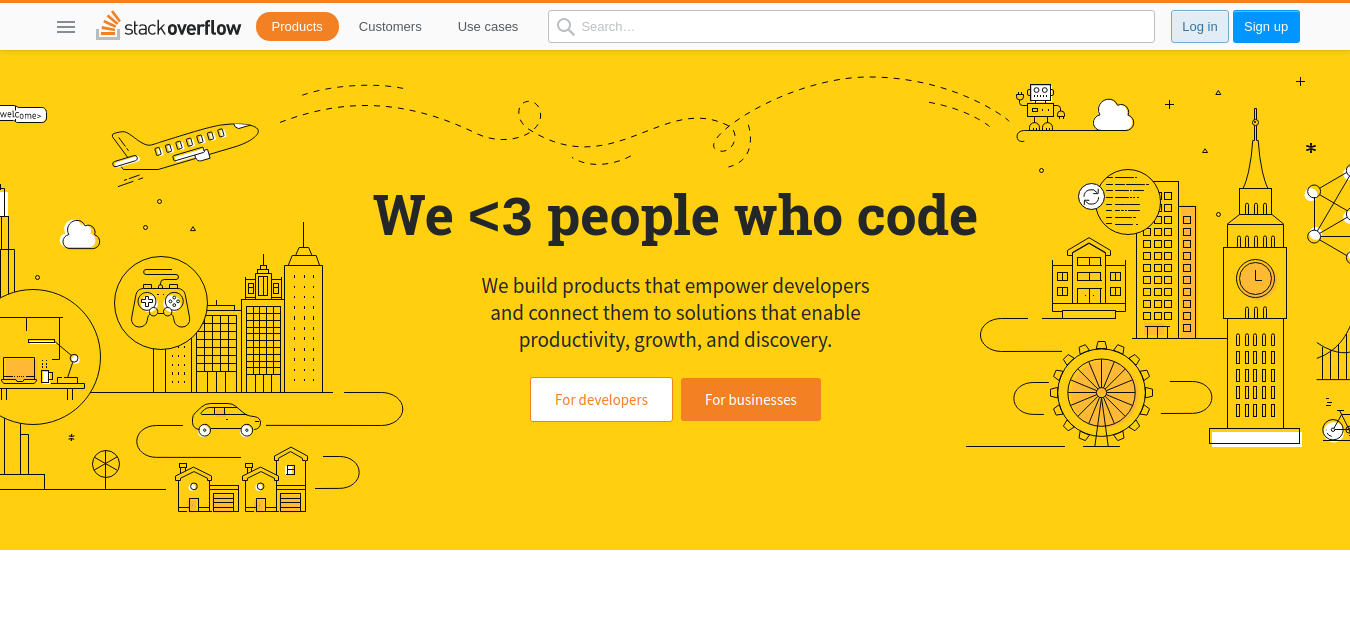 It is one of the trusted developer communities on the web where they believe in Developers first policy. So remote full stack developers never receive recruiter spam or see fake job listings on the site. Overflow's job board is a spectacular site to search for qualified full stack developers. It is a privately held website, the flagship site of the Stack Exchange Network, created in 2008 by Jeff Atwood and Joel Spolsky. It features questions and answers on a wide range of topics in computer programming. Began as a question and answer site for professional and enthusiast programmers, Stack Overflow is now widely used as a spectacular site for dedicated remote hiring. The thing that makes StackOverflow different is the question and answer format for accessing the right information in less time. StackOverflow's mission is to help developers write the script of the future. This means they help you find and hire skilled remote full stack developers for your business and provide them the tools they need to share knowledge and work effectively.
"Stack Overflow Teams has significantly improved our internal inter-team communication. Stack Overflow Teams allows us to use the ubiquitous and easy-to-use Stack Overflow Q&A format to provide thorough well-researched answers to questions that our Support team (and other employees) have regarding our product. Additionally, it allows managers to monitor (and quantify) the contributions of employees to the shared knowledge base through the reputation system. We routinely set quarterly goals for reputation."
5. Codementor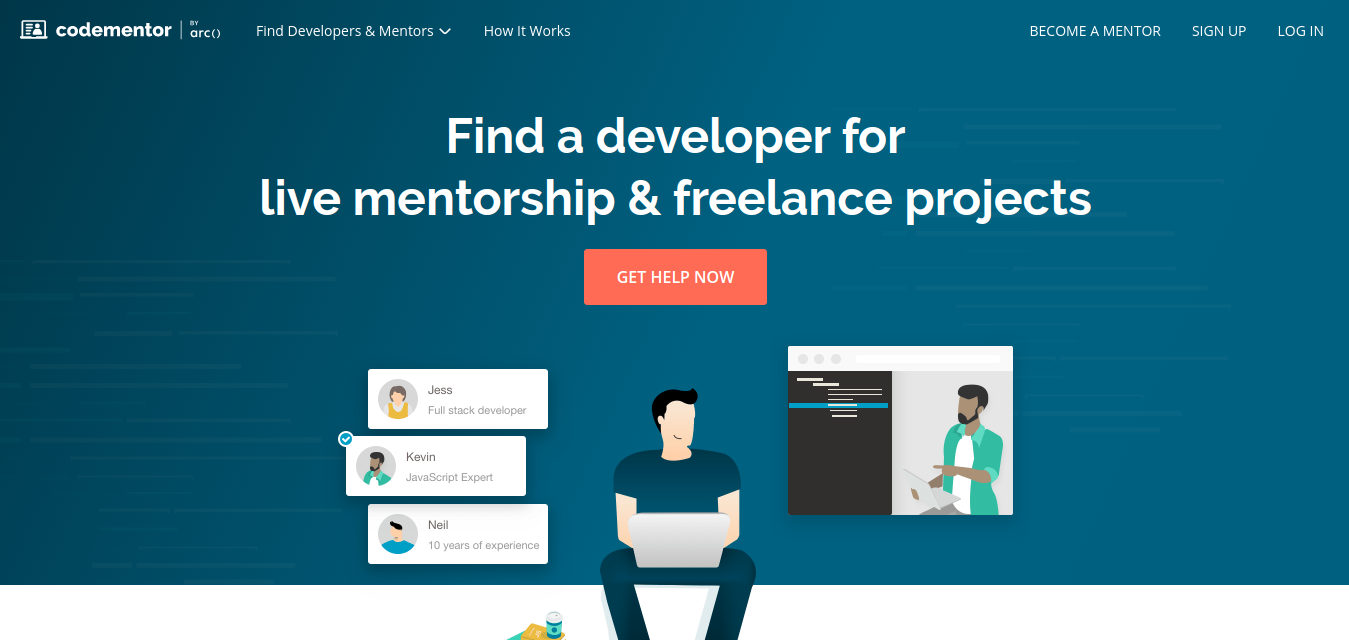 As the name suggests, Codementor offers both mentorship for developers that need assistance, as well as developers to hire. It is a sub organization of Arc founded by Weiting Liu.
Codementor, based in Mountain View, California, United States provides an online  on-demand marketplace for instant one-on-one help for software developers by utilizing screen sharing, video and text chat, in order to replicate for users the experience of having a mentor for code reviewing, debugging, and online programming. Clients can get live 1:1 programming assistance on Codementor and hire world-class developers on CodementorX. Codementor, founded in 2013 has a wide community of 400,000+ world class full stack software engineers and is backed by Techstars, 500 Startups, Alibaba, and other prominent marketplace investors. This is an online platform to find experts for on-demand code review, developers to build features for your existing product or turn your idea into an MVP.
"Codementor is an excellent platform where you can find highly qualified programmers. The website is easy to navigate. I've had good luck finding very knowledgeable mentors who helped me with, sometimes, very complex projects. They also make sure you are satisfied with the work. The website administrators are very strict about customer satisfaction. I've had mentors refund my payment when they could not meet the deadline even after spending some time on the project."
6. Arc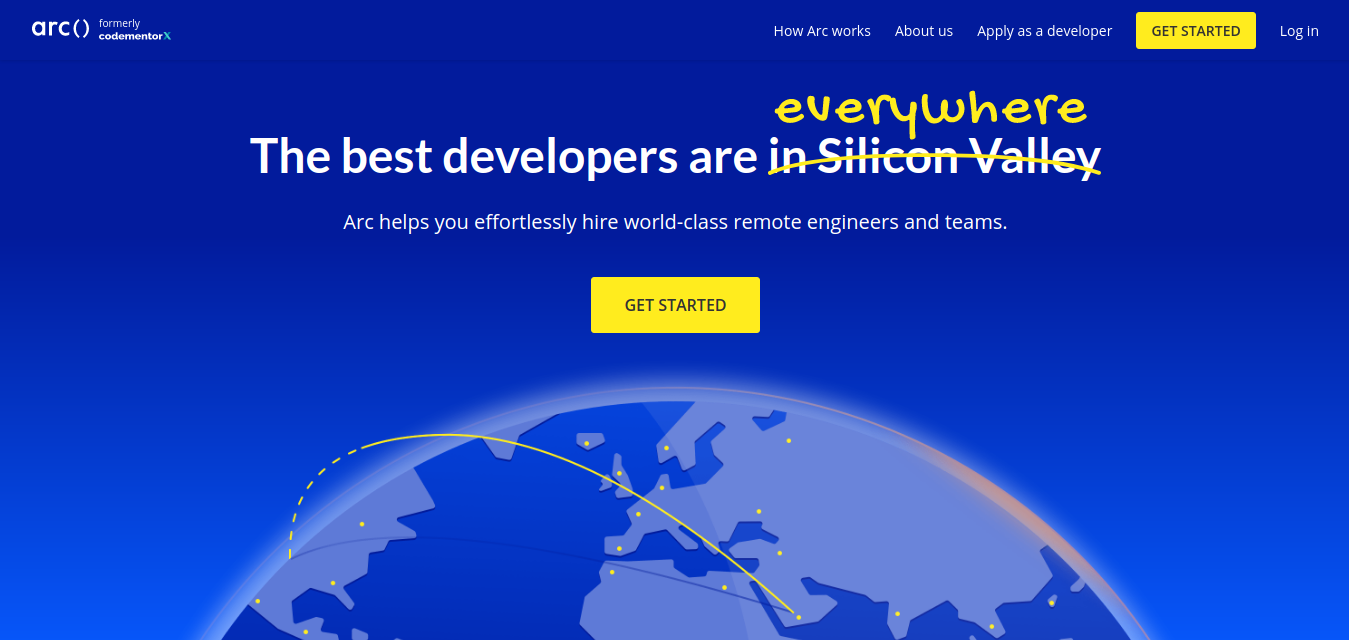 Arc is founded by Codementor's founder Weiting Liu, unlike Codementor which provides mentorship programs, Arc is fully dedicated for hiring full stack developers to make working from home possible for every skilled professional so that he/she doesn't have to move to silicon valley leaving their loved ones. Arc developers cover every tech stack and timezone, delivering complex projects under tight deadlines in a variety of industries. Their mission is to Empower talent to do work that matters from anywhere. Arc developers are problem-solvers and trusted team members. Martijn P. , Nirav S. , Ramon R. , Laszlo M. , Abe A. , Nick K. are some of the leading full stack developers at Arc. They're a distributed team spanning 8 cities and 4 time zones.
"I highly recommend the Arc.dev platform. The platform has excellent integration with Toggle, The payout system is well designed, and the most crucial part "the job finding process" is smooth and transparent."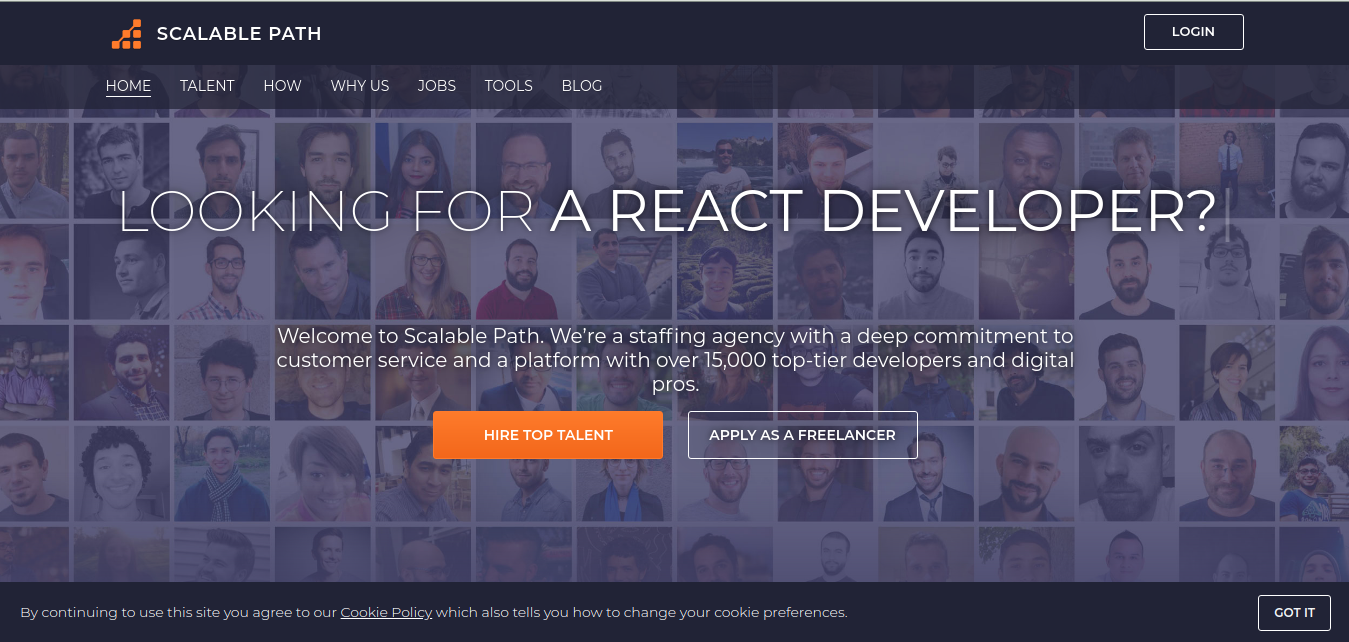 Founded by Damien Filiatrault in 2010, Scalable Path is  San Rafael, California Scalable Path is a technical staffing agency with thousands of full stack software developers from over 138 countries, headquartered in San Francisco. For 10 years, they have been serving as a proprietary hiring platform to accelerate the hiring process so our clients can focus on their core business. Their personal service is what sets them apart from other freelance marketplaces. They exercise a close relation with their clients by speaking with each client in detail to completely understand their needs before hand-selecting candidates who have undergone rigorous soft skill and technical screening. Along with it, they also guide clients through defining their requirements and building a distributed team based on a culture of efficiency, accountability, and transparency. PHP, SQL, HTML, CSS, JavaScript, Content Management Systems, eCommerce, Database Design, Domain Driven Design, Symfony, Quality Assurance, Agile Software Development, User Interface Design, and full stack Web Development. Their personalized, step-by-step approach, and global network of pre-qualified talent accelerates the hiring process and stacks the odds in your favor. So, Scalable Path is a good platform to scale your business by hiring full stack software engineers who build excellent software for your business.
"Another interesting resource with talented developers is Scalable Path. It's a huge marketplace with more than 6000 developers. You can choose between a wide range of technologies and find an appropriate developer for your needs. The prices start a bit lower than in TopTal, from $40/hour. They hire a lot of developers from Latin America. I definitely recommend you to check this resource if you will need a freelance developer or even a team."
– soshace
8. Freelancer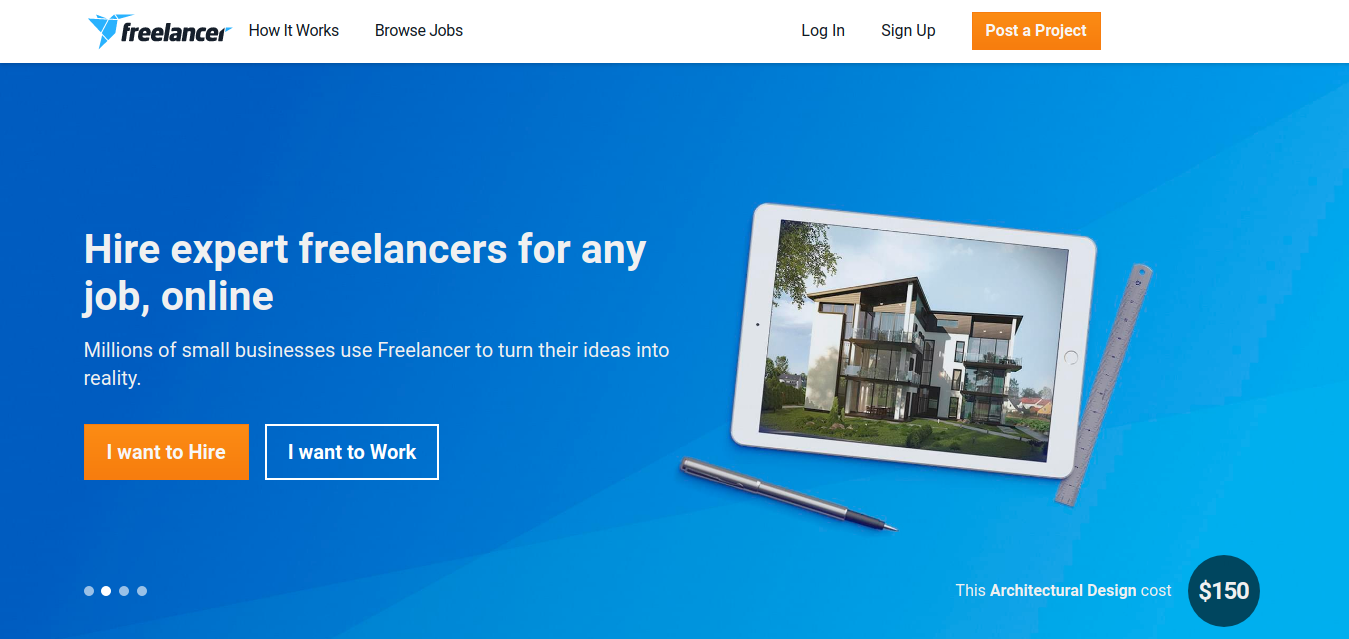 If you have space and the budget, you could build your own in-house team. You can find talented remote full stack developers on Freelancer. Freelancer is an absolutely massive marketplace with 25 million registered users, 12 million total posted jobs, and thousands of completed projects. With Freelancer's large user base you are sure to find an expert full stack developer that meets your requirements end to end. Founded in 2009, Freelancer is an Australian crowdsourcing marketplace website, with headquarters located in Sydney, Australia. It functions in a simple manner. Potential employers post jobs that freelancers then bid to complete it. Freelancers are available at 'Freelancer' for each and every job like web design, mobile app development, virtual assistants, product manufacturing, graphic design and full stack web development.
"Before Freelancer.com, I had to rely on local suppliers for different aspects of projects I run here in Dubai, and the quality was horrendous at best. The good ones were extremely expensive and would not take a job they didn't like or found profitable. Freelancer.com changed all that for me, and I now have access to a whole world of quality suppliers with competitive rates so I can remain profitable myself. I have dealt with and retained excellent people and gave them thousands of dollars worth of projects! Thank you Freelancer!"
9. Hired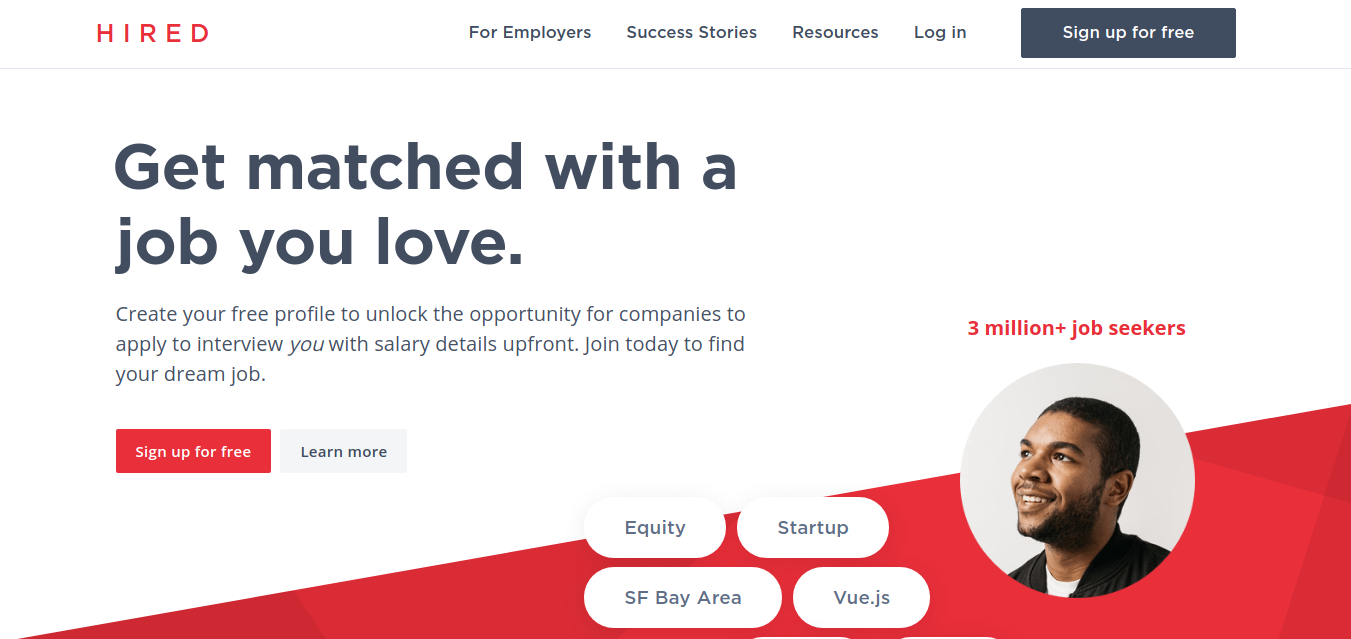 Hired (formerly 'Simply hired) is a marketplace that matches tech talent with the world's most innovative companies and businesses. It was founded in 2012 and specializes in technology, recruiting, staffing, disruption, and hiring. One can find the best remote full stack developer to lead their business technically here. They are known for their matching engine. On Hired, you can use their pipeline to find custom matches. They intelligently match outstanding people to full-time and freelance opportunities at the world's most innovative companies. The company is headquartered in San Francisco, with offices in cities across North America and Europe. One advantage of Hired is it is free for candidates while companies need to pay to access Hired's already vetted candidates.
"We call it our cheat code. To find qualified talent that's looking … half the battle is already won."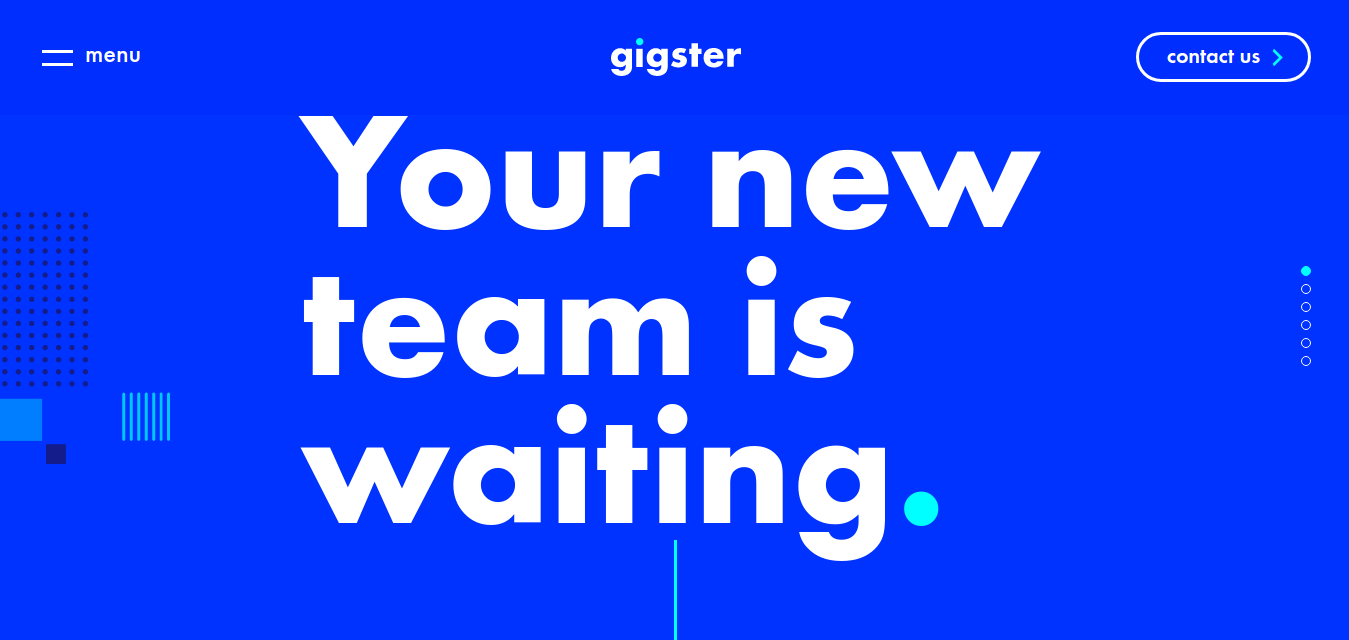 Gigster is a premium freelance website which accelerates the delivery of world class products and applications, to thrive companies in a software-defined world. Gigster's goal is to democratize digital transformation by enabling all companies to build their own digital DNA to create amazing life-changing products. To serve this purpose, they maintain a  global network of talented people who are experts in their work. The best thing about Gigster is that clients can assemble an entire team including a project manager that can lead the project and act as a liaison between Gigster's team and your company. The reason to trust freelance full stack developers from Gigster is their developers have worked for prestigious companies like Google, Microsoft so you don't have to think twice about hiring a full stack developer from Gigster.
"With Gigster, we were able to deliver a mobile app for accessing quality health care in under six months."
Apart from the freelance websites available, there're other ways too to hire a full stack developer. One can find freelancers through networking events, hackathons, forums, job sites, dev-shops tech blogs, LinkedIn, Facebook, etc. Because a 'great' full stack developer is not someone who has just labeled himself as one but the one who actually possesses all the technical skills to build a product end-to-end. We at EngineerBabu have a team of full stack developers who are expert and experienced in providing digital transformation to your business idea or any project you have in mind. Hiring from EngineerBabu ensures that your project or idea is in safe hands and it would be taken utmost care. So what are you waiting for, hire full stack developers now. Feel free to .