Waiting too long for your turn at the salon is irritating and it wastes a lot of your time. Women hardly get time for salon after work, home chores, looking after the children and family. To make the regular salon booking simplified for them, there's a need for an online salon booking app so that they don't have to waste time waiting for their turn. We have come up with the case study of an amazing online salon booking application. Through this, online salon booking is possible.
People can book salon appointments at whatever time suits them for whichever service they want. Hence, with online salon booking, It would be a useful application for both the salon owners and customers. While customers can book appointments online, it would be easy for salon owners to manage and schedule appointments. Online salon booking would benefit the salon owners as well. The owner doesn't have to hire someone for this tedious task.
Recommended Readings: Guide for Developing an Online Booking App from Scratch
Most of the couples today are both working individuals who hardly get a weekend free for going to salons. They obviously don't want to waste a lot of time in queues waiting for their chance to come. For working professionals who do not have a lot of free time, this online salon booking application will solve their problems and ease salon appointment booking for salon services. One would be able to do online salon booking sitting at home just doing a few clicks on their phones.
Online Salon Booking Project Background
An online salon booking app would serve as a platform that allows individuals to make salon appointment booking hence saving their time from waiting in Queues at salons to get their desired salon services.
There will be three users in the salon booking app:
Vendor/master vendor
Manager
Customer
Admin
Project introduction for Online Salon Booking App:
Salon booking app will help salon owners to digitize their tedious and hectic salon appointment booking process. Often, people visit the salon and take their salon services without wasting time but most of the time people have to wait long for their turn to come.
Salon business is gaining success in urban settings and if you have the required skill to make a perfect salon booking software then you can definitely get so much out of it. "Salons near me" or "Booking salon near me" is highly searched on Google. It is a representative of the present need of individuals.
Beauty has always been rated the first among all the other essential stuff that needs attention. John Keats has rightly said, "A thing of beauty is joy forever." Today, everyone desires to look beautiful and charming and a salon is the go to place for the same. Salon services enhance your natural beauty and help you look presentable. When beauty has it all, how can we not consider managing salons? Managing salons simply and successfully is only possible with the use of a best salon booking software. People around the world are electing wellness treatments on the topmost priority in their day to day life. Looks are an important aspect of a person's personality and so people visit salons regularly to keep their skin fit and to maintain their looks.
Recommended Readings: Build a Doctor Appointment and Hospital Administration App
A salon appointment booking app is an extension of the appointment book. It allows your clients the freedom and convenience to make an appointment at any moment and from any device, even outside of working hours. You don't have to worry about taking an appointment by calling the salon in the working hours from 10 am to 6 pm. Online salon booking makes booking appointments easier for you and helps you save time by not letting you wait in queues.
In this day and age, salon booking programs are not a fancy add-on, but a necessity in modern customer service.
Problem statement for Online Booking App
Salon's staff time is being taken up by tasks such as booking appointments on call from the clients and processing gift card sales. With a salon booking software, salon staff do not have to manage bookings manually. The app will manage salon appointment booking, reports and billing all in one place. Hence, their time is saved which they could utilize to improve the customer experience.
Customers are busy in their daily lives and so they often forget to make prior appointments during the office hours. This results in waiting long at salons for their turn to come get their desired salon services. People go to the salon to get a haircut and other beauty services but after waiting for long, they get pissed about it and start visiting one to another salons which again repeats the problem. Online salon booking grants customers the freedom of booking salon appointments at their own convenience without having to wait for the salon to be open. It solves the problem of waiting in queues which gets the mood off. Prior timely bookings ensures faster salon services.
Project vision of Online Salon Booking App
We have realized the utility of salon booking and how booking appointments are made easy through it. Project vision is to build something special for people who are too busy in their professional life and do not have much time to go to a salon for checking the free slots. The aim is to simplify salon booking and getting the best salon services. Taking salon services is no more a luxury but a necessity. Taking salon services is a feel good experience and the vision is to make it even better by removing the odds which can make it troublesome.
Benefits of Salon Booking Software:
Clients are more likely to book online if they don't like or aren't comfortable with calling your salon, especially if it is for a hair removal appointment.
It is easier for a client to type in personal details rather than spell them out over the phone.
Administrators don't need to attend the phone calls constantly, so they can focus on clients that are in the salon or on a time-sensitive task.
You don't miss out on bookings that could've been made when the administrator was unavailable or after working hours.
New clients will spend less time hesitating when they don't need to speak to anyone before the appointment.
Smooth Browsing:
Your customers can easily surf through details of your salon such as working hours, the services you offer and the packages they come in. Avoid any disappointments by letting them know, precisely, about each salon service that you offer.
Save the time:
Your customers will value you if you value their time. The online salon booking app provides real-time information and allows your customers to schedule their appointment from anywhere in the world, at any time of the day. Thus, eliminating the wait-for-your-turn concept.
Pay online:
Do away with the hassles of returning change or faulty card swiping machines. The salon app allows your customers to pay online, through the app, as conveniently as possible.
Push notification;
Send your customers push and SMS notifications to remind them of their upcoming bookings and reduce no-shows.
Discounts & Offers:
Which customer isn't delighted at the mention of discounts or promotional offers? Broadcast these and have your customers avail them through the salon app.
Personalized:
Allow your customers to choose their favorite beauticians/stylists through the app or select them based on the ratings they have received.
USP for Online Salon Booking App
They can choose to change or cancel the appointment at any time they want.
Set default appointments length.
Define the order of actions if needed (e.g., choose the service and specialist, and then the time duration for it.
Hide certain services if a client might need your help in choosing the right one.
Choose which specialists clients can book (e.g., you can have call-in employees).
Set notifications for yourself (e.g., a new appointment was booked).
Choose whether clients can request a callback.
Set choice of the interface languages for the client to choose from.
Add your own user agreement for the online form.
User personas for Salon Booking App
Professional Customer
User type
Professional Client
Name
Jacob Antony
Age
28 Yr. Married
Gender
Male
Occupation
IT professional
Location
Mumbai
Frustration

Have less time to visit salons for checking availability of the stylist.
Being unaware of how many people already booked the slot offline, so it's quite frustrating when unknowingly a person comes and sits on the chair.

Objective

I want to search the best salons near me and check their availability online instead of visiting their places.
Want to know and compare the prices of services of different salons.
Time for services.
Mark salon as favourite so that next time I don't need to browse through salons list.
Want to see at which number I am in the queue.
Salon's Owner
User type
Salon's owner client
Name
Medi salons
Age
30
Gender
Male
Occupation
Salons owner
Location
Pune
Frustration

Not able to manage the stylist because of lack of time.
Don't know who is doing good.
Not being aware of who is behaving good with customers and who is talking badly with good customers.
Can't make a buzz due to not having presence online.

Objective

Want to create individual workers profiles and assign them services.
People can book us across the same city.
People can book their favourite stylist.
To take customer feedback.
To know how many people were in the queue and how many had left.
Non App User
User type
Non app user client
Name
Sunil
Age
25
Gender
Male, unmarried
Occupation
Study in college
Location
Pune
Frustration

Being a student I have only one day to do the stuff and usually salons have more crowd on Sunday due to which I had to spend 60% of my day time at salon place then only I can get the services.
Can't make hangout with friends on Sunday.
Can't do other important work.
Can't have app to make online booking.

Objective

Whenever I visit a salon, they have to make an online entry and let me know when my turn will come.
I can receive the download app link so that I can get the current appointment status.
How does it work?
 For Customer's Side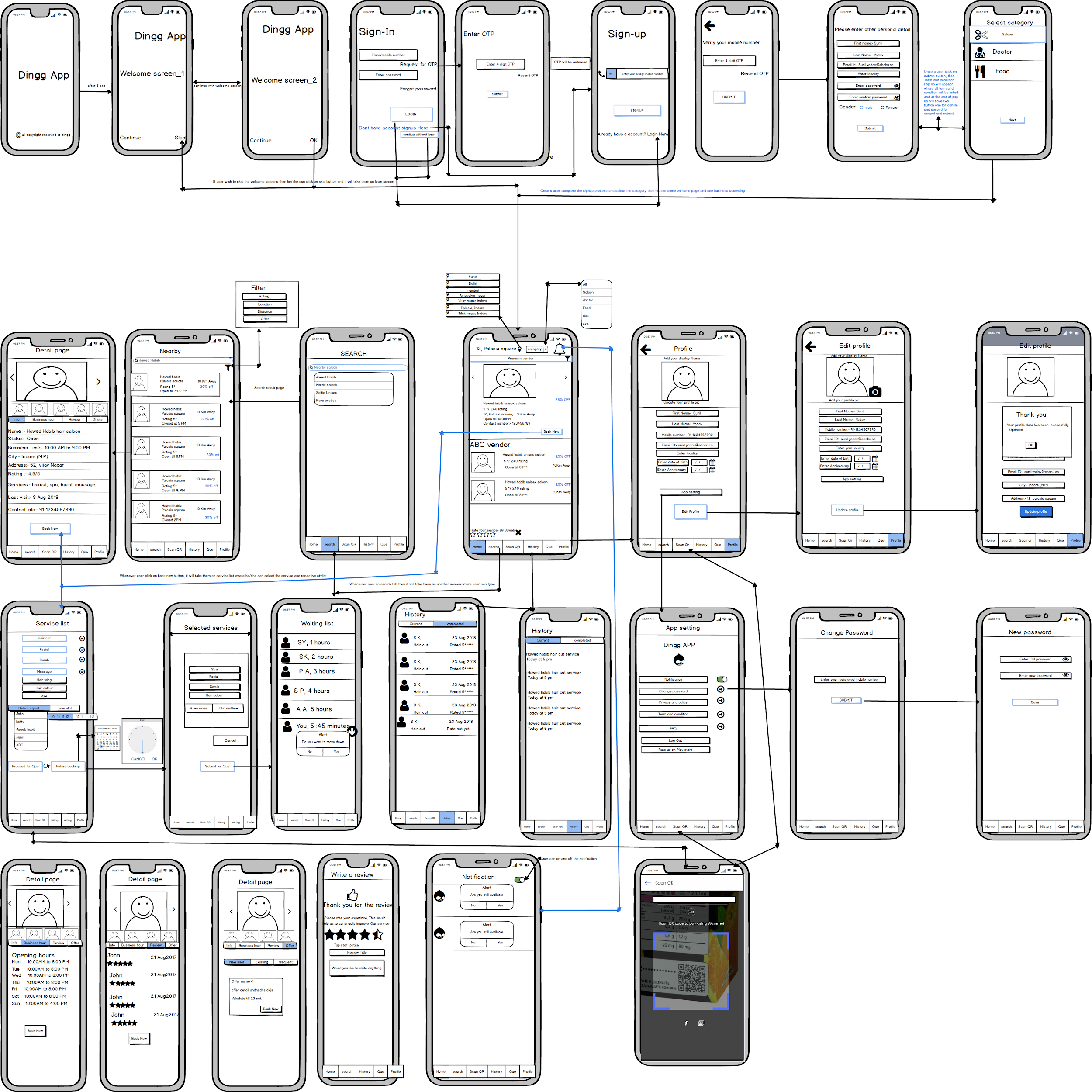 Feature List:
Allow user to login and register in the App
Allow user to scan of a QR code
Personal profile
OTP based authentication
Search for business and check wait-time, location, address, rating, last visit time.
View and browse Menu / offering while waiting
Show real time status of wait time
Remind / Buzz user before 5 Mins (Not hardcoded 5 mins, it will be configurable by Vendor. So both reminder time and frequency will be specified by Vendor)
Option to drop out of queue (Also option to move down in the queue)
Provide feedback / rating and reviews required.
Display last visit time at any vendor
Display any discount offer from Vendor
User History to display list Vendor visited by user
Response to the Vendor Alert
Recommended Readings: On Demand Doctor App – An Uber for Doctor
Use Cases :
Customer login to App using mobile number
Customers enter OTP.
Customer feed profile details
Customer search for a vendor
Customer browse list of nearby vendors
Customer browse particular type of vendor
Customer Set a location
Customer can check history
Customer scan QR code at vendor location to add in wait queue
Customer pick a service and provider ( Saloon )
Customer joins online queue
Customer rate a vendor service
Customer check ( Auto Refresh ) for current Queue status
Customer remove himself from Queue
Customer respond back with Yes / No to the notification
Customer move itself down in the queue ( UP is not allowed ) (All of them can do it)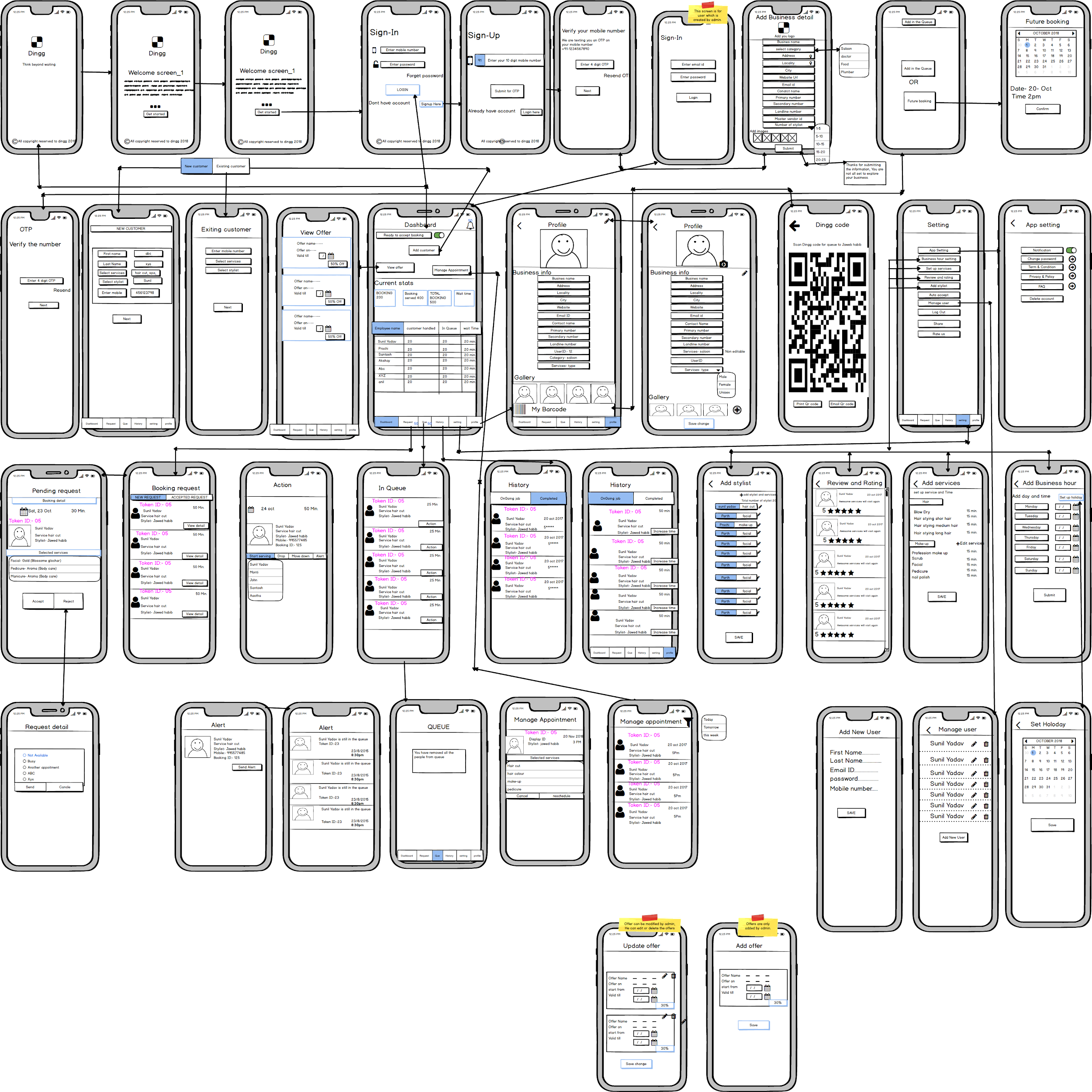 Feature List
Vendors will be customized based on the type of establishment.
Set discount offer to category of user ( New / Existing / frequent )
Display list of clients in queue.
Vendors should have the last visit time for the users in the queue.
Public display for all the users in the queue ( May be only initials/ID due to privacy reason ) Or completely Anonymous – It should be the user's Decision (for global outreach).
Add non App customer
Display in progress queue ( one user is out of wait queue, it will go in in-service list so that Vendor will have an option to check the people who are currently taking services. )
Remove non responding users from the queue – also track an anomalous /mischievious one & block.
Alert next client in the queue ( on top of Autoalert )
Change status once they occupy the seat for service .
Send a message to users to confirm if they want to continue staying in the queue.
Request feedback / Review (required for first service but user should always have option to edit/update it)
Vendors (Hair Stylist) can predict the time of services and can share the expected time of any service.
If any user opts for another service at the real-time and if the vendor accepts the services, then users in the queue will get notified about the update timings of their services.
Vendors can also change the time for any current service.
Vendors can do real-time service updates.
OTP for verification/forgot password will be shared both on Mobile and Email
Country code will be visible for all the countries; however, +91 will only be visible to all the users
Vendor can add new users from the app for the customers coming through Walk-in (non-app customers)
From the backend, customers will get text msg for status of queue along with the download link of the user app, this module is for the vendor added users.
Need to highlight the last user for service in the vendor app.
Use Cases
VENDOR add Customer to the queue using ID provided by Customer (Can be a phone number if internet is not working)
VENDOR add non-app customer to the Queue
VENDOR alert customers about wait status to check if he is available
VENDOR updates Customer status in wait queue with appropriate status ( Served / No Show etc )
VENDOR contact customer via IVR (You will provide API)
VENDOR should have option to set up business timing
VENDOR should have option to start accepting queue
VENDOR should have option to stop accepting queue
VENDOR should have option to abrupt closing of service for the day
VENDOR should have option to select online/offline or both queue
Admin Portal Functionalities
Dashboard :
Total Vendors
Approved Vendors (Verified by email or number)
Active Vendors (Online)
Total Customers
Total Active Customers (Online)
Total Queue Size (Customers in a queue for all Vendors)
 View customer profile
Vendors Approval:
Display list of newly added Vendors with Approve and Reject options.
View vendor profile
Vendors :
< Option to search Vendor by name, mobile number, and email id >
List of all approved Vendors with an option to edit any details and fields
Vendor Name
City
Contact Number
Email ID.
Service type
Last Active
Inactive Days
Current Queue Size ( Today )
Customer handled ( Today )
Change Password/UserID (Link to the page for this Vendor )
View & Edit details
Rejected Vendors
List of all rejected Vendors with an option to edit any details with the 'Approve' and 'Permanently Delete' option.
Booking
Today's booking —- this week booking —- Total booking
Country
Add/delete/update country
List of countries.
City
Add/delete/update city
List of all city
Category
add/delete/edit category
List of all category
Offer
List of all offers.
add/delete/edit offer
Disable/Delete
List of all disable vendor
List of all disabled customer
Enable customer
Enable vendors.
Contact us
List of people contacted through the website.
Vendor Location listing
Search by – Business name, locality, city.
Did you like our case study for the online salon booking app? We would be happy to work on your idea as well. If you are also planning to develop your own similar app or need assistance building some other software then please feel free to reach out to us.
Our team at EngineerBabu is experienced in delivering excellent web and mobile apps. Our mobile app developers can help you build the same. Since we have been delivering IT solutions to a wide range of clients, we know the errors that come in the way and how to solve them. If you have any kind of doubt then . We promise to take care of your idea and build an app worthy enough to generate revenues to your business. To read more blogs and success stories, visit our website.
Also Read: