When Apple introduced its first iPhone – it was literally a shift in the paradigm of what we always viewed phones to be.
Since then, there have been several significant evolutions in technology, but nothing can compare to the biggest of them all – Artificial Intelligence.
Don't agree?
AI is having a bearing on almost every conceivable thing and I suppose I don't even need to elucidate on the broad applications of this incredible new domain. Naturally, it was about time the benefits of AI be implicated in the most lucrative business of the 21st Century – eCommerce.
Every significant step like Visiting the retailer's website, Adding products to cart, Placing an order and even Checkout can be automated using the capabilities of AI.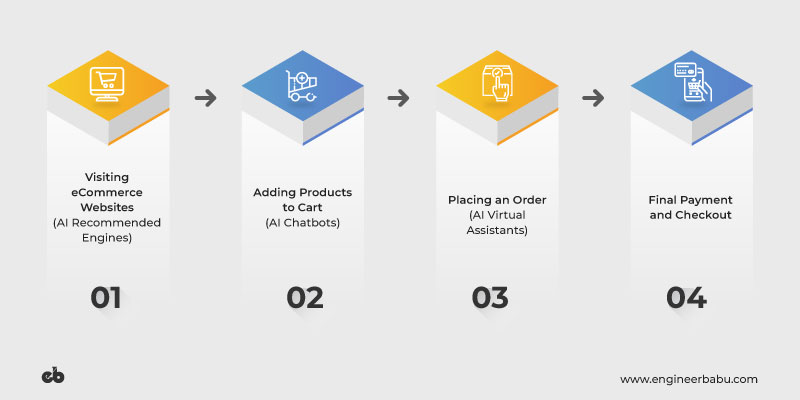 In this article, I would try and shed some light on the practical and significant use-cases of AI in eCommerce and how your eCommerce business can leverage it at this moment in time!
There seems to be a lot of conundrum on the subject of AI in eCommerce, so let's put an end to this discussion, once and for all, shall we?
5 Use-Cases of AI in eCommerce
1. Better Search Results
It has been observed that customers end up abandoning their purchase because often the product results displayed turns out irrelevant.
Through AI organizations are trying to display customer-centric search results that are relevant to their desired ask.  eCommerce websites are increasingly leveraging NLP (or Natural Language Processing) and Image Recognition to better comprehend user language and produce better product results.
Yandex, a popular search engine, successfully implemented some advanced applications of NLP and Deep Learning to optimize future searches with the help of the data of previous searches. This turned out to be a massive success as they were able to increase their click-through rates by almost ten percent.
Clarifai is trying to improve ecommerce by building smarter applications which can see the world as people would. In their words, "Artificial Intelligence with a Vision." These applications enable the developers to build more intelligent apps and at the same time empower business by providing a customer-centric experience.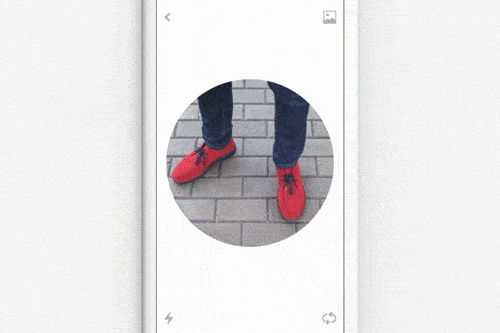 Pinterest is partnering with ecommerce stores for its new offering Pinterest Lens to find matching items in the store directly from their image on Pinterest. This is great from the standpoint where people generally abandon their search because they aren't able to find the relevant product.
Developments such as these are not just helping businesses generate better revenues, but are also reducing customers' journey.
Recommended Read: 5 Tips to Ensure Impeccable Security for Your eCommerce Business
2. Shopping Experience Level 1001!
How do you enhance the user's shopping experience?
Make it as real as possible!
If you want to understand just how much Google knows about you, go check out your Google Maps Timeline!
The devices that you use collect and store a ton of information about you. This data is extremely valuable as the right type of information can enrich and improve your shopping experience.
Deep Learning and Machine Learning technologies are able to utilize the smallest piece of data. For instance, even the hover that you made over a product is analyzed and evaluated to understand the likelihood of you buying that product.
In practice, this personalization helps deliver images of related products, enticing offers related to the product, alerts related to that product, and dynamic content that alters according to demand and supply.
AI engines such as Boomtrain acts as a bolt-on with your existing customer channels and helps businesses analyze how customers are interacting online. It also provides a unified view across all devices, monitoring and analyzing performances across different platforms.
Companies like Criteo, are assisting Internet retailers to serve personalized online display advertisements to consumers who have previously visited the advertiser's website. Through cross-device advertising, they are able to engage shoppers wherever they are online with premium-placed ads across desktop, mobile and social.
AI is assisting in generating deep and relevant insights of data by analyzing and scanning through terabytes of data to efficiently predict human behavior. This scale of intelligence helps deliver a personalized shopping experience for the end user.
3. Curbing Fake Reviews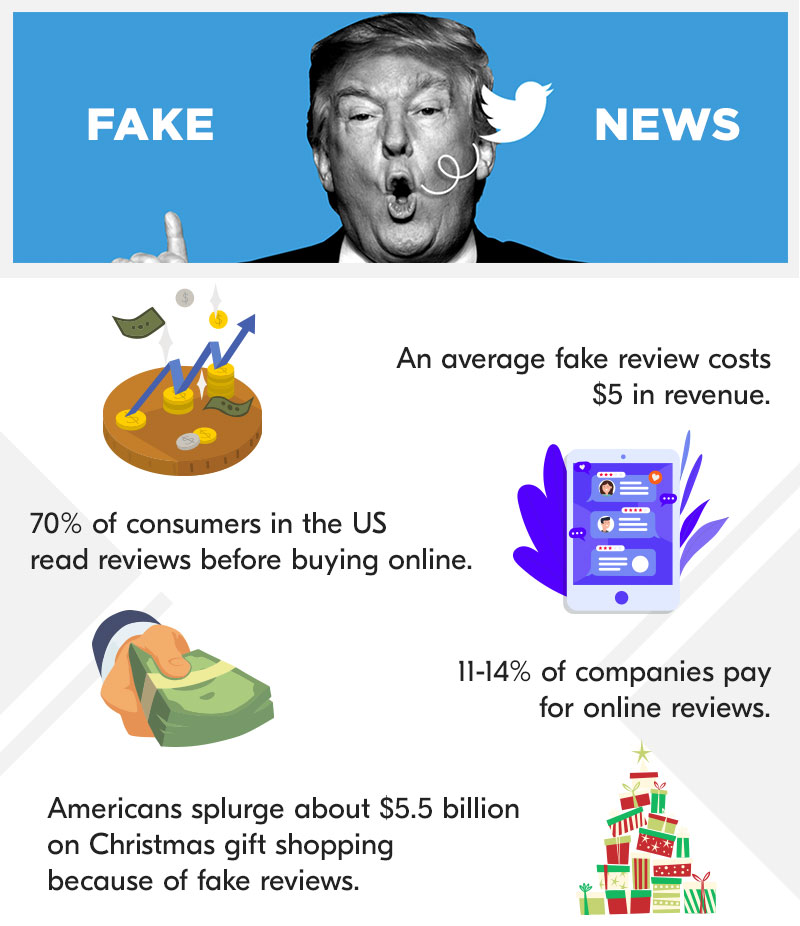 These stats are absolutely insane!
Customer reviews are an integral part of the sales cycle. 87% of customers trust what they read without the blink of an eyelid. The last couple of years have seen a surge in talks around this subject and has consequently impacted the way customer perceive information they encounter online, even if it is ostensibly written by a credible source.
Artificial Intelligence is increasingly being deployed to analyze user reviews.
For instance, Yelp has deployed a sentiment analysis technique to classify their review ratings. Through this technique, they organize the information into different data sets like business_id (ID of the business being reviewed), date (Day the review was posted), review_id (ID for the published review), stars (1–5 rating for the business), text (Review text), etc,.
On similar lines, Facebook has come up with their AI solution "fastText" for text classification and create supervised as well as unsupervised learning algorithms to obtain vector representation for words.
4.  Sales Forecasting
Earlier only God or Charles Xavier could have read your mind – but now – AI can too!
Try and fathom an alternate reality where all your marketing efforts and expenditures are targeted only where the customer is likely to make a purchase. Your conversion rate will be at an all-time high, and you won't waste your capital on customers who won't buy.
Being able to foretell how much of a given product will sell by a specific date will enable shop owners to stack up on inventory more efficiently, and simultaneously eliminate large sums of undesired cost.
It is especially valuable for industries dealing with perishable products, which include not only groceries but also tickets of concert and transportation – anything that costs money when unsold.
Sounds too good to be true, right?
AI solutions can gather historical data about past purchases and help your sales team better derive conclusions and make decisions. Besides, you won't even need to sell your arms and legs to afford this either as these solutions are easily deployable, even by organizations with smaller budgets. Employing AI, businesses were able to derive relevant conclusions like –
Suggesting products that should be promoted on a particular date

Identify popular products that are making good sales

Predicting what customers are likely to purchase in advance

Determining the highest price a customer will pay for your product

Targeted promotions

Reduce fraud

Improve supply chain management

Enhance business intelligence

Make the most money on your sales
5. Chatbots to the Rescue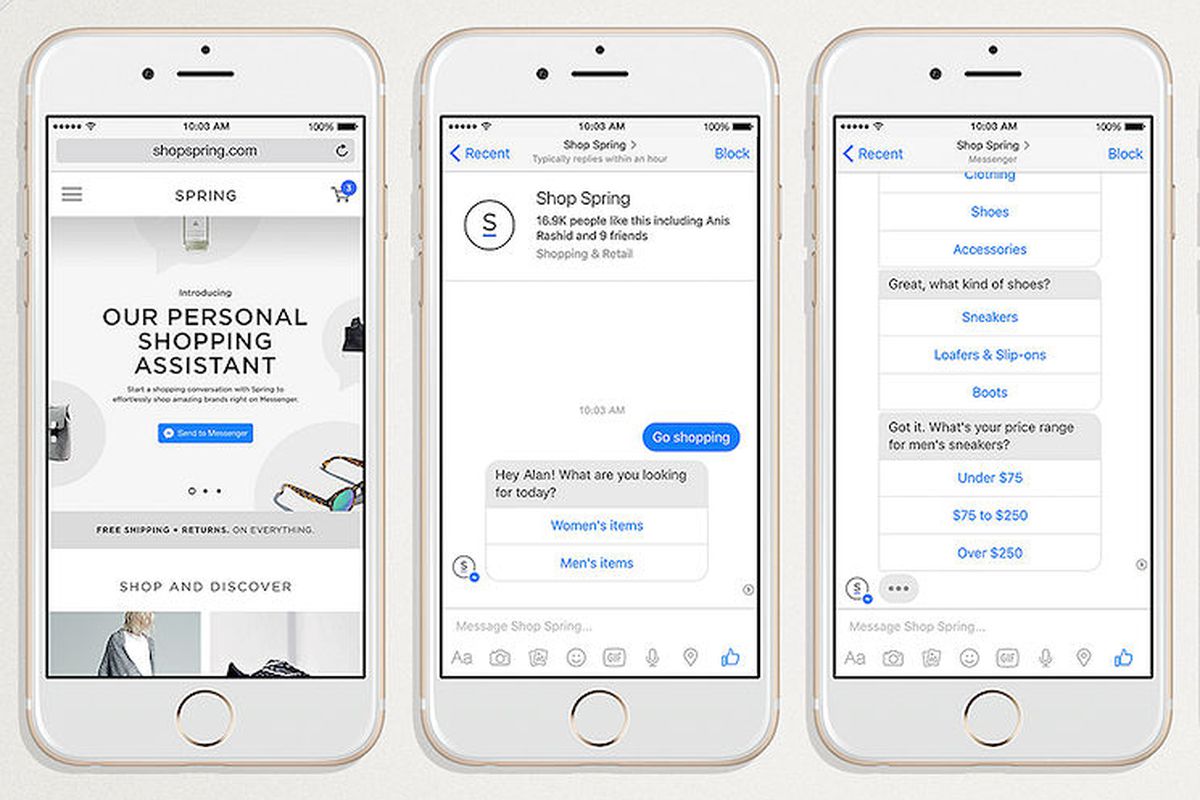 It might be so hard for you to feel special amongst an ocean of 7 Billion, right?
Well, eCommerce websites are adopting chatbots to make you feel special.
Companies are increasingly deploying chatbots to improve customer service & satisfaction. Go ahead and browse any ecommerce site, a little chatbox will pop-up asking you what you want to make a purchase of. Once you enter your requirements, you get filtered results specific to your taste.
Let us list some benefits of deploying chatbots:
Chatbots have increased customer conversion tremendously by reducing the labor for lazy buyers.
We have come so far from the time when chatbots offered just customary replies. Now they have become intelligent beings who understand and tackle a range of issues which they were earlier incapable of.
It is vital to provide real-time support to online shoppers as a recent study found that almost 83% of online shoppers need assistance while shopping and chatbots make it possible to provide real-time support.
Chatbots also provide a more personalized experience for consumers. Compared with social media, chatbots can make conversations more interactive and engaging. They increase the sales figures by up to 40%.

Deploying chatbots helps to collect feedback more efficiently. Additionally, it can make it easier to track purchasing patterns and consumer behavior.

Chatbots can provide efficiency, that too at an affordable price. Live support can be quite costly with limited work hours. Chatbots automate the process and can operate 24/7.

Chatbots are gaining ground. Apart from potentially changing the industry, implementing a chatbot can be a good marketing campaign. Any company who wants to stay ahead in the race needs to follow this trend.
---
Wrapping Up
Coming up with innovations isn't rocket science anymore. AI has become the single biggest driver of massive technological advancements in every tangible domain – and will continue to do so for the foreseeable future.
The question we need to ask ourselves is – Are we ready to keep pace and adapt with this onslaught of changes that are happening so rapidly?
If No, there you have it. You need to adapt and change pace as quickly as possible. Coz if you don't, you will be replaced.
EngineerBabu excels in providing some of the best eCommerce solutions out there. Our AI-enabled offerings help derive deeper insights into the customer journey and in turn assist businesses in taking calculated decisions on how to advance.
Our eCommerce customers have garnered numerous accolades over time. Our dear Australian customer Frankgreen grabbed the Best Design Award for not one, two, but three consecutive years. Ondoor, a grocery retailer earned 100,000 downloads in record time as well!
Call us for a free consultation, we'll be glad to help you out! Also check out our portfolio, right here. 
---
Handpicked Content for You