It's hard to ignore the substantiality of eCommerce considering that just over four percent of the American population has never ordered anything over the internet.
Let that sink in…
So, people seem to be readily accepting mouse over mall!
It does make us fathom the far-reaching capabilities of eCommerce.
Eyeing the lucrative nature of this domain – Everyone is trying to grab a piece of this giant pie; it makes sense that businesses of all magnitude will look forward to swimming in the pond!
Let's begin our discussion by first understanding, what is meant by hosting.
So, purchasing space on the internet is the same as buying real estate. As in the real world, where you either own or rent a space for yourself and your family to live – Hosting is the real estate upon which your website lives.
Now, eCommerce platforms – or the software used by online retailers – can fall into two categories: self-hosted & hosted.
There has been a constant battle to figure out which one is better. So, let's put an end to this discussion once and for all, shall we?
---
Self-Hosted Platform

Self-hosted platforms are open source applications that function through web hosting.
Self-hosted platforms are decentralized, meaning you aren't dependent on any centralized service and are free to choose your hosting service. This enables extreme mobility when your customers increase.
Installing a self-hosted platform is the same as installing WordPress, and setting up an eCommerce platform is similar to setting up a blog on WordPress.
It's that simple!
Being open-source enables a vast range of customization. However, you will require a skilled developer to make any needed changes. They also offer complete control over each element of your online store. Besides, you can also ask your developers to create some additional plugin, if required.
Self-hosted platforms seem perfect, right?
Don't make up your mind just yet; wait till you learn about the platform on the other end of the spectrum. Let's delve into its counterpart, shall we?
Recommended Read: Best eCommerce Platform for Small Business – 2019
Hosted Platform

A Hosted platform is like a Swiss Knife. They are basically a one-stop-shop for anyone who isn't ready to bear the nuances of a self-hosted platform.
Hosted platforms are perfect for you if you don't have the time and workforce to manage your store. In hosted platforms, the provider will charge a monthly or an annual fee, and will maintain your site and make sure everything runs smoothly. You do not need to worry about incorporating customization or changing the code – Your provider will do everything.
Another vital factor is that hosted platforms guarantee total security. Professionals who maintain the server ensures security.
Since you have received a brief gist about the two, let's try and figure out the best platform by taking into consideration five key pointers, namely,
Price Point
Customization
Reliability
Marketing
---
1. Price Point
Sometimes, the feasibility of a platform or a product makes no difference if a business can't afford to employ it. Thus, it is critical to keep prices as sustainable as possible. The hosting part of the business represents the most substantial portion of the cost considering the total cost of building your online store.
You need to keep in mind several details while deciding on the price of the platform you wish to employ as the cost of additional elements like web design, support and SEO also needs to be taken into account.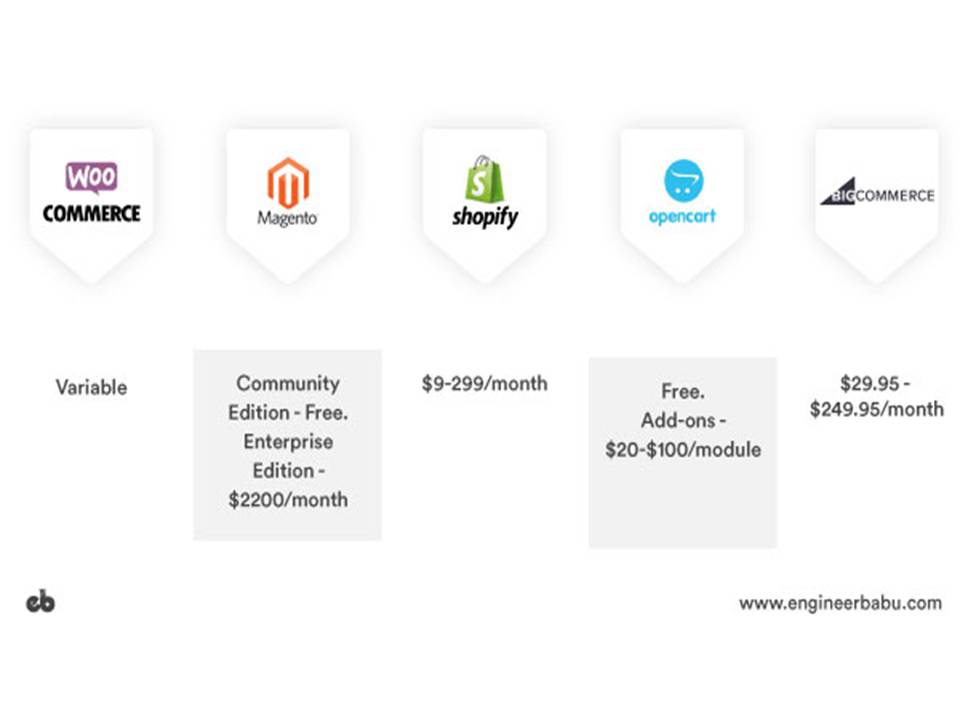 With Self-Hosted sites, the majority of your expenses and cost to set up is upfront. You will need to set-up your site all by yourself or will have to hire a skilled developer. This again may not be the most frugal use of your time, especially when you are just starting out.
Also, the cost of maintenance is generally much higher for a self-hosted platform when compared to a hosted platform.
On the other hand, Hosted platforms work on a subscription model, where you need to pay a monthly or annual subscription fee to the provider. Other costs involved with self-hosted platforms aren't applied here, like the cost of developing and maintaining.
WINNER – HOSTED Platforms – The initial capital required is minimal.
2. Customization
Self-Hosted platforms offer a range of customization as they are easily configurable. You can design your custom platform according to your whims and fancy and won't be limited by the capability of the platform. You may need to hire a skilled developer, efficient enough to create customization.
This may be the best option for you if you have a large enterprise and have an initial capital available.
Moreover, with a hosted platform you will get an out-of-the-box solution which could be set up in a day. They also don't require a more significant capital to set up. However, keep in mind, you won't be able to provide a unique customer experience and will be limited by the constraints of the platform.
WINNER – Self-Hosted Platform – Offers better & Unique Customer Experience.
3. Reliability


Let's get real, shall we?
Setting up an eCommerce website isn't easy, and you won't earn a fortune in the beginning. Instead, it is extremely plausible that you may end up losing some.
So what's the kill here?
I think what you need to aim for in the start is Customer Satisfaction. The volatility of this domain makes it critical to ensure that the products and services you are offering should be dependable. You need to ensure that you earn your customer's trust by providing a channel which is extremely safe & secure and also adheres to all the necessary compliance.
Self-Hosted is a DIY (Do it yourself) kind of platform where you are the heart and soul of the business. It is on you, to ensure that your platform is secure and efficient all the time.
Then again, to provide this, you will need to hire skilled web developers.
Assistance with the software, in Hosted, is included in the monthly subscription fee that you pay. Most of the technical aspects are taken care of by the service provider themselves. However, an additional cost will be incurred for ensuring an extra layer of security.
WINNER – Hosted Platform – Reliability is providers concern.
4. Marketing
You could have launched the best online store out there! But does it really matter if customers can't find you because of low Google ranking?
I have witnessed many eCommerce startups spend a ton of time and money in developing their eCommerce website, and at the time of marketing, they sort of lag behind as they overlook allotting a proper budget to market their site.
SEO makes your website noticeable in the ocean of thousands of other stores.
Self-Hosted Platforms will require you to set up the whole process yourself. You will need skilled developers to install SEO optimizations at the time of building the platform.
With Hosted Platforms, you won't need to waste your time and efforts on setting up SEO Optimizations and other marketing initiatives as they are already included in their offering. I strongly recommend you to choose a platform that has the whole marketing package and can provide you with SEO, Social Media Marketing, Pay Per Clicks, Reviews, etc,.
WINNER – Hosted Platforms – Already Optimized for Marketing Initiatives.
I have prepared a list of some questions that you should answer before setting up your store. There you go,
How much capital are you planning to spend on setting up your store?
How many products, on an average, will you have?
What are your business requirements from your store?
How much cost are you willing to spend in operating and maintaining your store?
Is there any monthly budget allotted for your site?
Do you require 24/7 technical support?
Who would look after your site's SEO?
Have you assigned a budget for marketing initiatives?
---
THE FINAL VERDICT
Creating a custom or a self-hosted website is like rewriting a code which has already been efficiently written. It would've been good to employ a self-hosted platform during the 2010s, but we have come a long way now.
Hosted platforms are already efficiently scripted, and you don't even have to worry about maintaining and upgrading for features and functionalities! Using these ready-made platforms can help you start your store at a reasonable cost and within a matter of a few days.
You even have the option of customizing as per your whims and fancies.
So don't waste your time, efforts, money and opportunity.

Instead, look at how to win a new customer and generate business.
Hence, the Final Verdict – HOSTED Platforms
As sometimes,
It's Simple until you make it Complicated.
– Jason Fried, co-founder, Basecamp
Our team at EngineerBabu are experts in developing eCommerce solutions. We have designed some brilliant eCommerce platforms for customers worldwide. Our dear Australian eCommerce customer Frankgreen won the Best Design Award for not one, two, but three consecutive years!
Contact Us for a free consultation call, we would love to help you out. 
Also, feel free to drop your comments in the section down below.

---
Handpicked Content for You: