MDoctor The Ultimate Doctor for your Cell Phones
1. Overview:
Every day, the technology trends change and thereby changes the way to optimize technological advancements.
The mobile phone markets are booming and so are the apps that are built in thousands of quantities for multiple purpose and agendas, may it be for your business or for your personal use.
So, it's like where there are apps, there are slow-mobile-speed. Sounds familiar, right? Of course, it's an everyday story, to be precise, a "complaint" from our cell-phones who run out of space and memory.
Whenever you try downloading an app from the Apple store or Play store, that annoying message pops out saying "You are running out of memory!".
Or say, whenever you try clicking candid moments with your friends, your phone buzzes you up with this message which says "Sorry, you are running out of space". It drives you nuts, I'm sure.
Recommended Read: Top 10 Mobile App Development Companies in India
So, to help your cell-phone out of this mess and getting it out of the "I.C.U." mode, MDoctor app is on a rescue mission.
I am sure you might have tried and tested many junk cleaning apps for these problems and it's all in vain. But, let me tell you how is our doctor gonna help your cell-phone breathe some fresh air and function properly.
MDoctor is an app which is built dedicated to the core issues a user faces with his mobile phone i.e. cache problems, functioning of your APK files, your cell phones running slower than a snail, optimization issues, RAM issues and many more.
This app will help you scan and remove all these problems in a single go. Let me introduce you to this app along with its functionalities in detail.
2) Challenge:
The main challenge that we faced while building this application was writing the code of "Listing all the applications i.e. both system apps and user apps".
Also, once the listing was done for all the applications residing in one's mobile phone, accessing these apps and stopping them was equally challenging.
This was because there are system apps for which permissions are required to be taken from OS or the app itself in order to access them and perform any functions related to the same.
3) Designs: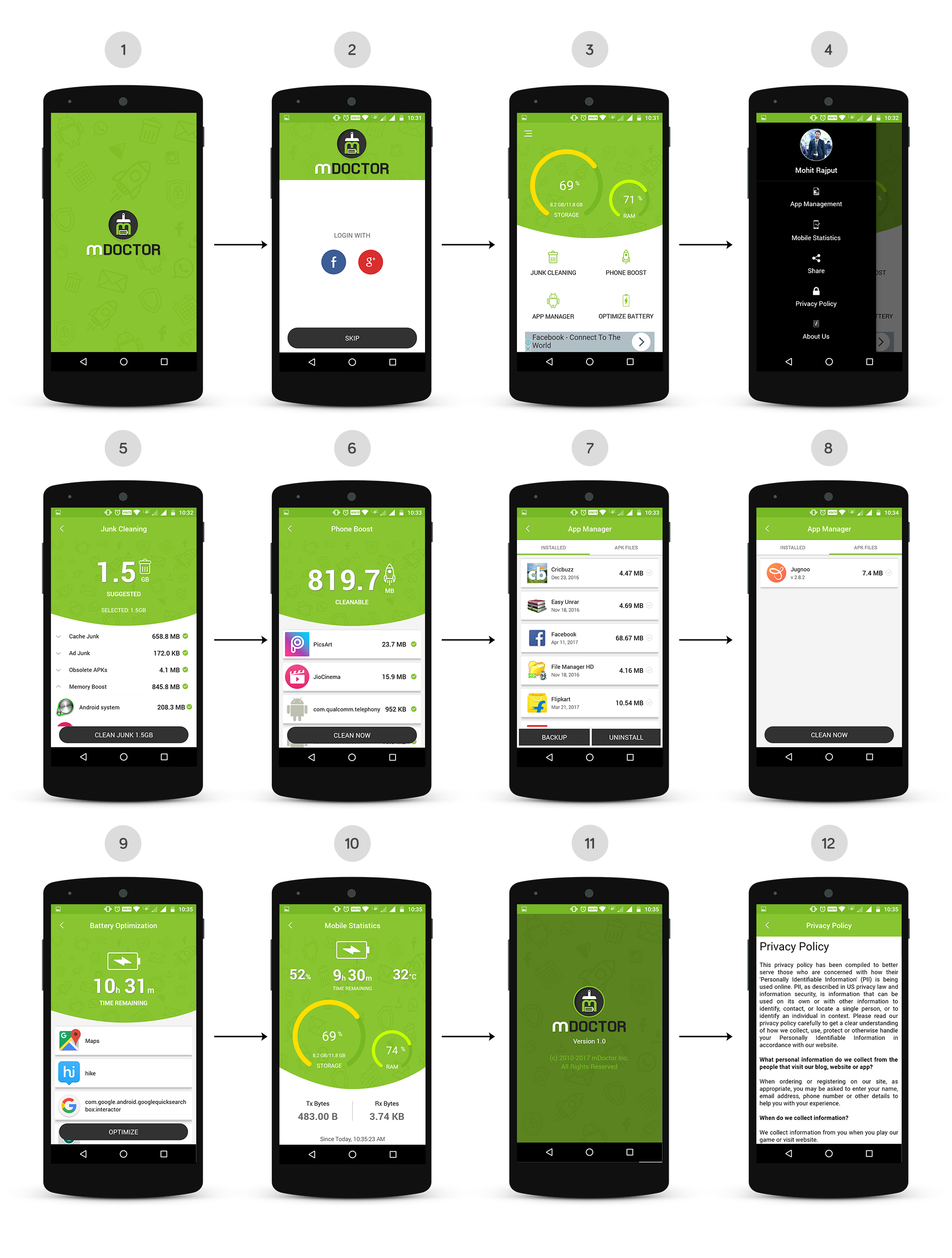 Features:
1. Junk Cleaning:
MDoctor has this feature of Junk Cleaning which is basically working in two steps. The junk cleaner will help you detect all those cache data, the APK files which are obsolete, the apps which are running and also the background running processes and services.
It also detects the empty files and folders created by your OS. After detection, this moves to the next step which is cleaning of all these detected junks and frees your mobile to an extent. It will also take care that no files are deleted wrongly.
2. Phone Boost:
It detects all the apps which are taking unused space in RAM and kill them to clean your RAM and boost the speed of your phone.
It will significantly increase the speed and response time because these junk uses your memory space, OS and even RAM which slows down your phone and even sometimes lag in responding to the user requests.
Just a single click and you'll improvise your phone to a greater extent. It will free the RAM's un-necessary usage by any apps. Just a single tap and voila!
3. App Manager:
This is one of the main features as this app manages to create a list of all the installed apps and APK files too.
With this feature, a user can create a backup of an app, delete the APK file for the same and even can uninstall the application if not required.
Basically, it will help you remove all the unwanted and useless apps that have been feeding-off your phone memory and RAM till now, thereby freeing the phone's storage space.
4. Battery Optimization:
The battery as we all know is always on our nerves. No matter how hard we try to make an optimized usage of the battery, it always runs out of charge.
The Battery optimization feature detects all those apps which are creating an excess load on RAM usage and consumes a high amount of charging and stops them right away.
This helps a cell-phone to extend the battery life. It even helps your battery from being over-charged or over-heating. It will display the charging status and app's message on the lock-screen while it is in charging mode.
5. Mobile Statistics:
It shows the current battery percentage, stand-by time, temperature, RAM usage, storage status, download, and upload bytes.
Cools down your phone temperature and reduces CPU usage by stopping apps that cause the device to overheat. As well as extending your battery life!
This app also takes care of all the junk notifications you get and sweeps out of your phone. It prevents all those trash notifications from eating up your cell-phone efficiency and slowing down. Your phone will be free from any such annoying notifications.
So, this is all about an app which will really help your cell-phone to overcome the major issues.
This app is supported on every Android device. It's been published and deployed on the Google Play store.
Client's testimonial:
Our clients were extremely delighted by the outcome and showered us with rave reviews!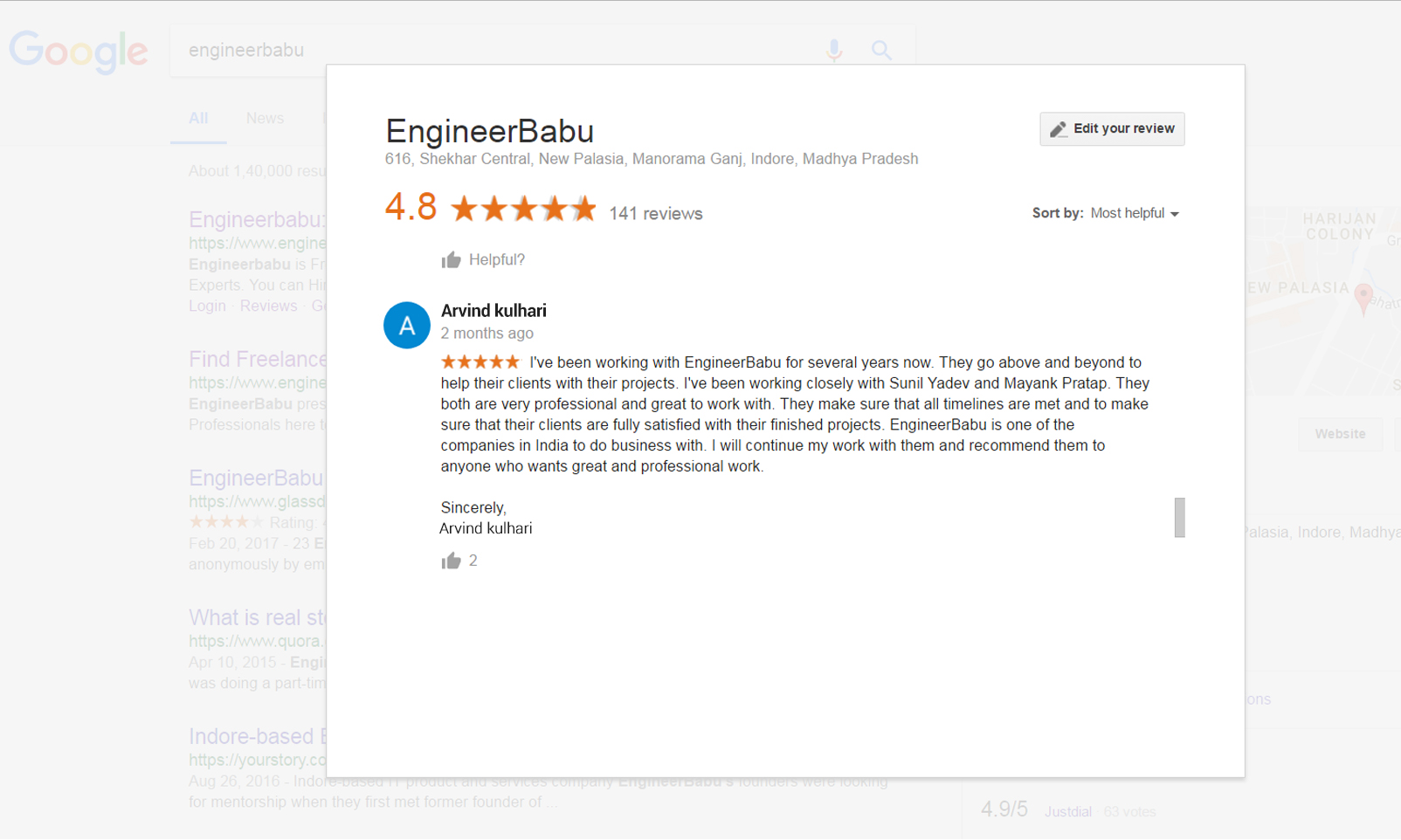 For more information about the project and its scope, you can contact to our team who will guide you. And if you have ideas that you wish to turn into live projects, shoot us an email at [email protected], or directly .
Let us know in the comments section below, about your feedback.
---
Handpicked Content for You