From purchasing a pen to selling real-estate, everything could be done on a click of a button.
Venture along with us on a journey to thoroughly understand each and every aspect of eCommerce in the upcoming series of articles.
So, have you finally decided to go beyond brick and mortar?
If yes, then read through this article carefully and by the end of it, I assure you that you'll get a clear and comprehensive understanding of which platform would be the best for your business.
Firstly, clap for yourselves, as this is a great idea!
If it can be sold – There is eCommerce to sell it!
Digitally selling goods is a big decision and since you have decided on it, you are already halfway in on this roller-coaster ride.
There are a plethora of options available for selling online. On one hand, there are veteran sites like eBay, and on the other, online marketplaces like Amazon, Alibaba, even Facebook.
Nowadays setting up an online store is as simple as starting up a blog!
And if you are already a retailer, there are abundance of eCommerce platforms that could be leveraged. Without an ecommerce platform, you will have to start from scratch, developing and designing everything by writing tons of lines of code. Imagine how much time will be wasted in development and testing alone.
Thus, ecommerce platforms make the entire process simple by providing a ready-made management system where you simply upload products to set up your online store easily.
But first, before venturing into the realm of online selling, especially if you are just starting up, you need to take into consideration a variety of factors.
---
The Deciding Factors…
The points mentioned subsequently could serve as a starting point for determining the best ecommerce platform that could serve your purpose.
• Pricing Structure
All platforms come with a price list with an applicable subscription period. Now, if you are a small business owner and are just venturing into the world of ecommerce, you need to take into account the pricing structure of the platform that you are planning to use. Always make sure that you get a detailed understanding of the pricing structure. You must also ensure the affordability of the eCommerce platform which may also include subscription fees, delivery costs and the extra tax amount.
There have been numerous instances when merchants were required to switch to a different platform as they increased the prices and the costs were totally unjustified. If one isn't cautious, switching between ecommerce platforms can wreak havoc on your site's authority with search engines.
• Do your research
Don't dig your own grave by selecting the wrong platform.
Brainstorm with your team and gather all their expectations regarding the platform. Ask every possible question you want, to ensure that all the bases are covered. An excellent ecommerce platform needs to make the best possible online store for your brick and mortar shop.
Another aspect of ecommerce is choosing the best hosting service. A bad hosting company can have a detrimental impact on your search rankings, making your site slower and causing a significant downfall.
With proper diligence narrow down at least three hosting services that you like, list all the pros and cons of the services, and then proceed accordingly. Taking hasty and unplanned decision is definitely a path that should be avoided.
Read: How to Build an Awesome eCommerce App? 
• SEO friendliness
All the above shenanigans won't matter if you can't make your store rank on Google. It can be extremely beneficial to have your store rank high in search results. You want your customers to find you when they're searching for products like yours.
Some of the most important factors when looking for an SEO-friendly platform include:
    • The ability to add a blog to your site.
    • The ability to use a personalized domain name.
    • The ability for customers to drop reviews.
Your SEO efforts shouldn't just end here. Once you start appearing in search results, you will need to continually optimize your offerings lest you would go down in ranks with time.
• Mobile Friendliness
Did you know, according to an official statement by Google, mobile users account for a staggering 50% of the entire search queries globally. Thus it is hard not to address the elephant in the room – While finalizing an ecommerce platform for your business, kindly ensure that whichever platform you decide on, has capabilities to provide mobile-friendly pages.
This indicates that it is extremely critical to look for platforms which allow customers to access your website quickly and also make purchases on their mobile or tablet devices.
BEST ECOMMERCE PLATFORMS IN 2019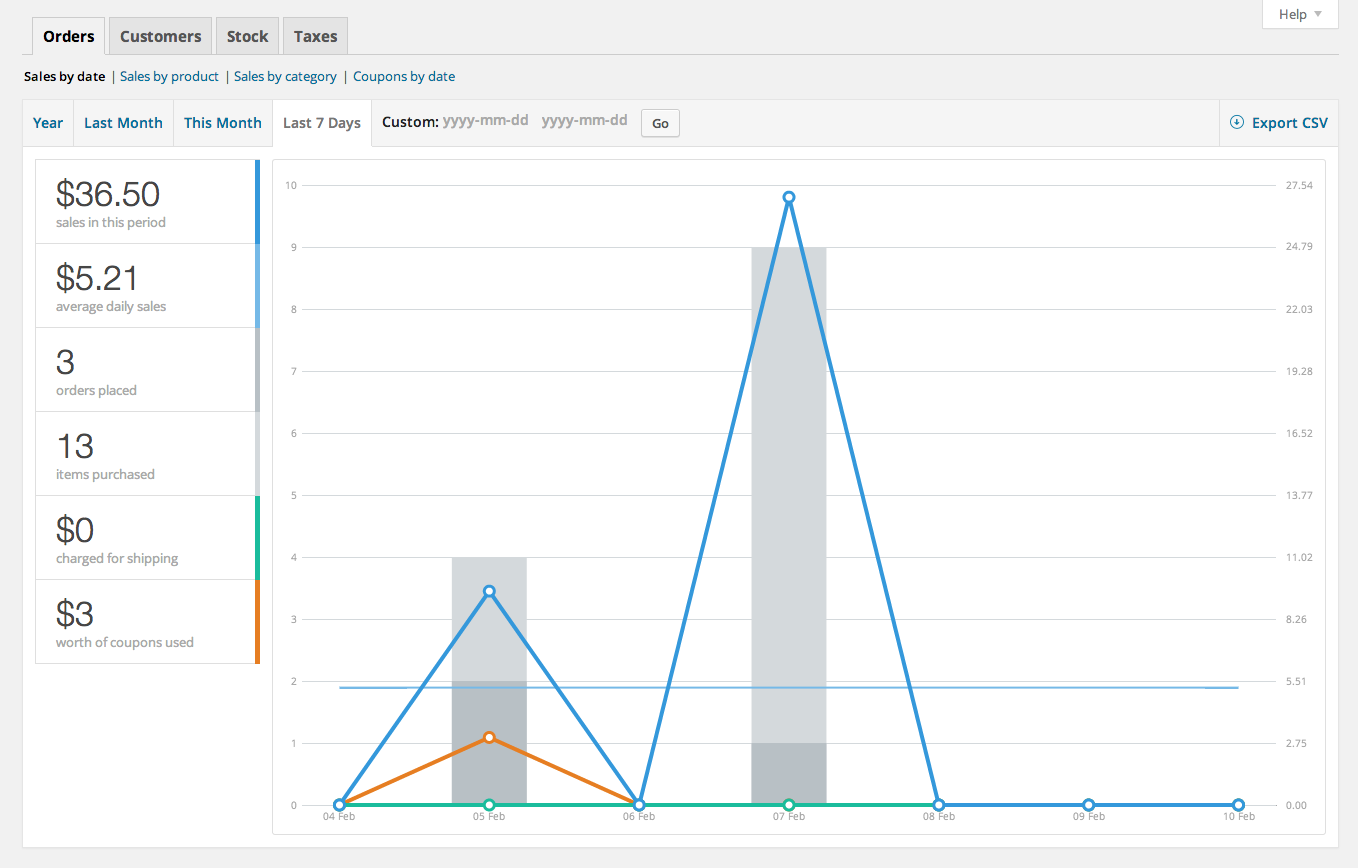 WooCommerce differs from other platforms mentioned on this list solely because it is a WordPress plugin. This makes its application quite tricky as it can be useful for only a specific set of businesses.
Name

WooCommerce

Price

Variable.

Depends on domains and additional plugin.

Themes

Plenty of optimized themes

Customer Service/Support

available 24/7

Ease of Use

Moderate – must have a clear understanding of WordPress

For Small Businesses

Recommended

For Large Businesses

Requires extensive coding knowledge to expand to a broader audience base

Customizability

High
To implement WooCommerce, you must possess an understanding of WordPress, because it plugs directly into it.
Also, WooCommerce pricing is a bit tricky to pin-down. There are several costs associated with hosting WordPress and WooCommerce that can fluctuate within a certain range. One user's cost is going to differ from the others.
X-Factor:
WooCommerce provides a varied range of analytic tools to choose from. With these, you can effectively measure the sales and analyze according to date brand, statics of customer, calculate your daily and monthly sales, and even estimate the number of orders. However, many tools are also inbuilt in WooCommerce.
Pros:
WooCommerce is free. Being an open source free software, one doesn't need to break the bank to start with it. Additionally, it also offers free updates from time to time.

Being a WordPress plugin, it is extremely customizable with many themes, making it a delight to use. Additionally, you can also download extra plugins to modify your website.
Cons:
WooCommerce doesn't provide online store owners with the necessary tools to implement SEO effectively. 

You must know both WordPress and WooCommerce to make changes to your website.




---
Trustable Ecommerce App Development Companies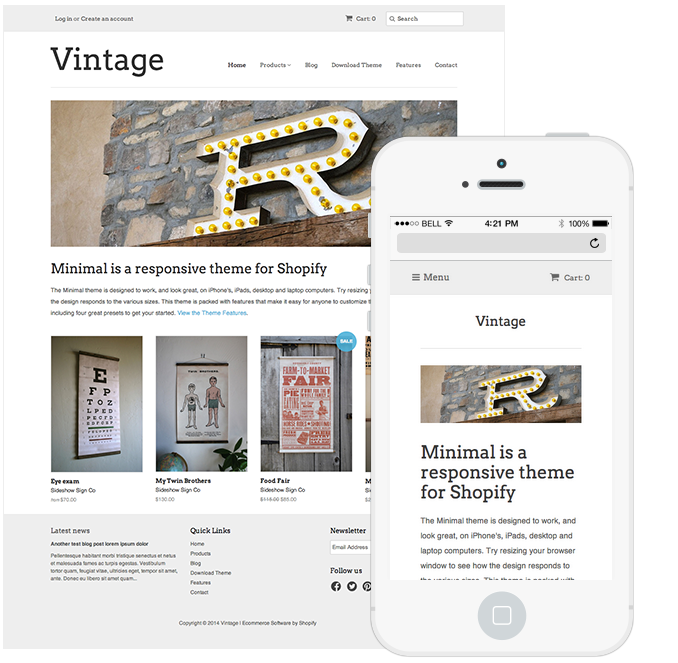 Shopify is hands-down, one of the most successful and well-known platforms that small and medium-sized businesses can leverage right now. It empowers more than 500,000 businesses worldwide to sell online and has a whopping 1 million active monthly user base. A considerable chunk of the overall ecommerce transactions is processed through Shopify, roughly amounting to almost $46 Billion.
| | |
| --- | --- |
| Name | Shopify |
| Price | Range from $9 to $299/month |
| Themes | Paid and Free |
| Customer Service/Support | 24/7 support available |
| Ease of Use | High |
| For Small Businesses | Extremely Useful for small and medium-sized businesses |
| For Large Businesses | New platforms like Shopify Plus have been introduced, but still lacks in dealing with high volume merchants |
| Customizability | High |
As a platform, Shopify offers a tonne of flexibility. You can completely customize your online store and manage your inventory and products.
X-Factor:
Shopify has successfully leveraged its humongous seller as well as user base to its benefit by setting up an active and thriving online community, where shop owners share their tips and expertise. This helps the developers keep pace with the latest developments of the industry, and at the same time release timely updates.
Pros:
There's a

dedicated mobile app

so you can keep track of your store anywhere and any time.

Shopify is extremely SEO-friendly. It allows custom title tags as well as meta descriptions on every category page. It also allows you to create customized landing pages which are extremely useful for marketing purposes.
Cons:
Aside from their monthly rate-plan, many of the themes on Shopify comes at an additional cost.

Shopify is still struggling to cater to large businesses. Although Shopify Plus has been introduced, it still lacks the panache that is needed to handle large customer base.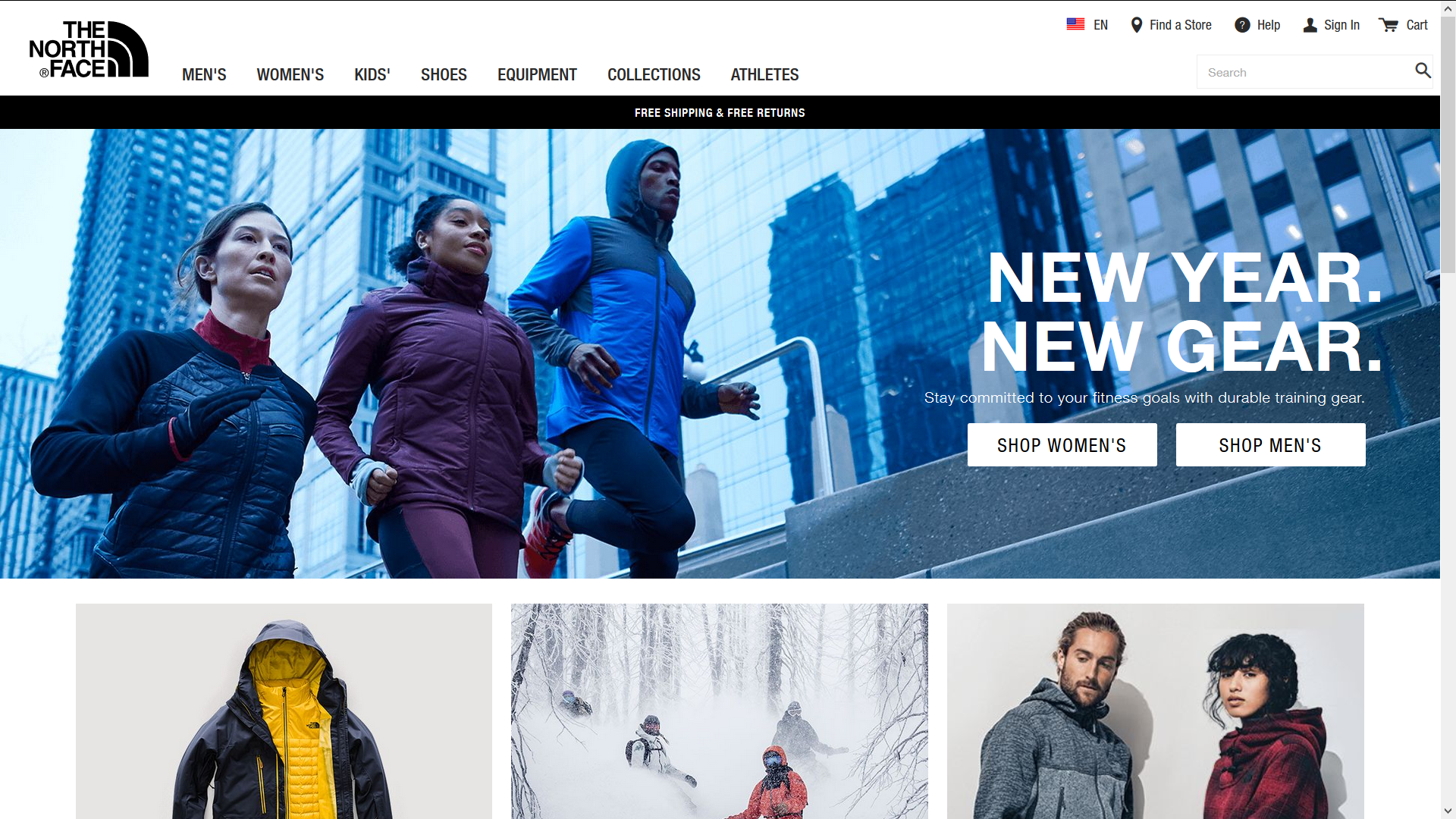 Many technicians tout Magento as one of the best premium open source solutions in the game, but not so much for small businesses. Helming over 150,000 sites and many fortune 500s under its umbrella, it is indeed popular amongst enterprises.
| | |
| --- | --- |
| Name | Magento |
| Price | Community edition is free. Enterprise edition costs $2200/month which goes higher for premium enterprise version. |
| Themes | Paid and Free. Themes also available at third-party marketplaces |
| Customer Service/Support | Third-party support services |
| Ease of Use | High |
| For Small Businesses | Too complicated and expensive to use for small business |
| For Large Businesses | Extremely beneficial because of modular design |
| Customizability | Medium |
X-Factor:
Scalability is one of the most prominent X-factor for Magento. Magento is built to scale, so whether you are selling 10 or 10,000 products, Magento can handle it.
Pros:
Flexibility – Magento offers full flexibility for users to play with the code and practically modify every aspect of your site according to your whims.
The platform is extremely feature-rich owing to its open source software and third-party support.
Cons:
Technical Expertise – Exclusive Magento developers are hard to find. Being an extraordinarily expansive and extensive system, (over 30,000 files and 300 database tables) – Magento has a broad learning curve, and it takes a fairly experienced developer with a solid understanding of object-oriented development and experience with core software to really comprehend what they're doing.
Price – The Enterprise version starts around $1,988/month, and the premium enterprise version costs $49,990/year.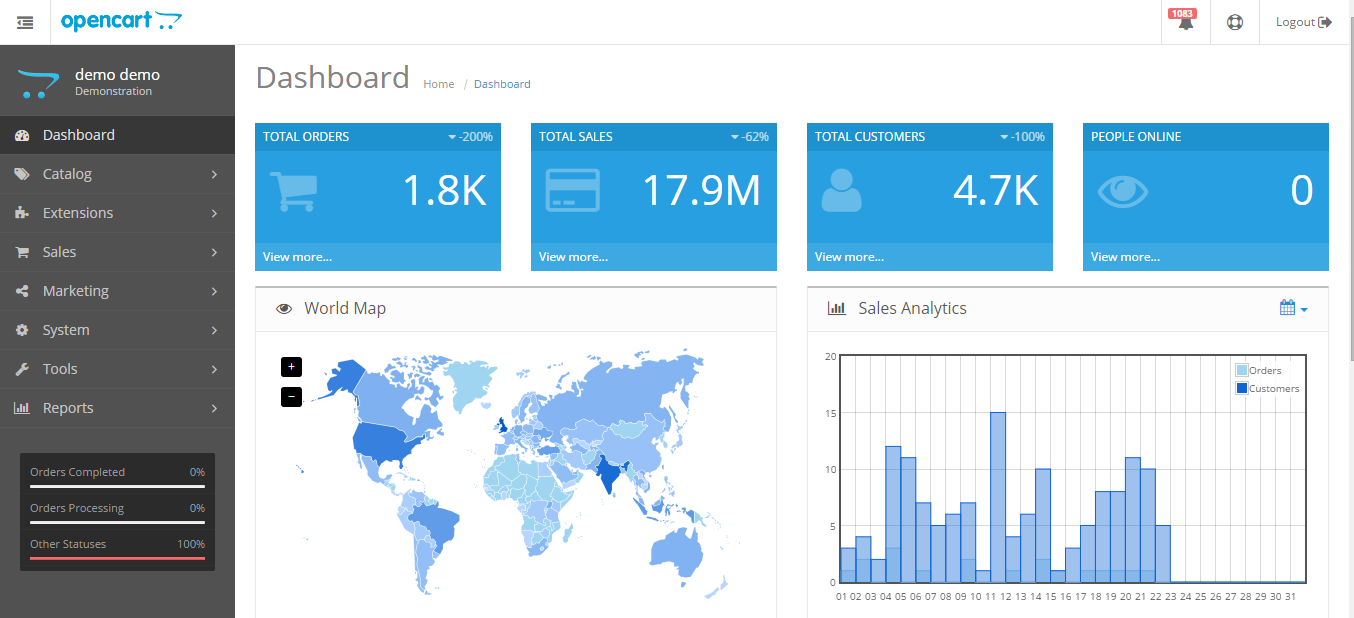 Opencart is a free-to-use and open source ecommerce platform. One can just visit the website and install the software. While a functional site can run for free but if you want add-ons, then the average cost range from $20-100 per module (which includes – Sales Motivator, SEO Backpack, Intuitive Shipping, etc.
| | |
| --- | --- |
| Name | OpenCart |
| Price | Free. Although add-ons cost between $20-$100 per module. |
| Themes | Not available |
| Customer Service/Support | Documentation and forums |
| Ease of Use | Low |
| For Small Businesses | Depends on Use |
| For Large Businesses | Depends on Use |
| Customizability | High. If you know coding |
X-Factor:
The cost of setting up a store with Opencart is quite approachable even for small businesses. There are also a vast number of add-ons available, and many of them are free – you can basically get a site up-and-running using diverse payment gateways for practically no additional costs, whereas on other platforms you would need to pay.
Pros:
Opencart doesn't require an extensive learning curve. It is also easier to install. New users could readily understand the platform, which would help them set-up and start using Opencart quickly. This is because the interfaces offered by the solution is pretty straightforward.

Well-Designed admin interface
Cons:
Opencart doesn't guarantee high-performance capabilities. One would need to install additional plugins for SEO, sales and shipping, etc.

Opencart isn't extremely customizable which can constrict some businesses.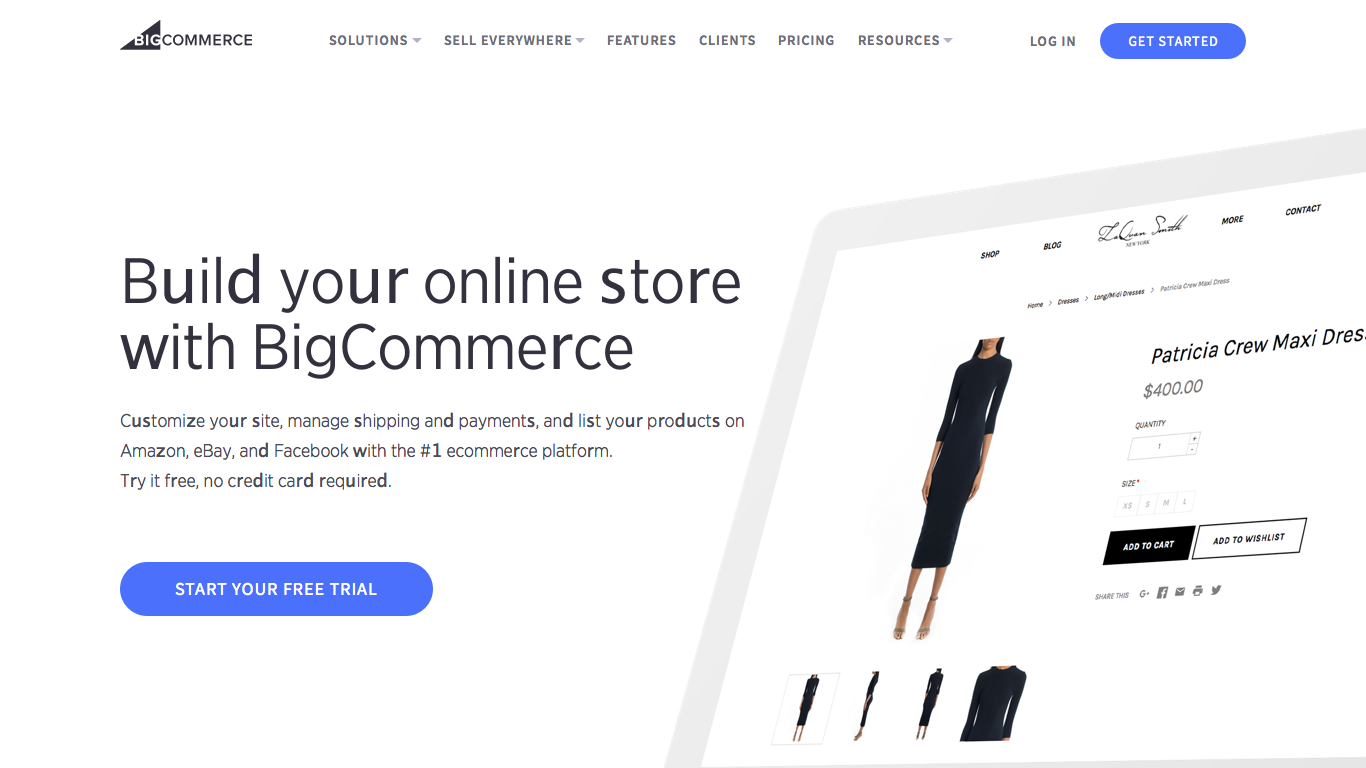 While one end of the ecommerce platform is dominated by Shopify, at another end of the spectrum, lies Bigcommerce. Much like its counterpart, BigCommerce offers a range of prices and packages, tailored to suit different types of businesses.
| | |
| --- | --- |
| Name | BigCommerce |
| Price | Range from $29.95/month to $249.95/month |
| Themes | Paid and Free |
| Customer Service/Support | 24/7 live support available |
| Ease of Use | High |
| For Small Businesses | Decent for small businesses |
| For Large Businesses | Enterprise solution is decent |
| Customizability | High if you possess knowledge of coding |
X-Factor:
BigCommerce has one of the most carefully considered checkout framework in the industry. It provides one of the smoothest single-page checkout experience, which helps in conversion to a great extent.
The importance of this cannot be understated, as the checkout page is a place where it is most likely to lose a consumer.
Pros:
Bigcommerce provides massive hosting resources with a dedicated team that works on optimizing and keeping it running smooth.

Provides layers of security.
Cons:
Extensive customization available only if you possess good coding skills.

It is a bit more expensive.
---
Concluding View
Choosing between ecommerce platforms requires extensive research. Each platform has its own set of services, charges,  subscription-period, strengths and weaknesses depending on the functionality.
Custom-made platforms will surely help you, but to scale up your operation, you will need to leverage any of these platforms. The biggest hurdle for a small business is to decide upon the most suitable platform, choose from their services and deal with their limitations.
Stay tuned as in the upcoming series of articles we will extensively cover each aspect of ecommerce, thus helping our readers and clients grow their business and attain new milestones.
Our founders started EngineerBabu to transform the technological landscape for our customers.
Having heard stories of how clients get duped by their tech partners, they resolved to do something about it. To ensure that customers don't feel exploited they strived to introduce total transparency into the product development process.
Our team truly strives to develop a personal connection with customers which helps us to understand their requirements better. 
In the words of our wonderful founders,
We aren't in the business for just making money; we are here to build lasting relationships.
Having worked on all the platforms mentioned before, we possess solid domain expertise of creating incredible ecommerce websites which have helped our customers achieve significant breakthroughs. This is what they have to say about us –

---
Handpicked Content For You: