'Find a mentor' Project Objective
The objective of the project  'Find a mentor' is to create a platform for online learning and knowledge sharing. 'Find a mentor' project will create a bridge between the domain experts and people who want to learn a new skill or gain some new knowledge. The sole purpose of 'Find a mentor' is the ability to facilitate knowledge sharing from an experienced professional mentor to the various industry professionals.
Online mentors will be able to post text messages, images, videos and audios on 'Find a mentor' platform and professionals or learners will be able to react to these posts. Professionals would have to follow the online mentor's account in order to connect with him, see his posts and ask him questions to have a doubt free online learning. Mentors can also block malicious followers. Individual profiles will be maintained for mentors and the professionals on the 'Find a mentor' platform. It will contain all their basic details, such as name, contact details, education, interests and their professional details such as the current workplace, work experience, skills, etc.
'Find a mentor' Project Vision
The vision for 'find a mentor' is to create a professional platform for online learning connecting mentors and professionals. This platform will help thousands of young professionals to seek formal expert guidance from skillful professional mentors. Our solution to this problem will be to make this platform such that it will provide the best user experience.
Recommended Reading: Mentrio – A community to find the right Mentor
Primary users for the platform will be the mentors and the professionals. A mentor's main role will be to share his knowledge by his mentorship program in the form of posts, discussions and answering the questions asked by the learners. A professional's main role will be to gain knowledge, initiate discussions and ask questions. To initiate online learning, both the online mentor and the learning professional need a professional environment that is provided on the 'Find a mentor' platform.
What makes 'Find a mentor' different from other platforms?
Despite having one knowledge of one domain, people are always eager to learn new things and for this, they need a professional mentor who can guide them and share their experience in their respective industries. A mentorship program can be a great way to share knowledge and help someone become successful in their personal or professional life. But many professional mentors are often too busy to commit to regular meetings, or they have a hard time connecting with people seeking help. On 'Find a mentor' platform, prospective mentors and mentees can be matched, based on similar interests, location, and availability.
At all stages of one's career, professional mentors play an important role. Unfortunately, for many people, finding a great mentor remains a challenge.
For finding a mentor, people usually visit different portals and most of them are paid, in the market, there are 100s of portals but mentees usually go through a bad experience with the quality of mentorship programs offered on them. So people are usually afraid to use these portals because no one wants to spend their hard-earned money on an online learning program which is not fruitful for them. One can't judge the program or the mentor on the basis of review because some platforms provide fake reviews and ratings to attract the user.
Another biggest problem is the availability of a mentor, because being an employee of any industry, they always face trouble finding the right mentors for business due to lack of time and resources. On this platform, we provide an equal facility to both user experts(mentor) and mentee(professional) to explore the things that we are offering in our platform. Mentors can organize live conferencing for sharing the industry knowledge and people who are following him/her can watch live video and add the comment. Mentees can ask the question from their preferred mentor and send them a reminder.
In every industry, there are around four types of people:
First, the type of people who just started their career and are in an early stage of a professional career and require mentors for business.
Second, the type of people who have already started their career and reached a mid-level after working 5 to 6 years in any industry, at this time, they want to learn new things in order to take the company to the next level and can teach them their junior. Learning from an experienced professional mentor from the same industry is always better than learning by oneself.
Often people don't have time after office hours. They have to take care of family and spend quality time with them. People rarely get time to learn new things. So the idea of 'Find a mentor' project is basically to connect professionals to experts for learning and exploring new things that are happening in the industry.
Third, the type of people who have the knowledge of their respective industry may become the mentor to professionals. Mentors can reply to the question which was being asked by their mentee, on the platform we connect the mentor and mentee so that mentee can ask the question which he may have and after a certain time mentee can poke them in order to send them a reminder.
Fourth, the type of people who can play a dual role, i.e;  being registered as an expert, can switch the profile as professional and can follow other experts.
USP of 'Find a mentor'
Professionals are directly able to interact with the mentors and ask them questions.
A professional can ask a maximum of 2 questions to a particular mentor so that the mentor would not be stuck on one person only and can interact with other professionals as well.
Mentors may sometimes forget to answer the questions asked by the professionals due to their busy and hectic lives. Thus, the latter can "Poke" the former to remind them about answering their asked questions.
Poking can be done only 2 times to maintain professionalism and to prevent mentors from getting annoyed.
Mentors can stream videos live in their posts using YouTube.
Mentors can host a Webinar in their posts using YouTube.
A person can have both a Mentor and a Professional account for the same Email-ID/Phone no.
Privacy of the Mentor is maintained as their posts and activities can only be seen by the people who follow them(Professional can follow a Mentor only if the Mentor approves).
User Persona for 'Find a mentor'
User Persona: Mentor
Demographics

Age: 25+
Employed
Male/Female

Background
Highly experienced in any of the skills
Needs
An environment where various Industry specialists can use their knowledge to help various professionals by connecting and interacting with them and clearing their doubts.
Goals
To guide professionals and to make them learn.
Frustrations

Annoying and totally out-of-the-topic questions
Personal questions

Perceptions
Mentors generally like to share their knowledge about any field or skill and help people, like students, freshers or anyone, in their free time. This platform will basically help them to do so.
Motivation

Easy to use the platform to connect with professionals
Smooth interactions
Reducing spams (max 3 question feature)
User Persona: Professional
Demographics
Male/Female
Background

Has learned or wants to learn a new skill
Wants to have more knowledge about the skill that he/she already has and other things related to those fields

Needs
An environment where various Professionals can enrich their knowledge, ask their doubts and connect with industry or domain specialists.
Goals
To learn a skill or to gain knowledge about any field of interest
Frustrations

No or late responses from the Mentor's end
No acceptance of the follow request

Perceptions
Professionals eagerly seek platforms like this one where they can get a good level of knowledge and expertise and whenever they find such a platform, they are always willing to try it out.
Motivation

Easy to use the platform to connect with Mentors
Smooth interactions
A platform for professional needs
Prototype and Usability Test
I created high fidelity wireframes, altogether 20 screens for the usability test. Below are some samples.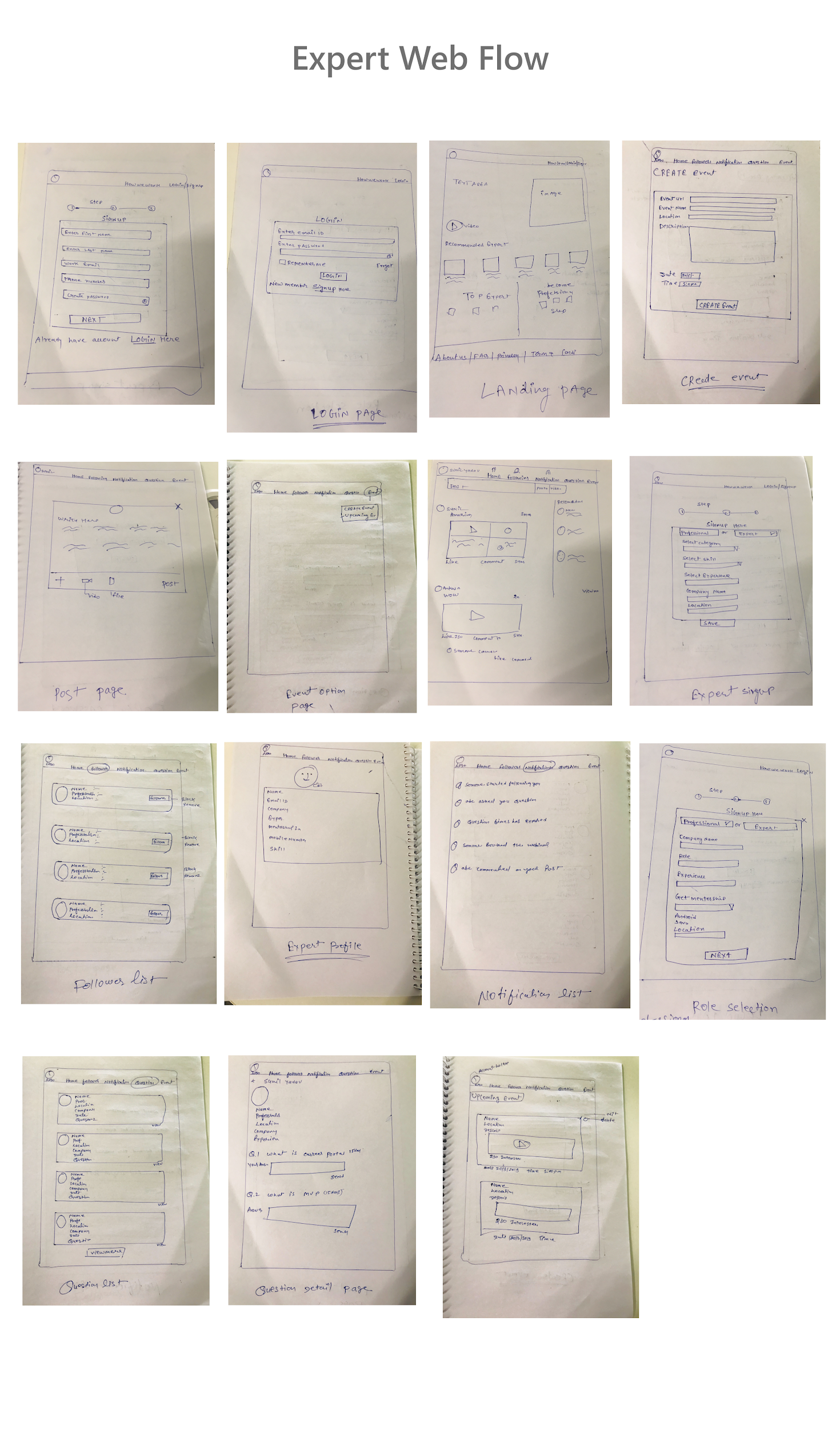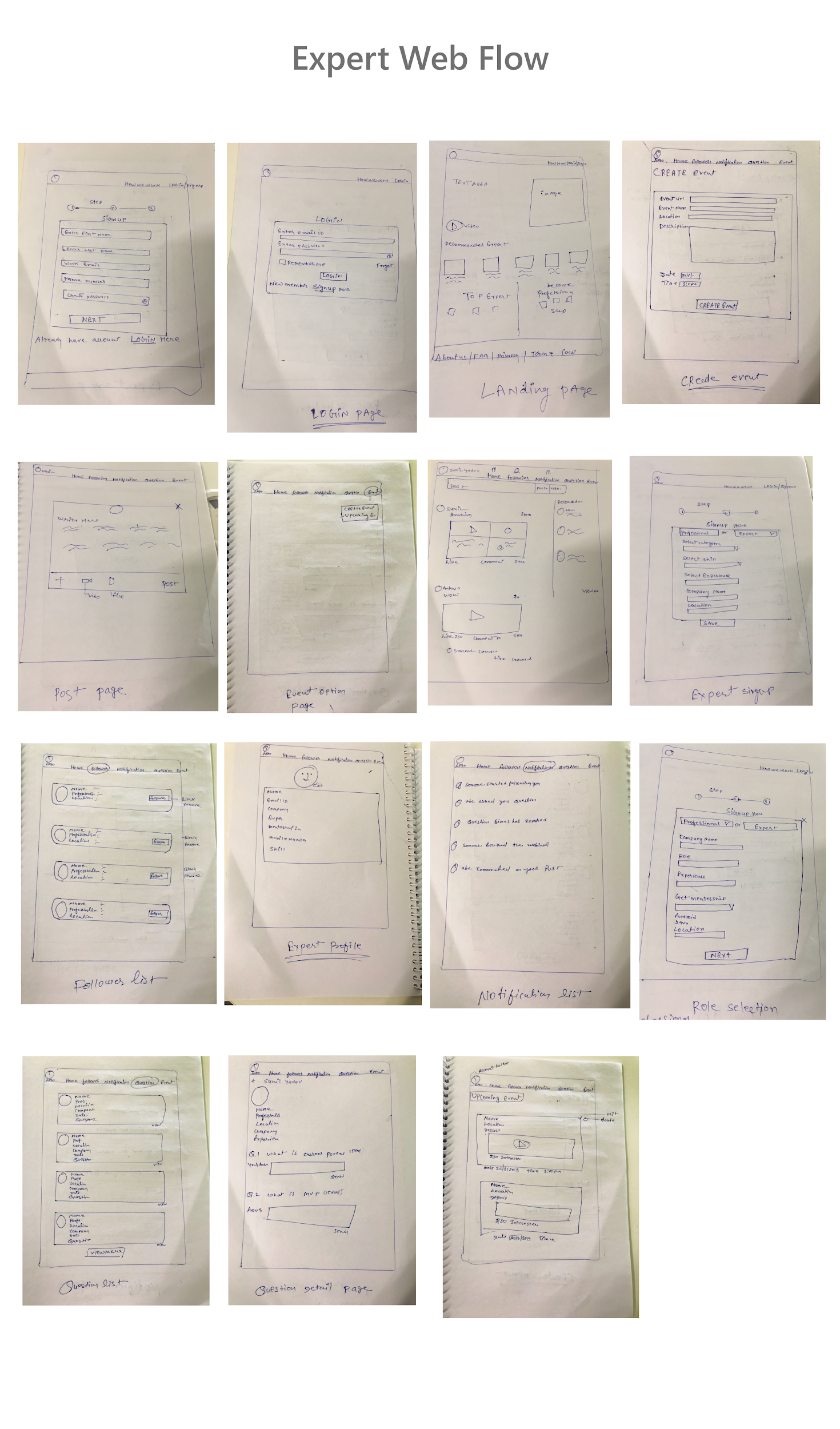 Feature List
Onboarding

Established Audience (EA)

Social Sign up/Sign in
Password-based Sign up/Sign in

Audience (A)

Social Signup/Sign in
Password-based Signup/Sign in

Posts

Share
Like
Unlike
Comment
Like and Dislike over comments
Comment over comment
Create a new post

Resources in posts

Images
Text-based posts
 Events

Date
Time
Location
Name

Webinars using youtube
Live video streaming using youtube
Uploaded videos – preferably from youtube

Follow and Linking

Followers
Privacy of posts and resources

Payment and Subscription ( Optional, if you don't want in current phase)

Unlock premium content
Payment for content

Question & Answer Section

3 question from each Audience

Poke EA

only 2 times max

Personal Profile

 EA

Name
Image
Follow button
No. of followers
Education
Short Introduction
Current Workplace
Work experience
Skills
Interests
Contact details

Email ID
Phone no.

A

Name
Image
Following
Education
Short Introduction
Current Workplace
Work experience
Skills
Interests
Contact details

Email ID
Phone no.

Notifications

 EA

New followers
New like on post
New comment on the post
New share on the post
Questions by audience

 A

Answers on asked questions
Reply on comment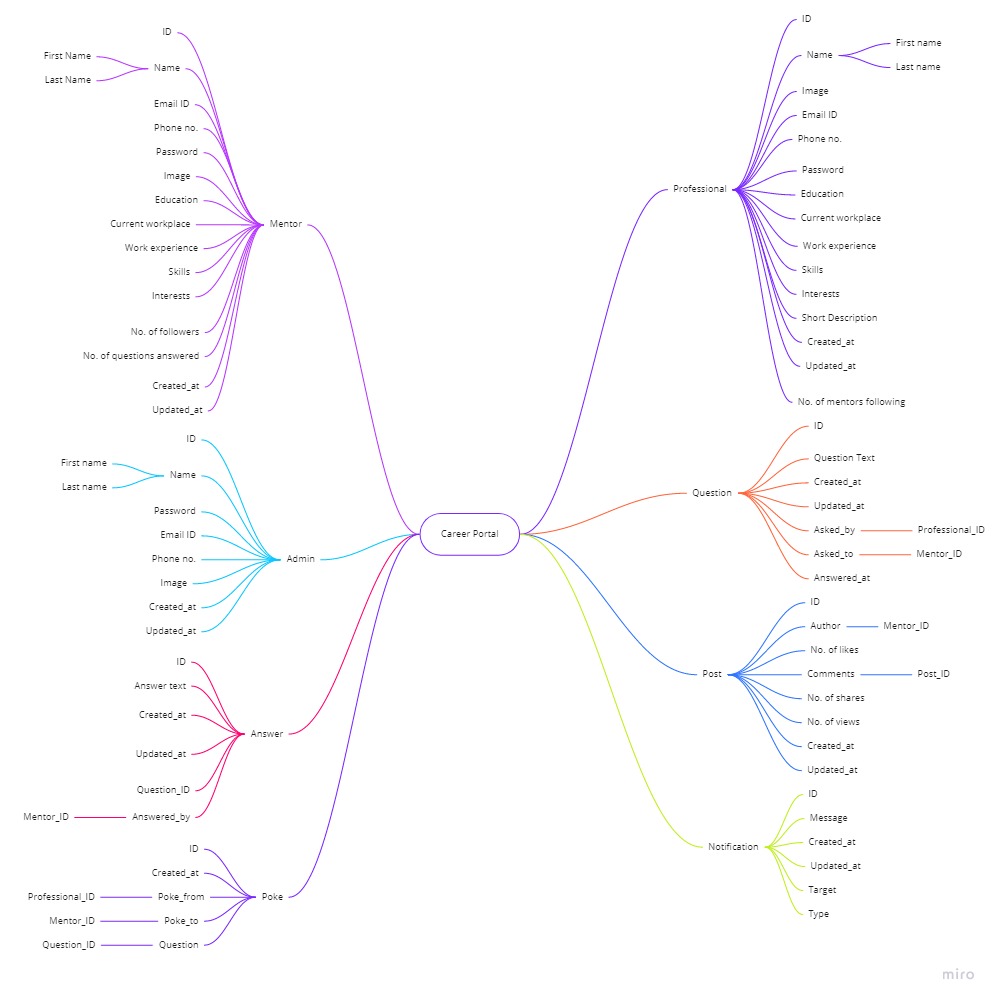 If you are also planning to start a similar project, we would be happy to work on that too. . Our team at EngineerBabu is experienced in delivering excellent apps and software. We have been developing similar apps and our mobile app developers can help you build the same. Since we have been delivering IT solutions to a wide range of clients, we know the errors that come in the way and how to solve them. If you have any kind of doubt then we are there for your help. Feel free to reach out to us even if you are in the ideational stage. To read more blogs and success stories, visit our website.