Your network is your net-worth.
A networking event is a perfect chance to learn from eminent personalities and foster a good relationship with them. They should not only be looked at as a source of generating revenue for your company. Maintaining congenial relations, making the other remember you among hundreds and standing alone from the crowd counts in the long run.
Are you done with clicking selfies with Speaker? And counting likes on Facebook.
Have you collected more than 4000 cards in events and still didn't get a single business?
I am going to share step by step guide how we made $53,000 from One event.
Do not be hasty in accepting RSVP to the next event that props up. Make sure if it is the right thing to build your network. Your aim should be to work on potential clients. You need to indulge in value-driven strategizing to get a favorable outcome.
Do a groundwork before attending any workshop, seminar or networking event. I make a list of prospective clients who are going to participate in an event. I connect with these people through a social network or email and welcome them even before attending the event. This really helps me to personalize more with my prospects in the event and get more business leads.
Networking events offer an end number of potentially fruitful interactions. The investment of time and money can bear an important outcome in the future.
An amazing Guide for growing your Network
1. IDENTIFYING THE RIGHT BUSINESS PROSPECT
Do not waste time in attending seminars that have no connection with your trade. Like I only accept events where I can find my favorable clients.
A good way to go about it is to use social media, relevant hashtags and tweets to understand who all are attending the upcoming seminar.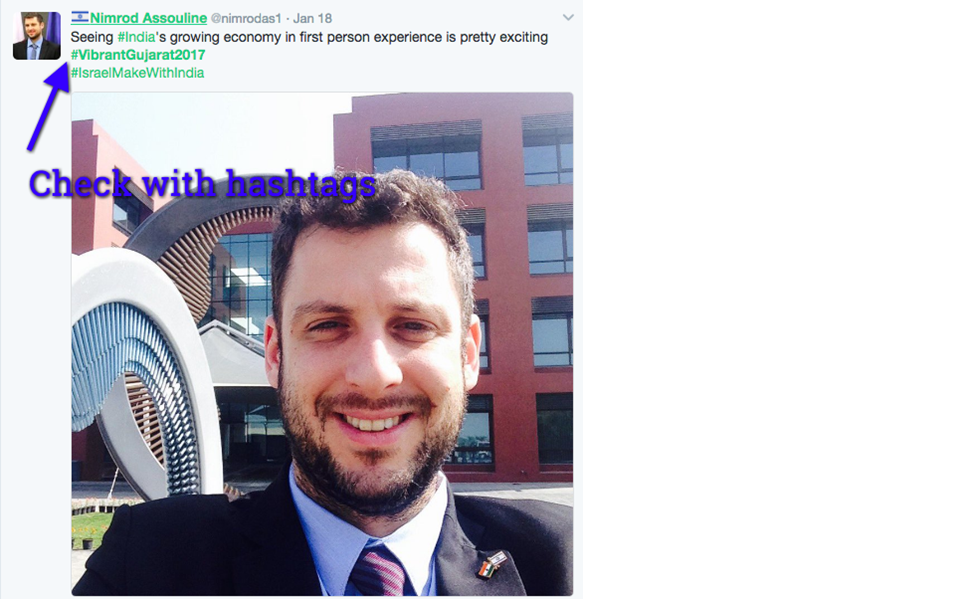 Accordingly, send them an e-mail fixing up a meeting.
Email: Let's explore India together
Hi John,
I welcome you in India, I am also coming to that event, I need your 10 min time to have a coffee together and expecting to know more about you, your company and your country.
If you free and want to explore India, share your travel plan, I would be happy to help.
Your Friend Mayank
This is crucial since you need to figure out the right kind of people who can help you in generating business.
2. DOING THOROUGH BACKGROUND ANALYSIS
You will always cherish the time spend in background research because it forms the foundation of your impending meet.
If there is a particular person on the guest list, you've meaning to engage with, do in-depth research about him because this comes in handy at the hour of need.
Scavenge their social media profiles, keep their interests and hobbies on your fingertips and learn what intrigues them most. This includes knowing about their favorite movie, novel, actor or cuisine.
I use https://charlieapp.com/ for meeting research.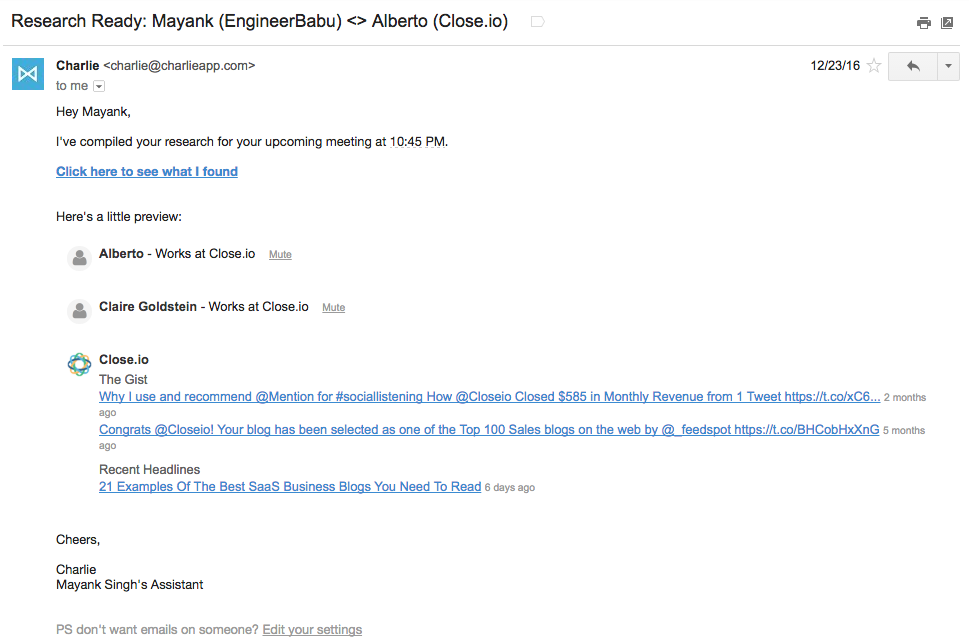 Such background knowledge provides a good fodder to kick start a conversation without being clueless about the other. This will help in laying down a common ground where you can have a two-way conversation without having to get bored. The common topic can prolong your discussion and predispose the prospective client in your favor. The idea is to keep their interest before yours.
3. ACTING AS A MEDIATOR
It is imperative that your focus is to build connections but in addition to this, try to be a mediator yourself. Look for people who require some sort of help from the speaker. You can then swoop in and introduce the two parties.
When some popular panelist is the keynote speaker, The audience often wants to capture moments with them. But instead of bridging the gap between people and speaker, you start taking pictures with the artist. A better way to develop friendly relations is to do exactly the opposite. Take pictures of your prospects with the speaker. This gives you a common topic of discussion to engage in future.
It is an easy way to exchange contact number. You can send them their pictures after the seminar gets over.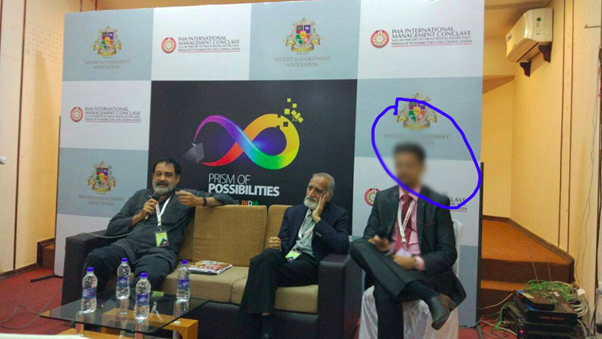 This will not only put a smile on their face but also develop an inclination towards working with your firm.
4. KNOWING THE ESSENTIALS
You cannot be a know it all, but strive to familiarise a few more people other than the guests. Well, sponsors can be good for starters. The theory of researching and finding out similarities applies here too. Who knows a pep talk may turn into a deal?
The correct way to freeze such a deal is to leave your mark in minimum time. Sponsors won't have all the time in the world to have a long discussion. So, it is important to leave an everlasting impression on their minds in whatever limited time you've got.
5. Show Sincerity and Interest
Have a few good questions in your back pocket. Asking the other person about her background and work will show her that you're interested in more than just your own job opportunities. The best questions are ones that can't be answered by just "yes" or "no," such as:
How do you like working for your company?
What's your primary role at your company?
What projects are you working on right now?
How did you get involved in your field?
6. BEING A GOOD LISTENER
In following the mad pursuit to get assignments, you often go on talking about your own firm. This is considered malpractice. How you make others feel is more important. Instead of blabbering about yourself, take a time to appreciate their success story.
Abstain from being carried away in marketing your product. Your genuine interest in knowing their side of the story by asking relevant questions is crucial at this instance. It is always better to occupy yourself with few people leading to a meaningful conversation. Always strive for quality, not quantity.
7. FOLLOWING UP
Around 70% of clients procure business if you take a follow-up. This doesn't mean you go on stalking them day and night. Take your time and make an honest approach. If they are impressed by your concept, they will surely take the deal forward.
All you need to do is make efforts and keep in touch with those whom you feel you were able to establish a purposeful bond.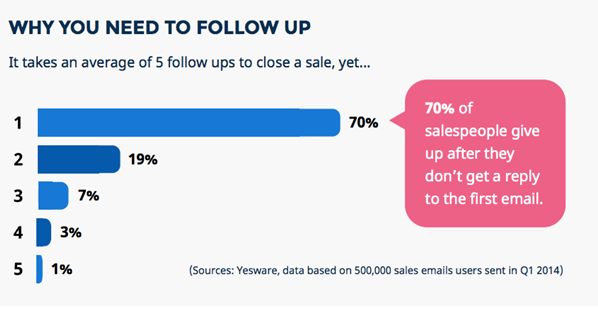 8. USING THE POWER OF SOCIAL MEDIA
Connect with people whom you met at the conference online and share your personal experience of having met them. You can make an acquaintance feel valued by writing a blog on what life lessons you learned from him.
People make social media sound clichéd. However, if you know how to put it to good use, your mere presence at a networking event and sincere interactions can fetch long-term rewards for your company.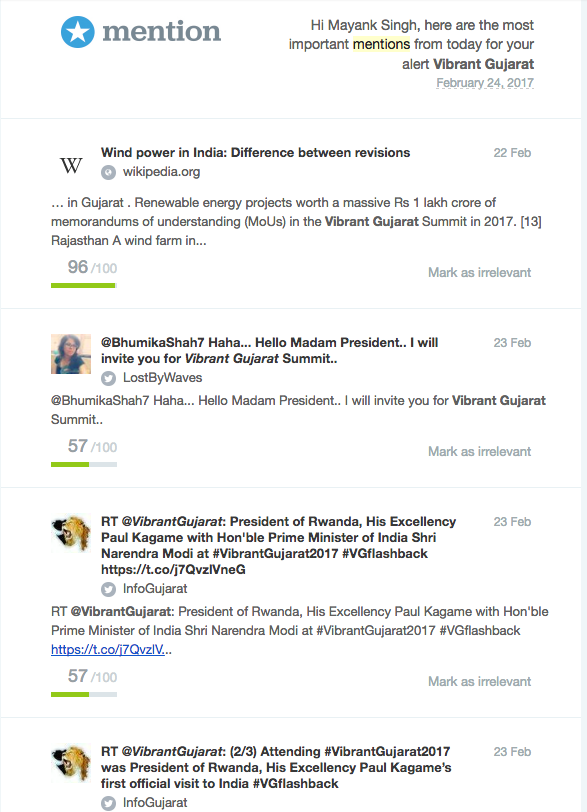 ---
EngineerBabu is a platform which curates the top talent in the IT sector and provides entrepreneurs with easy access to IT professionals who can help in the growth of their companies.