Before sharing the best tips for marketing startups on LinkedIn, here are a few quick questions:
---
Do you see LinkedIn as just a professional networking site or a prolific social media platform? 
Are you aware of the potential of using a LinkedIn marketing strategy for your business? 
Do you know how to use LinkedIn for marketing your startup?
To know all this and more, this LinkedIn marketing tutorial blog for your startup is a great way to begin!
---
LinkedIn is more than just a social networking site that serves to connect job aspirants with employers or fosters strategic business partnerships.
In fact, LinkedIn is widely used across the globe to seek employment. It is home to several recruiters. But it's a whole lot more than that.
With over 450 million professionals available on this network, it's also an impactful marketing tool. LinkedIn connects individuals and adds tremendous value for startups looking to establish a firm foothold in a competitive industry.
So, let's learn all about the 10 proven strategies for marketing startups on LinkedIn and the benefit of tapping this network for strategic corporate partnerships.
Right from Apple's Tim Cook to Microsoft's Bill Gates, everyone is on LinkedIn. So, if you seek to increase brand awareness, find leads and create connections to meet business goals, LinkedIn is your go-to marketing platform.
LinkedIn can also be used for advertising and marketing, given its massive popularity among businesses both big and small.
The social media channel is, therefore, great for B2B networking and gaining website traffic. You even get to follow industry leaders and get great ideas. But why is LinkedIn great for marketing startups? Besides the obvious benefits, there are many not-so-obvious benefits which we will now discuss.
Why Market Startups On

LinkedIn

?
LinkedIn is seen as an impressive tool for many marketers. Before diving deeper into the 'why' and the 'how' of this, let's see what the numbers have to say:
Decoding the Deciding Digits!
LinkedIn remains the largest professional networking site across the globe, with more than 450 million users from 200+ nations.
New users join LinkedIn at a rate of 2 per second.
More than 39 million students and fresh graduates comprise the site's most rapidly growing demographic.
Millions of executives from the top Fortune500 companies can also be found here.
Corporate talent solutions offered by this professional networking site are used by 94 of the top Fortune 100 companies.
More than 1.5 million publishers use LinkedIn as a social media platform for sending content.
Media & Marketing
For successful marketing, it is crucial to know the importance of media for raising brand awareness, besides proper brand positioning in the market. A startup has limited resources, but infinite needs and requirements, when it comes to marketing online. Even the most quality products will remain unsold if you do not know how to market them effectively.
Hiring a PR agency can't get you the type of media exposure LinkedIn offers. LinkedIn is the best, most cost-effective solution. Consider that over 94.2% of the journalists use this website.
The Power of Partnerships
Business growth is stimulated by fostering partnerships. Partners can refer clients to one another and leverage the capabilities they have for a win-win outcome. Partnerships can provide a marketing boost as well. LinkedIn is perfect for finding startup marketing strategies to help your business grow.
Finding Clients
LinkedIn is excellent for finding customers for your business, too. A startup on the first step of its journey needs to examine how offerings are presented to customers. The very idea behind marketing is to foster brand recall and recognition. Persuasive marketing can make a difference to consumers, and, ultimately, your business profits.
Proven

LinkedIn

Marketing Strategies for Startups
#1 Let Businesses Know Your Status Update
For startups, nothing can be more daunting than marketing. If you're worried about how to market your business, LinkedIn status updates can inspire confidence. All you need to do is be regular. Make sure your status updates contain relevant content.
#2 Craft Meaningful Marketing Posts
Publish posts on your profile using LinkedIn. It can establish you as a market authority. Sharing views and meaningful opinions through LinkedIn marketing posts serve as a perfect launching pad for your startup.
#3 Use LinkedIn Presentations
LinkedIn also allows posting of PPT presentations or even videos, thereby enhancing the attention span of followers.
#4 Receive Endorsements
Don't want your startup to blend in? Then stand out with endorsements from connections. Remember that recommendations have the power to enhance your startup's profile online and build credibility, as well as brand authenticity.
#5 Showcase Publications
Publications are highlighted using active links on LinkedIn. That way, others can view the publication, whether it is an article, a blog, a research report, a white paper or even an e-book. Showcase all your marketing collateral such as online brochures and visual storylines using publishing options available to you.
#6 Make Informed Choices With LinkedIn Groups
For startups joining the grind, generating a buzz can be really hard. So, how do you make it easier? One way to do this is to opt for LinkedIn Groups and have a finger on the market's pulse. Create groups on LinkedIn and sustain viewer interest, along with business development and growth.
#7 Create a Company Page
This is, in fact, one of the first steps you need to take on LinkedIn for marketing your startup. Company pages serve as one-stop destinations for every fact you seek to highlight about your startup. Join associations and groups using company pages and highlight what's so special about your startup.
#8 Build a Brand
When you sign up on startup, the web address creates a random collection of letters. You can customize web addresses and link it to the name of your company. Don't underestimate the power of branding through innovative URLs. Shakespeare once asked, "What's in a name?". Well, there's plenty, if you are a startup!
#9 Establish Your Authority
Become a recognized expert by putting up eye-catching, meaningful posts and participating in group discussions. Setting your startup apart from the average business is all about embracing innovation and establishing a stellar reputation online. To quote American motivational speaker, Eric Thomas:  shooting for excellence is the only way to make sure you never settle for mediocrity!. Startups need to be phenomenal, not average!
#10 Supercharge Sales
If one is into sales, targeting prospective clients using LinkedIn is the key. If one has an active profile on LinkedIn, common connections with the prospect can help your startup to build a solid sales pipeline. LinkedIn is presently is known for users who are professionals skilled at building companies and creating economic opportunities.
LinkedIn helps startup marketers to understand how to make a connection with audiences, without spending a single penny. Not all marketing is paid.
Every connection you built on LinkedIn does not require a marketing budget, yet it can help in spreading the word about products. By sharing content about products and industries, gaining attention is easier.
Connections are an asset on LinkedIn for startups looking to market their products, services and, ultimately, their brand.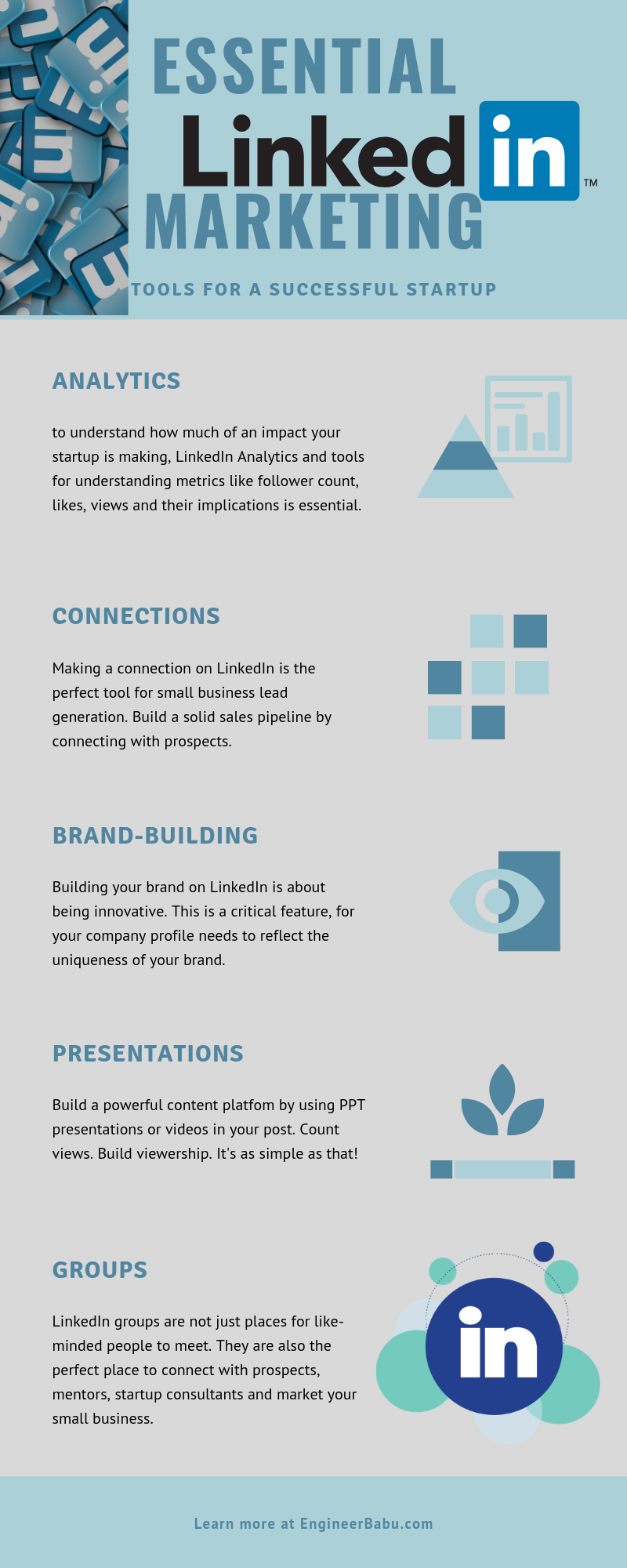 How to Promote the LinkedIn Company Page
Setting up company pages that rock, for your startup, are not exactly rocket science. While company pages are easy to set up, they come with an added bonus: Followers!
You can gain followers and stay updated about products. By following your company page, prospects can signal their interest in your startup's products and services.
Additionally, company pages have features such as Analytics, which enable you to learn about followers. Further, Sponsored Updates help to promote posts that strike a chord with followers and lead to wider audiences appreciating not just your post, but also your startup. Showcase Pages is a company page feature to create highly focused pages for products or target market segments.
LinkedIn company page best practices necessitate being unique and original. Don't go for a tag-line that resembles a big brand, or you'll land in bigger trouble (namely patent laws). Instead, highlight what's so unique about your startup and why you are so special.
LinkedIn automatically catalogs your company posts into relevant channels. This offers a chance to access millions of users for different topics, niches and segments. Even with a LinkedIn member account, the momentum you can build with a startup LinkedIn company page is simply incredible.
After all, you do want prospects and users to discover your startup, learn about job openings and establish your brand in the market, don't you?
Shine the Spotlight On Your Startup Brand!
An extension of the Company Page is the Showcase Page on LinkedIn. These pages specifically spotlight the brand, business unit or initiative. Creating pages for different aspects of the brand with messages and audience segments is vital. Further, special content can also be targeted at audiences with a potential for offering solid returns on investment.
Still not convinced? Then consider that companies like Microsoft, HP, Cisco and Adobe use this LinkedIn feature! LinkedIn is not just about making connections, it is also about leveraging your network. If you can highlight content that proves you are a trusted expert in the field, you can gain authority in the market. LinkedIn is about promoting your startup by building a sense of community. You can even connect with mentors who can help you to market your startup. LinkedIn is one of the most valuable, priceless tools to leverage, representing a goldmine of opportunities startup marketers can bank on.
Framing the Perfect Startup profile
Showcase why your startup is a valuable addition to the industry in the profile and first line description itself. You don't get another chance to make an awesome first impression!
Putting Up a Your Company Logo
Your company photo or logo should look friendly and approachable. Never underestimate the power of compelling visuals to communicate a strong marketing message.
Mind the Title Too!
As results pages, mobile and small screens highlight only the first line of a profile, you need to be clear about what you want potential clients to take away from the first line. Make it count. Don't use meaningless words or vague themes. Focus on a professional, positive, driven, hardworking and professional approach in your profile.
Boost the Banner!
There's a massive space on LinkedIn to showcase what your company does in the banner area. Use this space, because every bit of strong graphics and compelling imagery can be worth a 1000 words.
Making the Connection
The best relationships are those where you have something in common. For startups, it's the zeal to do something different, the passion that defines your venture. To quote political leader Winston Churchill: we all make a living by what is received. We make a life by what we give! Nurture your company page to create value for potential clients and you'll face an avalanche of leads in record time. Featuring a campaign line or brand mission could be just the competitive differentiator you need to stand out.
Always plan a schedule of updates that generate interest and help your audience. Think of LinkedIn as an advertising platform and your startup as the discussion and lead generation hotspot. It's not just a direct sales channel, but an avenue for establishing your thought leadership! LinkedIn posts work best with:
Descriptive captions or headers: This helps readers to understand what the post is about.
Eye-catching graphics: This serves to make your company page the best and unique from the rest!
Hashtags: These boost the visibility of your content online.
Bonus Tips: Use emojis, bullet points, color themes and even add RSS feeds to your content inbox.
---
Concluding Thoughts
---
So, there you have it. LinkedIn is a powerful platform for marketing your startup, through its broad array of tools and equally impressive reach. LinkedIn is networking at its best without any pressures. The only thing worse than failing is not starting at all. Give this network the time, and effort you offer other social media channels and the returns will be simply awesome.
The startup culture is so inspiring because it is built on networking, community, innovation and transformation – all that characterizes LinkedIn, too. It's as Jeff Weiner, the CEO of LinkedIn says: Maintain a culture of transformation and stay true to your values. It's not just about your startup, but about the entire industry. Let potential customers know you mean business, and leverage LinkedIn to inspire and innovate throughout your startup's growth journey.
for live support.