Influence of technology or digitalization in healthcare research, development, innovation, and distribution is making both doctors and patients life easier and beautiful. However, people often expect some changes and ease in accessing such instant services. In this reference, the applications require involvement of best healthcare administration tools and software to deliver best and interactive customer services.
These healthcare software or applications help doctors and patients to manage vital health information. In addition to that, it also ensures to improve the quality of care and services required and make it more cost-effective for both doctors and patients. The healthcare administration tools refer to knowledge-based, decision support IT programs. These healthcare tools offer guidance, assistance, and can also submit feedback on your fingertips.
There are many hospitals that are shifting their offline activities of patient file maintenance and other hospital activities to electronic health record (EHR). Thus, to manage such activities effectively the application should be highly user-friendly and able to perform such operations quickly. Therefore, to make a quality healthcare application, it requires the best healthcare administration tools and software.
So, let's checkout the best healthcare administration tools and software for 2021 that can introduce the quality final product and user-friendly UI and UX.
7 Best Healthcare Administration Tools and Software for 2021
1. Electronic Health Records (EHR)
Electronic Health Records (EHR) address continuous work to smooth out care by digitizing patient information. An EHR is an electronic form of a patient's clinical record that can be updated in real-time by authorized health experts. It gives a broad perspective of a patient's medical history by permitting clinical judgments, conditions, treatment plans, and test results received rapidly and safely by using Web-enabled gadgets.
As well as giving immediate access to health information details, one of the major advantages of an EHR is that it further enhances care coordination by permitting patient details to be shared by different medical service providers and associations, including trained professionals, drug stores, hospitals, emergency services, and imaging centers.
Adoption of EHR is turning out to be more broad, however the systems are not so perfect. The studies have shown pushback among specialist doctors themselves who feel that the innovation requires more administrative work, which minimizes their time with patients. Overall, it is considered one of the best healthcare administration tools to facilitate doctors and patients at a time.
2. Referral Trackers
A referral tracking system is a healthcare software that is used to monitor their patient references. It provides a powerful communication channel between two medical institutes. It likewise helps specialists and doctors to keep up with steady communication while monitoring patients.
A reference tool empowers doctors to tackle numerous practical issues related with medical references. For example:
Doctors can use it to know the specific time their patient sees a specialist and the consequence of the appointments.

It disposes of the need for faxing referral letters.

It permits doctors to communicate with a specialist and choose if a patient's visit will be important and beneficial to the patient.
Using this kind of healthcare administration tools eliminates numerous operational failures related to patient referrals.
3. Imaging and Visualization
Health information technology has empowered exact visualizations of imaging strategies, for example, CT Scan and MRI. It is one of the most demanding and best healthcare administration tools to facilitate healthcare services and ensure accurate diagnosis of patients. 
Medical Software Engineers were likewise effective in planning programs that allow visualizations for surgical planning and telesurgery. 
Such imaging and perception programming systems enable clinicians to assess the diverse body systems real-time and therefore, make exact diagnosis.
4. Interactive Personal Health Records
Families with intensifying medical problems – or even standard essential care appointments. It can without much of a stretch build reams of paperwork, from bills and statements to confounded insurance correspondence. Interactive Personal Health Records (PHR) – an extension of the EHR that permits patients to oversee numerous aspects of their own medical care. Such healthcare administration tools plan to replace this sort of record-keeping and all the while make it simpler for providers to understand their patients' requirements.
The PHR is consequently populated with EHR information from all patient providers. However, is accessed by the patient with a Web browser whenever and from any location. Lab results, appointment dates, and immunization records, are a wide range of information you might discover in a PHR. Furthermore, the intuitive interface permits patients to enter data into their records; same information is then send to the patient's physician.
The key difference between the PHR and EHR healthcare tools is that the previous is expected for patient use, presenting information in a configuration that is designed for the individuals who don't have a background in healthcare. The advantages of PHRs incorporate increased patient commitment. The research has shown that patients who utilize one are twice as prone to stay up with the latest with clinical protection administrations.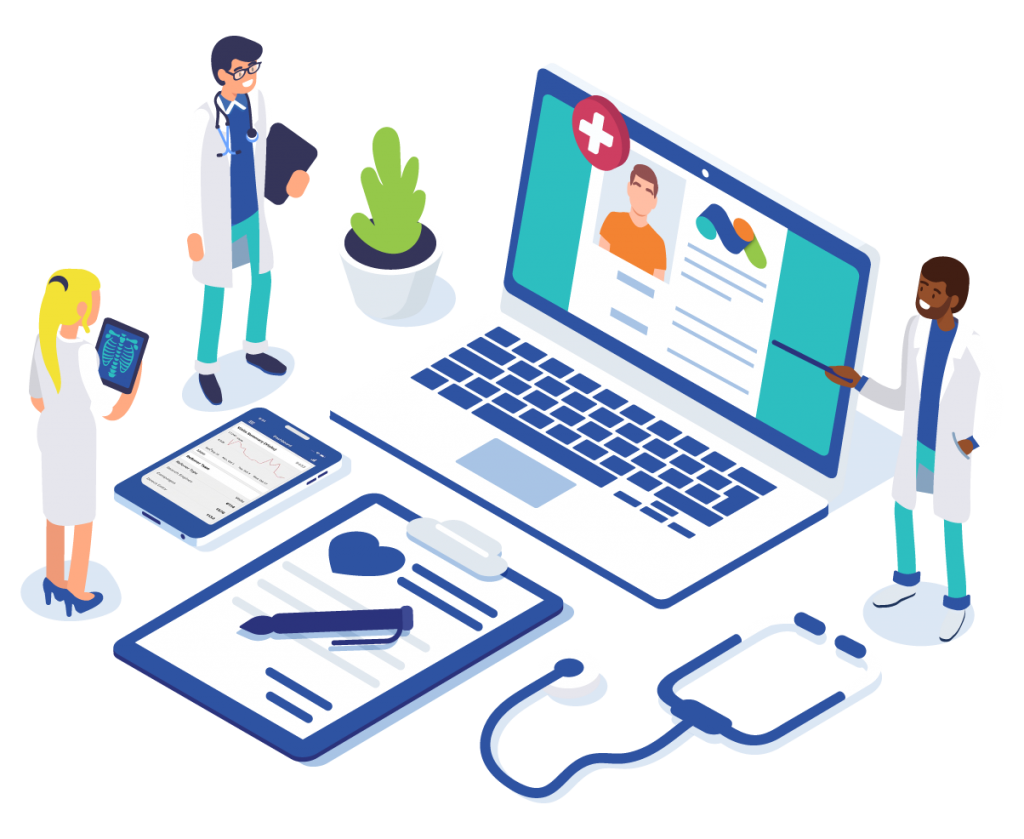 5. Computerized Physician Order Entry (CPOE)
Computerized Physician Order Entry (CPOE) is recognize as the center for developing healthcare services, particularly in hospitals. CPOE permits doctors to enter medical guidelines and order related to patient treatment straightforwardly into organized systems. Details are then shared to medical staff and with liable organizations for order fulfilment, including research facilities, pharmacies, and radiology departments.
The CPOE system is a healthcare tool that can possibly diminish blunders identified with handwriting and transcription. Thus, it forbid duplicate orders, recognize wrong dosages, and smoothen the inventory management cycle. These healthcare software systems add to increase visibility in the patient care unit. The tool also empowers a team approach among doctors and healthcare service delivery organizations.
6. E-Prescribing Software
E-prescribing has been in use since a long time by different hospitals. It enhance effectiveness in giving medication and restricting medicine prescription and purchase mistakes to improve patients safety. This healthcare tool ensures patients get the accurate prescription and find the correct medicines too at a time. This healthcare software permits doctors to directly communicate with drug stores for medicine prescriptions.
Advantages of the e-prescribing healthcare administration tool incorporates a more productive workflow. It also minimize prescription blunders, less time needed to resolve mistakes, and further improves record documenting too.
7. Medical Research
The progression in healthcare software types likewise delivers benefits in the medical research development process. Medical Research is one of the most demanding and best healthcare administration tools for 2021.
The digital stages designed for medical research can adjusted or modified to fulfill multiple purposes. Thus, the medical research software can set up as a store of medical research journals. It might help clinicians in setting up important literature reviews.
In addition to that, developing the healthcare software systems could likewise be incorporated with EHRs and this permits medical specialists or practitioners to reference patient records for detailed medical research purposes.
Conclusion
With the right and best healthcare administration tools and software you can improve your patient assistance. In addition to that, can increase operational efficiency, and can provide better patient care based on right and data-driven details. Whereas, these healthcare tools are valuable for improving the way healthcare centers manage and deliver healthcare services.
By harnessing the potential and power of computational systems, digital analysis, and data mining, the implementation of IT in healthcare holds a wide range of possibilities. It is just for improving healthcare system management and patient outcomes.
With this load of advantages and possible outcomes. This moment is the best opportunity to exploit healthcare information technology through the different types of healthcare administration tools and software.
As a matter of fact, not all businesses require the same tool or all the tools that are available in the market. Thus, to build a quality product you need to prioritize which software and tool will boost your business. Therefore, go through these tools details and hire the most efficient development agency and EngineerBabu is one of them to deliver the quality product. For any kind of assistance and to develop quality healthcare applications or website Contact Us. We are here to help you. We are a team of expert designers and developers that give a new dimension to your business idea and take it to the next level.