A typical E-commerce marketplace has witnessed its fair share of transitions and evolution. With all these alterations underway – this domain has gone on to become one of the most lucrative sectors of the 21st Century.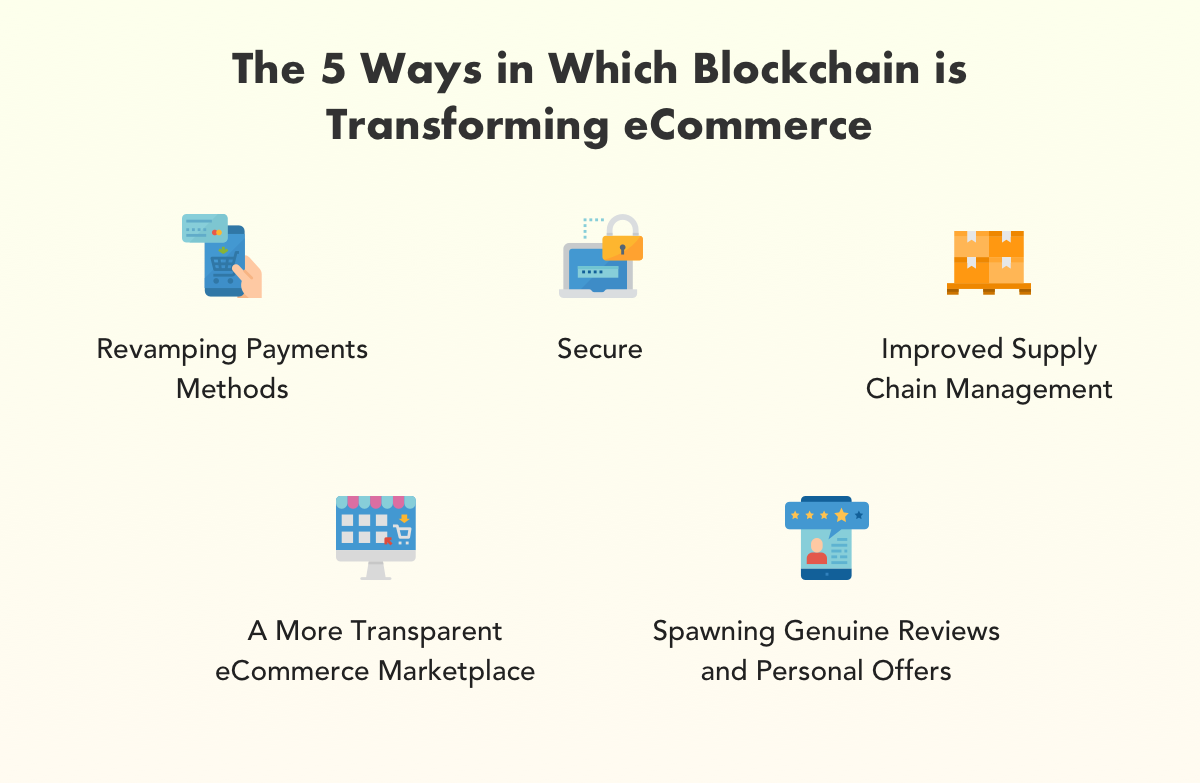 So, what's next on the plate for a traditional E-commerce business? The answer is relatively simple and straight-forward – BLOCKCHAIN!
It has been enjoying a good run in the financial industry for quite some time now. A surge of more than 400% by 2021 is expected to be seen by the global blockchain market. As blockchain is inching closer to the real sectors of the economy, an increasing number of people have now started talking about other possible use-cases of blockchain apart from finance, especially in the most lucrative domain of them all, E-commerce.
The E-Commerce industry has disrupted the way we shop & live, and blockchain is on its path to disrupt eCommerce. The implementation of blockchain technology in eCommerce marketplace will ignite a significant shift by establishing a decentralised economy. Now, if you want to learn more about blockchain, then you must visit this link.
In this post, we are going to be extensively covering the 5 ways how blockchain is on its way transforming the E-commerce marketplace. Stay tuned, as this post is definitely going to leave you surprised.
---
1. Revamping Payments Methods
Blockchain witnessed its first implementation in currencies powered by its technology (like bitcoin, ethereum, and ripple).  Today, cryptocurrencies are being utilised as an alternative to traditional currencies.
This shift is due to the relative ease of implementation and the fact that they are decentralised. Bitcoin and other cryptocurrencies provide numerous advantages over traditional currencies which benefits both customers and merchants. Some significant advantages:
i. Decentralised
Blockchain isn't regulated by any central authority which basically implies that the buyer and seller only control its operations. Thus, no third party can look over or manipulate your transactions. Blockchain currencies can't be inflated or devalued by any bank or government, as is the case with other currencies. For instance, if the economies of a country were to collapse today, their currencies would terribly suffer which is not the case with bitcoin because geopolitics do not influence its operation.
ii. Identity Protection
Cryptocurrencies based on blockchain technology don't reveal the identities of the transacting parties. Still, these transactions are very transparent as centralised ledger stores the details and give visibility to transactions.
iii. Freedom of Transactions

There is no governing body which controls how a person utilises his/her bitcoin. Regular payment methods are often imposed with several limits based on the amount and even geographical location. However, this isn't the case with currencies like bitcoin. Blockchain-based currencies gives users absolute freedom to perform transactions without any cap on the spending limit.
iv. Ease of Use
Blockchain based currencies are incredibly comfortable to use. Unlike traditional currencies, one doesn't need to visit any regulatory authority to create an account. From the comfort of your home, it can easily be accomplished. Additionally, they do not levy any charges to open an account; instead, a virtual currency wallet is absolutely free.
v. Faster Transactions

Traditional transfers often take long, especially sending money across continents may take up to several days to accomplish. Bitcoin transfers, on the contrary, only takes up a few minutes! Most importantly, they aren't closed at any point in time, and a transaction could be carried out at almost any point of time, in an instant.
vi. Reduced Fraud

Blockchain-based currencies are extremely secure to transact with. Because of peer-to-peer technology, it is tough to hack into the process and conduct a fraud. Thus making it one of the safest modes of transaction.
With recent developments, it is very much likely that eCommerce marketplaces would soon allow consumers to pay with Bitcoin rather than Stripe or PayPal. Security is relatively easy to implement. In addition to being decentralised, sending and receiving money will become as convenient as scanning a QR code. The relative ease of making payments is likely to be the first implementation of blockchain in the eCommerce marketplace.
---
Recommended Read: How to Start an eCommerce Business
---
2. Improved Supply Chain Management
Supply chain management is one of the most pressing concerns that every eCommerce business is marred with. Since the supply chain is a critical element of any eCommerce business – blockchain implementation in this sector will likely solve many problems. Blockchain can be extensively leveraged to solve supply chain issues like record-keeping, tracking of products as a less corruptible and better alternative to the centralized database. Other use-cases of supply chain include:
i) Provenance Tracking
Record keeping and provenance tracking become easy. With the help of RFID tags and embedded sensors, product information can be accessed. The timeline of a product right from its inception to where it is at present can be traced through blockchain. Besides this, to detect anomalies in any segment of the supply chain, this type of accurate provenance tracking can also be leveraged.
ii) Cost Reduction

There is an automatic deduction in the extra costs incurred by the system. Blockchain is applied to amp-up the administrative processes in the supply chain. It happens while still guaranteeing the security of transactions. The elimination of intermediaries also eradicates the risks of frauds, product duplicity while saving money at the same time. Customers and suppliers can further process payments within the supply chain by utilizing cryptocurrencies rather than customers and suppliers or relying on EDI.
iii) Inventory Management
The management of inventory becomes a whole lot easier by introducing blockchain in the process. Blockchain implementations in inventory management enable retailers to avoid unnecessary expenditure on hiring new staff time and again.
---
Recommended Read: How Can Blockchain Remodel Supply Chain? A Comprehensive Analysis
---
3. A More Transparent eCommerce Marketplace
In the wake of charges for lack of transparency, there has been a recent backlash that big retailers have been facing.  For the existing eCommerce platforms, it's a serious concern. For instance, Amazon was in the news for cutting-off and even disabling a merchant's page without any explanation.
Thus, by applying blockchain technology in the eCommerce marketplace would establish a decentralised environment where any wrongdoings on the part of the business or merchant can be efficiently monitored.
A transparent eCommerce marketplace also facilitate in conducting transactions in a frictionless and efficient manner.
Moreover, with the declaration of recent blockchain projects by retail giants like Walmart and Unilever – it is evident that they are eyeing at gaining a foothold in blockchain-based offerings.
---
4.  Secure
Blockchain today, is one of the most secure platforms out there. The Distributed Ledger Technology or DLT which blockchain boasts, offer excellent security for online database platforms that makes it ideal for implementation in eCommerce. Also, there has been almost negligible reporting of security breaches in blockchain-powered networks.
Another significant upside blockchain offers for eCommerce businesses is that blockchain-based currencies don't exhibit personally identifiable information.
Currencies like Bitcoin operate like cash in the sense that they don't require a consumer to expose sensitive data. In fact, the customer himself authorises a transfer from his/her own personal "wallet" to that of the recipient. Tied to each user's wallet, a randomly-generated unique identifier is the only distinguishing piece of data.
Since cyber attacks and data theft has increased tenfold, there is an inevitable risk of losing customers data. Therefore, adopting blockchain is an absolute key to solving these challenges.
---
Recommended Read: 5 Security Tips for Your eCommerce Business
---
5. Spawning Genuine Reviews and Personal Offers
i) Fake Reviews
Reviews – good or bad—can determine the order in which a business appears on an E-commerce marketplace or in a search query result. Fake reviews tarnish the reputation of a good company while at the same time promoting a fraudulent one. The reputation of an online enterprise relies on the legitimacy of its reviews. Hence the majority of online operators have increasing concerns regarding the product service reviews found on the internet.
Thus, making blockchain technology a crucial source to verify the reviews on their products or services. Deploying blockchain can help curb fake reviews, as blockchain stores data in blocks which is then added to a chain of similar information blocks. Each block requires to be verified across a network of computers. And once verified, it cannot be altered. To create a digital map of someone, this technology can be employed.
ii) Personal Offers
Adopting blockchain technologies in business processes can be extremely beneficial for marketing as you can issue redeemable reward points to the customers through blockchain when they cross a specific bar of spending. This will enable the client to benefit from a varied range of discounts and personal offers, at the same time enabling proper tracking of the data making blockchain technology more efficient.
---
Wrapping Up
The applications of Blockchain can revolutionise the eCommerce marketplace. Although it may take us a little time to witness these implementations – change is definitely in the pipeline. If you have an idea but do not have the tech expertise to build your software, visit Bluerang where you can find the best IT companies at affordable prices.
Besides being faster and considerably cheaper, blockchain facilitates most activities that the present-day commerce systems allow without causing any third party interference, making it ideal for retailers. Blockchain technology can finally be concluded as the backbone of businesses in the eCommerce marketplace.
Let us know if liked this information or need us to edit or add something. You can also drop an email at [email protected], or 
Handpicked Content for You