1) Overview:
GetPurohit is an online application to book a purohit/pandit for any needs related to religious and spiritual domains.
GetPurohit is a service which was put into execution considering the current demands of getting anything and everything online may it be services related to hospitality or any religious needs of people.
GetPurohit caters services where one can book pundits or purohits for any religious activities one wants to carry out for any occasion, in any part of the country.
GetPurohit is a platform where they have a crew of the best of pundits/purohits who are well versed and well trained in terms of understanding the roots of our Indian Vedas, scriptures, and ethics of our dharmas.
Not only is this app capable of getting you the "perfect purohit" but also it will work as a mini encyclopaedia where the information varying from Hindu scriptures, the Vedas, Upanishads, the immortal tales of Mahabharata and Ramayana, the legendary stories and morals lying beneath every spiritual and religious story of our Gods and Goddesses', finding the best mahurat for the most important occasions of life and many more will be just a few clicks away.
2) EB Process of tackling (The Process)
a) Documentation: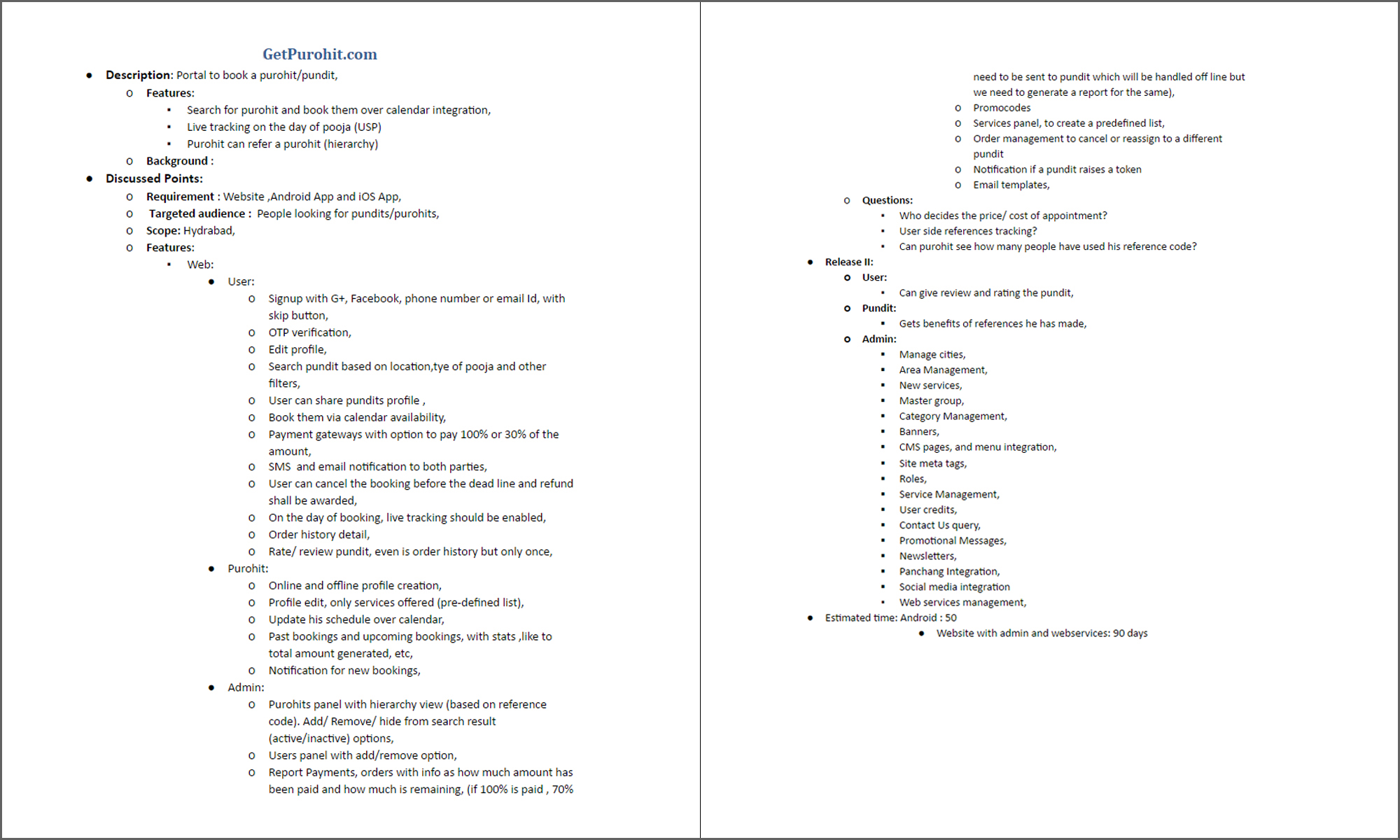 b) Challenge:
The challenge here while designing the UI/UX was, it was an app which needed both ethnic or says Indian touch and simultaneously needed to look like a professional online portal.
The most challenging part was designing the vector of the main character i.e. A pundit/purohit who needs to look both modern and authentic.
This app's must thing was about maintaining the Indian touch while modernizing the concept of online pundits. The saffron needed to play the key role in giving the rich feels of our Indian cultures and traditions.

c) Wireframe
Web:
Sign up: Any user can sign up via many options i.e. with Google+, Facebook, Mobile number or email Id.
OTP verification: Once the user signs up, there will be a One-Time-Password verification for authenticity.
Edit profile: Once a user's profile is created, he/she can edit his/her profile accordingly.
Search pundit: The user can start searching for any pandits/purohits based on location, type of pooja and also by any other option.
Share Pundit's profile: The user can share the pundit's profile with others.
Bookings: The user can book a pundit via calendar availability.
Payment: The user can make payments via payment gateway with 2 available options i.e. option to pay 100% amount or 30% of the total amount.
Confirmation Process: Once the booking is done by the user, the confirmation and any other notifications will be sent to both user and Pundit via SMS and email.
Booking Cancelation: The user can cancel the booking before the deadline and refund shall be awarded.
Tracking: Once a user books a pundit, live tracking is enabled.
History: Ever user's profile has an order history detail maintained.
Ratings: The user can rate/review a pundit.

Purohit:


Profile Creation: Purohits will be creating their both online and offline profiles.
Edit Profile: The purohit can edit only the services which they offer and nothing else.
Schedule management: The purohit can update their schedule through the calendar.
Notifications: The purohits will be notified regularly about their past bookings and upcoming bookings along with stats like to total amount earned till current date.
Bookings: Notification for new bookings will also be sent to purohits.

Admin:

Panel for Purohits: This panel is built in a hierarchical manner i.e. based on the reference code. Say, remove/add/hide from search results i.e. active/inactive options.
User panel: It has 2 options i.e. add/remove.
Payment Reports: The reports are generated in this section where one can know about the orders with information as to how much amount for a particular purohit is paid and how much is remaining. Say, a purohit is paid 30% advance and rest of the 70% need to be collected by offline mode, this report is maintained in this section and updated.
Promo codes: This option is available where a user can redeem various offers.
Services panel: This panel is where the pre-defined services for purohits are managed.
Order management: This is for cancelation or reassignments to a different pundit.
Notifications: The notifications when a purohit raises a token are managed here.
Email templates: This is for managing the emailers sent to the users and purohits.

App:

In the Release II there were few improvements which took place as follows:

User:

The way in which any user would rate or give reviews for the pundits were changed.

Pundit:

Even pundits get the benefits for the references he has made to any other pundit for any other predefined services.

Admin:

Manage cities: The cities in which there is the availability of the pundits are managed.
Area Management: The area allotment is also managed in the admin section.
New services: In case of any new services that need to be added is done here.
i) Master group:
ii) Category Management: There are different categories of the services that are provided and are managed here.
iii )Banners: Any graphics or updates related to the application for both users and pundits are being managed here.
CMS pages and menu integration process is done here.
Site meta tags: The tags which will help this app rank on particular keywords and searches are done here.
i) Roles: The different roles i.e. user, admin, editor and many others are a part of this section.
ii) Service Management: The services which need to be added/removed are under this module.
iii) User credits:
Newsletters: The regular newsletters are sent to both Pundits and users via this section.
Promotional Messages: Any promotional messages for any new offers or codes are executed and managed via this module.
Contact Us: The queries which come via the contact us are managed in this module where they are replied to on regular basis.
Panchang Integration: The mahurat and panchang which needs to be referred by both user and pundit are managed here.
Social media: The users sharing any kind of stories/reviews/promotions for this application over any social media channels like Facebook/Twitter/LinkedIn/Google+ any many more are integrated here and even managed from this end.
Web services management: The services carrying out the request – response from the server to client and vice versa are managed here.
c) User story:
The user story for this application revolved around a singular but significant motive which was; what if there are users who live outside India and are in search of authentic Indian pundits/purohits who can come to their place to perform the rituals for their most important occasions of life? This was the key problem

3) The Result:
The end result of this whole process was more than wonderful. In the end, we successfully executed designing the Android application within a time duration of 50 days.
Also, we successfully designed the website along with the admin panel and web-services within the time duration of 90 days. Trust me, it was a wonderful experience because we had never built such an application focusing on Indian traditions and customs.
4) Reviews: