In the digital age of today, everything practically runs on the internet. This comes as good news for entrepreneurs in the field of software engineering as developing a SaaS product comes as an excellent opportunity to make a big debut in the market. However, just like all the other specialisations, building a SaaS product does have a lot of aspects in which one must look into. Those looking to buy the right SaaS product also need to analyse things.
The most crucial of these factors other than the technologies in use is the cost of building a SaaS product. Keep reading, and as you proceed through the article, you will get a clearer idea of the different costs that are involved in building one and how you can make it a cost-effective activity.
Quick Tip: Never compromise on the quality for the cost
Very often, entrepreneurs try to take a short cut and opt for the cheapest ways in which they can develop their SaaS-based project. The result of this is quite simple to anticipate- unsatisfactory! Therefore, it ends up becoming a nightmare as the product would not yield the same features or have the same productivity if you compromise on the cost. Look for cost-effective ways but don't degrade on the quality aspect while doing so.
The Various Cost Impacting Things To Keep In Mind
Diving right in is not such a great idea. Therefore, before you begin developing, it is better to analyse and predict the different costs that you are going to incur while developing your SaaS product.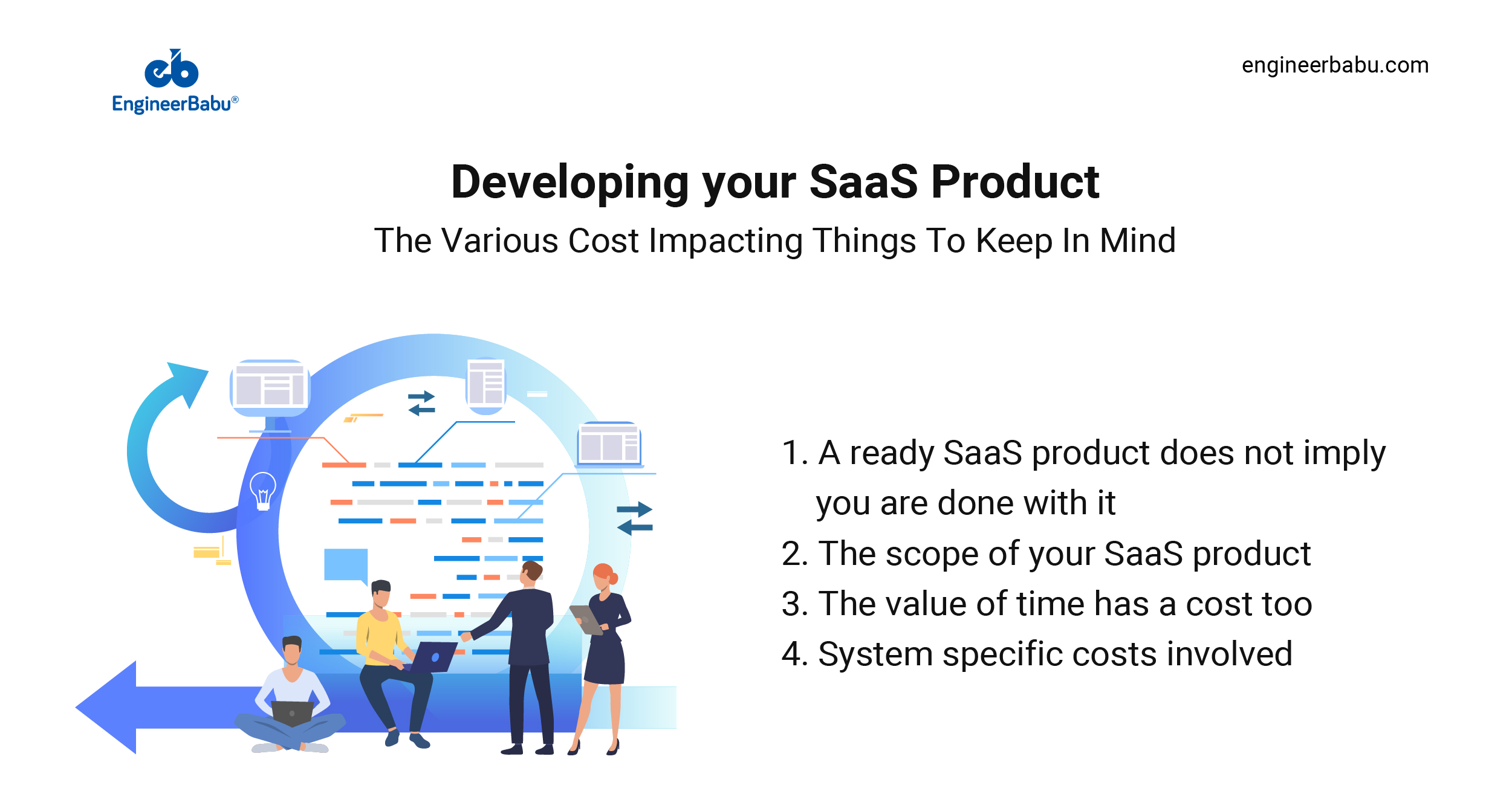 1. A ready SaaS product does not imply you are done with it
The foremost thing to remember is that once you have developed your SaaS product, your job does not end there. The product is going to need some maintenance too. Or at least regular checks to ensure that it is working perfectly fine and delivering the results it is supposed to. Here are the things that are going to cost you for maintaining your SaaS product:
A phone line:

A small team of knowledgeable executives is necessary to handle the customers' aspect. Also, you will need a network within the office where the SaaS product is being used.

Hosting service provider:

The application is going to require a hosting service to support its functionalities.

Insurance cover:

Especially for grand products, insurance cover is essential to protect yourself from certain obstructions.

Software costs:

Specialised software are essential for building quality SaaS products. The costs of this software are one of the vital things to consider.

Ongoing development procedures:

Every industrial product needs regular development. This is because there are changing trends and updates which need to be incorporated periodically.

The working staff:

Simply building a product is not the only thing. You need the right team to develop the features and then appropriate staff to handle the working of it too.
2. The scope of your SaaS product
Here's another crucial factor that you need to consider- what is going to be the scope of the product you develop? Is it going to be a tool or a platform? Determination of the system is one of the initial steps as all the further steps of development are dependent on it. Tools are fit for the type of products that need only limited scope, that is, one or two functionalities only. Platforms, on the other hand, are a more comprehensive approach and require more capital. 
To make it cost-effective, it is always better to initially go with a 'Minimum Viable Product' or MVP. Later on, after developing a base product that can function and get you some capital, you can utilise it to enhance the developed product.
Also Read: 6 Reasons Why WordPress Is Best For Your Business Website (#5 is most important)
3. The value of time has a cost too
There is no denying that time is money. There are going to be costs for the amount of time that is spent on building the SaaS product also. Here are a few things to consider in this aspect:
Validation:

This process is a series of activities that take around 10-50 hours. This involves finding the right clients, looking for potential competitors, managing customers, etc.

Planning:

The projects that are planned well turn out to be better in functionality. Therefore, spending more time on planning to ensure quality and precision is better. This would take 30-200 hours, depending on the scope of the product.

UX design:

Working on the aesthetics to create a stellar design attractive for the buyers of the SaaS product is essential. This takes about 25-200 hours.

Project management:

Managing the different phases of the development is as essential as the development of it. This takes about 20 percent of the time.
Each of these activities needs to be accounted for when calculating the costs of building the SaaS product.
4. System specific costs involved
Here are a few system-specific factors essential for consideration while determining the costs of building the SaaS product:
Coding and development:

This is one of the most cost-consuming parts of developing a SaaS product. This is the part where the actual creation and implementation of the product is carried out.

Building tests:

A testing system needs to be built to check if the developed product is working fine in different conditions and delivering the desired results.
Alpha and Beta tests:

Alpha and Beta testing is also a critical step. This helps you in getting the required feedback from potential customers as to how they find the product. Their feedback can be valued and implemented to deliver a better product.

Release and marketing:

Marketing the release of the final SaaS product is amongst the final steps in the development that needs proper attention.
All these system-specific tasks are costly and vital at the same time. Therefore, they can't be neglected.
---
The Dilemma: Hiring Freelancers vs Development Agency For Your SaaS Product
This is the final thing to look into while developing a SaaS product. It is essential to know if you would be hiring a freelancer for developing your product or an agency. For instance, a freelancer developer in the US charges around $60 per hour for the job. Thus, approximately, it might cost you around $30,000 to build a fully-functional and valuable SaaS product.
An agency, on the other hand, will charge more as there are more employees involved. Estimating all the costs, they will charge around $100,000 for the final product. This would be a better pick if you need something extensive and have a big picture in mind.
The cost of the final SaaS product is going to depend on a multitude of factors, and each of these factors might cost different businessmen differently. Therefore, sit with an expert, think and analyse the requirements for your business and make the most cost-effective pick.
To Sum Up…
For the development of SaaS product or service, there are 3 most crucial resources: time, money and energy. SaaS software or products are sure to witness a rise in the coming years.
Today, there exist various tools and applications for the efficient project management of your development process overseas. For instance: with Skype, Google Hangouts, Jira and various others, you can manage the offshore development of your SaaS product.
EngineerBabu integrates tools like Everhour, DeskTime, Basecamp, Time Doctor, Skype and Whatsapp Web for efficient communication. By dividing the tasks into meaningful and easy to achieve goals for our team members, we've provided our overseas development services to a number of clients. You can check out our detailed portfolio here.
Do you happen to have an amazing idea? Share it with us and get the development process started. You can also drop an email to us at [email protected]. Don't like waiting? 
Also Read: