Building SaaS products with the help of Remote Workers
When you start a business, there are a number of things one has to take care of.
Handling the processes, observing them, initiating new processes, bringing new ideas to the table and what not!  In times like these, an extra hand can be your knight in shining armor. 
Outsourcing can be that extra help for you.
With almost one out of two companies in the US outsourcing one function or the other, the global outsourcing market has risen by ten-folds since 2015. This simply means that outsourcing works. The question of concern is what exactly should and can a business outsource to kick-off big?
Factors to examine before you outsource SaaS products development
 One Metric Which Matters (OMWM)
In case of most SaaS companies, prevalent OMWMs are SLAs, uptime, recency of usage, the relevancy of features, amongst many others. The point of identifying your OMWM is straight-forward, you will never outsource any tasks that contribute to this metric.
Understand your skillset, and manage time to apply those skills
In the words of a renowned founder, "it depends on your expertise. The stuff you don't like or aren't good at, are the things you should outsource usually". If you are a developer, outsource functions which don't directly affect the development process. The point here is, the things you aren't good at, or don't like, are the things that will affect the efficiency of your business as a whole. As opposed to which, when you outsource such functions, you can concentrate on what you're great at, while ensuring the other functions are still getting the expert attention they deserve.
 Identify low ROI pieces of your current team
Not all teams are created equal. Some work well, while others struggle to drive results and productivity. An important factor that should be kept in mind is to not necessarily outsource anything which you can augment. Recognize the strengths and weaknesses of your resources, and utilize them to guide your decision that will skyrocket your output.
Recommended Reading: Cost to Build a SaaS Product
Most Commonly Outsourced Functions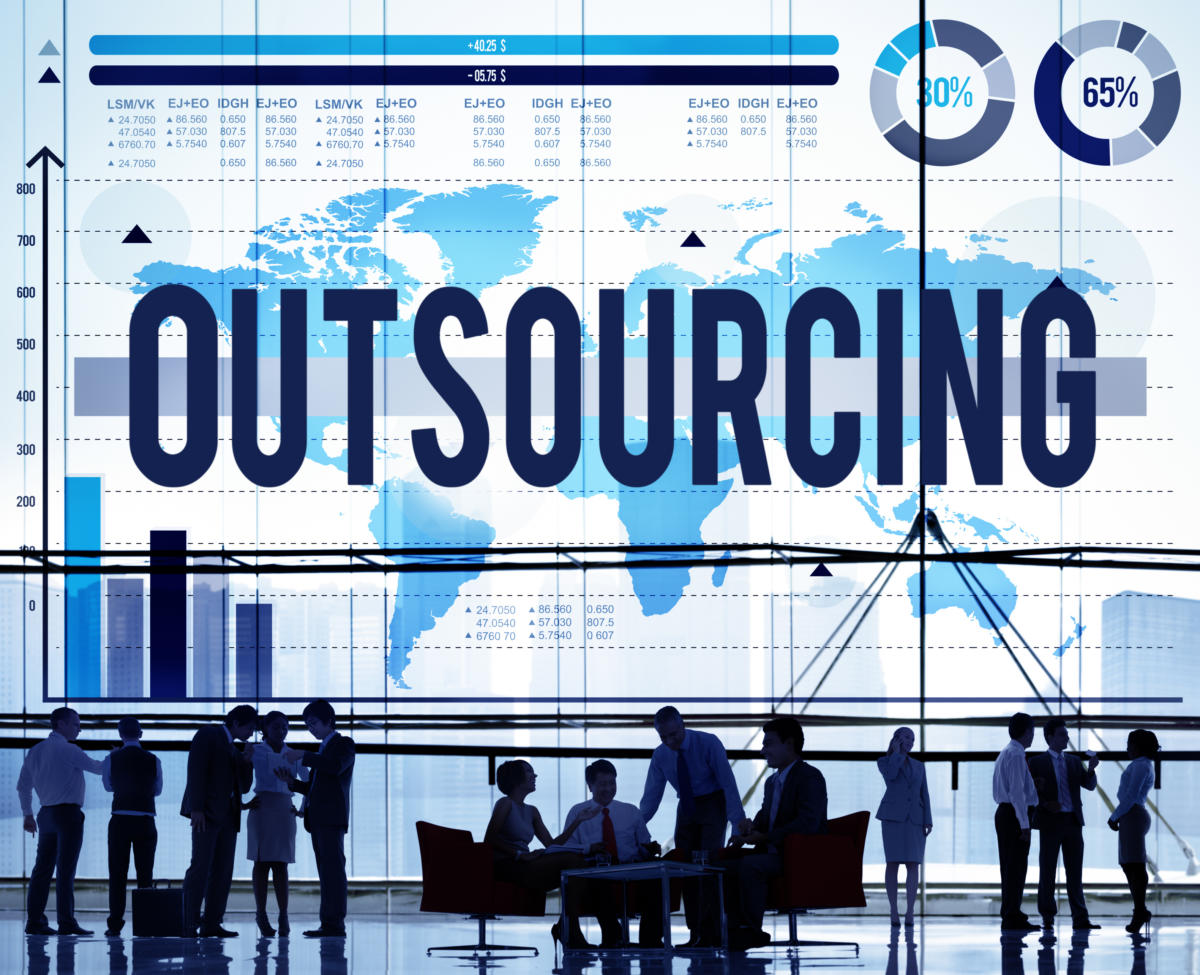 Even when the guidelines have been laid out, making critical business decisions is never a cake-walk. In marketing, social proof is regarded as a great motivator for making purchase decisions. The same principle can be applied to determine which role of your business you need to outsource. Let us look at some of the regularly outsourced functions among successful SaaS companies, and make an informed decision,
 Bookkeeping and Accounting
While accounting is unquestionably not something you can neglect, nevertheless,  it isn't generally a business function that contributes to your bottom line. 
All such factors make accounting the perfect suitor for testing the waters of outsourcing.
In most cases, outsourcing accounts have actually brought in positive ROIs. In fact, statistics reveal businesses that outsourced accounting observed a 3x return on investment.  
Even if that is the absolute best-case scenario, outsourcing your bookkeeping will at least ensure you never run into tax troubles and can concentrate on the core competencies of your business.
Branding and Business Strategy
While many founders and business coaches swear by keeping the core business strategy and innovation in house, there is no reason that it should not be outsourced. 
Speaking of the difficulties that you may have to face, finding the right team to turn your company into a brand can be a headache. Even if your vision is crystal clear, the outsourcing company could still have some doubts.
This problem can be effectively addressed by working with a company that offers it on a regular basis. It will be relatively easier for such companies to realize your vision. 
While integral to effective marketing, creating content and graphics is time-consuming and if you're not used to it, the task can be arduous. Add to that the frustration one may experience if the content/graphics don't drive the kind of results you had imagined.
In such scenarios, it's always best to hire managers and outsource the high volume workload (the actual design and copywriting). Your content manager will always have an exclusively aligned mission with you. They'll brainstorm and come up with fresh ideas inspired by your directions.
Another consideration here is that all the reasons that make creating designs and content in-house a challenge are also the reasons which will make finding the right content provider/designer(s) a challenge. Hence, it is best to stay off Fiverr and work with an agency. To drive the best outcomes, it is advisable to work with a few designers/writers and find the one whose style resonates with your goals and stick with them.
Networking, whether it is for link-building or for prospecting, is a critical factor when it comes to attaining success online. Although, with your inboxes being bombarded with thousands of work emails, outreach can become quite challenging and time-consuming. Certainly, email marketing SaaS products are efficient, but even they require a dedicated and proactive resource if you wish to drive quantifiable outcomes. No wonder, outsourcing your outreach operations will add to your breath of relief.
Just like outreach, Search Engine Optimization is a complex undertaking that requires time and patience to show results. When marketing is not a part of the solution you are providing as a business, it is best to let the pros take care of it. As mentioned earlier, you can still maintain absolute control over the sales. It's just the lead generation and prospecting tasks like SEO, email marketing, and inside sales that are to be effectively outsourced for improved efficiency and output.
This one is a bit obvious. Legal matters demand specialized qualifications and knowledge and errors in legal matters can prove to be expensive (to say the least). For this reason, it is best to leave your legal and compliance matters to someone that knows the law inside out (A.K.A., a lawyer).
These tasks might pose an unexpected challenge to some. In fact, challenges related to hiring are the reason many businesses start considering outsourcing. While no HR firm can assist in building a vibrant and positive company culture, they can assuredly aid you to find capable employees that subsequently will contribute to a positive & vibrant culture. The rest relies on you and how you prepare and train your team to heighten productivity and employee satisfaction.
Now, What Not to Outsource?
With consultants and incubation centers gaining traction, many business functions that were traditionally kept in-house, such as,  accounting and business strategy are now being effectively outsourced to accelerate success. But, then you must realize where to draw the line. Obviously, no business can outsource all of its functions. And before you decide what to outsource, it's better to know what not to.
While outsourcing sales can be highly beneficial in some industries, the case of SaaS products is different. Unlike generic products, most SaaS products require a well-trained salesman that thoroughly knows the ins and outs of the product. This, nonetheless, does not mean that you will have to start cold-calling prospects. Instead, one can start by outsourcing the part of prospecting and lead generation, whereas close the final sales in-house. This way, you can harness the benefits of outsourcing the most tiresome part of the sales process.
Just like sales, while outsourcing support may work for bigger brands, it is not a good strategy for growing SaaS businesses. The reasons are quite a few, firstly, when you possess complete control of the support staff, it is easier to concentrate on other vital business functions, such as building fortified and personalized relationships with customers. Moreover, an in-house customer service representative will be backed by your product knowledge and may prove to be more effective at resolving customer queries than an outsourced resource. Besides, once you associate with your users directly, you are not only helping them, but also collecting relevant feedback.
Recommended Reading: Build a SaaS Product by Outsourcing
Second, Utilizing AI can effectively minimize customer queries. You can take this a step further by instead of investing in an external support team, invest in instructional videos that facilitates customers to make the most of your product. A crucial benefit of this is that these videos would stay relevant regardless of the magnitude of your growth, and therefore, are a one-time investment with potential lifetime returns.
To sum up, it's good to keep customer interactions in-house. Your customers are the reason behind your success so far, and it is a clever move to keep them in proximity.
Benefits of Outsourcing SaaS products
 Outsourcing lowers overheads
SaaS companies often launch with limited budgets and resources, which can make developing their minimum viable product (MVP) a significant challenge. By collaborating with an outsourcing firm, businesses can create a minimum viable product without consuming their entire budgets, or decreasing their features to the point where the incentive for customers drops.
A prime model of a SaaS company that outsourced its app and web development activities to begin testing its MVP is Slack. Outsourcing enabled the company to roll out a prototype and test its collaboration software without posing significant financial risks. The strategy obviously paid-off as the company now boasts millions of users around the world with a current valuation of almost $10 billion.
Effective and Efficient development process
Hiring new talent in-house can be a costly and sluggish process. Moreover, it can take even longer to build up a team that colludes well together. A significant benefit of opting for an outsourcing partner during the development process of SaaS products is access to an array of technical expertise.
Rather than hiring a team of in-house developers, which costs a lot of time and money is to opt for a partner. The outsourcing partner can take on specific aspects of the project, such as product management, UX/UI design, testing, and cross-platform development.
Try and pick a team that has already worked on SaaS products or services similar to yours. Someone who has taken on similar SaaS projects and can lead the process with helpful advice every step of the way. For instance, the outsourced team can assist with decisions about important SaaS features, such as chatbot integrations and payment systems. They can also contribute directly to the aspects of the site or software that can be created with existing technology and which aspects need to be designed from scratch.
  It helps you tackle market demands faster
The ability to adapt and scale promptly is crucial for SaaS businesses. According to a McKinsey report – If a software company grows by a factor of 20 percent per year, then there is a 92 percent probability that it will cease to exist in the future. Even if a software company expands by 60 percent every year, the probability of it surpassing 1 billion in revenue is still only 50 percent.
Continuous ramifications are critical for SaaS companies because the market demands them. Not to mention, SaaS companies must constantly develop and deploy new extensions to compete with the plethora of new players entering the market. 
Outsourcing provides affordable talent
Not only is it time-consuming and expensive for SaaS companies to recruit in-house, but also increasingly complex to secure competent programmers that possess the relevant skillset and technical know-how necessary to fulfill the ever-changing technology requirements.
From security and compliance demands, to data management and automation, SaaS team members must be able to manage a variety of responsibilities, many of which may fall outside of their job role. 
Most importantly, when team members are stretched too thin for too long, it hurts the company's bottom-line productivity levels thereby affecting morale. Working with a faithful and reliable outsourcing partner allows SaaS businesses to fill key roles with the fitting talent. Not to mention, it can help keep existing employees content and minimize employee attrition.
In addition, with the help of an outsourcing development team, companies can also design extra features and extend their services, considering hourly rates are lower. Outsourcing development in the U.S. can cost anywhere between $50 to $150 per hour, while outsourcing to developers in India can cost between $10 to $25 per hour.
Concluding View
To sum it all up, while outsourcing can definitely be a big decision. It is also the one that can transform the entire graph of your business. However, due diligence is required to ensure your decision doesn't backfire.
Outsourcing services like development, customer service, and HR typically reduce a significant amount of overhead which would've cost significantly higher if performed in-house. Typically, outsourcing services diminishes the expense by a factor of 10x, consequently increasing margins and profit. Countries in the west, especially India, serve as reliable outsourcing partners considering the vast number of young talent they possess. 
EngineerBabu offers the process, tools, and culture perfectly in place to manage such services efficiently. Having collaborated with 100+ companies in the domain, we carry solid domain expertise in effectively undertaking the development process. Feel free to for a complimentary consultation, our team would be glad to assist you.