KFC- A name that has marked its presence in the heart of hundreds and thousands of Chicken lovers doesn't need to be explained time and again. Even, if you do not have a love for chicken, the inspirational story of Colonel Harland Sanders will beg you to read more about him.
Who is Colonel Harland Sanders?
This story is about a man who has been an excellent example of persistence, commitment, and determination. His life is a better example worth noticing.
Colonel Sander is a well- known figure who did great marketing of Kentucky Fried Chicken's "finger lickin' good."
One could easily recognize him by the personality that he carried. His persona was well-built with his French white beard, shiny white hair, and black string tie with a walking cane.
Let us know some of the amazing facts about Colonel Sander's life that will make you eager to find out more about him.
Sanders held a number of jobs in his early life, for example: steam engine stoker, insurance salesman and filling station operator. It's believed that he began selling fried chicken from his roadside restaurant located in North Corbin, Kentucky, during the Great Depression.
From there on, he recognized the potential of the restaurant franchising concept, and the first KFC franchise was opened in Utah in 1952.
In 1964, Sanders sold the company to a group of investors.
In 1973, Sanders sued Heublein Inc.—the then parent company of Kentucky Fried Chicken—over the alleged misuse of his image in promoting products he had not helped to develop.
In 1975, Heublein Inc. unsuccessfully sued Sanders for libel after he publicly labelled their gravy as "wallpaper paste" to which "sludge" was added.
Sanders and his wife reopened their Shelbyville restaurant as "Claudia Sanders, The Colonel's Lady" and served KFC-style chicken there as part of a full-service dinner menu. He was sued for it.
After reaching a settlement with Heublein, he sold the Colonel's Lady restaurant, and it has continued to operate since then (currently named as the "Claudia Sanders Dinner House").
Sanders later used his stock holdings to create the Colonel Harland Sanders Trust and Colonel Harland Sanders Charitable Organization.
His trusts continue to donate money to groups like the Trillium Health Care Centre.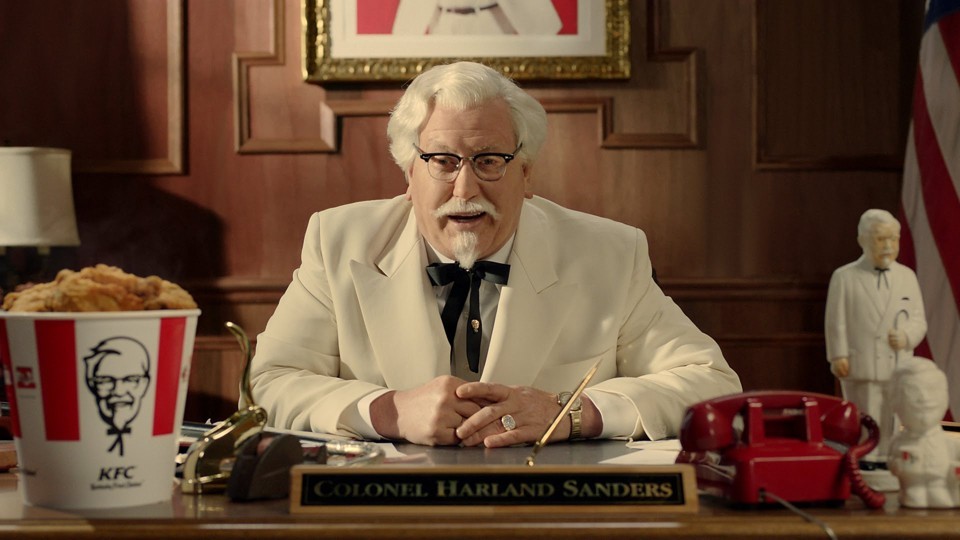 Some more facts about Colonel Harland Sanders:
After running a restaurant for several years, he found himself bankrupt. That time, he retired from the services and got his first social security cheque of 105 dollars. And this was the turning point in his life and beginning of his worldwide fame. The financial success story too started from here.
Colonel Sanders loved to share his fried chicken recipe with almost anyone. The people who tasted the chicken used to fall in love with it because of which he was much inspired. Now as the Colonel was retired and up in age, he decided to sell the world on his newfangled chicken recipe.
With little at his disposal, Sanders traveled door to door all over the local area nearby. He even went to restaurants. To promote his chicken recipe he wanted to partner with someone who could help him.
To make it a reality, at that age, he started traveling by car to diverse restaurants and cooked his fried chicken for restaurant owners. On the spot, the chicken lovers used to taste it. If the restaurant owners use to like the chicken, they would make a deal and enter into an agreement to sell his chicken.
For each piece of chicken sold, Sanders would receive a nickel from the restaurant. And to avoid them knowing the recipe the restaurant would receive packets of Colonel's secret herbs and spices.
By 1964, Colonel Sanders had 600 franchises selling his trademark chicken. At that time, he sold his company for $2 million dollars remaining as a spokesperson.
In 1976, Colonel Sanders became the world's second most recognizable celebrity.
He's not a military colonel. In fact, he was a Kentucky colonel, a title of honor awarded by the state of Kentucky.
Sander was the same man who heard 1009 times "No" before a first "yes" in his life.
Most people retire at the age of 65, but Colonel_Sanders was the man who did all the hard work to fulfill his dream. What we learn from him is "Success doesn't wait for your age." You can fulfill your dream at any point of time in your life.
Just believe in yourself, your dream and work hard towards it regardless of your age!