What comes to your mind when you hear the term "Freelancing"? In the first place, easy work done with the help of internet, smartphone, and laptop may hit your mind. It acts as a tool looking at the utility belt of a 21st-century freelancer. In fact, digitalization has empowered the world of freelancing, and all of us are overwhelmed by the services that it provides.
There are a lot of definitions swaying in the internet giant Google. But, without wasting much time let's now focus in the freelancing world.
History of Freelancing
Sir Walter Scott coined the word "freelancer" in Ivanhoe. Nevertheless, the history of freelancing in its present scenario dates back to the 70s of the last century in the US (United States).
The term freelance appeared with the hard work done by Jack Nilles and Frank Schiff. And, the term "telecommuting" was coined by Jack Nilles. After some time, Frank Schiff acquainted us with another term – "flexiplace."
Gil Gordon and David Fleming should not go unmentioned as they are the masterminds who gave their best to promote remote work.
What is freelancing?
Following the lively history of freelancing, the present term 'freelance' denotes to an individual who works for various companies at different times rather than permanently working in one single company.
While many experts are still roughly familiar with the concept of freelancing, the repetition is far from new.
The Beginning of Freelance
As we know that the first recognised mention of the term appeared in Ivanhoe, the historical novel by Sir Walter Scott. It was printed in 1820 and set in 12th century England.
The first disparity, freelance, referred to a hired Lance (soldier) who was eager to fight on the side of the highest bidder. So, you noticed that even historically, a freelancer or a freelancer professional was an entrepreneur to some extent who used to offer their skills for monetary compensation.
In 1930 writing, with the hyphenated spelling, in P.G. Wodehouse's The Inferiority Complex of Old Sippy, the reference can be found again. The hyphen vanishes with the course of time and the term gets recognised as freelance all over the world, as it remains today.
Why should You Go Freelance?
Freelancers today are frequently hired by businesses of all types and sizes. Working with them is easier than ever before. All credit goes to the development of freelance networks.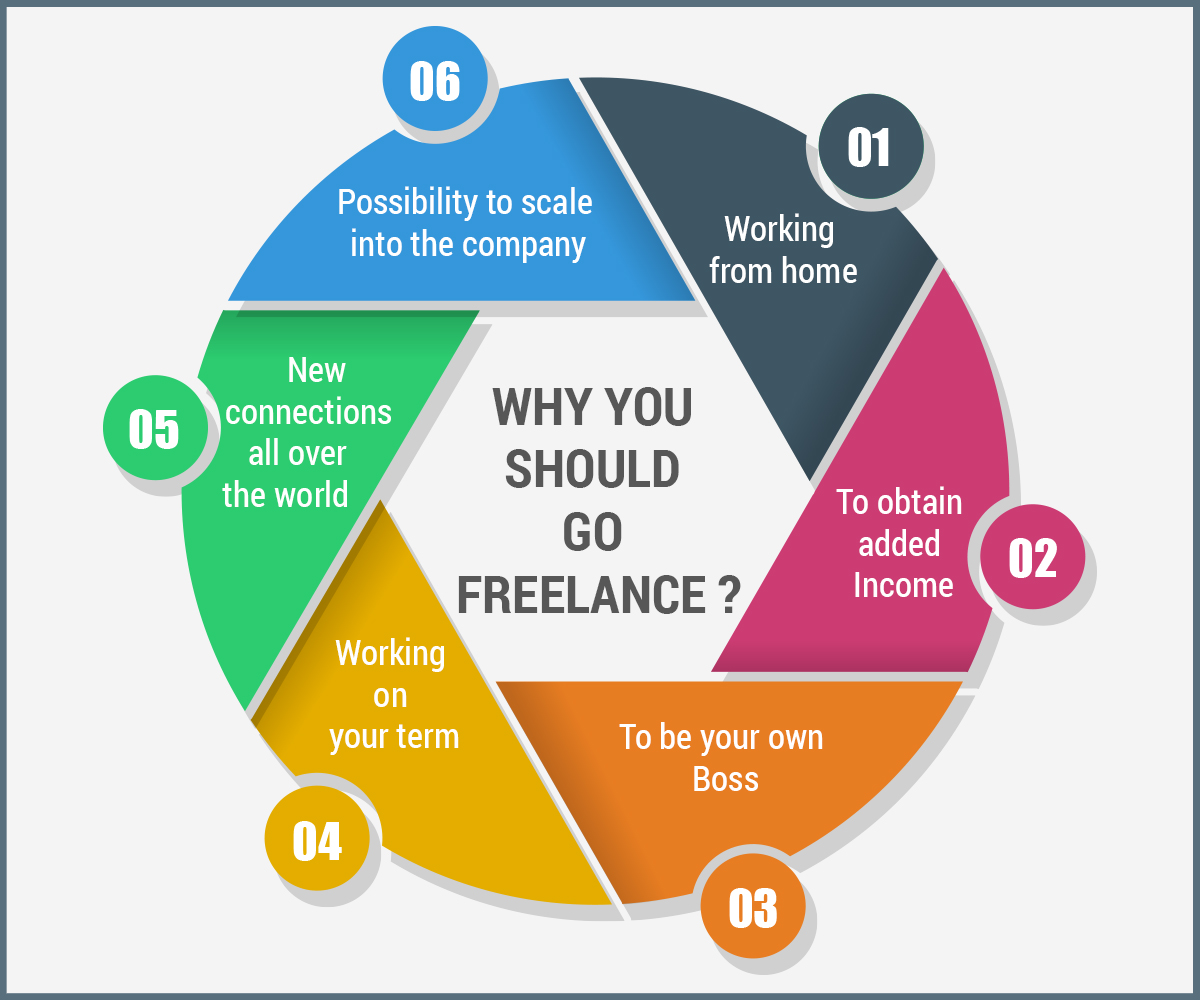 If you haven't tried freelancing till now, get out of your comfort zone and join the freelancer's movement.
Know why freelancing is worth it:
Working from home
Top obtain added income
To be your boss
Working on your term
New connection all over the world
Possibility to scale into the company
Work for various clients and develop new skills
Gain expertise in building a partner network
Types of freelancers-
Virtual Assistants
If you're struggling to keep up with the organisational tasks of your business – scheduling meetings, responding to inquiry emails, taking phone calls from your website – hire a virtual assistant through freelancer sites or take help of specialised agencies that will help you to meet your desired Virtual Assistant.
Accountants
When you can manage your business with a simple in-and-out spreadsheet, it makes your taxes simple. And when you start working with freelancers, employees and handling complex tasks such as invoicing terms hiring an accountant is a good idea.
Content Writers
Writing is not easy as it seems. Drafting the text for a website is more complicated than it feels. Crafting concise, SEO friendly content that reaches your target audience and the market isn't as easy as it looks. Thus, hire content writers who can take this piece of your plate.
From there, you can put them into work by crafting blog articles and email newsletters that will help you to grow your business
Social Media Experts
Your social media experts aren't just accountable for posting emojis on your social media accounts, but also are equally answerable for analysing the response, determining what is boosting the traffic, what is not helping you, and responding to clients in real time. So, don't compare them with content writers. Each one of them is helpful to boost your business.
IT Professionals
If you're into a business that takes credit card information or collects personal identity information, it is definite that you need to maintain specific standards of storage. To meet state and federal requirements and prevent hacks, it is necessary as well.
If this is all overwhelming to you, consider hiring an IT freelancer.
Freelancer score by country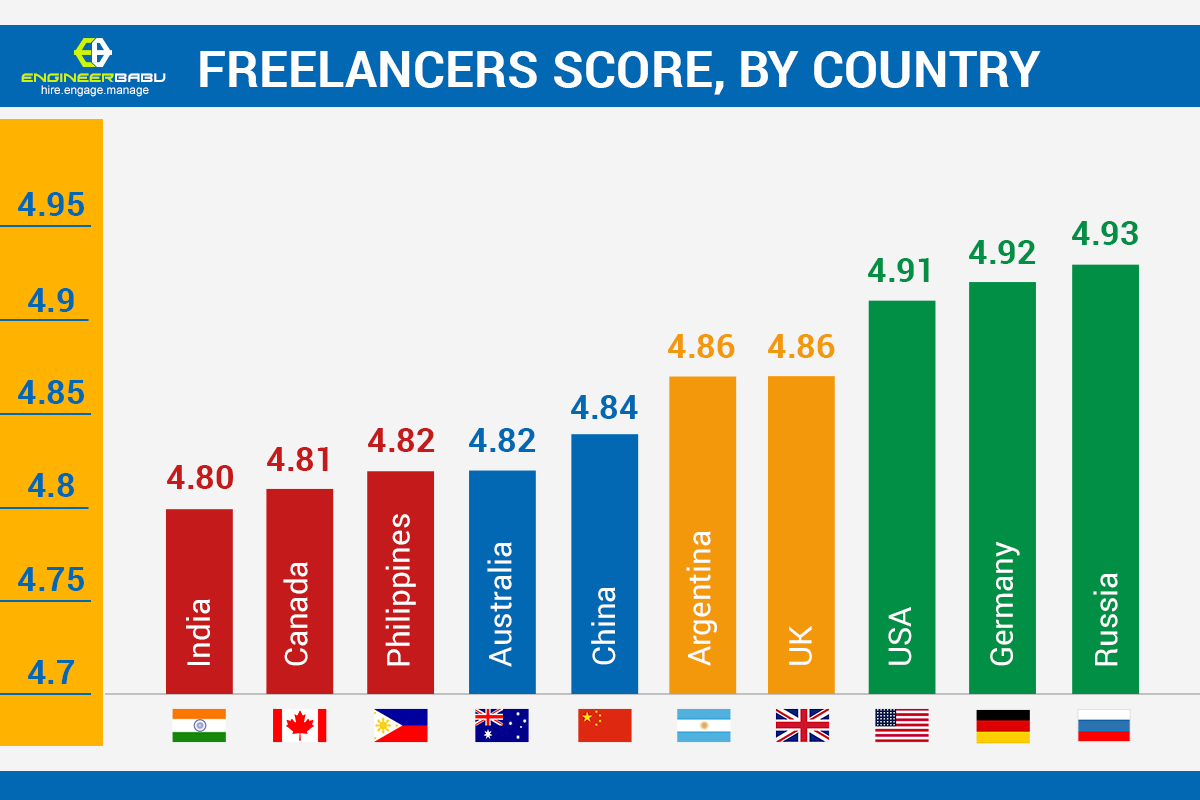 Be it India, USA, UK, Canada, Philippines, Australia, China, Argentina, Germany or Russia – every country scores differently when it comes to freelancing.
When we talk about India, Paypal and Payoneer act as the financial backbones of freelancers. India is a country filled with freelancers. A Huge amount of work is outsourced from India only.
Nevertheless, with the (RBI) Reserve Bank of India imposing significant limitations to Paypal and banning Payoneer from doing business in India, young Indian freelancing community is vanishing slowly.
The total number of freelancers in the USA is inexact.
Likewise, the total number of freelancers in the UK is also inaccurate; though the figures from the Office for National Statistics show that people working from home rose from 9.2% in 2001 to 10.7% in 2011.
According to the 2012 Freelance Industry Report, more than 71% of freelancers are women between the ages of 30 and 50.
Freelance Today
While there are various definitions for freelancing, Cambridge defines it as follows:
"Doing particular pieces of work for different organisations, rather than working all the time for a single organisation."
Oxford definition: "Self-employed and hired to work for different companies on particular assignments."
No matter the label, freelancing is scattering inside all segments as an international movement.
"Freelancing" has also become identical as working remotely. (If you don't want to work "from home" replace home with a co-working space)
Now freelancers can enjoy the company of other self-employed professionals without a boss in co-working spaces.
We at EngineerBabu handle the freelance process entirely by creating a customised team from a pool of pre-qualified freelance agents for each client project. A single project manager is responsible for managing the customer's project from idea to execution through completion.
Banding together professional freelance agents that are local is a huge benefit.
We offer excellent service to our clients, save their time, money by allowing creative experts to cooperate as often as required.
Read an Interesting Article we Published today