Productivity Lessons
How can you enhance productivity?
I am a shy person, and I choose my words very carefully. Over the time, I realize it's better to ask when you need something.
The irony of life, people don't ask they hesitate.
How do I do?
A) Asking for Payment
It's hard to ask for money, and it's harder when the project is not complete. How I did and same you can.
"Dear,
I can understand the project is not in the state to ask for so and so but Due to this (Give honest reason) I expect this and this, Would it be possible for you? "

He replied, "Yes in a week time."

You can simply write.
Dear John
I can understand, no one like unplanned expenses that's why I asked from a friend, not from Business Associate 🙂 . I will appreciate if you can manage this time but please don't push yourself.
Whether you can make it or not, you will always receive best services that you deserve.
Regards
Your friend at EngineerBabu
Mayank Pratap.
———————————————————————–
2. Want to say sorry
Don't say, "I am sorry for whatever inconvenience caused to you. What the f..ck", Are you talking to a computer! No, NO! There is a real person who is reading your email or reply. You both know the problem and why it happen?
Say sorry for "X reason, and promise this won't happen again, It's simple.
No one like plastic flowers, people want real. People want an honest reply, straight from the heart not from a grammar book. It's feeling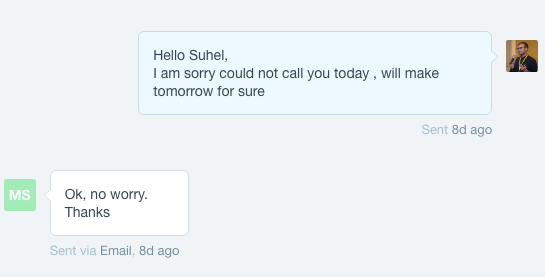 All the emails we sent like newsletter, intro, funding, sales could be shortened Example;
Here I am, here is my company, here what we did, etc. The long email is useful when you already know people, and you need to share any complex thought or detailed summary. When you are writing to new people, it's better to write short and to the point.
No one wants to read 2-3 paragraph emails, that's why people hardly got a reply on Linkedin sales letters. To increase productivity write as a small message.
Most useful email I ever got : Productivity Tips
"Hey Mayank, Love what you in EngineerBabu, Would you connect me with someone because of I am trying to reach him for so and so reason."
Or
this app is perfect for your sales automation or HR, could you please make an intro to concern person.
———————————————————————————————————————–
As COO of EngineerBabu, there's nothing that keeps me up at night more than thinking about how we can make a better product for you. But one of the most important lessons we've learned over the years is that what WE think is best for the product doesn't matter. What matters most is the challenges our people – that's you – are facing, and how we can better solve them.
We've always worked hard to get to know our people, but I want to go deeper than we ever had before. I want to hear about your experience with EngineerBabu. What you like. What you love. What you hate. What you want us to fix or improve.
If you are willing to give me 10-15 minutes of your time, it would mean a lot to me. And you'll get to be a big part of helping us make EngineerBabu the best company it can possibly be.
If you're interested, just comment on this message or leave reviews.
We're incredibly grateful for your trust, and we'll continue to work tirelessly keep it.
I personally read and reply to all the comments over here and social media.

If you like the post, I'd really appreciate a share.
and remember… Practice makes man perfect & women also 😀
Regards
Mayank Pratap
Your Friend at EngineerBabu.
You may also read 21 Learnings of my life