Magnificent MP 2019 Investors' Summit is all set to go live in the Indore city on 18 October 2019 at the Brilliant Convention Center. The event is supposed to attract angel investors in India and would be inaugurated by the CM of Madhya Pradesh- Kamal Nath. The MP government has been actively engaging with industry giants to explore the massive untapped potential of the state. It's an exhibition showcasing the strengths of Madhya Pradesh along with an investors' summit.
The summit will bring out unprecedented waves of industrial development and socio-economic inclusion! Earlier it was supposed to last for 3 days, but now it has been reduced to just one. Now, Magnificent MP Investors' Summit 2019 will be held on 18 October 2019. It's an exclusive platform for industries and countries to showcase their capabilities and achievements through a 'Global Trade Exhibition'.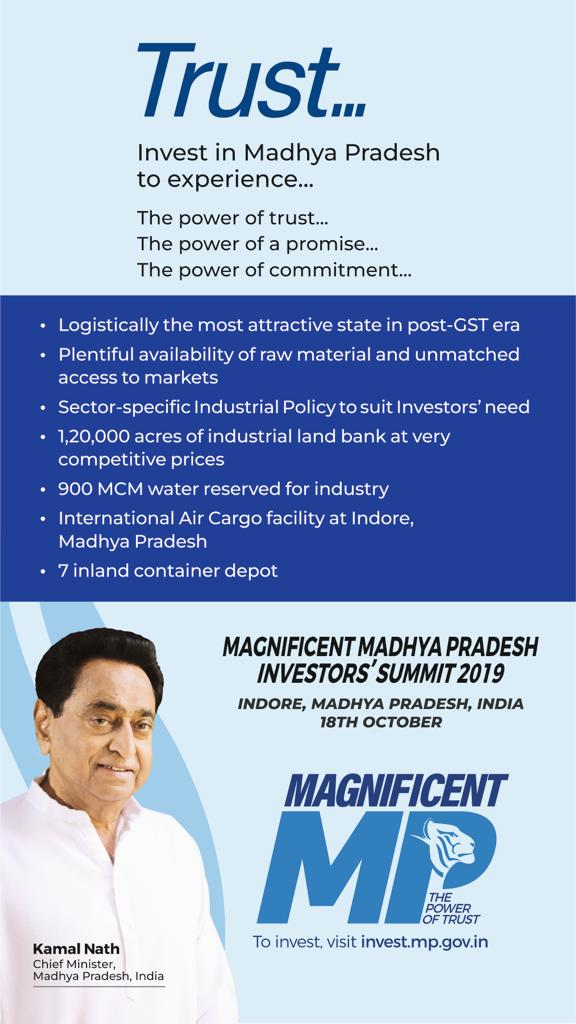 The event has been a flagship biennial business summit of the Madhya Pradesh government since 2007. It also goes by the name "Global Investors Summit". In the last summit organised in 2016, a whopping 2630 investments worth ₹5.63 Trillion were proposed! The government is really positive about this year's event being even more successful.
Let's take a look at the Magnificent MP Investors' Summit 2019 in detail:
An Ideal Platform For Key Stakeholders:
---
At the summit, industrialists will be interacting amongst the people on industry scenarios and technology advancements across 15 focused sectors. A complete gamut of sectors including Agriculture & Food Processing, Automobile & Engineering, Information Technology and ESDM, Pharmaceuticals, Healthcare, Logistics, Tourism, amongst others would be present at the event.

Notably, CM of Madhya Pradesh, Mr. Kamal Nath will be inaugurating the program. Some of the leading industrialists of India including Mukesh Ambani, Anand Mahindra, Kumar Mangalam Birla and Gautam Adani are amongst the invited guests. This exhibition provides a forum to promote the initiative 'Make in Madhya Pradesh'.
Massive Opportunities for Madhya Pradesh:
---
According to a statement released by the Madhya Pradesh Congress Committee, there has been a capital inflow of approximately Rs 30,000 crore in the Indore-Pithampur region. "The forward development-oriented measures taken by the state government are resulting in an atmosphere for investment." -media in-charge Shobha Ojha tells us. Also, she claims that the Magnificent Madhya Pradesh 2019 Summit shall be a historic success.
Numerous prestigious magnates are among the invitees. This centrally-located state is ideal for outlay as it boasts a road network of 2.3 lakh km, quality transport including air cargo facilities besides sharing borders with five states."
The state of Madhya Pradesh is a host to excellent opportunities for financing in agriculture and food-processing. It is because of the fact that the state tops in orange, tomato and garlic cultivation besides leading in milk production.
Special Focus on Key Areas-
The state government has focused special attention on investors in the medical sector in Madhya Pradesh. As per reports, big investors from the USA and Europe have also shown interest in this regard. To create a special identity, the government will hand over the investors of this region. Hence, it's an opportunity for big hospitals to open up in Bhopal, Indore and other cities of the state.
Also Read: Top 10 Healthcare Companies in the US
According to the Finance Minister Tarun Bhanot, during his recent stay in America, there had been a preliminary discussion with many investors in the region. Many of these investors have shown interest in the medical sector and especially in MP, so it is more likely that more people will be coming from this area. The government's effort is that after this investment, MP will emerge as a "hub" of medical tourism. People from all over the world would be coming here for treatment because the cost of medical treatment in America-Europe is very expensive.
Apart from this, the government has also placed a condition of giving 70% employment to the regional youth in the "agreement" with investors. This will increase employment opportunities in the state of Madhya Pradesh. It has been decided that only those industrialists would be invited who are committed to bringing investment in MP. The government has also assured to provide all possible facilities and infrastructure to such business investors.
---
The Preparations for Magnificent MP Investors' Summit 2019:
The Global Trade Exhibition 2019 will have a 77,500 sq. ft. of exhibition area. It will have a dedicated space for industries promoting the latest technologies such as Artificial Intelligence, IoT, Robotics, Mobility, etc. People can participate in the 'Global Trade Exhibition 2019' to showcase what their companies have achieved. This includes– design, products, services and other technological advancements.
Indore International Airport is going to be decorated along the route leading to the city. As told by the Divisional Commissioner of Indore, a liaison officer and security officer would be appointed for each guest industrialist. Also, Municipal Corporation will ensure proper signage, street lights and repair the roads at all the major places.
Subsequently, an information desk will be set up at the Devi Ahilya Bai Holkar Airport. This is to give guests a glimpse of tourist places in and around the commercial capital of the state. Herewith, we are attaching information about food, travel, opportunities and leisure while you stay in the city.
---
Introducing you to the Commercial Capital Indore:
The largest and most populous city in Madhya Pradesh is located on the banks of Khan and Saraswati rivers. Certainly, Indore is a historical city. However, it's a busy commercial one housing several industries- automobile, IT, textile and many others!
Travelling to Indore and travelling within Indore:
Being a tourism and commercial hub, Indore offers excellent road, rail and air connectivity with the rest of the country. Also, Indore has become a host to MP's first International Airport. Here, you will find regular bus service available from cities like Aurangabad, Ahmedabad, Mumbai, Ujjain, Bhopal, Sanchi, and Gwalior, to name a few. In addition to that, direct trains from metropolitan cities like Delhi, Mumbai, Kolkata and Hyderabad have contributed to the growth of trade and tourism in Indore.
The city has iBus connectivity for local transport. Also, there's Ola, Uber and Jugnoo.
Luxury Hotels & Lip-smacking Street Food:
Did you know Indore has multiple 5-star hotels? The list includes Sayaji Hotel, Indore Marriott, Hotel WOW and Radisson Blu. Also, the venue for the event, Brilliant Convention Centre is a 5-star property.
Indore has abundant delicious street food that makes it stand out in the state. You might've heard about the Indori Poha and Imarti. But that's not all folks!
For instance, there are many successful food outlet franchises that started in Indore and have several branches in different parts of the city/state. Check out Chai Kaapi, Chai Sutta Bar and the most-ordered dish on Uber Eats in all of Asia Pacific- Forbes mentioned Johny Hot Dog! And then there's Sarafa Bazaar !for night foodies!
It's true, the city will not disappoint you when it comes to food 
Hub of Co-Working Spaces:
Indore has over 30 co-working spaces for its people! This can be credited to the inflow of massive innovative youth from prestigious institutes like IIM and IIT! Yes, you read that right, Indore is the only Indian city to have both of them. It makes the city an entrepreneur's delight!
Recommended Reading: How To Set Up An Offshore Development Center In India?
This list includes Adited Coworking, Incuspaze, Workie, Sky Space and VirtualCoworks.
Summing Up
Initiatives like these are essential for fueling economies. In other words, business investment for startups by angel investors in India is like a ray of sunshine in this economy. We're glad that the government is keen to bring more and more opportunities to Madhya Pradesh via events like Magnificent MP Investors' Summit.
Therefore, if you're going to attend the summit and have any queries about the city, we're here to guide you. And just in case you want to know more about the potential of Indore as the silicon valley of central India, we wrote an amazing article about it. Read it here.
We're an IT startup from Indore specialising in web and mobile app development. Our clientele hails not only from Indore and India, but it's spread all across the globe!
Take a look at our portfolio. Likewise, in case you have any queries, drop a comment in the section below. Meanwhile, you can also send us an email at [email protected].
Don't like to wait?  
Recommended Reading for you: