Businesses are likely to gain more conversions from in-app and push notification features than from the mobile web. But often we download an app but then it gets lost in the group of apps. According to a recent survey, "Smartphone screens are the premium form of real estate; an average user installs around 36 apps."
All the businesses and companies are in a race to get their app installed. The biggest challenge here is to get users to download your app. You might be wondering if you get users to download your app, the battle is won, but only half of the battle won. That's because data tells us that 23 percent of people abandon an app after one use. What's even worse is that the average mobile app retention rate is 20 percent after 90 days.
Yes, that's sad to hear but it's the truth. 80 percent of people dump an app within just three months. Therefore it is a big challenge to retain those customers.
It is important for you to tell your users that you exist and the best way to that is engaging them through incentives. Even some of the studies have shown that incentives can actually prompt the renewed interest of users in apps. So how to do that? There are basically two options to do this: push notifications and in-app messaging. And you need to choose the option at the time you develop your app.
Some of you might be aware of Push notifications, how it works, and how it is different from notifications, others might not. So, here in this blog, I'll be telling you about the same.
If you are a business or enterprise owner who is wishing to develop a mobile app or you are a developer, it is important to know about Push notifications and how you can use them as a great marketing tool for your business.
Push notifications are an effective marketing tool for businesses with a mobile app because they help in retaining your business in the minds of your users.
Again, it is good to add push notifications to your app due to its advantages but you need to make sure that you do not bug users with a lot of notifications. So, that they mute them and it turns out to be a disadvantage for you. You'll never want that to happen. So take care and plan your Push Notification strategy carefully.
In the given blog, you will get to know everything about push notifications that is significant for you. Hence, it will help know what they are and how to use them effectively to enhance your existing mobile application and get more and more conversion.
Difference Between Push Notifications and In-App Messaging
Push notifications are those notifications that pop up in your smartphone, either on the status bar or on the lock screen. Just like a pop-up, push notifications usually go away once you open them. When you download an app, you might have seen a prompt asking you to approve of push notifications. Once you approve, you get push notifications very frequently.
The main point of difference between Push Notifications and In-app notifications is that push notifications can appear anytime (like a pop-up), while in-app notifications only appear when someone is using the particular app.
Push Notifications have character restriction while In-App messaging do not:
There are some similarities but push notifications are not the same as text messages.
Both the kinds of notifications go directly to the user's phone and they look almost similar on their lock screen, but they're different in their functioning. For a push notification to appear on a lock screen, there has to be a restricted character limit while that isn't the case with other notifications.
No character restriction is applied to them, they can be longer because the users can tap to open and read the entire message. But with push notification, if it gets cut off on the lock screen only, it's certainly going to hurt conversions. This is the reason push notifications with lesser words have higher click-through rates.
So it's essential for you to learn about getting your message across with a restricted amount of characters. When you open a push notification, it would be the same as opening a text message. The only difference here would be while a text message directs you to your messaging app, a push notification directs you to the respective app from where you received the notification on your device.
Push Notifications are free for users, In-App Messaging depends on user's SMS Plan:
Push notifications are totally free for users to receive but the same is not true with text messages. Sending SMS messages to active users as well as potential users as a promotional method, might not be a good strategy. As it depends on the user's phone plan. They would have to pay to receive SMS messages and let's be fair, they are unlikely to do that. Also, another drawback here is that people associate SMS promotional content as spam and do not read them. Sending unsolicited SMS messages is considered illegal and should not be followed. Hence, it is better to use Push notifications for promotional purposes than text messages. No company or business wants to be associated with spam therefore it's better not to send messages with random numbers. Users trust Push notifications as they know exactly where it comes from.
Users can choose to approve or mute push notifications but not In-App messages: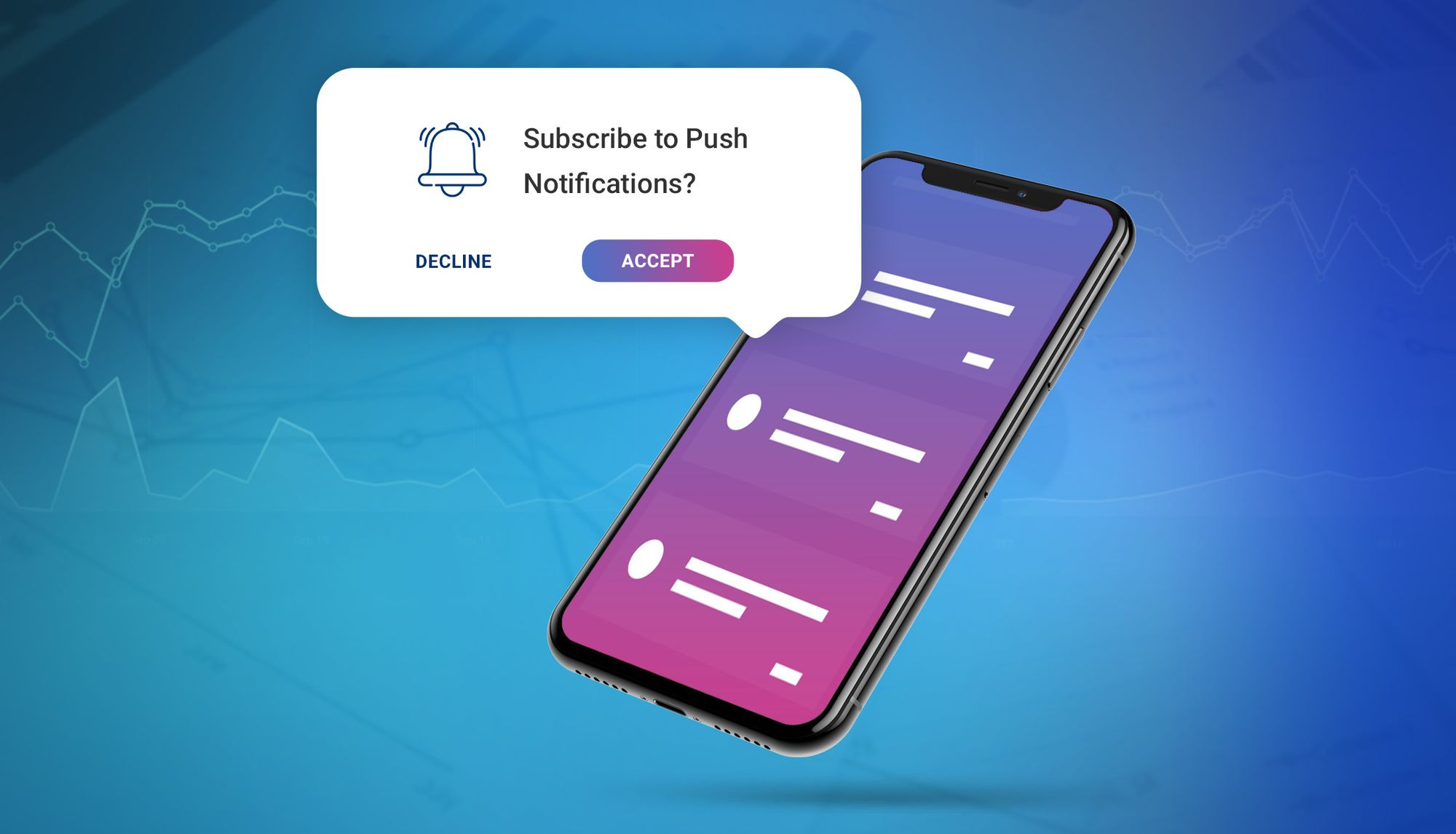 Source: www.pushwoosh.com
According to a survey, only around 26% of users like push notifications as they enjoy getting new updates from their favorite apps. If a user does not want to hear from you, he can simply go to the app and turn off push notifications. This way, the Push notifications feature provides users with complete control to approve or mute push notifications whenever they want. Text messages do not provide any control to the users and this is the reason they do not hold much credibility.
Push Notifications also has its pros and cons.
A good Push notification strategy can help you achieve high open rates and hence high conversions but sending too many notifications can backfire and prompt users to mute. So make sure to provide value to your customers without annoying them.
Benefits of Push Notifications:
Push notifications can help your business gain more traffic and more conversions. The best benefits of push notifications are time-sensitive content. For example; a weather app sends push notifications of severe weather, like high winds, rainfall, etc.
Shopping cart — Users often put items in their cart and do not proceed to checkout. To instigate users to complete the payment process, sending them a push notification is the best way. A push notification to remind them that they have items in their cart will do the work.
Payment confirmation — A customer feels relieved once they get a payment confirmation. Sending them a push notification for the same along with asking for feedback will serve two purposes.
Quick Hello — Sending messages frequently is not good but a quick hello via push notification can remind users about your app and often bring them to have a look at your new offerings.
Time-sensitive notifications — It is good to send a push notification about a new sale of products or discounts on smartphones after the user has searched for the same.
Push Notifications based on user's location:
The best way to use push notifications is to send notifications based on the user's location. Many big businesses are using this strategy to get the best use of push notifications. They have integrated geofencing technology to push notifications to generate sales from customers who have downloaded their mobile app. Let us know how it works?
First, you need to ask for the user's location permission to track the users' location. After that, you can send them timely push notification based on their location if it falls within your geofencing range. For example, let's say someone is passing by Beverly Hills, where Zara's showroom is located. So, push notifications can be sent to the user by the Zara app to visit the store and check new arrivals.
Push Notifications enhance the user experience:
Push notifications can also improve the user experience. For the first you need to analyze why is someone using your app and what does he seek. For example, let's take an example of a company like Uber. Their app is a mind-blowing success, and is one of the most user friendly apps. So, let's find out how they did it. With the use of push notifications, they make things easier for people who are using their app.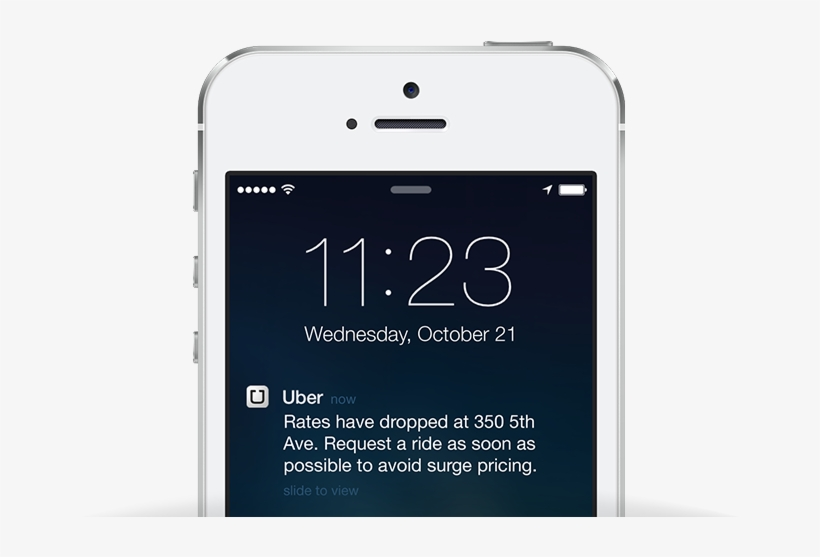 Source: www.pngkey.com
Uber rates are based on demand and supply concepts . So, for example; if a user opens the app to request a ride, but sees high prices, then may wait to book a cab. Uber takes the benefit of Push notifications to give the users what they want. The app sends a notification to their users to get the lowest rate possible, hence it adds value to the message and users like it. This is how Uber subtly promotes by giving good user experience.
Now, when the user books a ride, Uber sends push notifications which actually benefit the user. When the ride is 15 minutes away the person receives notification for the same, instead of standing outside and waiting for it to arrive. Uber sends push notifications to users when their ride is arriving along with the car license plate number, so it's easier for users to spot.
This is how Uber makes the best use of Push Notification to enhance user experience. Similar strategy works for online food ordering services as well. If you are also willing to build a similar app, you can apply this strategy to enhance user experience and get more downloads.
Push Notifications Increases Engagement and Retention:
Push notifications have higher open rates than In-App messages or emails. Users are likely to engage more with push notifications than email or In-App messages. According to Xtify, push notifications open rates are as high as 30% to 60% and interaction rates are as high as 40% compared to the average email open rate at 20% and average click thru rate at 5.4%. With push notifications, you can also target those people who have installed your app but haven't made any purchase yet. The best kind of push notifications for these kinds of people are Quality Push Notifications of discounts or promotional codes. Setting up a referral program and promoting it through push notifications can be another way to increase the app business.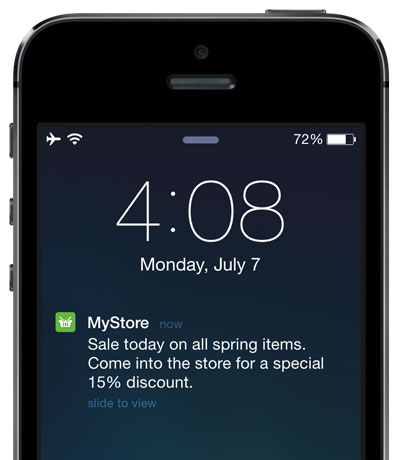 Source: www.inc42.com
Businesses are likely to get more conversions with push notifications because of higher number of clicks or interaction. Not everyone gets notified about emails or text messages This is because people generally keep them off so that they don't get disturbed all the time new email is received. Due to the less frequency of Push notifications, app users like to receive them. Timely push notifications can actually increase the customer engagement and acquisition. Customers, then retain your brand and keep using it and also sharing it with their friends and family, providing you with free marketing. Eventually, making your app successful and helping your business make more money.
Personalized Push Notifications:
Having a wide range of customers calls for the challenge to cater all of them. Every customer wants different things therefore, push notifications should be personalized. Sending bulk notifications to everybody who has your app installed isn't a good strategy. This can actually backfire as people might get annoyed and mute push notifications. If a push notification doesn't speak to the customer, it's useless.
Use of Geofencing technology is one way of personalization which we already discussed. Data confirms that push notifications with a personalized message have significantly higher open rates than the non-personalized notifications. With the use of artificial intelligence, it's actually easy to send personalized push notifications to users based on their profile.
For example, Amazon does it so well. If you are searching for example; play stations then Amazon will send you a push notification about the exciting deals on it. Various other retail apps take advantage of the user's wish list to send push notifications to purchase those items. For a retailer app, the customer's purchase history and wish list is a great deal to send them a push notification with a personalized message.
Let's say a customer has purchased a brand new smartphone. Sending them a notification for discounted accessories like phone cover, earphones, etc. would definitely be a personalized way to promote business through push notifications. Here's another example. Let's say you own a small restaurant that serves authentic Indian cuisine. Your app has an online food ordering system. Now based on previous orders of the customer, you can send them a push notification to order their favorite dish. For example; a customer ordered an Indie Pizza for the last four time, send him a push notification like; "30% off on your favorite Indie Pizza if you order now. Customers feel connected and get a better experience. Personalized notifications are the best proven way to increase your conversion rates.
Role of user's device in enabling Push Notifications:
It is important to keep in mind the user's device when it comes to push notifications. Survey shows that Android users enable push notifications at a higher percentage than Apple users. Let's have a look at the difference in click-through rates of push notifications between Android and iOS. The reason is notifications look different on both the platforms. Lock screen and notification centers are distinct between iOS and Android devices.
In iOS devices, notifications disappear after the user unlocks their phone, even if they don't open the app to read the message. While with Android devices, the notification stays on the lock screen until you open it or clear it.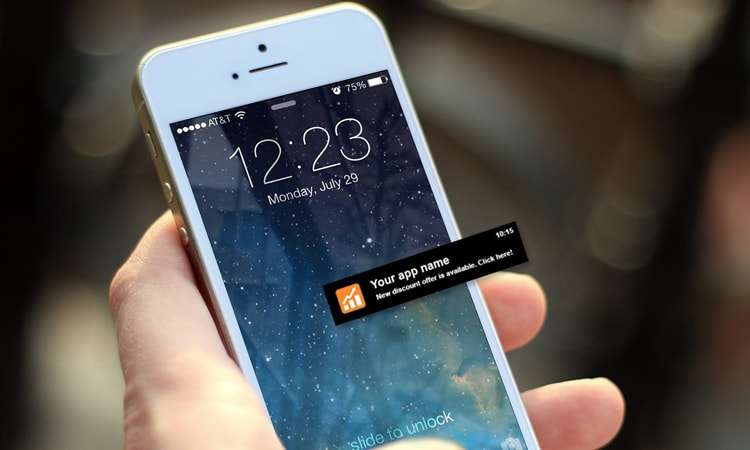 Source: notifyvisitors.com
If you are developing your app then hire the best of the developers from EngineerBabu who have a great experience to build a user friendly app. We have team expert developers which you can hire on a dedicated basis for your project. We understand that you don't want to make any long term commitment, therefore we provide you with the facility to hire on a monthly basis. Having an app and want to discuss? Feel free to reach out to us on EngineerBabu.