The world is moving to a digital medium for everything and digital transformation has become a priority for enterprises to acquire, retain and engage with customers. As businesses get ready for the ongoing digital disruption, tech skills enterprises want are among the top skills that enterprises are looking for. Even with a job market that shrank last year, data shows that engineering roles grew by 25%.
In the next 5 years, digital skills (including digital marketing and tech-oriented roles) will see a tremendous rise and reach approx 150 million roles opening in the job market. But, not all developers are getting hired. Why? It is because enterprises are looking for engineers with cutting-edge tech skills enterprises want who can help them innovate fast, gain a competitive advantage and be future-ready. In fact, according to research Unicorns are 33% more inclined towards hiring engineers with disruptive tech skills enterprises want. 
So, without further ado, let's explore what are the top 10 skills that enterprises want while hiring in 2021 and for the coming few years.
How the IT Sector Fared in 2020 and What were the I
n-Demand Tech-Skills?
2020 was a difficult year for most of the industries. But some industries fared much better than the others, especially the digital-first sectors – be it e-Commerce, digital payments, and of course the backbone of every digital-first industry – the IT sector. Last year while for every other sector the unemployment rate was 6.7%, whereas for the tech industry it was just 3%. Further, Tech jobs grew by approx. 391,000 positions in the month of December. With the acceleration of digital transformation in the post-pandemic world, the tech-skills that were most needed by enterprises also changed. Though some of these technologies (that we will talk about in the subsequent sections) were already in high demand, the push for digital transformation resulted in a sudden spike in the demand for these roles. 
Top 10 Tech-Skills Enterprises Want
So, what are the hottest tech roles that enterprises will hire for in 2021 and in the coming few years? Let's take a look.
1. Cloud Computing (AWS/Kubernetes and Docker)
A recent survey from Hired revealed that almost 92% of organizations increased their cloud workloads. The move helped them to enable better automation and digitization resulting in a rise of tech talent with cloud computing skills. Gartner predicts that by 2022, the public cloud market will be $331.2 billion. 
The list of most in-demand cloud computing skills includes AWS, Azure, GCP, Java, Linux, Software Development, DevOps, Docker, Kubernetes, and Infrastructure as a Service (IaaS).
In fact, AWS skills were eight times more in demand than Google cloud platform or Microsoft Azure. According to the 2020 Open Source Jobs Report, 69 percent of respondents wanted cloud and container experience. The reasons behind this high demand are – 
The rise in shift towards Cloud containers has also resulted in Kubernetes and Docker ranking among the 10 highest in-demand tech skills.

Organizational shift towards cloud-native technologies and open-source solutions.
2. AI/Machine Learning and MLOps
The World Economic Forum reported that by 2025 AI & ML will generate 133 million new jobs, which also makes it one of the in-demand skill sets required by enterprises. However, along with AI/ML capabilities, MLOps is also becoming a critical skill that companies are looking for. The reason being – MLOps helps in the integration of ML into business. In simpler terms, MLOps are DevOps for AI and Machine Learning. It can ease out the integration of AI/ML by automating some part of the entire workflow like – data and feature engineering.
3. Cybersecurity
Last year digitization was forced upon many enterprises when they were least ready. Thus, weak IT infrastructure also resulted in increased security risks. In 2020 the number of cyber-attacks increased drastically, resulting in an urgent need for enterprises to hire cybersecurity experts. With the increased reliance on data, the role of security professionals has become more critical than ever. No wonder, IT professionals with skills and certifications in cybersecurity get at least 15% more salary than the ones without such skills. Besides maintaining the security measures and enterprises' internal and external data, network security professionals are also tasked with ensuring compliance regulations are strictly followed.
4. IoT and Edge Computing
Last year almost 79% of businesses in the US launched IoT projects. In fact, 84% of businesses that had IoT projects underway, fastened their launch. By 2025, there will be almost 75 billion IoT devices that will be connected via the web and a McKinsey report suggests that IoT will have an economic impact of about $11 Trillion! 
The rise of IoT use cases will subsequently also lead to an increase in demand for edge computing skills. Why? Because edge computing can skip the latency of cloud computing and enables the process of time-sensitive data even from remote locations to a required centralized location. In fact, by next year the edge computing market is estimated to reach $6.72 billion.
5. App Development
The number of smartphone users has reached 3.8 billion smartphone users and the number is only expected to further rise in the coming years too. For businesses being present on a mobile medium is no longer a choice, it is imperative for their growth. According to a report, by 2028 app developer jobs will increase by 28%. With the growing demand for developers who can build apps for various devices and platforms, enterprises are looking for developers:
Who understand the basics of UX/UI and create an intuitive and easy-to-use, yet technologically robust app. 

The world of app development is evolving. In this scenario, enterprises are looking for developers who have experience in working on various emerging technologies too.

Can collaborate across functions – UX/UI, testing teams and support the entire process for app development – design, test, release, and maintenance & support.
6. Data Science & Analytics
In the digital world, data is the new oil. It is estimated that the revenue from big data and analytics will reach $19.4 billion by 2026. The total investment that will be made into data and analytics will be around $129 billion by next year, with enterprises across sectors like – banking, manufacturing, FinTech, federal agencies investing in the technology. The reason why organizations are rapidly adopting data analytics is:
It enables informed decision-making.

53% of enterprises

who have adopted data and analytics do so for ease of decision-making and higher accuracy.

Personalizing services for customers. In a world where consumers want everything tailored to their needs. Data & analytics can help enterprises achieve this goal and build consumer loyalty.
This role is associated with data analytics that are and will continue to be in-demand are data scientists, data engineers, and data analysts.
In terms of technical expertise data analysts will require proficiency in RStudio/Python, technical know-how about NoSQL database systems like Apache Cassandra. Some other skills that enterprises want in data & analytics-based roles are predictive analytics, data modeling, and data visualization.
7. Programming or Software Development
Programming skills are the backbone of the IT industry where the genesis of everything is a code. The programming language landscape is evolving at a fast pace. Developers and well enterprises are shifting from traditional programming languages to easier and developer-friendly languages. According to a recent survey, the top programming languages include – Python, JavaScript, Java, Go, Ruby, Scala, Objective-C, PHP, HTML, Swift, C++, C, C# R, Kotlin, TypeScript, among others. According to a report, Go, Ruby, and Objective C top the list of most high-paying programming language skills.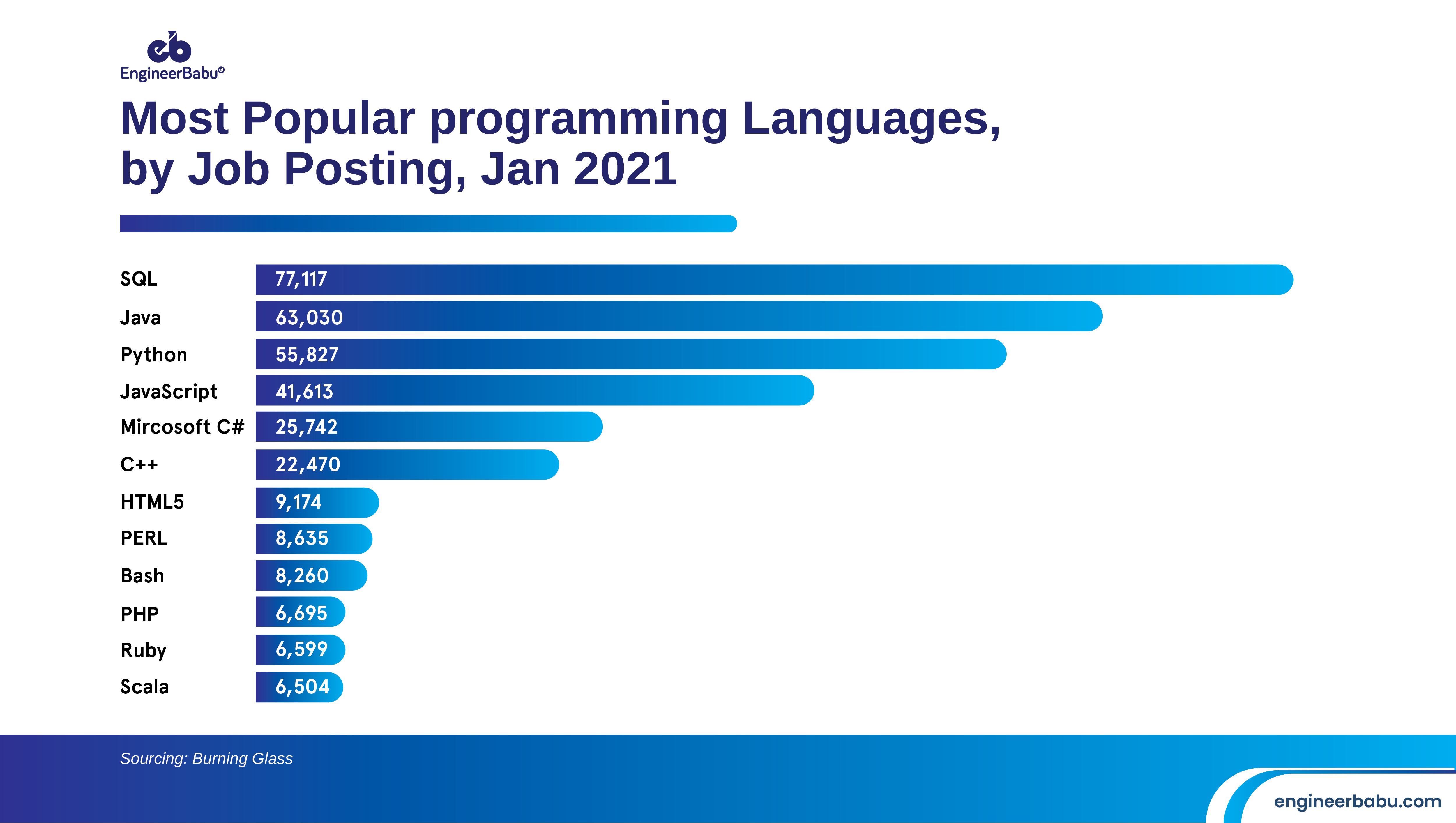 8. Agile/Scrum Software Development and DevOps Methodologies
Agile and Scrum software development have become the two most popular methodologies that companies use for software development. Sometimes one at a time and in certain cases both depending on the project requirements. Agile development is an iterative process where phase-wise development and testing happens within the same development life cycle. Scrum on the other hand is sprint-based development. The expertise in both these methodologies are some of the most in-demand skills that enterprises are looking for.
DevOps is another important skill that companies are looking for. It fastens software development and streamlines it. DevOps practices advocate faster code deployment with few deployment failures. 
9. Full-Stack Development
According to a report by CodinGame Full-stack development is one of the top skills required by enterprises in 2021. Another survey suggests that 38 percent of hiring managers deem hiring full-stack developers is a priority. Full-stack developers are the ones who should possess expertise in both front-end and back-end development. They must be well-versed in several programming languages. Further, they should have a holistic approach to software development as their role requires them to cater to both the user experience and functionality. 
In fact, for a full-stack developer with a broad range of skills enterprises are willing to pay approximately $13,762 more.
10. Front-End Technologies (HTML, CSS, JavaScript, etc.)
While full-stack development is preferred these resources might be difficult because of the width of their experience and would be expensive. Companies are looking for software developers with front-end and back-end skills who are experts in their respective technologies. A survey report from HackerRank suggests that Front-end development skills accounted for 10% of most in-demand developer skills in 2020.
When it comes to the requirements front-end skills like HTML, CSS, JavaScript, etc. In 2020, approximately 75% of enterprises were hiring for JavaScript developers and 48% were hiring for HTML/CSS. 
Conclusion
With digital technologies disrupting the business landscape across sectors, the demand for tech skills will continue to grow. For staying competitive, it will be important for enterprises to have future-ready teams. Like technology, the skills in-demand are also transient. Hence a staff augmentation partner can help tech recruiters hire the right resource at the right time within optimal costs. 
At EngineerBabu, for over 9 years, we have helped enterprises across sectors to scale their teams and deliver projects at a faster rate. We have a wide range of developers having expertise in the latest skills. In addition to that, we have worked with enterprises of every scale be it start-ups, digital agencies, software product development companies, or enterprises (large or SMEs). We helped them hire the right talent most suited to their requirements. Connect us to know how we can partner with your enterprise