Slack, a popular team collaboration tool. It uses an external agency to design their final product based on the initial prototype. The entire design of the product, logo, website, and app was created within six weeks. Alibaba outsourced its initial development to a US-based software development company. Groove's founder Alex Turnbull outsourced the development of the SaaS enterprise which created the final product within four months. The Staff Augmentation model has laid the foundation of many successful startups and the trend is growing. A Statista report suggests the IT Staff Augmentation market size grew to $132.9 billion in 2020.
A great product idea on its own is not enough for building a successful start-up. Cost optimization, a faster go-to-market strategy, and innovation are three additional pillars that support the foundation of a start-up. Startups have to be lean and agile in all aspects of their functioning to ensure they become profitable faster. Staff Augmentation can help them achieve this goal. Especially when it comes to tech startups, Staff Augmentation model can solve many of the early business challenges – cost optimization, infrastructural challenges, time, the faster launch of the product, and more. 
In this article, we will talk about why tech startups should choose the Staff Augmentation model over hiring a permanent resource pool and its key benefits.
Staff Augmentation for Tech Startups
Staff Augmentation is an outsourcing model where enterprises can hire resources from a Staff Augmentation partner like Supersourcing or EngineerBabu to strengthen their existing team. However, the model can help Startups in various scenarios like:
When a start-up is trying to optimize costs.

New product launch.

Adding a helping hand to the existing team to meet deliverables.

Filling skills gap, etc.
According to a Statista report, various reasons why enterprises choose Staff Augmentation vary from bridging the skill gaps, cost savings to innovation, and more.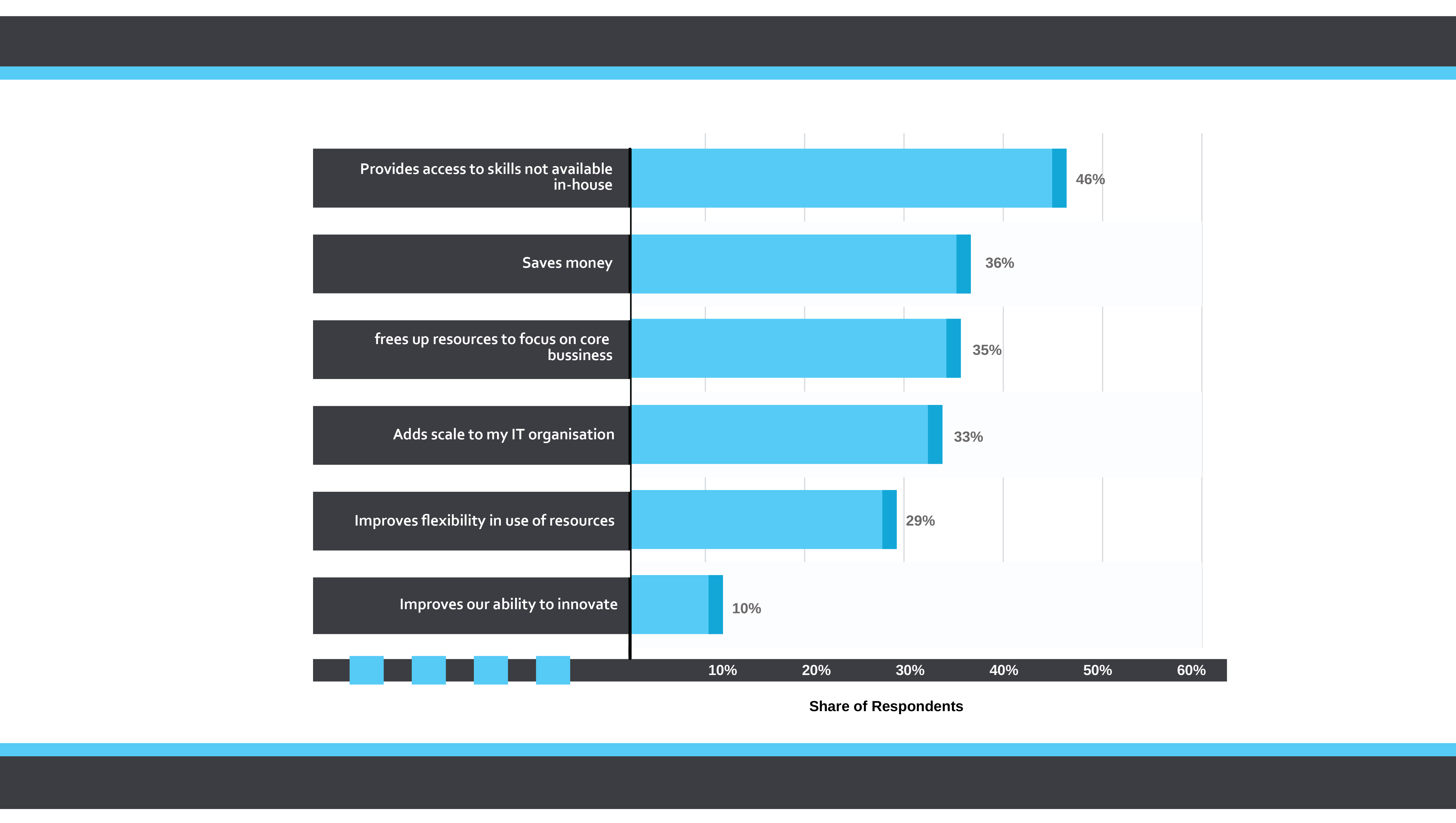 As the Staff Augmentation market grows, the various types of Staff Augmentation enterprises that have emerged in the market. Some of these are:
1. Traditional Staffing Companies: Traditional staffing companies for temporary or short-term resources.
2. Large Scale Staffing Solution Providers: These are bigger enterprises hoisting large-scale staffing services.
3. Specialized Skills Staffing Companies: These companies outsource resources for some specialized skill sets.
4. Gig platforms: A marketplace for hiring talent.
5. On-demand Talent Platforms: Websites/online platforms that can help enterprises hire talent for specialized skills.
It is important for tech startups to choose the model that best suits their business requirements and budgets. Factors that should be considered while choosing a model can be- project length, security or NDA related to the project, timelines, etc.
Benefits of Choosing a Staff Augmentation Model
There are various challenges that a tech startup faces: from infrastructural set-up to financial crunch, unavailability of skilled resources, and more. Staff Augmentation can be a one-stop solution for all these challenges. In fact, the Staff Augmentation model is seen as a viable and profitable sector even by industry mammoths like Google. Perhaps why Google acquired a Staff Augmentation platform of Data Scientists called Kaggle in the year 2017. It results into a move that helped Google gain access to a huge community of talented data scientists. 
Here's how Tech Startups can benefit from Staff Augmentation:
1. Think Fast and innovate faster
While ideas are in plenty in a startup world, enterprises are often stretched for resources and finances Staff Augmentation can help them bring the most innovative ideas to life faster and within budgets.
2. Short Recruitment Process
Technology is evolving at a faster pace, and for tech startups to say ahead of the competition, innovating faster is critical. As a result, costs and time both are critical assets. In this scenario, spending that time on a recruitment cycle can result in losing valuable time. Therefore, a staff augmentation partner can help shorten this recruitment cycle by taking care of the entire recruitment process – from finding the right tech-talent to onboarding them.
3. Flexible and Cost-effective Teams
Startups have to be agile and flexible. A Staff Augmentation partner can help them maintain a flexible team structure that can be scaled-up and down based on the project requirements and save costs. Hence, hiring a developer with a specific skill-set can prove to be costlier on a long-term basis. For example, hiring a Python Developer can cost  $113,889 and about $120,511 and a React.JS Developer can cost $120 000. Therefore, a Staff Augmentation model tech-startups can hire resources on their requirement and for a short-term period. It ultimately minimizes expenses. 
4. Specialized Skills
In the tech world, innovation is an important factor for success. Thus, enterprises will have to be on top of emerging technologies like – Data Science, AI, Blockchain, and more. The technology landscape is evolving and finding skilled resources with the expertise in technologies as per project requirements can be challenging and time-consuming. According to a recent KPMG report, there is a grave shortage of resources with specialized skill-sets like data analysts, AI professionals, and Cybersecurity experts. This shortage is expanding continuously. While big tech companies can train their workforce, this is not a feasible option in the startup world. In this scenario, the Staff Augmentation partner can help them hire resources with specialized skill sets when required.
5. Faster Go-To-Market
A Staff Augmentation partner can help Tech Startups execute their product idea at a faster rate since the time required to find talent, onboarding them, waiting period for a resource to join the team, etc. is saved. Having access to a ready talent pool with required skill sets enables startups to finish the MVP's design and development and launch it faster in the markets. The readily available resource pool also makes it easier for startups to iterate the product features basis feedback from the users. Finally, with a  faster go-to-market strategy, startups can stay ahead of the competition and get the innovators' advantage.
6. Round-the-Clock Resources
A Staff Augmentation partner can help in allocating resources based on their time zone flexibility. For a SaaS company, it is even more beneficial since access to a talent pool that can support various customers depending on their time zones will help them retain customers. Besides, it also helps them hire a talent pool basis requirement. For e.g. the design team can be hired for the initial stages of the project. Similarly, a QA team can be hired for a required duration after the development of the projects. The development team can be scaled up or down depending on the stage of the product development. This on-demand flexibility helps tech-startups optimize costs to a large extent. Additionally, the flexibility of time and available resources can deliver high operational efficiency since the overheads of infrastructure, maintenance of permanent staff, etc. are cut back.
7. Greater control over the project
Unlike traditional outsourcing of projects with a Staff Augmentation model, the project's full control remains with the enterprise. The Staff Augmentation team works as an extended team and not a siloed external unit, that gives enterprises to manage the project. Having a stronghold on all operations, and shaping the requirements as per their needs.
In Conclusion:
The technological advances and opportunities available in today's business world are conducive to startups growth and success. However, startups will have to work smartly to create cost-effective and efficient processes that can help them become profitable and scale faster. Adopting a Staff Augmentation model can easily take care of the hiring process, resource allocation & management, etc. Thus, helping entrepreneurs to focus on innovation and a quick product launch. The gig-economy is terms as new normal and continuous learners are preferred among all in this Staff Augmentation world. The Staff Augmentation model can bridge the gap between the right resources and enterprises, helping them create a cost-effective and efficient process.