In recent weeks, the startups in India and all over the globe have been impacted by the wave of COVID19 pandemic. The world we know has gone on hold and there isn't a single business startup that is not struggling hard to survive this phase and looking to carry out all their works remotely. 
Therefore, to motivate and guide all the business startups worldwide during the global pandemic, EngineerBabu has witnessed a Masterclass Session with Dr. Ritesh Malik. Where all the attendees learned about the "How to Scale a Startup During & After a Global Pandemic" on Saturday evening, April 25, 2020.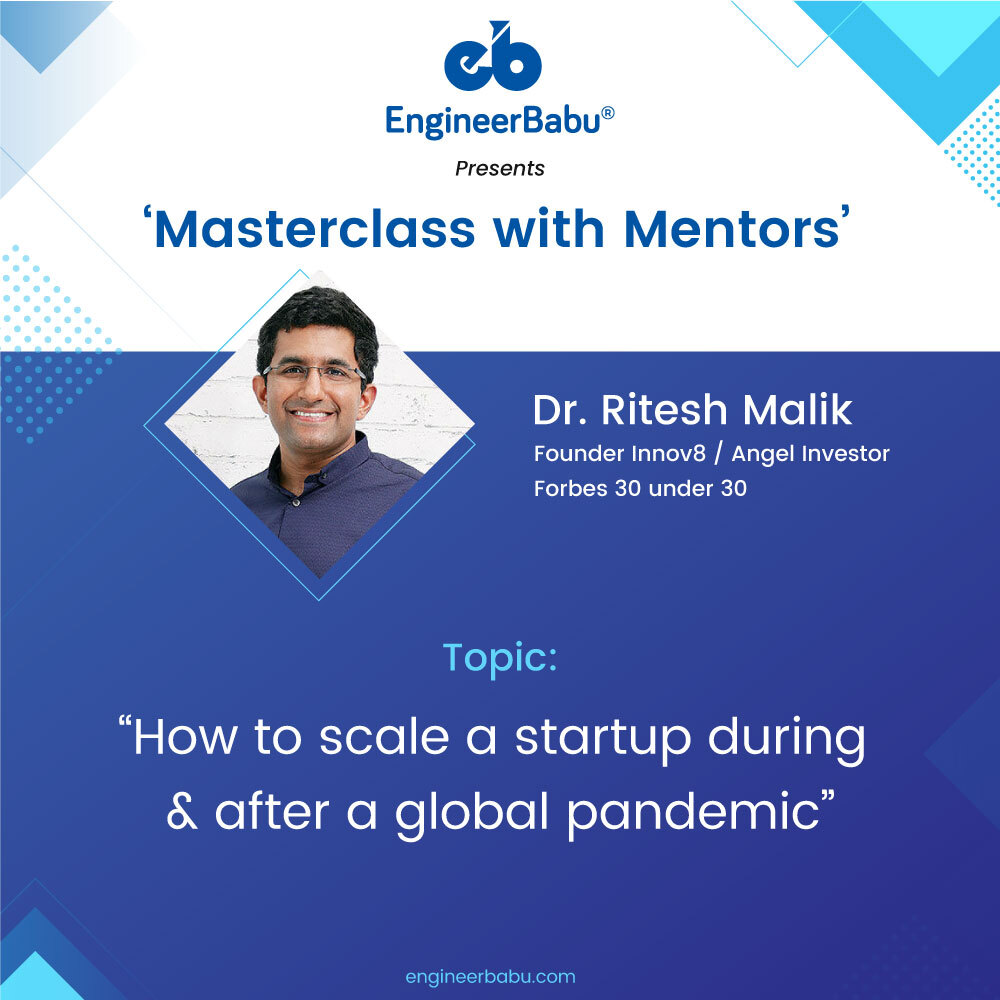 About Dr. RItesh Malik
A doctor entrepreneur and investor, founder of Project Guerilla. He is famously known for founding the company Innov8, a Coworking space. He invested in more than 26 business startups. Dr. Ritesh Malik has been listed on the Forbes 30 under 30 in the Finance and Venture List (Asia) 2016, and Fortune 40 under 40 (2018). He also actively collaborated with the Government of India to build the College Entrepreneurship Ecosystem in the country to champion 'Startup India Standup India' in the nether regions.
His Motivation to start Innov8 Coworking Spaces
Dr. Ritesh Malik said, "India has an ample amount of good entrepreneurs, but there are a whole lot of employees who are not having access to good office space and lack the motivation to give their best". This is the reason, which motivates him a lot to go with coworking spaces and become an entrepreneur. He even said these spaces provide a much better work environment than Google office spaces.
Recommended Reading: In 9 Years, I have seen 500+ Products Failing – Top Reasons Why Startups Fail
Then in 2019, in association with OYO, he sold Innov8. Still going strong and incubating a lot of business startups to hold high and give their valuable contribution to the growth of the country.
What does he think a Business Startup needs to do during the phase of the Global Pandemic?
According to Dr. RItesh Malik, it is a very difficult phase not only for business startups but also for every individual. This is going to affect the lives of everyone worldwide. But the effect on businesses is going to make a great impact on their growth and existence as well.
Therefore, the business startup needs to work over its strategies which can turn into business growth and lessen the COVID 19 impact on business. He even said that all the Entrepreneurs need to sit with their teams and discuss their issues and take preventive measures to minimize the COVID 19 impact on business. The reduction in salary will be acceptable to all the employees but not over the sake of their job security.
It is the duty of CEOs or business owners to take care of their employees and give them a feeling of safety and security. As well as, Medical aid and assurance of help to everyone in SOS condition. It is very important for every business leader to lead his team from the front of this new coronavirus outbreak.
Apart from that, business startups need to adopt the OWS Strategy. Here, O stands for 'Over Communication', W Stands for 'War Room Building', and S stands for 'Safety & Sanitization'. As mentioned above, effective communication among the team members is a must during the new coronavirus outbreak to deal with every situation and stay together to hold the company as a strong team. In order to minimize the COVID 19 impact on business, the business startups need to be prepared mentally to handle every situation during and after the Global Pandemic. In this respect, to let your teamwork effectively and with a positive attitude, then a sense of safety is important for every employee. Always make your employees your priority and your valuable asset, as a result, this will lead to business growth and gives great confidence to the business owner as well.
How long this Economic Pandemic gets extended due to Corona and How can a Business Startup protect itself?
Dr, Ritesh Malik believes the new coronavirus outbreak will last over India for about 14-16 months. Despite that, it can't be made sure until the vaccines are not available and every individual gets vaccinated. After this economic pandemic period over the business startup, it can't be made sure that things will get smoother. Because it also requires a minimum of 9-10 months of time to vaccinate.
Recommended Reading: Non-Tech Startup Founders Who Built Great Tech Products
The huge population of India will be a reason to get the things delayed and have everything back to normal. Therefore, to fight this slowdown and the long period of COVID 19 impact on business, it becomes very important for every business startup to protect itself with its impact. Hence, in this regard business startups need to build their WAB Scenario to handle business during COVID 19 impact on business.
WAB is basically the analysis of your business during different scenarios and what measures you can take to handle your business. Basically, it is a mode of preparation where the business startups can prepare themselves in advance for the different situations and in the available resources too. W stands for 'Worst Case Scenario', A stands for 'Average Case Scenario', and B stands for 'Best Case Scenario'. Though, these predicted 16 months are going to be the situation of Worst Case Scenario due to COVID 19 impact on business.
How the Business Startup can manage the Financial Loss During and After the Coronavirus Pandemic?
The whole world has been going through an intense situation where the enemy is invisible and taking its host one-by-one without any mercy. Due to which the business startups are going through a rough phase and this will not end soon. As well as, it will leave a great impact on businesses after the coronavirus pandemic. Though, the business startups need to be prepared to tackle every situation during and after the coronavirus pandemic.
Strategic working and good planning are required to sustain in this situation and during the after-effects situation too. Nothing can be predicted now, that's why it is important to be ready with all your equipment gears and keep your business safe along with your employees. It won't be a miracle if one can expect business growth. It can be possible if everything has been strategized and implemented intelligently. It is only a matter of time where one can take this condition and utilize it as a business opportunity.
Recommended Reading: How to Market Your Startup – Essential Marketing Tips
Apart from that, the business startup needs to categorize their Discretionary and Non-discretionary expenses. Dr. Ritesh Malik, mentioned it is very important for every business startup to look for dividing their expenses in terms of discretionary and non-discretionary, so they can save an ample amount of money to sustain for longer and come out stronger from the new coronavirus outbreak.
In addition to this, business startups can also look for AWS institutes to help them in meeting their financial needs. AWS are the organizations that provide financial needs to the business and they are open for businesses during the COVID 19 impact on business. The businesses can go and meet these AWS and request them for financial help.
Do the Entrepreneurs go for introducing their Startup or Stay for a while in this Pandemic Situation? (Question asked by multiple attendees)
Dr. Malik begins his answer to the question is with a quote i.e. "Most Ideal time to start work is Yesterday, and Second Ideal time is Today". With this quote, he refers that there is no bad time to start the work. Don't make excuses to start your business, one can build a great business as well during this phase too. Important is the idea and concept of business you are going to introduce in the market. An intelligent entrepreneur is one who analyses the market need and introduces the business smartly.
According to him, the easiest way to go for a startup and be an entrepreneur is to, go and resign from your job and start working in the direction of introducing your startup venture. It is going to be a great learning phase for you to carry out the business responsibilities and handle the tough situation, despite that you are eager and confident to build your business and generate good business growth. It is only a matter of time and utilization of available opportunities appropriately.
To build a successful business startup, you need to think from the Long-Term perspective, despite witnessing the current pandemic condition and only looking to the Short-Term perspective. This attitude will never let you be a successful entrepreneur and a good business leader. He feels, "If you want to shine like a Sun; You have to earn it". It means to be a great leader and an entrepreneur, you need to do what 99% of the population don't do.
The new Coronavirus outbreak will definitely prove to be a great platform for those who are willing to take risks and come up with an innovative business plan. Mr. Malik has addressed this condition with a very inspiring quote, "The Bolder your Risk, the Higher is your Reward". Therefore, being a risk-taker, but an intelligent risk-taker will definitely lead you to a good leader and will enhance your skills too.
What will be the scenario for a Co-Living & Co-working business startup after the global pandemic?
Mr. Ritesh Malik believes that post-pandemic the demands of co-living and coworking will increase gradually. Though, it's graph would be like 'V-shaped' initially. But later on, when the condition gets better and things start getting on track, then the demands will definitely increase.
He believes it is going to be in great demand because it will minimize the people's problem and is able to provide them a great working space and environment. It will be a place where a great number of employees and entrepreneurs can mingle and learn a lot of things from each other. As well as, the issue of holding the property and allowing the lease of the property issues will get diminished gradually. This will motivate other business startups to go for co-working spaces.
How to Find a Good Mentor? (Question asked by a Student Attendee)
To guide the student, Mr. Ritesh Malik has guided him very well with his words. He said, it is very difficult to find a good living mentor, so always go for reading good books. A book will always be a good teacher for every individual, so read books. Like, you read a Warren Buffett book, then for that teaching, he will be your mentor and that will teach you a lot. Follow good people and read their writings to learn from it and make reading books your habit and books to be your mentor.
Recommended Reading: How to build a Knowledge-Sharing platform – Find a Mentor
During this answer, he also talked about his favorite book "The Decision Book: Fifty Models for Strategic Thinking" by Mikael Krogerus and Roman Tschappeler. So, always go for books, despite looking for someone valuable and individual time for you. As it won't be possible for a busy person to give his/her productive and valuable time to you. Make your books, your friend and mentor, in this way, you can learn a lot of things from a number of talented people.
What new skills and methods need to be added in our Education System & EduTech to enhance the growth and learnings of Students and lead them to be an Entrepreneur? (Question Asked by, BookMyColleges- CEO)
In reference to the question, Mr. Ritesh Malik said, he believes that in the coming time the Informal System of Education is going to grow by many folds. As the quality of education in schools is declining and is only limited to bookish learning. It is because the teachers in our country are not getting appropriate acknowledgment as well as respect from the students and their parents.
Recommended Reading: How to run a Remote Company – 20 Practical Questions answered by the Basecamp founders
In other countries, teaching has been the most respected and highly paid service but in India, teachers have been neglected very badly. That's why the educational quality has been declining and children are heading towards EduTech learning. Now, it has been high time that the education style needs to switch over conventional teachings. So that they can learn from real-life experiences and relate to them.
Likewise, not only going with the book learning, the students need to be allowed to go through the Case Studies and let them spread their thinking and imaginations wing. This will lead them to grow their skills and learn from every experience. The future of EduTech is informal and is heading towards it as the students are relying more on online learning despite classroom learning.
That's not it, there were many more questions that were asked by the host and the attendees. But we can't take everything on the paper, that's why here are the few yet valuable questions that have been summarized to guide all over readers and the followers. I Hope, these questions and answers will help you and motivate you to be an entrepreneur and boost the morale of all the entrepreneurs to handle their business positively during and after COVID 19 impact on business. Good Luck to all the budding entrepreneurs, do good, and generate business growth despite the COVID 19 impact on businesses.
, we will be back soon with another inspiring and educational event to guide you in handling the business after Coronavirus Pandemic.