Staff augmentation services are becoming the most demanding services in the market in 2020. 'Staff augmentation services' has become a buzzword in the IT Industry, attracting businesses from around the globe to hire remotely. With the outbreak of COVID 19, work culture has been transformed. With this, Staff augmentation services come into the picture.
Before starting with the Top 10 Staff augmentation services companies, let's get a brief account of what staff augmentation means, what are its utilities, and how to get the most out of Staff augmentation services amidst a pandemic.
Staff augmentation services are an outsourcing strategy that is used to staff a project with required professionals and respond to the business goals. The technique consists of evaluating the existing staff and then determining which additional skills are required.
Staff augmentation is a powerful tool for any company's arsenal, and if chosen the right model, it can bring a great impact on one's company. Staff augmentation services are trending in the IT market today and this is the right time to get started.
Tracking business processes, clients, projects, and services require a big amount of diligence, and at times you need external experts to do so. Staff augmentation services enable you to hire talents from anywhere and they can manage your team directly. You are the one to choose to cut or extend your augmented team whenever you need to.
IT staff augmentation service providers help you in hiring skillful human resources to your in-house development team on either a short project basis or a long-term basis. The team is employed directly by the vendor, thus saving time and cost for full-time permanent hires. Remote developers hired through a staff augmentation agency are dedicated to one project at a time.
Through this list of Top 10 Staff augmentation services companies around the world, you can choose the one which suits the best for you.
1. EngineerBabu
The company founded in 2014 is a well known IT Staff Augmentation service providers today. They are a team of amazing individuals who are experts in their respective fields and together they craft products that engage large audiences, set your brand apart and, help you achieve the heights of success in your business. With its headquarters in Indore, which is currently the cleanest city of India, EngineerBabu's team is known for writing clean and explicit codes. For them, writing code is a thing of art and they make sure to do it beautifully. They don't just build software but craft them integrating the best of engineering and technologies. Hiring dedicated engineers from EngineerBabu is like building your own team only. Whether it is team augmentation for building a product team or resource augmentation for building software, EngineerBabu is one of the trustable staff augmentation agency to choose for your project. For a dedicated monthly developer, dedicated monthly designer, SEO & marketing experts, or onsite developers, you can reach out to EngineerBabu.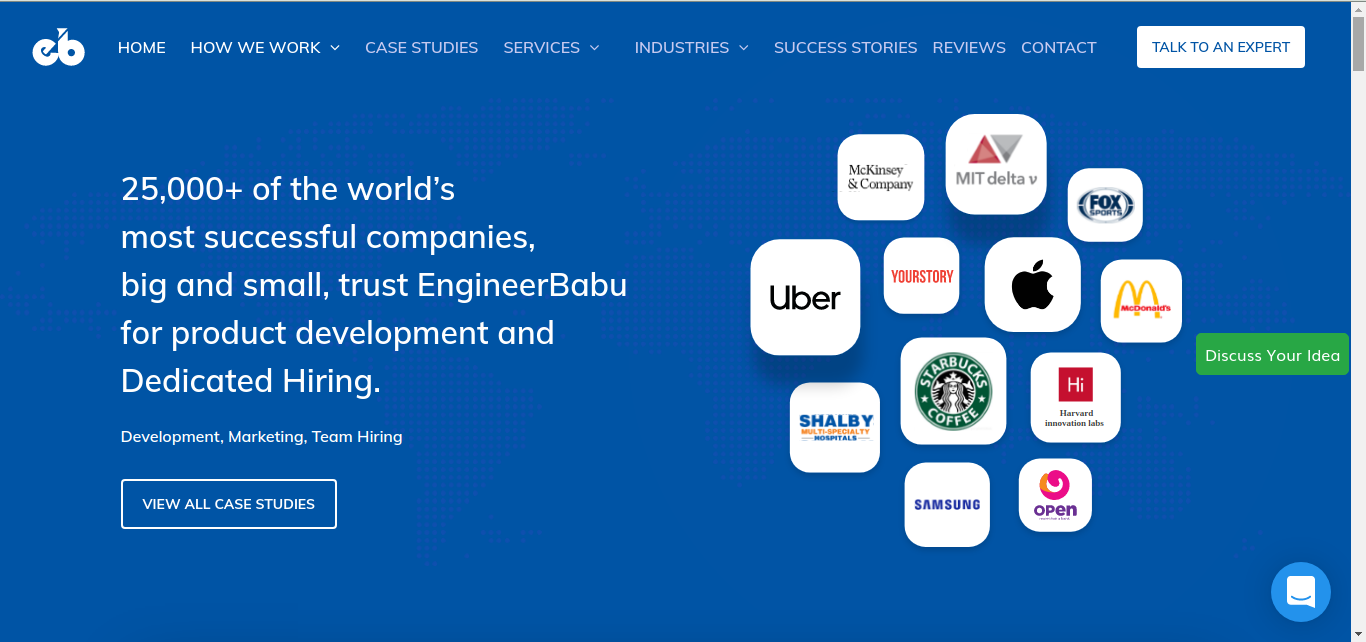 Their apps have been selected in 2018 & 2019 by Y-Combinator & Google Ventures and have positive ratings of 200+ happy customers at Clutch. The company aims at going the extra mile and exceed client's expectations. For Intuitive products and an intelligent user experience that can truly help you grow your business, EngineerBabu is one of the trustable IT staff augmentation with its simpler and faster processes.
"They easily have the best developers and designers who understand user requirements and deliver accordingly."
Cyber Infrastructure Inc. is ranked  3rd Fastest Growing Tech Company in India by FT. It's a leading giant in the IT industry currently in India and that's the reason it has made up to the top position in our list. The services offered by Cyber Infrastructure often referred to as CIS is designed to take your business venture to the heights of Mount Everest. CIS aims at reducing the gap between you and your business goals.
CIS is at a remarkable position in providing exceptional technology solutions and staff augmentation services and this is the reason they're among the top trustable staff augmentation companies. They have a record of helping small enterprises and business ventures and to attain their goals and succeeding in the business world.
CIS, founded in 2003 leverages 12+ years of experience in the field of IT, and it won't be an exaggeration to say that CIS has the right expertise to help you with all your technology needs for your business. You name it, they serve you. Since years, they have been consistently delivering optimal IT staff augmentation for their wide range of the global client base. No matter how unique your IT requirements, they'll make IT possible.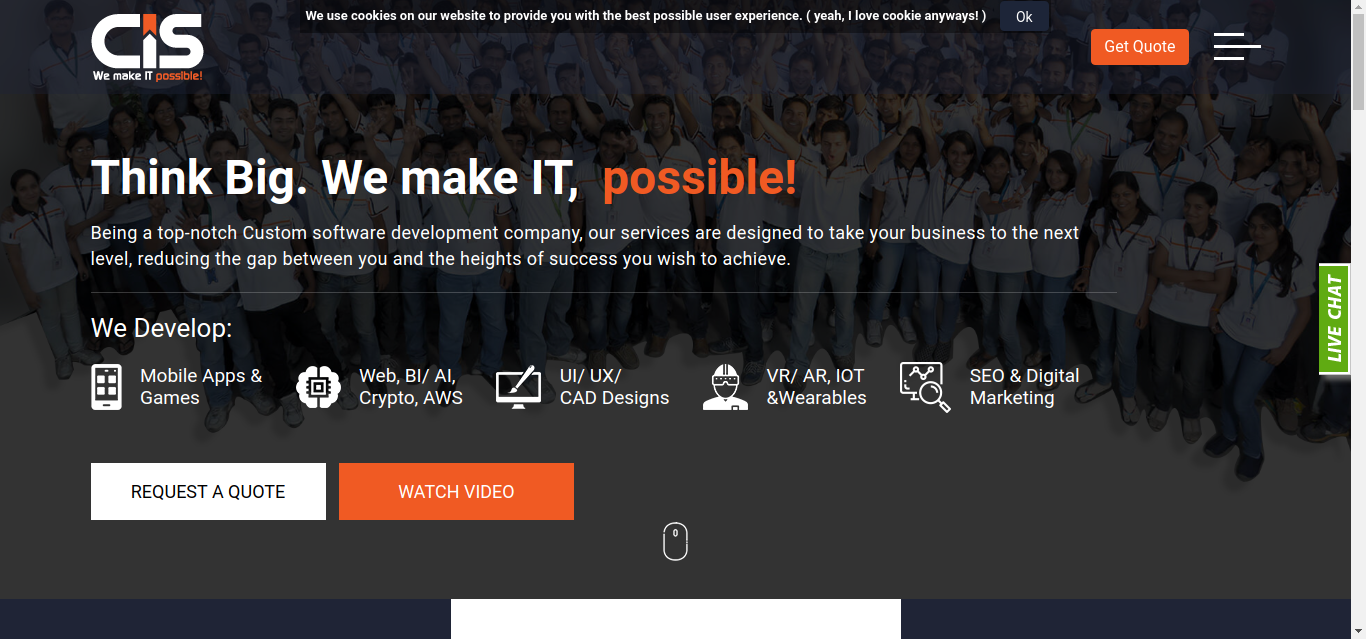 They offer staff augmentation services across a wide range of industry domains. Some of their key services include application development, open-source development, mobile application development, business intelligence and analytics, business process management, cloud infrastructure implementation, front-end design, and digital marketing.
Mannatech, eBay Inc., Sprint, Nokia are its key clients who make their portfolio a trustable one. Along with it, they have provided its excellent services to 100+ Now successful startups. They are a team of 250 – 999 passionate individuals who utilize AI, blockchain, and other cutting edge technologies to deliver unparalleled results for businesses around the world. With an hourly rate of $25 – $49/hr, CIS has completed various big-budget projects for various clients. Therefore, we highly recommend CIS for your project.
"The team balanced patience with prompt delivery of high-quality products. We'll surely recommend CIS to every enterprise. "

– Paul Murray (Digital Marketing Specialist at Dialer Depot)
Mind IT Systems is a Delhi based software development and staff augmentation company founded in 2014. They are a small but smart team of around 50 specializes in web development, mobile app development, BI and CRM. They serve small startups to huge enterprise-level clients with domain expertise in IT, supply chain, healthcare, publishing, and education.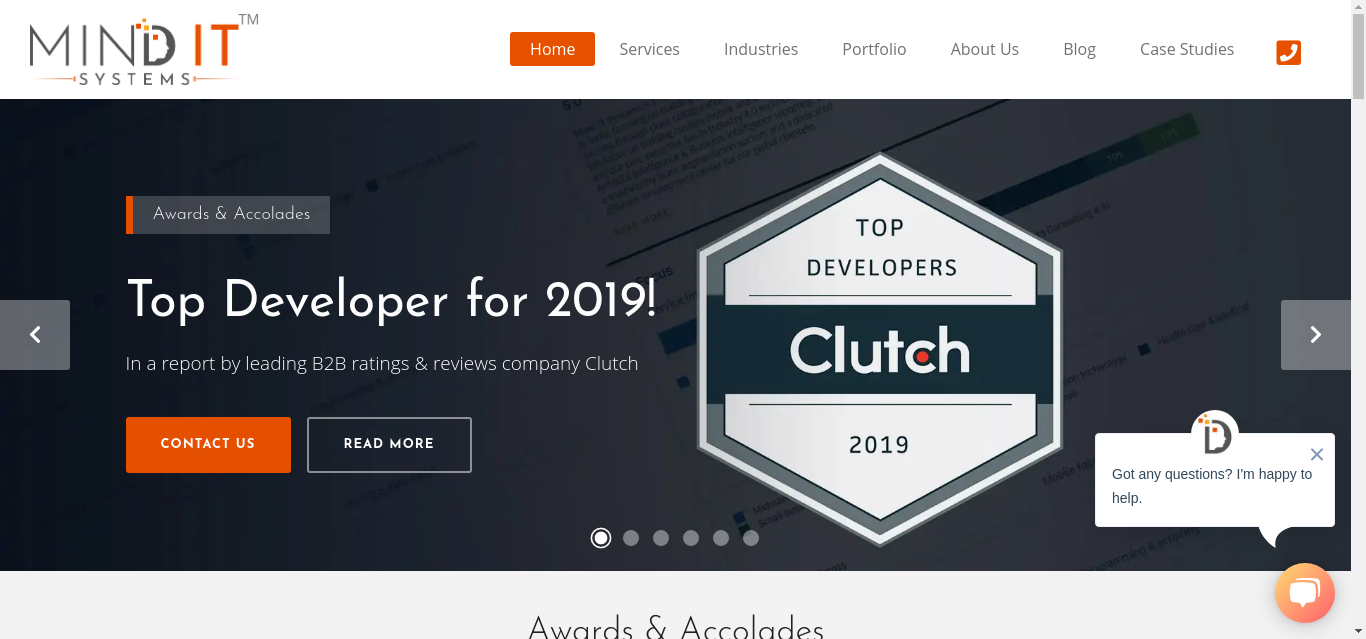 Mind IT is efficient in resource augmentation for delivering excellent products. CU Solutions Group, Microsoft, Gazelle, Wiz IQ, India Today, Sujata Mixers, Prabhat Prakashan, Hong Ngoc Group, Akwa, Educomp are some of Mind IT systems' notable clients.
"They delivered a good-quality product on time. This client was important, so we needed an IT partner we could trust to build an effective solution."

— CEO, Digital Marketing Company
4. GoodWorkLabs
GoodWorkLabs is a global-leading and award-winning world-class software lab and design studio that delivers cutting-edge products and IT solutions for customers around the world. Founded in 2013 in India has its office in the United States as well. GoodWorkLabs have a highly talented design and development team of 50 – 249 people who all are passionate about creating a super-successful product.
GoodWorkLabs is a trusted staff augmentation company for IT augmentation and team augmentation. Clients ranging from Fortune 500 companies to budding startups, each one of them trusts GoodWorkLabs as their right technology partner. They work at the rate of $50 – $99/hr and bring the colors of clients' ambitions onto the soft canvas.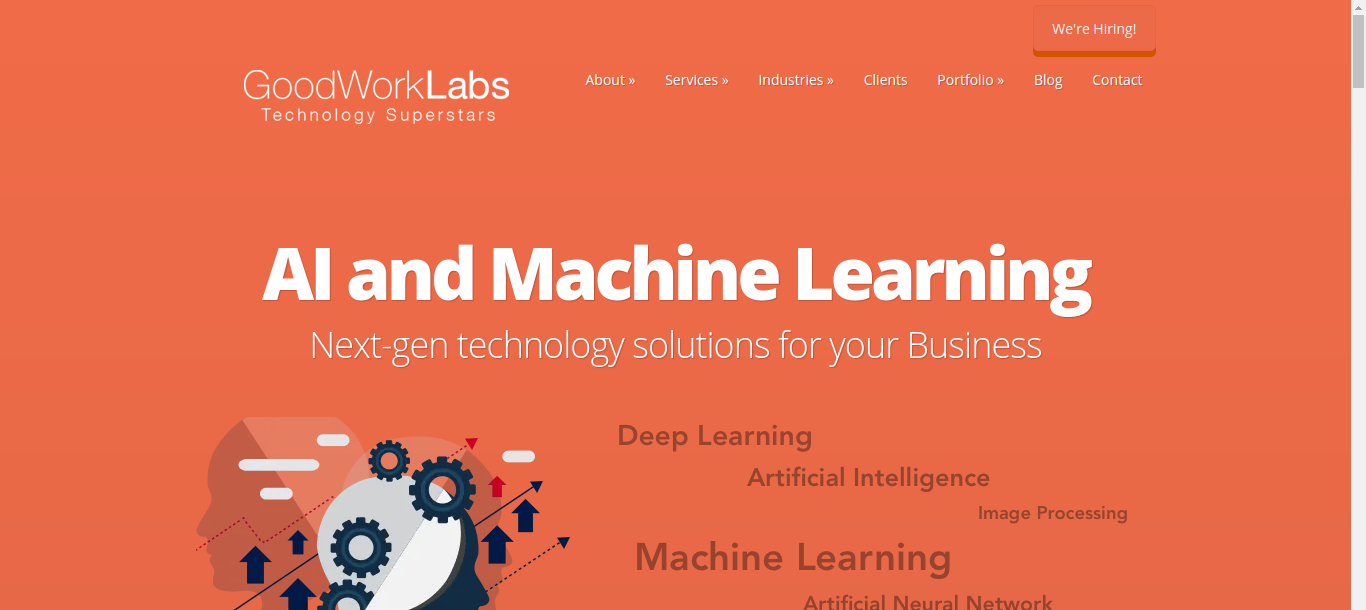 With a mission to solve complex IT problems for customers, the company masters in high-end mobile/gaming apps, custom software development across technologies including Ruby on Rails, Java, PHP, Mac, iOS and Android. Along with it, the firm is good at building intelligent software systems using big data technologies and Artificial Intelligence.
GoodWorkLabs portfolio embraces big clients like Mercedes-Benz, SAP, Unilever, Avaya, Sesame Street, Medtronic, JDA, Siemens, Standard Chartered, ST Dupont, Flipkart, Paytm, Myntra and CommonFloor. GoodWorkLabs gets customer's apprehension for innovation in their work and timely delivery of every project they are onboard with.
"We are a pure AGILE company. We live, breathe and dream Scrum and Extreme Programming." – Team GoodWokLabs
"They have a high-performance team and they understand the customer mindset, so they can cater to their needs." Customer engagement and sales increased. GoodWorkLabs established firm responsibilities, roles, and timelines. They were transparent, making their progress easy to track. The team was very professional."

– Amit Kumar (Co-Founder, Venture Transform Strategy Consulting LLP)
5. BEETROOT AB
The company was incorporated in 2012, as an IT services company that focuses on IT augmentation, custom software development, and web development. Beetroot AB has its headquarters in Stockholm with an office in Ukraine. The team of 240 works with mid-market businesses in the information technology, advertising & marketing, and augmentation service industries.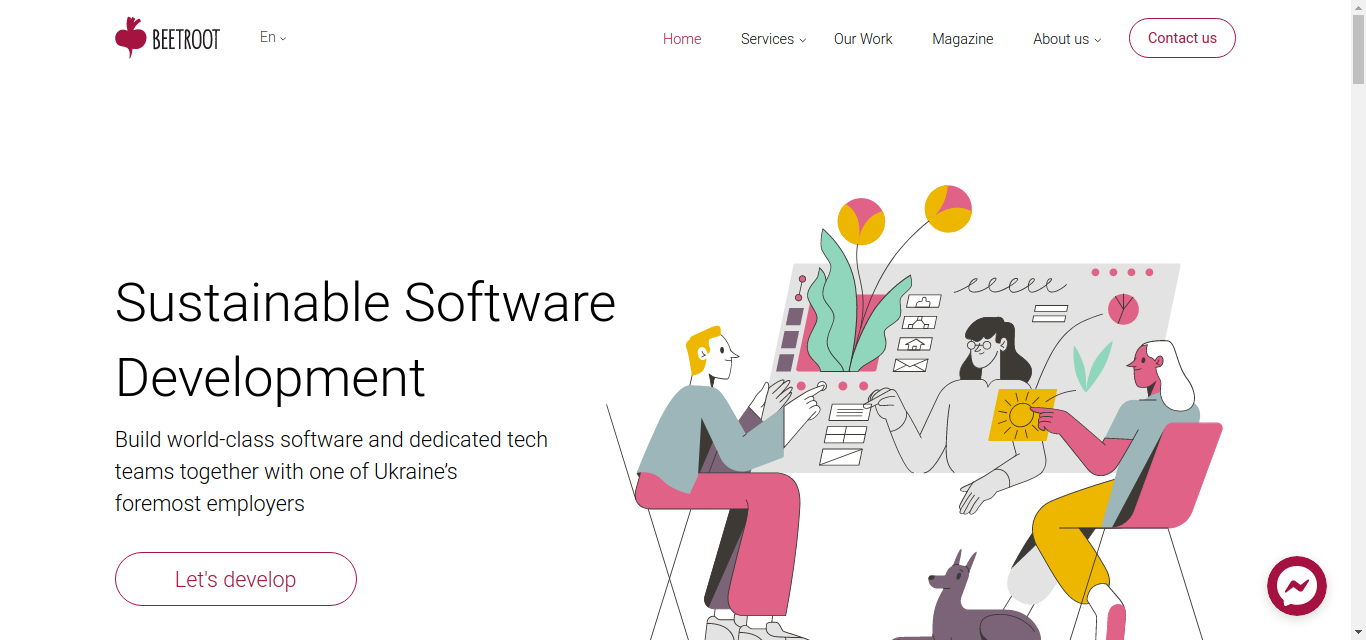 It is a Swedish-Ukrainian staff augmentation company that helps startups and enterprises to scale their business in a sustainable manner. The company withholds a people-focused culture, and it engages more than 450 people across 7 locations in Ukraine and Sweden. The company majors in MVP development, WordPress development, custom web, mobile, game & VR, DevOps, data management, art, and design (UI/UX, Illustration, 3D Animation). The company is run by a cooperation model under which they provide team augmentation and end-to-end software solutions.
Beetroot AB provides IT staff augmentation services for the client. The client is always satisfied with the services and thinks of Beetroot AB as a part of the team. Beetroot helps you build teams of software developers and other tech talents to work on your product. Pixel, Inverse Paradox, and OVPN are some of the key clients of Beetroot AB.
"Their communication was great. We travel to Ukraine pretty often, and their whole team is engaged with our work and company. They're involved in company meetings."
6. ANDERSEN
Andersen, or A-Soft, founded in 2007, is an IT staff augmentation service provider based in Minsk, Belarus with additional offices in Russia, Finland, Ukraine, and the U.S. The company employs around 1,000 – 9,999 people, and min. project size is $10,000+. Andersen with an average hourly rate of  $25 – $49 / hr serves enterprise, mid-market, and small business clients globally. Andersen's specialty lies in BI and Big Data consulting and mobile app and custom software development.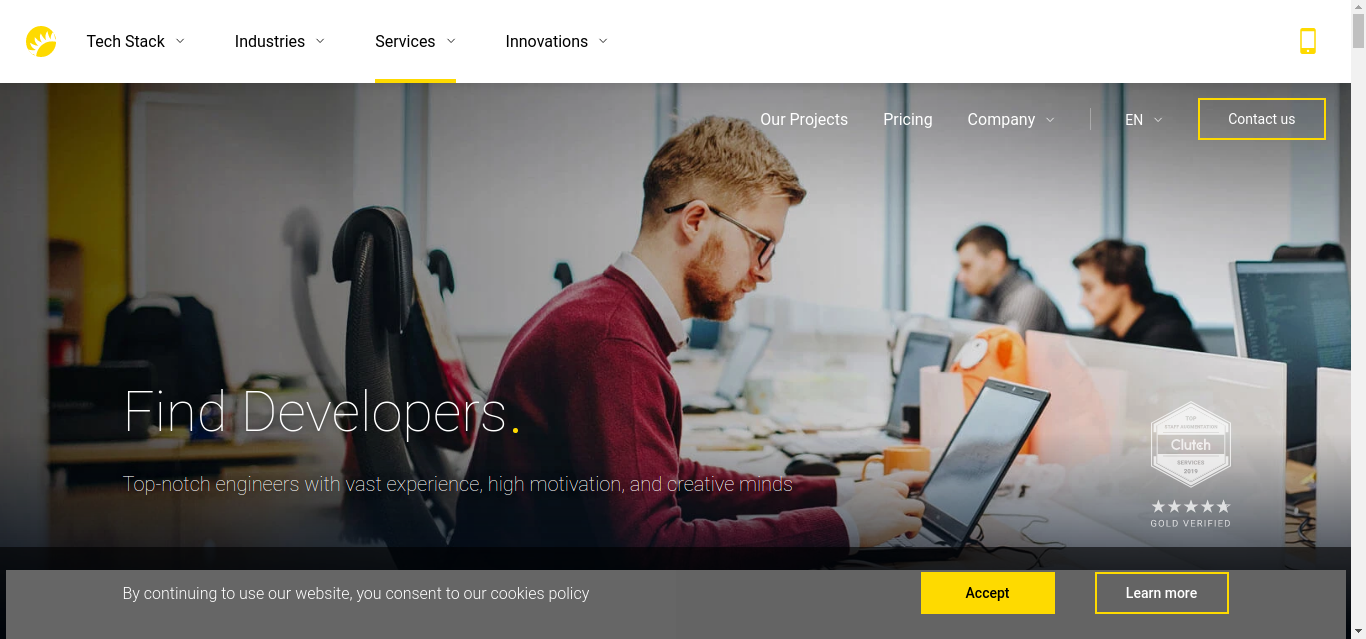 Andersen is profound at providing PHP Laravel development for the web app and supplied Ionic applications that run using data from the client's database. Andersen's reliable development allows several third-party platforms to have API integrations with the app and this is something that differentiates Andersen from the rest of companies in the marketplace. GlobePayroll, Samsung, Marvel, Media Markt, Kaspersky Lab, IHS Markit, and Amazon are some of the former clients of Andersen.
"They finished their work on time and the quality was good." The project is currently paused due to extenuating circumstances, and they plan to pick it up again. So far, Andersen has delivered quality work. The team followed a scrum methodology, ensuring that everything was delivered on time."
7. Rootstrap
Rootstrap, founded in 2011 has is a staff augmentation agency that has helped launch more than 750+ digital products with more than 100 million combined downloads. They aim at helping enterprises scale people, processes, and products by building something great. With an hourly rate of $100 – $149 / hr, a team of 50 – 249 people work their best to iteratively design software solutions.
Whether you have a custom app built from scratch or need some extra development muscle for your internal projects, Rootstrap's dedicated developers are some of the best in the world, they'll build results-driven software that matters for your business. The company specializes in resource augmentation, web development, mobile development, staff augmentation, and emerging tech like AR/VR, artificial intelligence, blockchain and cryptocurrency, chatbots, and ML/deep learning.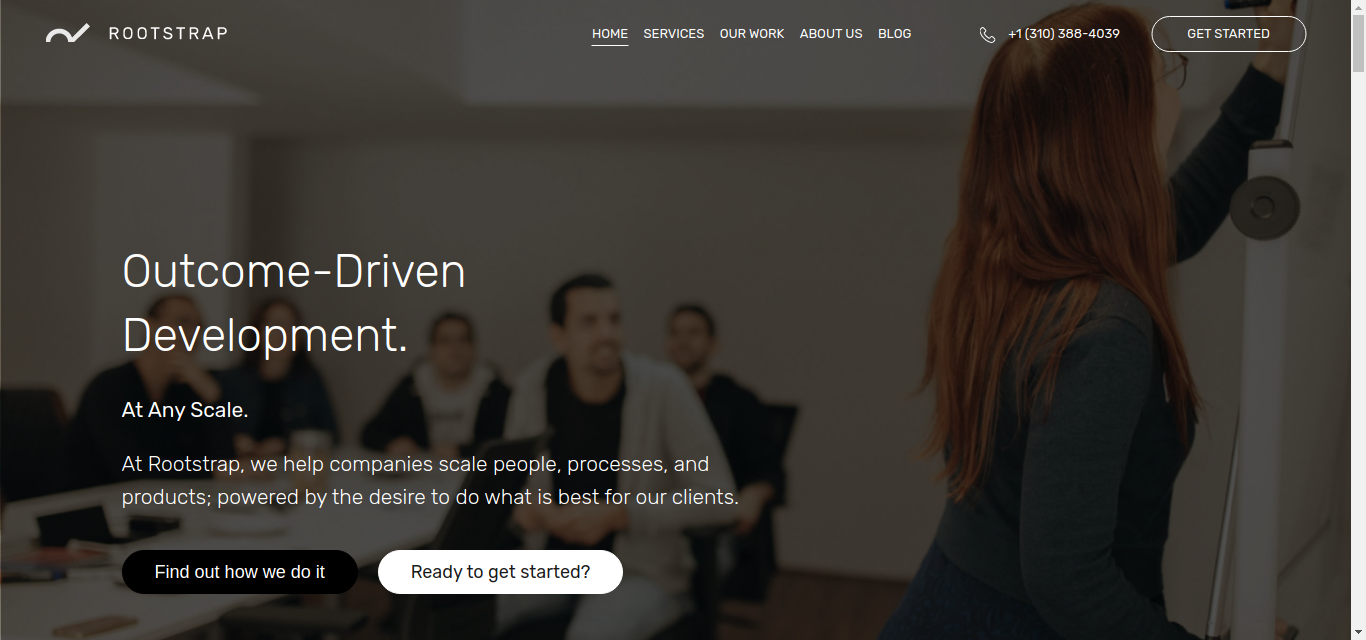 Key clients on Rootstrap's portfolio are  MasterClass, Google, Salesforce, Universal Music Group, FanBread, Cash Money Records, Spotify, Snoop Dogg, CES, Disney, Tony Robbins, Microsoft, Epson, Loftey, Ericsson, Die Antwoord, Live Nation, TikTok, and Adidas. For achieving your business goals & generating ROI, Rootstrap is one of our best recommendations for offshore staff augmentation.
"We could trust them to deliver." Rootstrap delivered a functional platform that supports a significant amount of traffic without failure to encourage conversions. The team is accessible to encourage collaboration and transparency with scheduling to streamline the engagement. They are flexible, which ensures a supportive partnership."
8. N-IX
N-iX is a software and staff augmentation service provider based in Lviv, Ukraine. They are a team of around 1000 employees and they provide custom software development, Artificial Intelligence, AR/VR development, and application testing. N-iX, founded in 2002, is a Ukraine and Poland based software development outsourcing services, game development, and augmentation services with 1000+ technical experts.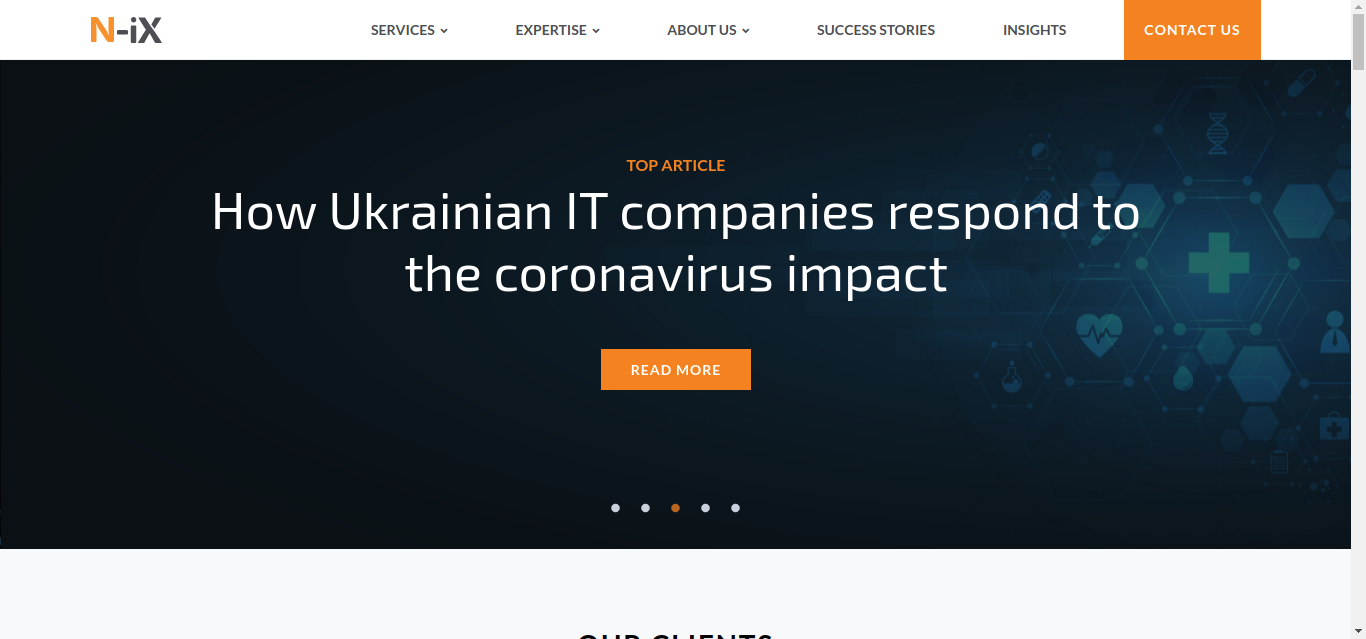 N-iX provides development services to different clients in different domains. The agency is known to increase the average page stack and average time on site by 50%. Min. project size they undertake is $250,000+, the average hourly rate is  $50 – $99 / hr. Company values Data-driven decision making, advocating an agile approach, and freedom to innovate. Cure Forward, Lebara, HotSchedules, OpenText are some of their notable former clients.
"We were looking for a company that would help us expand our business. And we really liked the N-iX approach and cooperative model."
9. ScienceSoft USA Corporation
ScienceSoft is a Texas-based IT provider of software development and staff augmentation services. The company is known for its best practices for delivering products of sustainable quality. The company has its offices in the EU and Eastern Europe and clients in 40+ countries around the globe. Since 1989, ScienceSoft has been solving business challenges of large Fortune 500 corporations, small and mid-sized enterprises, and start-ups with their digital transformation.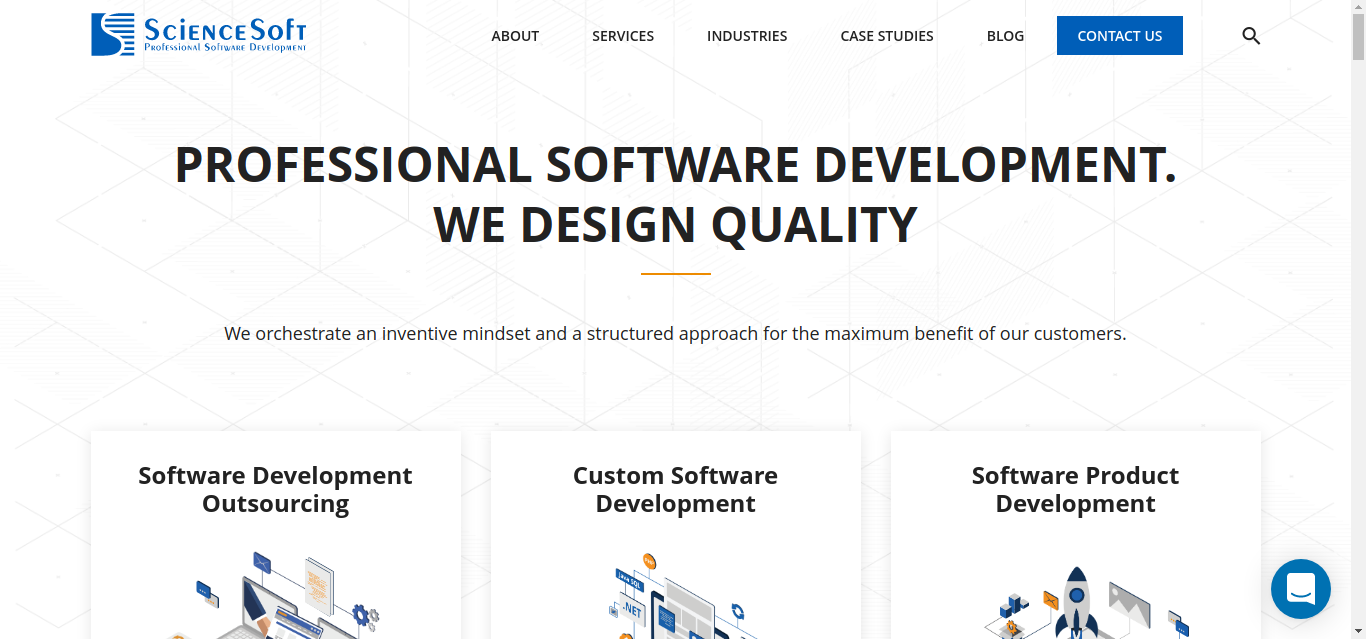 The company holds the command in manufacturing, healthcare, retail, logistics, banking, and other domains with a team size of 250 – 999 people. They are tech partners with IBM, Oracle, AWS, Salesforce, Microsoft, and hold 6 Microsoft Gold Competencies, including Application Development, Collaboration and Content, Data Analytics, Datacenter, Data Platform, and Messaging.
"ScienceSoft has been highly professional throughout the process and helped us through all the steps of testing. ScienceSoft has high technological competencies to perform the needed testing as well as relevant domain experience. Everything was delivered on time and on budget. I'd highly recommend ScienceSoft."
10. Ishir
Established in 1999, ISHIR is a reputed offshore staff augmentation company based in Dallas. ISHIR specializes in software development, web design and development, managed cloud services, software testing, application development services, and PWA. They also offer a handful of services in next-gen Internet of Thing (IoT) and AI, Machine Learning, Robotics, and Big Data services.
With a global delivery center in Noida, India, Ishir is a trusted name for software and staff augmentation services in the Indian subcontinent. We highly recommend you choose ISHIR as your agency as they are a unique combination of skilled people, world-class processes, and robust technology.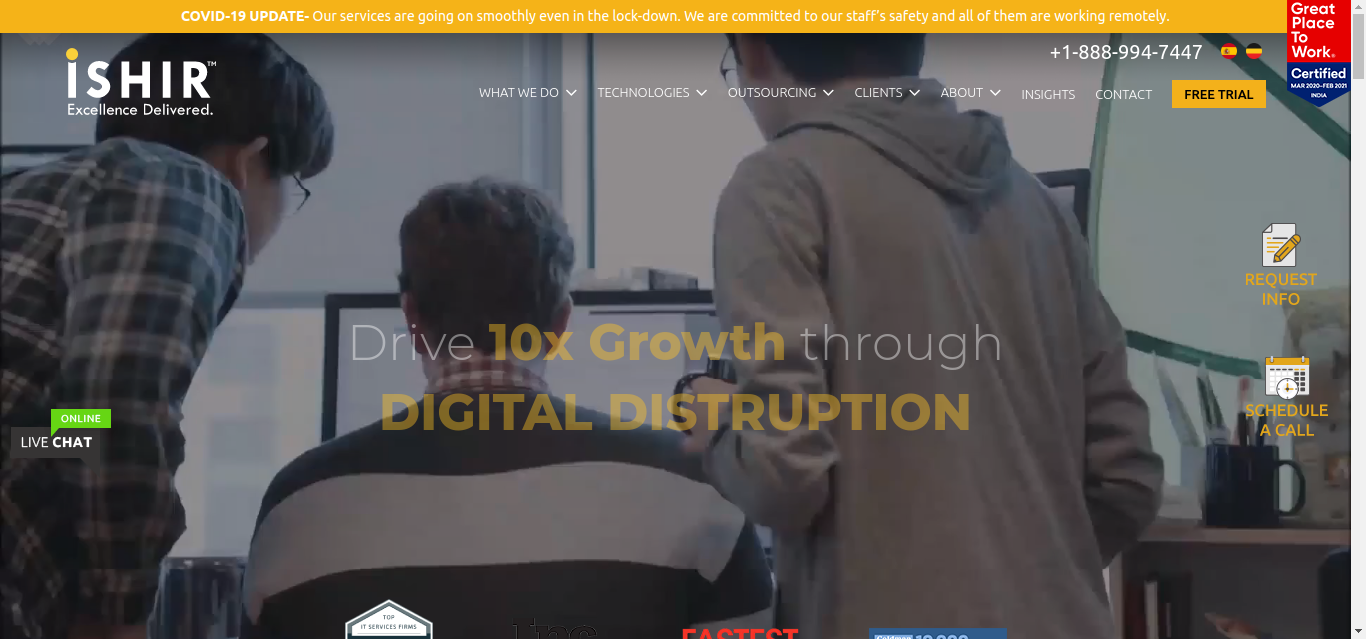 ISHIR has extensive experience in providing outsourcing non-core business processes – IT functions (custom software development, product development, SharePoint consulting and development, mobile app development, software testing, managed IT services, managed hosting, cloud computing solutions), Interactive (web design, web development, mobile websites, PWA), Internet Marketing (search engine optimization (SEO), paid search (PPC), display, web analytics, and social media marketing services), staff augmentation services, virtual employee, setting up Built Operate Transfer (BOT), specialized R&D facilities, and non-IT business process outsourcing (BPO) functions (data entry, research, photo editing, customer support, finance).
ISHIR is a small team working at an average hourly rate of  $25 – $49 / hr and min. The project size is $1,000+. It is an SEI CMMi Level 3 company known for team augmentation. They are also Microsoft Gold Certified Partners, VM Ware Solution Partner, and Google Adwords Company. They have been awarded by INC. as America's fastest-growing 5000 companies.
The portfolio consists of key clients like; Automobile (Honda, Rack n Road) Digital Marketing (Advertise.com, Owen Media) Finance (Always Money) Fortune 500 companies (Samsung, Motorola, Yahoo, GE Money) HealthCare & Wellness Providers (Dental Warranty, CareNow) Hotel (Hyatt) ISVs Manufacturing (Thermaflite, Houk AC) Non-profit Pharmaceuticals Real Estate Restaurant (Ghenghis Grill, SugarBacon) Small and Medium Businesses Software (Ergos, MOGO) Travel University (Boston, Auckland) US Government.
"They're very honest and let us know if our ideas won't work, making sure we go down the right path." ISHIR delivered a high-quality product and the in-house team is happy with the outcome. Exceptionally responsive, ISHIR went above and beyond to meet all needs, while their personable approach and commitment made them easy to work with."
A bonus option for top Staff Augmentation Services…
Skelia is an internationally leading staff augmentation company that specializes in building cross-border IT and engineering organizations and affiliate companies in Eastern-Europe. For over a decade now they have been providing staff augmentation services to a diverse range of clients—from start-ups to Fortune 500 companies. The company has its present operations in Luxembourg, the UK, the Netherlands, Ukraine, Poland, and the US.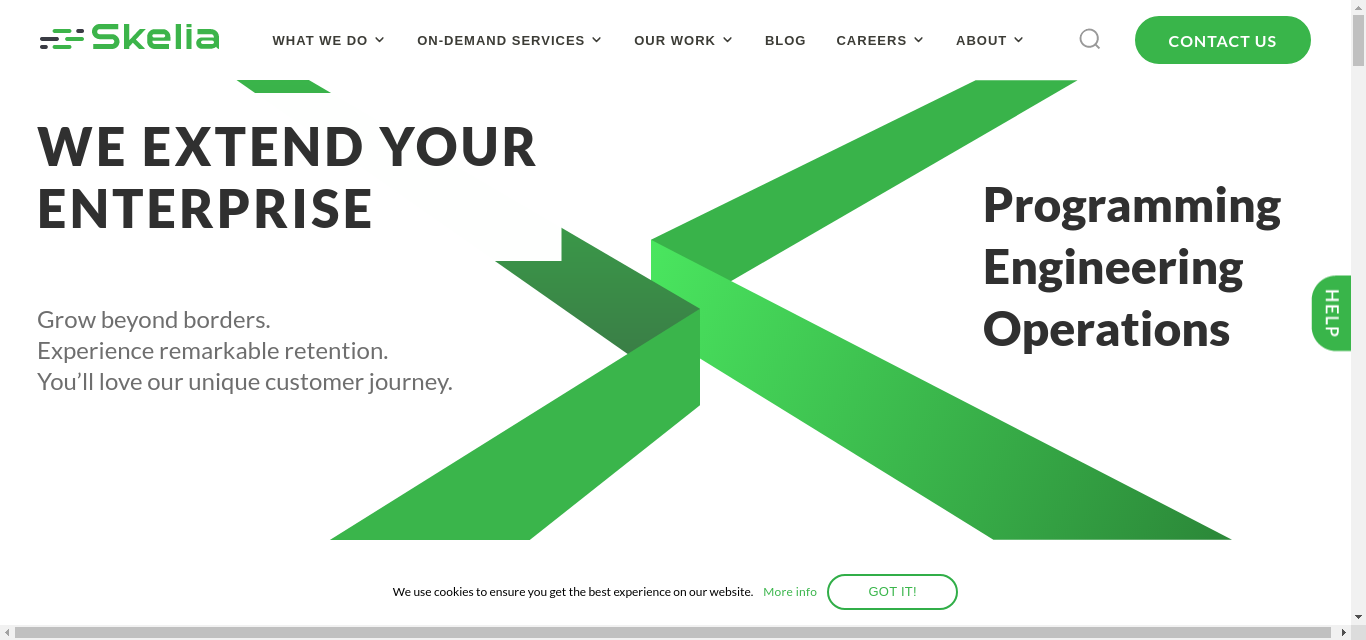 Skelia allows clients to optionally acquire a team of dedicated software developers for their products. The team augmentation is carried out in a systematic manner. Teams are categorized according to the desired tech stack and your project requirements. Staff Relocation is something Skelia is good at. They relocate IT and engineering talent. 'Team Transfer' is one of their unique offerings. Under this, they give their clients the opportunity to transfer their Skelia team into a fully customer-owned legal entity. The company has built more than 100 teams for European and US companies in various industries.
"They are one of the best teams our company has worked with." Throughout the partnership, Skelia provided top-quality code and helped to improve internal processes. In addition to having exceptional communication skills and always being transparent, the team was able to produce good work while adhering to deadlines. Overall, they were incredibly professional."
Often, new tech projects require more of an investigator and solution-finder kind of developers, rather than of direct action. Recruitment managers know that hiring one could be a challenge. To overcome this challenge, you can go for dedicated hiring from EngineerBabu directly. We at EngineerBabu ensure that the developer is an expert as well as experienced in delivering world-class products. Reach out to us for IT staff augmentation services. We value the new remote culture and understand the business needs as well. Feel free to with us, we promise to give you the best.