Mericar.com
Mericar.com is mobile app which is leading car repairing shop provider nearby your location. Using Mericar.com Mobile App mobile application what we are trying to achieve
Search in Specific area
Enable your GPS and get Service centre nearby
Click on Store to get more info
Get navigation from your current location to store.
Call Service provider
Check rates / Offers / Timing required
Map view of Mechanic and Service centre
Admin panel to manage all listing.
You can check more details here
http://economictimes.indiatimes.com/slideshows/biz-entrepreneurship/six-unusual-successful-online-startups/mericar-com/slideshow/23449559.cms
As per Article of YourStory
How MeriCAR.com is creating entrepreneurs in 1000 cities across India
Car servicing industry in India is highly fragmented and to an extent inconvenient from the consumer point of view. NCR-based marketplace of car workshops and auto repair shops, MeriCAR.com is expanding its operations across all over India. The venture was founded in 2008 by Rakesh Sidana, and helps car owners search the right car servicing and repair center locally.
Project – My Dream, My City
One of the recent endeavors of MeriCAR.com is their new project, 'My dream, My city' with which they aim to make their presence in every city.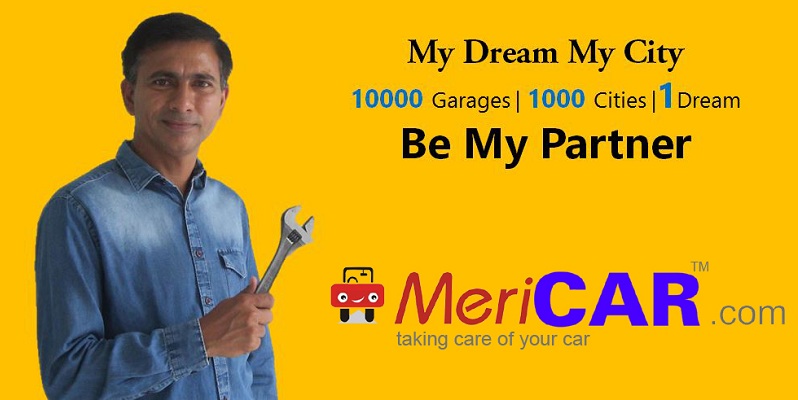 According to Rakesh Sidana, Founder of MeriCAR.com, "I want to see MeriCAR running in every city. This project can create huge job opportunities in India. We are looking for entrepreneurs from all walks of life, including housewives, retired persons, unemployed and anybody who likes to work and earn at home, can join MeriCAR.com.We plan to run this India project with minimum admin interference as all the training material and videos will be available online."
The company is inviting applications from entrepreneurs to become partners to enroll 10,000 member car repair centers from 1000 cities. The partners would help the company to sell its services in other cities by establishing a car workshop network in their cities. They will get a share in the revenues generated from their area.
The ideal partners would be a person who wants to work for himself/ herself or self-employed professionals like car insurance agents or people who have taken a break in their careers or who are already working from home and looking to supplement their income. No prior auto industry experience is required.
Mericar.com will provide their proprietary customer relationship management software which will help partners to manage and grow the business in their region.
More details about this you can check here http://yourstory.com/2014/05/mericar/
If you need mobile application / web application you can contact us