After carpooling, bike pooling is the new trend and most of the people are considering this as it saves time and money. It opens opportunities to develop a ride sharing app. In metro cities, traveling in cabs consumes a lot of time as there's always traffic on roads and obviously it takes longer for cabs to find a way through it. But with bikes, it's easy to overtake through the little spaces between the cars. Hence, bike pooling comes into the picture.
Also, sharing a ride with someone gives relief as the driver cannot fool you or harass you. People are likely considering bike pooling as it's safer, cheaper, and faster. Ride sharing app on your phone provides a sense of independence. Here in this blog, we will be discussing how to build a ride sharing app.
An Introduction to Ride Sharing App
The bike-sharing app provides you a platform through which you can do bike pooling and bike taxi booking. The bike-sharing app gives you a virtual environment to interact with like-minded people, expand your social network and most importantly minimize your cost of traveling in your day to day life by ride pooling. It demands the need for an excellent ride sharing app following Ola's Rapido and Bla Bla Car.
For migrants who want to travel at affordable prices, bike pooling is the best way to travel and to make this mode of transport more accessible, a ride-sharing app is required. In the fast-moving world, transportation has to be fast to compete with the ever-changing world. A ride sharing app promises a faster and affordable mode of transport.
Bike Pooling has become people's daily choice of transportation. This creates a great market for a bike ride sharing app. It is a great change today as we all live in a mobile-driven environment where we don't have to go anywhere, just take your smartphone out of your pocket and click through an easy-to-go app to order, book, or buy things or services you need. With a ride sharing app on your smartphone, bike taxi booking can be done and you can travel to your destination doing bike pooling.
Recommended Reading: How to build a Mobile App for On-demand Bikes on Rent?
Users for Ride-Sharing App
Passenger: To get a shared ride to their destination which will take less time, money and would offer a safe and convenient environment.
Rider: To share his vacant seat with a passenger who is traveling in the same direction, which will help him to save some money and also helps in saving the environment.
The business model for Ride Sharing App
The rider will book a ride in this service, selecting the destination and sharing the ride with other riders who are going to the same destination. Various bike pooling service giants such as Quick Ride, sRide, BlaBlaCar and many other transportation companies provide these ride-sharing and car/bike pooling services. Travelers and young people, who often travel to different destinations, are extremely popular with these services.
Problem statement for Taxi Hailing App
You can use a bike taxi app and request a bike ride to your destination. You may ask why you would want to drop the comfort of traveling in an AC car. But when you want to travel fast and cheap, nothing beats a 2-wheeler option like a bike.
Bikes can cover distances in significantly lower time compared to cars in congested urban cities. The cost savings are pretty obvious. It also reduces fuel consumption and creates less impact on the environment. Busses don't have a proper schedule and you'll have to wait for long hours sometimes. If you want to start your trip at some particular time you need to be a minimum of 15 minutes early.
It is quite frustrating if you are waiting for the bus or other transport vehicle and they are fully packed, the user then will have to let go of the buses because there is no room. Our intention to help users book a bike for their convenience of transport so that they don't have to face the troubles of waiting in queues for buses or other public transportation.
Challenges in building a Bike Rider App:
Our client has been doing research on the business model of the ride-sharing app but there are certain challenges in it:
1.  Same Gender matchmaking:
This is a very big concern that female riders and passengers could not allow or go with any men until they know them personally because they are afraid of harassment and other serious crimes like rape. On ride sharing app, riders would be making their profile and then they would be verified before letting them ride sharing with other passengers.
So we made a system in the app to let female riders accept the only female passenger request on the highest priority.
Recommended Reading: Best Ride-Hailing Apps in USA
Despite it, the Govt is mandated that businesses are solely liable for any kind of crime which happens through this app. Like rap, murder, and robbery, businesses have to pay the losses.
2.  Vehicle verification:
It is quite complicated to verify each vehicle that has been added by a rider because we can't restrict them to not add multiple vehicles. If we restrict them then it will have an impact on the business. We asked every rider to verify first your vehicle and upload all the documents for the record
3.  Same direction request establishment:
There's a huge problem with how to show only those riders who are going towards the same location because if multiple people are going towards the same, their routes might be different. So, the app will allow people to opt the route according to their convenience and let riders know your exact location.
4.  Request assigning:
Requests will only go to the particular rider who is the nearest and about to go in the same direction.
5. Adhar verification;
Have to follow government rule and regulation for the verification of the Aadhar. The Government can't easily allow any businesses to use the Aadhar API, there are so many processes after that they give limited verification permission.
Since this API was paid and we have to pay money for every API calling whether a user was verified or not. API just gives us success and failure parameters.
USP for Ride-Hailing App
Locate nearby vehicle pick-up and drop location.
Ease the pickup process by eliminating the onsite ID verification process.
Verify the user based on the driving license.
Give the user insight about his whole journey with the company.
Notify users about its upcoming scheduled ride.
With bikes, you can dash through the traffic instead of getting stuck in traffic.
You can travel at flexible timings. No need to wait for bus/trains or company cabs.
UI/UX for Ride Sharing App
After running a campaign in various office promises, colleges, schools, and coaching institutes to know the idea of how they want to use the app and what factors make them feel easy to use and what features they frequently use, the UI/UX is designed.
80% of the audience recommended that they need to book the rider on two steps and have the feature to know about their friend who is in the same college/school and coaching institute and better to have the feature by which we can know how much the rider is going to charge per km. A few people said they need a feature to add the daily route in order to save the time to add pick and drop location every time.
Recommended Reading: Build your own Fleet Management Software just like UberFleet
So we consider all the factors suggested by the audience and keep the app clean and user friendly. Users can just add pick-up and drop off locations and will get the results based on it automatically.
Personas for Bike Pooling App
Professional (Passengers)
User Type
Professional client
Name
Anupam Mazumdar
Age
30 Yr, Married
Occupation
Computer operator
Location
Indore
Frustration

Little expensive & time-consuming transportation.
Heavy rush in peak hours.
Lack of security inside the means of transport.
Very few modes of payments, standing in the queue to make payment is time-consuming.

Goal

He wants to reach the office early and leave on time to spend quality time with his friends and family.
Subconsciously, he needs someone to talk to pass his time when he travels lonely.

Expectation
Mode of transport which saves money & time.
Rider
User Type
Rider
Name
Ashok
Age
25 Yr, unmarried
Occupation
UI designer
Location
Indore
Frustration

Sometimes it's hard to save money to pay the bike EMI.
High prices of petrol frustrate him because heavy bikes give low mileage.
No other way to earn money while traveling.

Goal

He wants to share his bike ride with other people who are traveling on the same route to earn money to meet his expenses.
But he also doesn't want to get late to his own office due to an off-route booking.
He gets bored when he travels alone, he wants to share his interesting stories with someone while driving.

Expectation
Earn money, spend time with like-minded people.
The flow of a Bike Rider App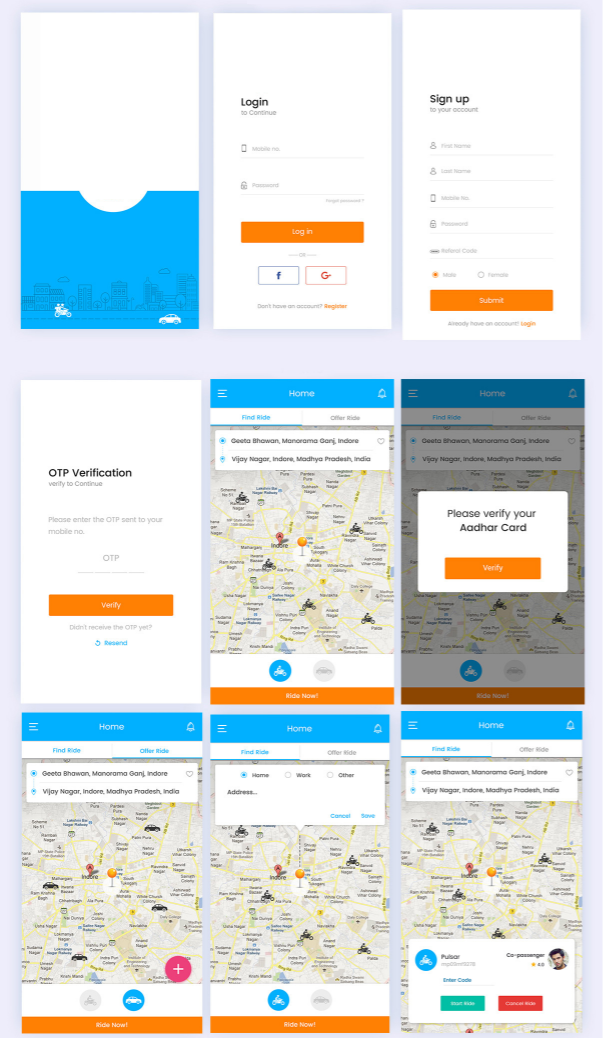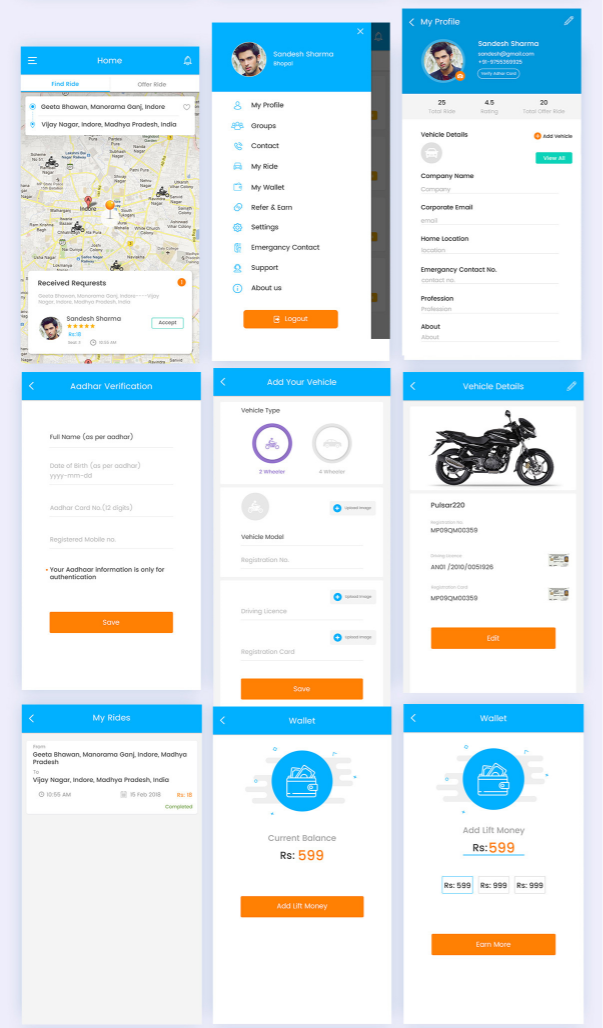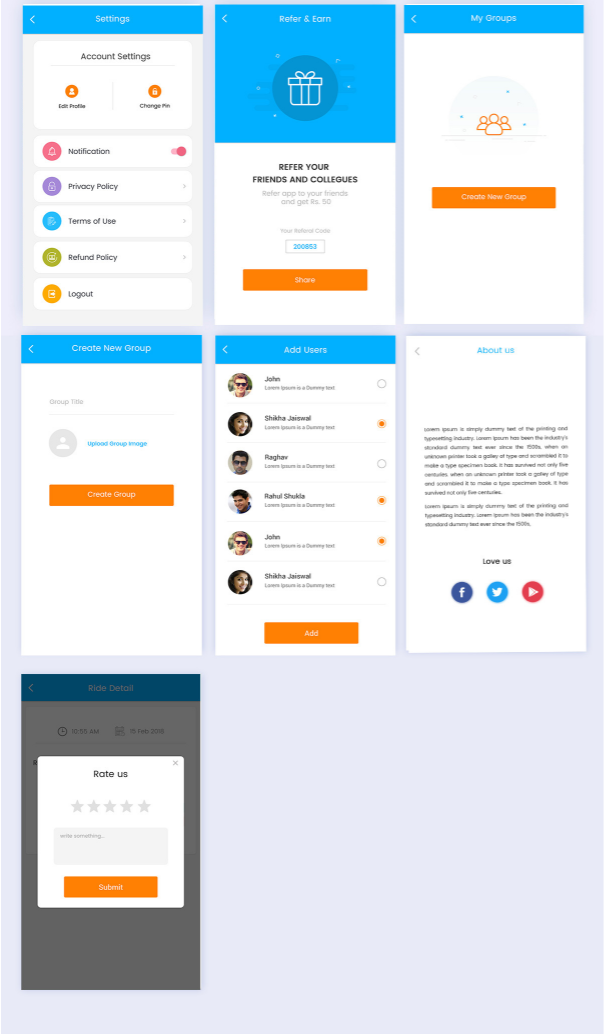 Features of Ride Sharing App:
For Riders:
Register:

 Contact Number
Adhaar Card
Vehicle information is a must. Vehicle registration

Login:

One time login.
Users can also log in through social media i.e Facebook.
Integration with social media profiles Facebook for additional information

Reduce your commute costs and earn while commuting.
Utilize the total number of seats available in vehicles and help in reducing pollution.
Make your daily commute more lively.
Select a passenger from a list of passengers traveling along the same route.
See the rider en-route on the map.
Rider picks up the passenger at the time of travel.
Verify the vehicle
Add the charges
Add the route
Accept the passenger request
See the all passenger request
Get the feedback
Block/unblock the user
When the user starts the app, he/she can see the number of ride seekers who are willing to take the ride.
Gender-Specific; this means female users will be shown female riders only and males will be shown male-only.
For Passengers:
Use the app to find the nearest rider.
By default current location.
Address Search – Search rides for the addresses you want.
From and To should show recent locations.
Passengers request a ride by giving pickup and drop locations and time of travel.
The user will see the distance and also the cost when he is searching for a vehicle.
Maximum seats should be 2
Two modes are required i.e. Scooter, Bike.
Date and time are required.
After booking, the user can call that person just to confirm the time and to let him know the exact location.
Post submitting this auto-assign of the nearest person should be done and also share the screen of the same.
Post submission of auto-assigned to the same route rider.
Users can also cancel the ride.
A pop up after every ride asking for home/college/office location till the time one accepts.
Live Tracking (for dear 1) similar to WhatsApp (15 minutes. 1 hours and 8 hours)
The fare will be equally divided among the number of people.
50 Meters default distance if the user forgets to off the ride. Just in case the user forgets to end the ride, as the distance between the rider and the passenger will increase to more than 50 m, the ride will end automatically and the charges will be automatically deducted as in the case when the ride is ended manually.
Ride partners can view ratings and feedback of each other that they received from previous rides based on punctuality, comfortability, vehicle condition, and overall ride.
For female users, they can choose to travel with a female co-rider.
Fix a time for female travel with the unknown.
Send an alert to an emergency contact through SMS in case of an emergency.
Emergency contact can see the ride route and track the current position from the link sent.
Share costs through the app fully cashless.
You retain control about whom you want to join with.
Get your ride with verified profiles.
You can restrict sharing rides with verified employees of your own company or with the same gender.
The flexibility of timings: helps to connect with ride matches instantly and completes the transaction at each ride.
Features like live ride view on map, and in-app(group) ride coordination seamless.
Customizable routes and pick-up/drop-off points: Default route and matching pick up or drop points can be customized as per user choice.
Instant matches Offer a Ride – Post a ride in just 1 step and get INSTANT ride matches Option to select your co-rider based on their review & rating.
Recommendation & Notification – advanced recommendation engine that keeps you updated about rides near you.
Safety – With a multilevel verification process, we make sure that you ride with verified & safe riders.
The 2-way review is mandatory for every user after completing each ride.
Tracking technology with detailed trip information.
Get real-time support and help.
Detecting your trips and logging them automatically.
Calculating trip distances and value.
Create or edit trips as needed.
Pause tracking.
Users can deactivate his/her accounts.
SOS for the call. (The user can call the respective user who he/she is going to take a ride.)
 If the user has any kind of inconvenience, he can cancel the ride.
The service provider also has the option to block the user.
Users can also rate the user who took the ride.
Promotion & Referral – Refer your friends/colleagues to using an in-app referral system and get free points that can be used to ride free in the future.
Groups/friends
Create Group:- will be a group for university/college/ coaching and office.
Users can check mutual friends on the application.
Fetch Facebook friends who are using the app.
Users will only see those vehicles which he/she knows personally like Facebook friends or his/her contact list.
Groups should be more of an internal mechanism to prioritize user results rather than an option for the user.
The personalized group is required which will show FB friends, contact details, etc and other which user want to add (acceptance of the one to whom the request has been made should be there)
Payment model:
Passenger chooses the mode of payment and proposed ride fare, Wallet payment.
The passenger pays the Rider the ride fare if payment mode  Payment mode is not cash.
The minimum Bike ride fare is Rs. X
Other than credit cards one should have the option of paying through Paytm, Pay u Money, etc.
Also, the present balance should reflect on this page
Pre-defined amount should be there, like 10,20,50,100,200 etc
The payments are cashless and completely automated. Ride partners can share costs seamlessly, without even discussing payments. The rider can encash accumulated points in the app,
Users will need to recharge the lift wallet from which 10% will be deducted as service charge and points will be provided valuing the remaining 90% amount though numbering 100%. Understanding this through an example, for instance, someone has recharged for Rs. 100/-, here he would get 100 points valuing Rs 90. And Rs 10 will be deducted as a service charge.
wallet through net banking or credit/debit cards. This amount can be later used to pay for rides or redeemed as per the offers in the redeem section.
Admin
 Realtime information on the location and bicycles.
 Email and admin authorization on system access and plan purchasing.
Create a time slot for live tracking.
 Total registered user
Total ride daily/weekly/monthly.
 System off hours.
 Manage report
 Manage payment
Total fake user
Total blocked users
Total
 Analytics and visualization of key metrics to help manage and grow the system.
 Customizable plans that allow free rentals, free time, selective access, and other charging methods.
Integrated credit card processing and direct deposit.
If you are also planning to develop your own similar ride-sharing app or bike rider app, then please feel free to reach out to us. Our team at EngineerBabu is experienced in delivering excellent apps and software. We have been developing similar apps and our team of ride sharing app developers can help you build the same.
Since we have been delivering IT solutions to a wide range of clients, we know the errors that come in the way and how to solve them. If you have any kind of doubt then we are there for your help. Feel free to even if you are in the ideational stage. To read more blogs and success stories, visit our website.
Also Read: