Financial Technology or its portmanteau 'FinTech' is no longer confined to the dark and dingy corners of back-offices, in fact, it has taken center stage by making itself indispensable to almost all of the customer-driven processes. Any digital transaction, be it, online shopping, foreign currency exchange, stock investments or money transfers, is possible at our fingertips thanks to 'FinTech.'  So, how did FinTech come to play such an essential role in the lives of us consumers and What FinTech Trends we are going to witness this year?
As Mr. White used to say – "I am the one who knocks".
This new explosion in IT is definitely the one that is knocking on every VCs and investors doorstep. This could be precisely said because the overall investment in Financial Technology has already surpassed the 2017 results in mid-year itself.
Let's take a look at some of the major breakthroughs that occurred in FinTech this year,
• The acquisition of WorldPay
WorldPay (now WorldPay, Inc) was publicly listed payment processing platform which provided online services for accepting electronic transactions by a variety of methods such as credit card, bank based or direct transfer. It also offered a range of merchant services and operated in an extensive demographic (400,000 merchants in 146 countries) across the globe. It was acquired by Vantiv, a leading provider of payment processing services and related technology solutions for financial institutions. The $12.9 billion acquisition came as a significant step forward for the two giants.
WorldPay which competes with the likes of VeriFone, PayPal, Stripe and several others gained significant momentum after the acquisition.
• The Funding of Ant Financial
It didn't come as a surprise to many when China's Ant Financial raised about $14 billion in its last seed round. After all, it is backed by one of the biggest names in the industry (Alibaba Group Holding Ltd.).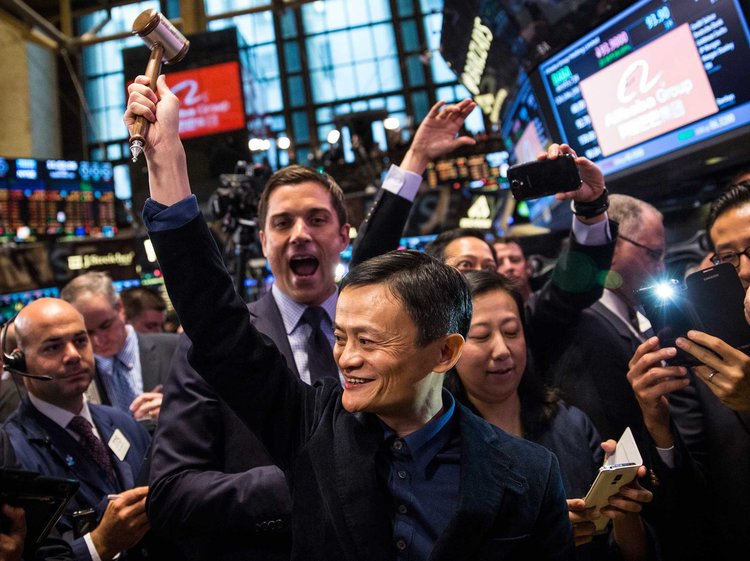 The funding made Ant the world's leading FinTech firm. The funding undeniably equipped them with enormous resources for expansion. The affiliate of Alibaba Group Holding Ltd. is alreadyChina's biggest online payments service and even controls the world's largest money market fund.
"Now, with the help of our partners, we are going to accelerate our strategy," Ant's CEO Eric Jing said in a statement to Bloomberg.
Recommended Read: Top 10 FinTech Companies Transforming Finance in USA
Analyzing the above developments we could accurately predict where FinTech is headed in 2020.
Let's take a sneak peek,
Fintech Trends in 2020
1. RegTech is here to stay
Compliance, Complexity, Cost and Bureaucratic processes have always stifled the development of the finance industry. The long and tedious processes have proven to be a bane for the industry. This led to the reincarnation of a morbid industry that never saw a significant thrust since the spurt of the dot-com bubble. Consequently, we are seeing a lot of financial firms shifting to Regulatory Technology (RegTech) to bridge those gaps.
One must wonder- What exactly is RegTech??

It is essentially the use of technology across financial services functions to ease financial tasks such as regulatory compliance. It has a significant impact on financial services.
In simpler words, it is a technology that helps financial service firms get better at dealing with regulation. For instance, Know Your Customer (KYC). But the benefits of RegTech far exceeds than just KYC.
As the world is moving from big data to 'smart data', technologies such as artificial intelligence and machine learning are enabling companies to gain insights into regulatory practices, automate reporting, carry out a meaningful inspection of critical compliance risk areas and even potentially create an end-to-end view of compliance.
Companies are using RegTech to deal with the vast amount of data they are generating. More data handled the right way also means better information. Many VCs and investors have already started riding on the RegTech bandwagon, due to which there has been a significant increase in the investment across this lucrative sector.
There has been an investment of $1.37 billion in the first half of 2018 – more than for all of 2017. RegTech has a promising future ahead, and these new-age startups will be the ones to watch out for in the upcoming calendar.

1. Governance.io / governance.com:Based out of Luxembourg, and founded by brothers Bert and Rob Boerman, this RegTech startup provides smart technology and support services to facilitate the control of regulated companies. They raised their Series A round this year, Governance.io has established itself as a platform for good governance through the use of technology and support.
Deployed at-premise or in the cloud, the solution allows all stakeholders to collaborate on data, documentation, and workflows. It also provides a white-labeled client portal to exchange data and collaborate on meetings and due diligence questionnaires.
A network of governance supports clients that can provide hosting, operational support, regulatory advisory, and other support services.

2. Advanced logic analytics:
This UK based startup was founded in 2015. Riding on new age technologies, ALA has established a stronghold in the Compliance sector. It offers enterprise-wide big data and financial analytics solutions for buy and sell-side institutions and other financial firms. Their data science-led business offering and AI driven algorithms bring alternative data insights for financial institutions. By using machine learning-based analytic techniques, ALA develops and apply risk calculations. Communications and other source data are scored against a series of Key Risk Indicators (KRIs) to quickly pick up on any issues that could cause problems.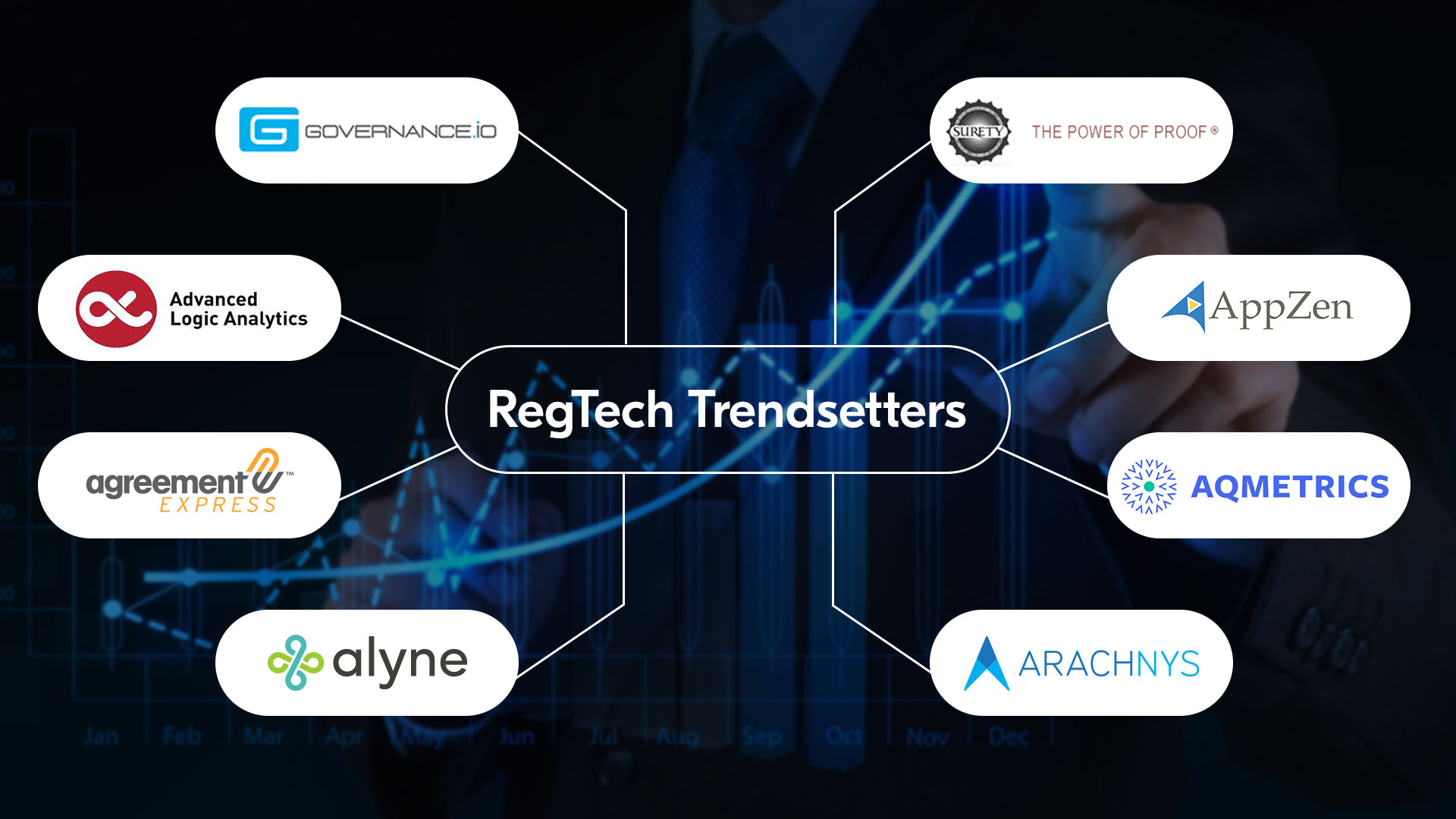 3. Agreement express:
Agreement Express provides onboarding automation software for financial services. Their platform allows wealth management and payments companies to deliver customer application, approval, and onboarding services across their offerings. They provide seamless integration to the back-office for compliance and risk workflows which is one of their most sought-after features.
4. Alyne:
The differentiating factor for this Munich based startup has been the market it caters. Alyne offerings include cybersecurity, risk management and compliance capabilities across all industries of all magnitudes. They call themselves "Business focused Software as a Service".
5. Surety:
Surety caters to a niche segment of Regulatory Technology. They provide technology to protect the integrity of digital information using cryptographic time-stamping service. They are also one of the prominent providers of regulatory services such as IP protection and digital footprint preservation. Surety sanctions users to apply tamper-proof digital "Seals" to almost any form of electronic information. They are easily deployable across enterprise or cloud, providing long-term and independent proof with the guarantee that the information hasn't been tampered since.
6. AppZen:
Appzen is an extremely impressive AI platform that utilizes machine learning to audit contracts, expense reports, and invoices. It integrates with all major ERPs, invoicing software, and expense automation products. This six-year-old startup is valued at $175 million and has recently raised $35 million in its Series B round. Appzen enjoys clientele such as Airbnb, Amazon, Citi Bank, Salesforce, Intuit, and 650 major organizations.
"The goal is to address all the domains in the CFO organization," AppZen's Chief Executive Officer, Anant Kale said in a statement.
7. AQMETRICS: 
AQMETRICS provides GRC (Governance, Risk & Compliance) software for financial services firms trading on the global financial markets. Headquartered in Kildare, Ireland (EU), AQMETRICS has raised almost $3.3 Million in investment so far. They specialize in providing unified market surveillance and compliance solutions to investment management companies. AQMETRICS serves a suite of cloud-based solutions and supports a full range of global regulatory reporting.

8. Arachnys:
Arachnys' vision is focused on exploiting the evolving markets rather than already lucrative ones because they believe emerging markets, which are often fragmented and poorly organized will see an explosion of business information. Unlike their RegTech counterparts, Arachnys, therefore, targets the Eurasian market more extensively. Their primary emphasis remains attractive markets like China, India, Russia, and the Middle East.
Arachnys domain expertise caters to Customer Risk Evaluation lifecycle by using cutting-edge technologies such as Robotic Process Automation, Machine Learning, Intelligence, and Natural Language Processing.
Their products are specifically tailored to serve a diverse customer base and are extensively customizable.
2. Artificial Intelligence:
In the early days of banking, bankers used to have personal connections with their customers. Each step of the banking process involved customer-client interaction. But due to the digitization of the banking process, this personal connection has been lost. So, is it possible to leverage the same technology to get that human interaction back?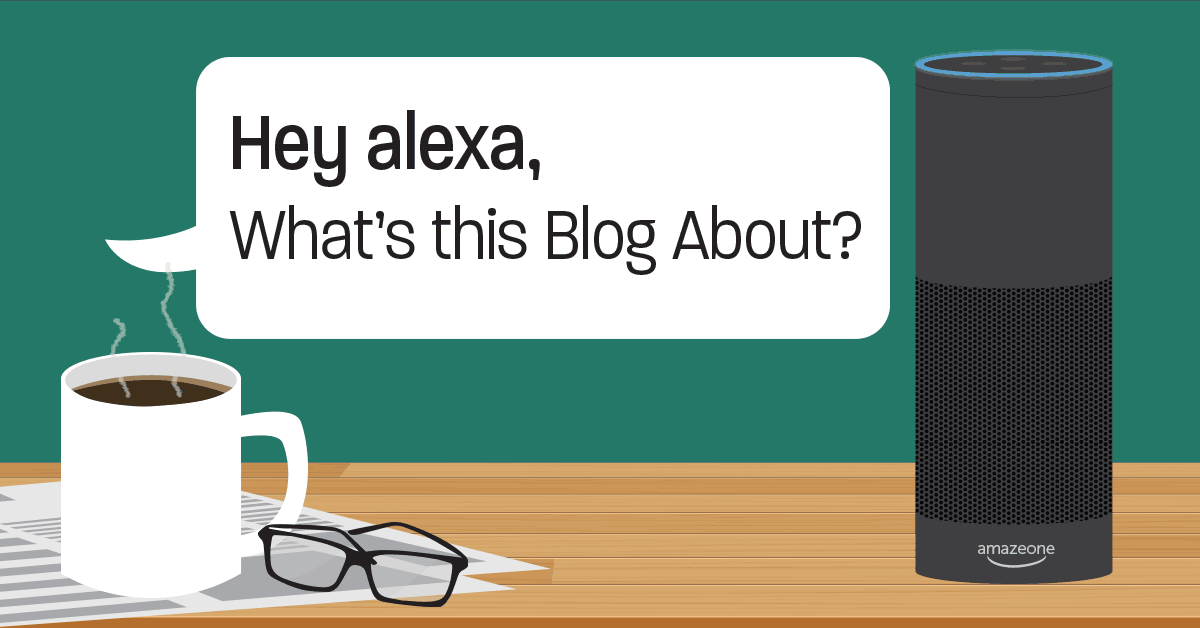 Many believe, A.I can be leveraged to bring back that connection.
Artificial intelligence (A.I.) will continue to govern FinTech in new ways. In 2020, we could see companies use A.I. to develop new commerce interfaces, with the number of companies looking into voice set to increase.
Let's delve into the potential use-cases of A.I:

• Credit Scores:
In traditional banking infrastructure, there were a lot of customers who were underserved and ignored. They couldn't apply for a loan because they didn't have a credit score. Many startups have stepped up to bridge that crevice.
Various applications are coming up to assist customers who want to apply for a loan but have no credit history for the bank to review. Many tools and technologies such as Psychometric Analysis, Behavioral Detection, Predictive Analysis, and mining of the borrower's data through the web, social media, geo-location and even browser history are being deployed to ensure a detailed evaluation of the potential borrower. These technologies let banks build a vivid picture that allows them to evaluate whether a candidate is creditworthy.
• Security and Fraud Control:
The banking sector is the single most targeted area by hackers and fraudsters for obvious reasons. This anomaly allows for the development of some of the most innovative and hi-tech solutions in this realm. Machine Learning, Natural Language Processing, Optimized Algorithms, and numerous other tools and technologies are being deployed by financial firms and new-age startups to address this issue. Many A.I tools have also come into use to analyze and observe user's critical behavioral patterns and issue warnings in case of possible security infringement. Due to these developments, it was observed in the Q3 that consumers are increasingly becoming more at ease at using A.I-driven applications and digital payment gateways to carry out their financial transactions.
• Customer Support Automation:
Time and again it has been witnessed that most of the customer-facing processes are becoming obsolete by every passing day. They are being revolutionized by the advent of Chabots and Virtual Assistants. It could be easily figured out as to what exactly is driving that trend. Automation of customer-facing services address one problem that has always costed companies in billions of dollar – Human Error.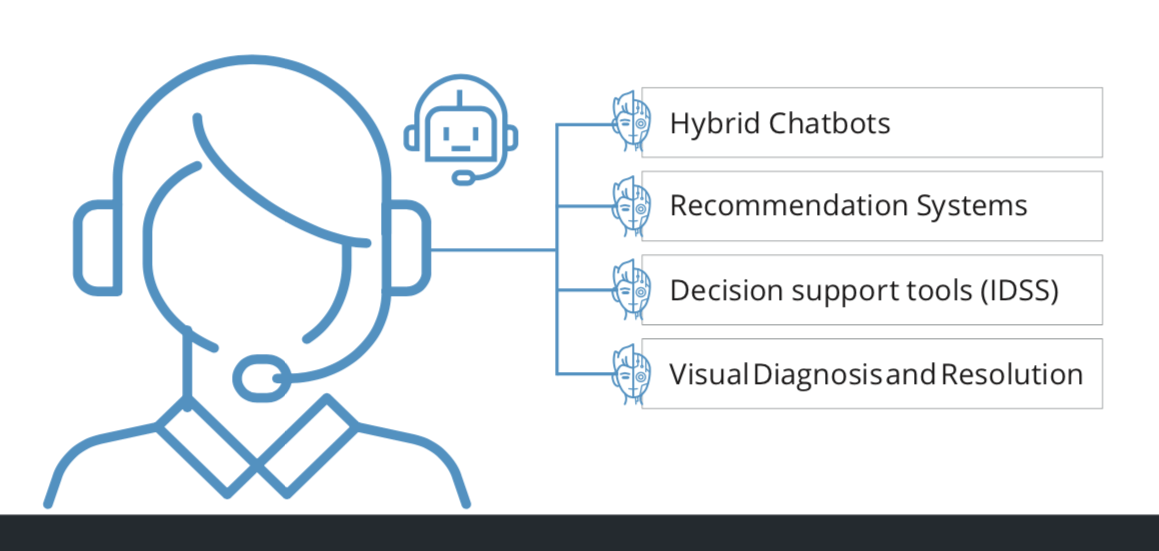 AI-driven platforms utilizing Natural Language Processing (NLP) are turning more human than ever. This combined with no possible error in delivery makes it an ideal fit. Chatbots can not only answer customer queries intelligently, but they can also be integrated with social networking sites, and accept requests for applications and orders directly from social media channels.
Gartner prediction for 2018, projected more than 2 billion people would be diligently using conversational A.I to interact with virtual assistants on different platforms. The outcomes clearly surpassed the forecasts.
Recommended Read: 7 Tips for Starting a Fintech Company
3. Blockchain will venture beyond Bitcoin:
The much-hyped technology upon which Bitcoin and other cryptocurrencies are based – The Blockchain, is all set out to venture beyond Bitcoin and will serve various other markets and domains. Keeping in mind the potential of Blockchain, several banks and financial firms have planned for considerable investments in the domain. Many companies have rolled out pilot programs across a range of industries, including – financial services, healthcare and even global logistics. Earlier in 2018, several banks in Asia conducted a pilot in which Blockchain was used to transfer funds across continents in a matter of few seconds.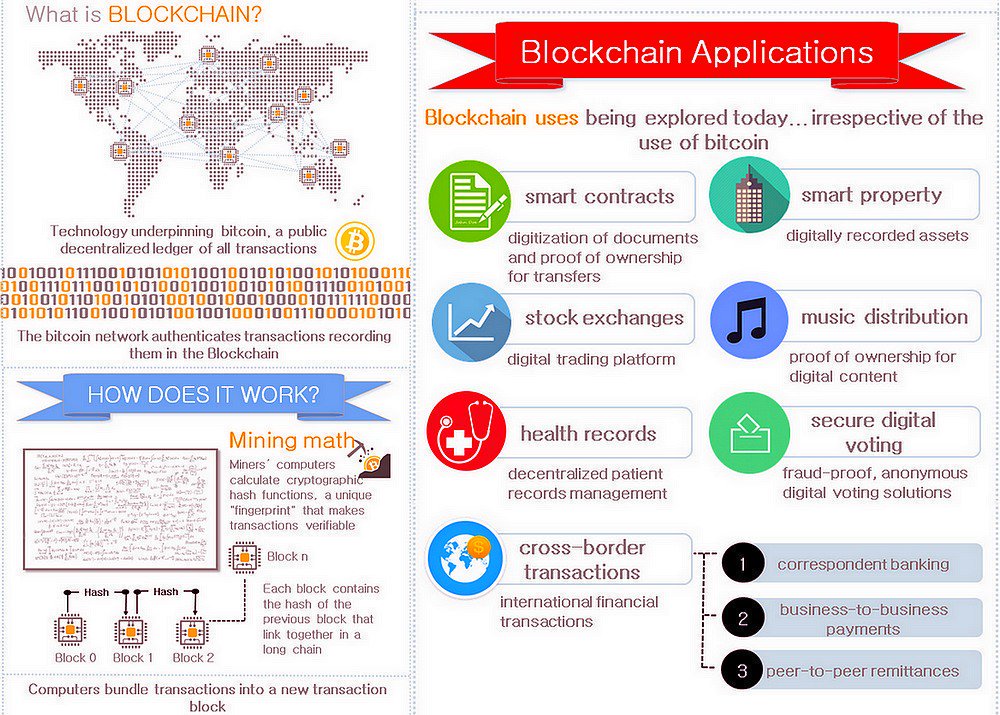 The following could be the potential use cases that can come into light in 2020,
1. Weapons Tracking:Blockchain could help tremendously in gun control and weapon accountability. This could easily be one of the single most significant reform that could change the entire state of firearm distribution. And gun control being such a trending topic on almost every new network. Blockchain could create a completely transparent and never-changing registry ledger that allows law enforcement to track down weapons and guns ownership. It could also be utilized to keep a record of weapons sold privately.

2. Digital Voting:If you are worried about booth capturing or voter fraud. Then Blockchain will offer you a sigh of relief. Blockchain would offer the ability to vote digitally and at the same time be transparent enough that any regulator could see if any irregularity or fraud transpires. The decentralized nature and its immutability would ensure your vote truly counts.

3. Digital IDs:
Digital IDs with the help of Blockchain would be a boon for the impoverished and developing nations by giving them access to financial services. Tech giant Microsoft is already planning to venture into the domain by creating digital IDs within its Authenticator app.
4. Real Estate:
Since paper trails are frequently a source of confusion, it is entirely possible that Blockchain will take paper out of the equation. So, if one plans to buy or sell land, a house, or even a car you'll just require to transfer the title. Thanks to Blockchain these titles will get stored on the network allowing for a crystal clear picture of the legal ownership.
5. Record keeping of medical records:
Patient privacy would be utterly discreet by the introduction of Blockchain in the pharmaceutical sector. The patients who possess the key to access these records will be in complete ownership of their data and will control who can access or view that data. Thus strengthening the HIPAA laws that are designed to protect their privacy.
6. Managing IoT (Internet of Things) networks:
Many networking corporations have announced that they are working on a Blockchain based application that will monitor the Internet of Things network. Such an application would help determine the authenticity of the devices on the network and would continuously do so for devices entering and leaving the network. This could drive a significant shift in device-to-device integration.
Recommended Read: How is BlockChain Revolutionizing Banking and Financial Markets
4. Financial Inclusion:
In the largest ever gathering of FinTech firms in Singapore, Indian Prime Minister, Narendra Modi introduced attractive policies and plans to invite investors to the Indian landscape.
"I say this to all the FinTech companies and startups: India is your best destination," said Modi, the keynote speaker at the Singapore FinTech Festival.
In Nigeria, FinTech startup NetPlus has come with a solution that provides simple and reliant digital payment system to the consumers. So, consumers of Nigeria who were generally skeptical when it comes to e-commerce, have embraced the platform.
Developments such as these are proving to be an excellent boost for evolving markets such as India, Brazil, Nigeria, Indonesia, and several others. Earlier when the FinTech hubs used to be just San Francisco, Singapore, and London, such developments are driving investors to these huge rewarding markets. This shift in the market will gain significant traction next year and developing nations would possible see tremendous growth in investments across FinTech and RegTech. Also, several financial establishments are planning to open up new premises in these countries which definitely suggests what is expected to come our way in 2020.
---
Wrapping up
My prediction for 2020:
It is big, It is growing, and It is disruptive.
FinTech would be the second-most significant transformation in Finance, since the first permanent banknotes. I believe, Financial Technology would not only disrupt the way we purchase and invest, but it would also alter the very definition of money itself.
FinTech 3.0 is upon us and banks, and financial firms will enjoy a roller-coaster ride riding on the FinTech wagon.  2020 will be the year of banks acquiring FinTech firms, or waiting for their slow demise. Those who catch the FinTech train would bolster, and the rest would be gasping for air.
After all, it is true what they say – You snooze, You lose.
EngineerBabuteam excels in creating fintech products utilizing the latest tech stacks. This is why so many of our clients have gone on to acquire record funding from renowned investors. One such dear customer of ours, BankOpen, a neobanking platform, recently raised $5M in Series A led by Beenext, Speedinvest, and 3one4 Capital. We possess solid domain expertise in developing FinTech products. Feel free to reach out to us for a free consultation.
What do you think of this article? Feel free to drop your comments in case you have any suggestions or queries. We'll get back to you with 24 to 48 hours. 
---
Handpicked Content for You