It was in 2019 at WWDC when the Google finally announced the most awaited version of the Android OS, 'Android Q' (now Android 10). Now, the Android 10 is live and developers, users, critics are all gathered to discuss its new features and which is better Android 10 or 9? Both Android users and app developers have started questioning, Android 10 vs Android 9; Which one is better and why?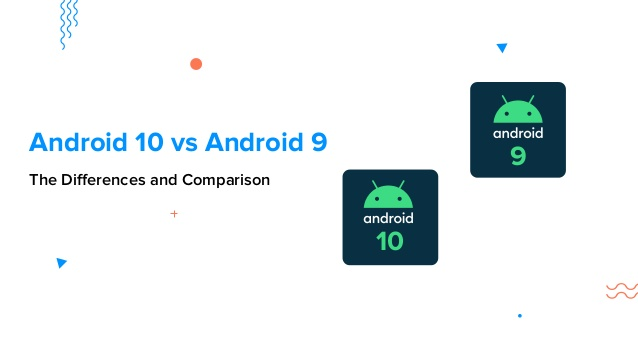 Source: www.slideshare.com
Almost every year, the Android OS gets some new features and updates and the users upgrade their smartphones to enjoy the latest version. There's always a buzz in the Android developers' community about the release of a newer version then comparing it with the previous version. This makes Android 10 vs. 9 a topic of discussion. Android developers and users have a lot many hopes with every new version released in terms of speed, UI/UX, settings, themes, privacy, and other features. 
A lot has already been said about the Android 10 features and how is it different, today let's get into the battlefield of Android 10 vs, 9 and compare the two latest Android OS versions. We are going to dissect each and every feature and do the detailed comparison between Android 9 and 10 and come to a conclusion on who wins the Android 10 vs. 9 war. 
Android 10 has now been released and people around the world are going crazy about its exciting features and updates. While some of the tech experts consider it as one of the best Android OS version till date, some find some of its features unnecessary and consider Android 9 to be better than Android 10. Android 10 vs.9 is a popular debate among the tech-savvy and the critics. To give you a clear view of which version of Android OS is better in Android 10 vs. 9, here we are going to compare both the versions of Android feature-wise and come to a conclusion.
1. UI Designs and Themes:
Though Android 9 UI came up with added colors, Android 10 took it to the next level with its 'Dark Mode'. It can be turned on and off at any time making it easier for the android users to switch modes. Dark Mode is like the cherry on the cake, it is the topmost features that distinguish Android 10 from 9. Gone is the time when phones were just used for the purpose of talking, today, we have 'smartphones' and we spend a big amount of time scrolling through different apps and consuming different kinds of content.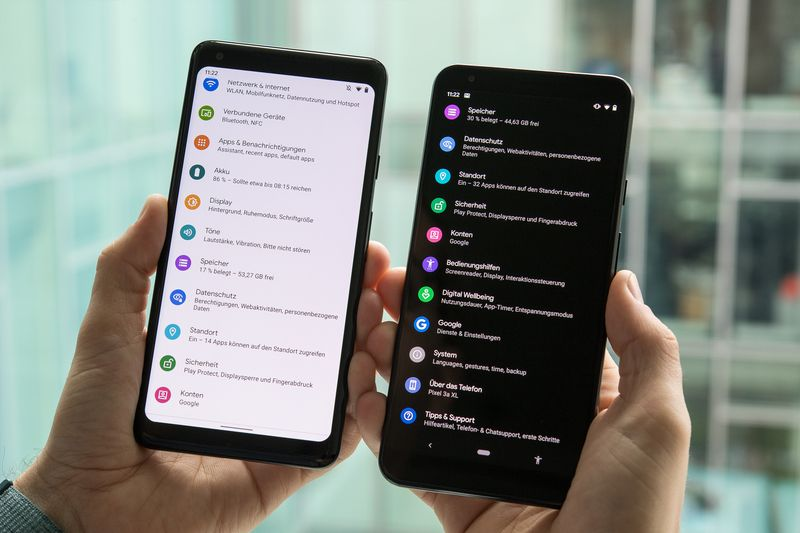 Source: www.thestar.com
It has been made mandatory for android developers to incorporate the dark them in the app development. Google has also created a new API for the same. The Dark Theme takes care that the users' eyes do not get too much pressure. It enables users to glare at the screen in dark black color with content written in white. Hence, it prevents users from affecting their eyes while spending hours on their devices. When it comes to UI designs and Themes, Android 10 has clearly got an edge over Android 9.
2. Gesture Navigation Controls:
A major innovation that has taken place in Android 10 in comparison to Android 9 is of gesture-based navigation. 'Home Button' has been replaced in Android 10 from the device's hardware and in place of that, faster navigation gestures are introduced. For example; to switch between the current app and the previously used app, all you have to do is swipe up and hold, and then slide your finger left or right. Isn't it cool? There are more gestures like this which makes the navigation quicker for the users. For multitasking, users can swipe up and then press down on the device's screen for a moment. Apart from making the users function the device faster wit

h Gesture Navigation Controls, they also offer a new look to the home screen.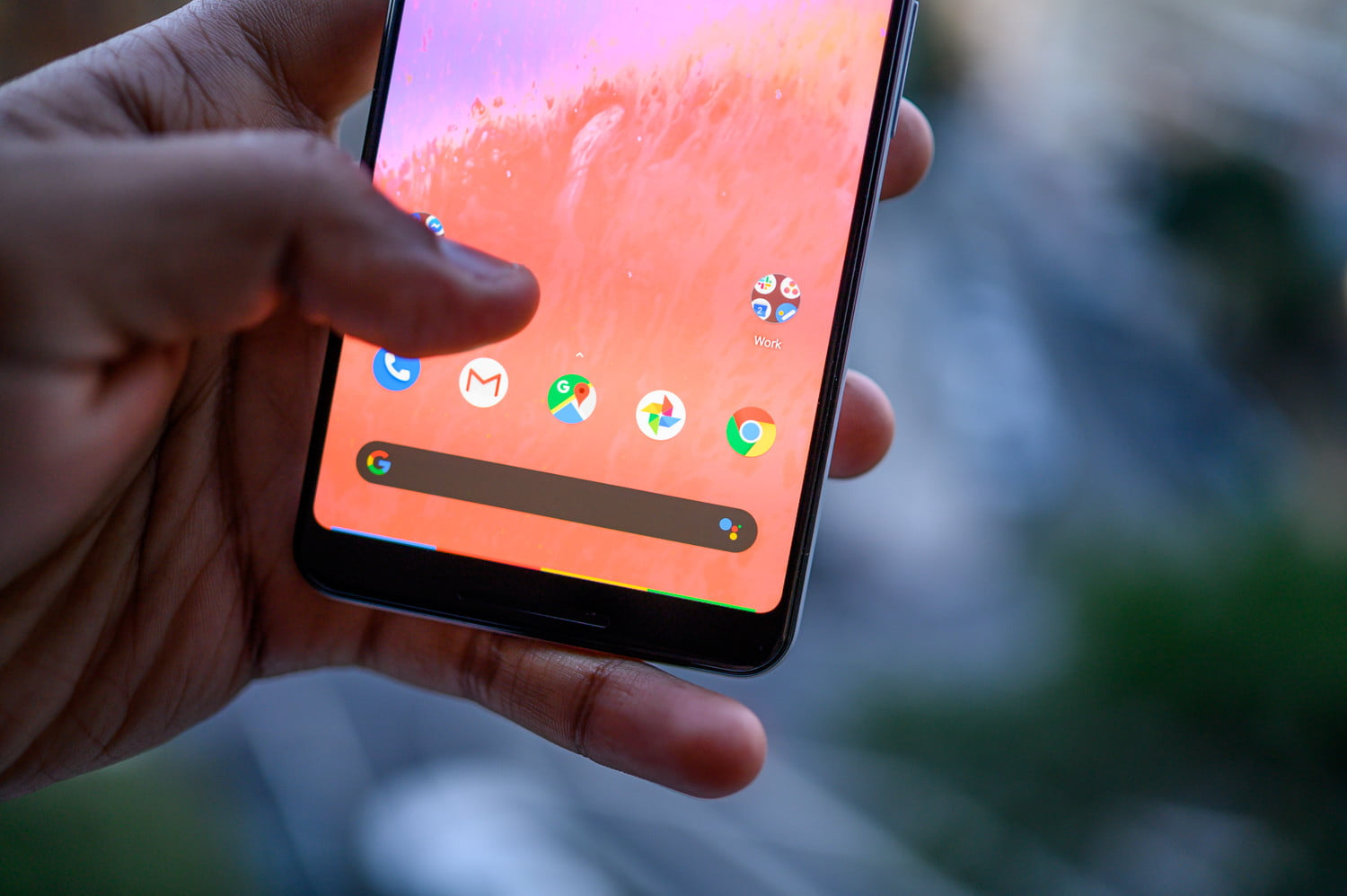 Source: www.digitalbarker.com
3. Privacy and security:
Google has made it to introduce better privacy and security options in Android 10. Android 10 beat up Android 9 in android 10 vs. 9 debate with its dedicated Privacy section in the settings app. Apps would now require to seek permission for things like location, calendar, contacts, camera, and microphone. Hence, apps cannot access any data without the permission of the user. 
In addition to this, access to Wi-Fi, Bluetooth, and other connectivity options won't be possible without users' permission. Android 10 users can decide if they want to make their location accessible to third parties or not through the location-access permission option. To take security to another level, the Biometric API enables applications to employ the functionality of fingerprint and facial authentication.
4. Notifications:
While in Android 9, you have to pull down the screen to check the notifications, they float across the screen in the form of bubble chat heads in Android 10. The notifications appear pretty much like Facebook Messenger chat heads that float across the screen and you need to tap on the bubbles to open. Though the bubble chat head notifications allow you to multitask by performing other tasks while attending these notifications, yet Android 9 notifications were smarter, more powerful, organized, and the "reply" feature inside the notification bar makes it easy for users to respond without even opening them.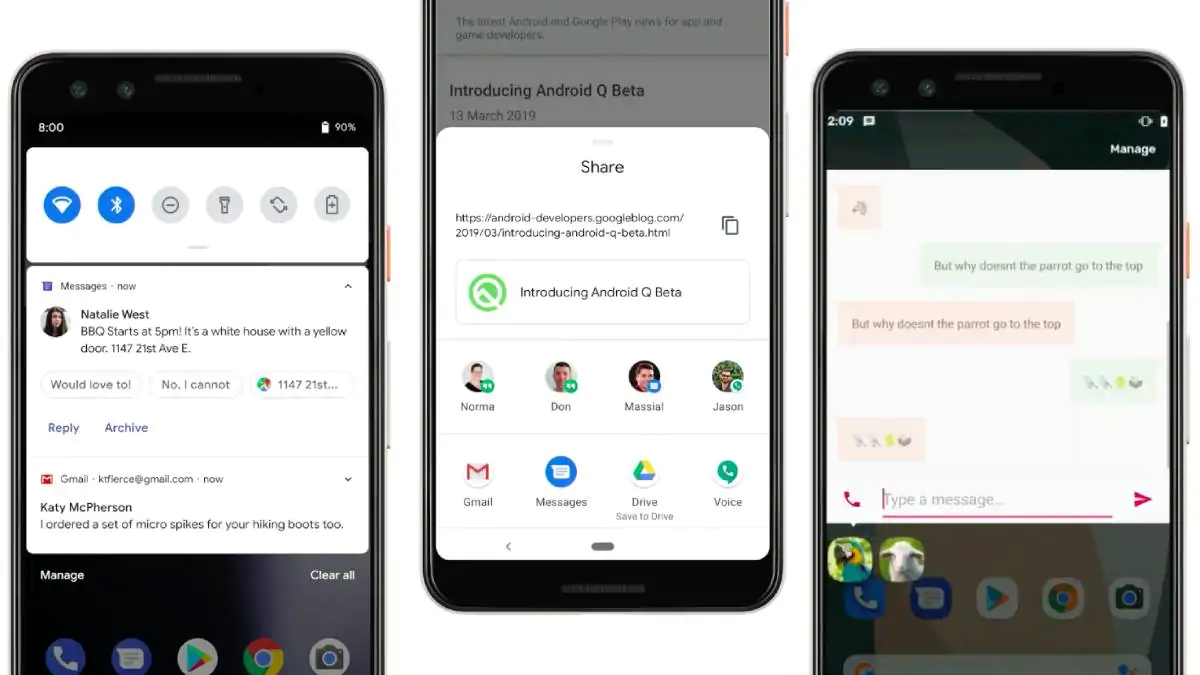 Source: www.google.com
Android 10 allows the users to set notifications to Silent or on Alerting mode when they want. By customizing Settings Apps & notifications the users can custom notifications further. But the facility to view images, stickers, and media in the notification bar before you open a message and the in-line reply makes Android 9 smarter and easier to use. So, in Android 10 vs. 9, Android 9 is the winner in terms of notifications.
5. Smart Reply & Emoticons:
When considering messaging functionality of Android 10 vs. 9, Android 10, has come up with the facility of Smart Reply and Suggested actions with emoticons. It is similar to the reply suggestions you get on Gmail or LinkedIn. For example; if your friend asks you, 'How are you?", your smartphone will suggest you reply with a thumbs up or a smiley. By using an algorithm, the Android OS version 10 suggests a quick response to your emails and text messages. With this, you can reply smartly and quickly by just selecting instead of typing it. The 'Smart Reply' feature is very useful when you're busy but you also need to reply. 
If we consider emoticons in Android 10 vs. 9, Android 10 has enhanced its user's experience with emojis to the newer level. While Android 9.0 Pie has introduced 157 new smile emojis, Android Q has a brand new stock of emoticons of people from different professions, and an addition to foods and animals emojis. One of the subtle changes has been made in the emojis in the newer version to make them appear gender-neutral. Android 10 is no doubt the winner here in Android 9 vs. 10 due to its Smart Reply and improvised emoticons.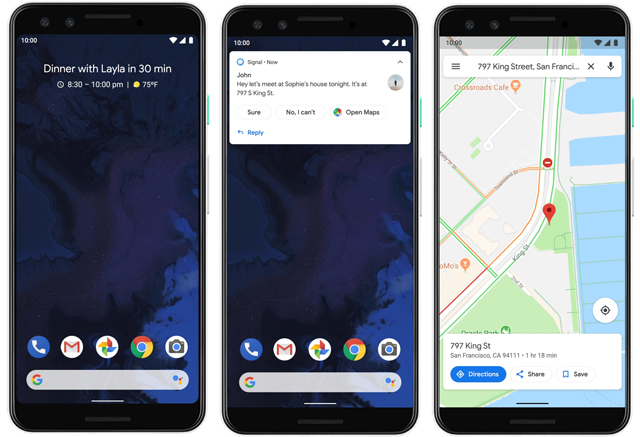 Source: www.techlicious.com
6. Battery Consumption
Over the last few Android updates, Google has tried to let the system consume less battery especially when the user isn't using it. Better battery optimization was a point of upgradation before Android 9. But Android 9 solved the problem with its 'Automatic brightness adjust' and 'Adaptive battery' functionality. These features improved battery levels of android 9 smartphones. 
Android 10, on the other hand, has got the dark mode and an upgraded adaptive battery setting which makes the system consume less battery. Apps that you rarely use have the most basic of background permissions and consume battery. The feature of request for permission prevents those apps from consuming your phone's battery. So, comparing the two, we can say, Android 10 has a longer battery life than its predecessor due to its updated battery optimization features.
7. Fast Share:
One of the major accomplishments of Android 10 is that it has replaced Android Beam with Fast Share. The Fast Share feature employs the combination of Wi-Fi Direct and Bluetooth to create a connection to transfer files faster than in Android 9.0 Pie. Hence, Android Q secures higher points when you compare Android 9 vs 10 performance. Though android 10 lacks the NFC peer-to-peer sharing method when the two devices are nearby which takes place through Android Beam.
8. Digital WellBeing:
In Android 9, the Digital WellBeing feature lets you know how frequently you use various apps. It tells which apps we are spending most of our time on and helps to curb away from the addiction. The same feature is further enhanced in Android 10 by the new feature of 'Focus Mode'. It enables users to turn off distracting apps while working and maintain their productivity. Users can pause some apps for a particular time so that they don't get distracted. This way, they won't receive any notifications or would be able to use the app in that period of time. Focus Mode makes Android 10 more 'digital wellbeing' than Android 9.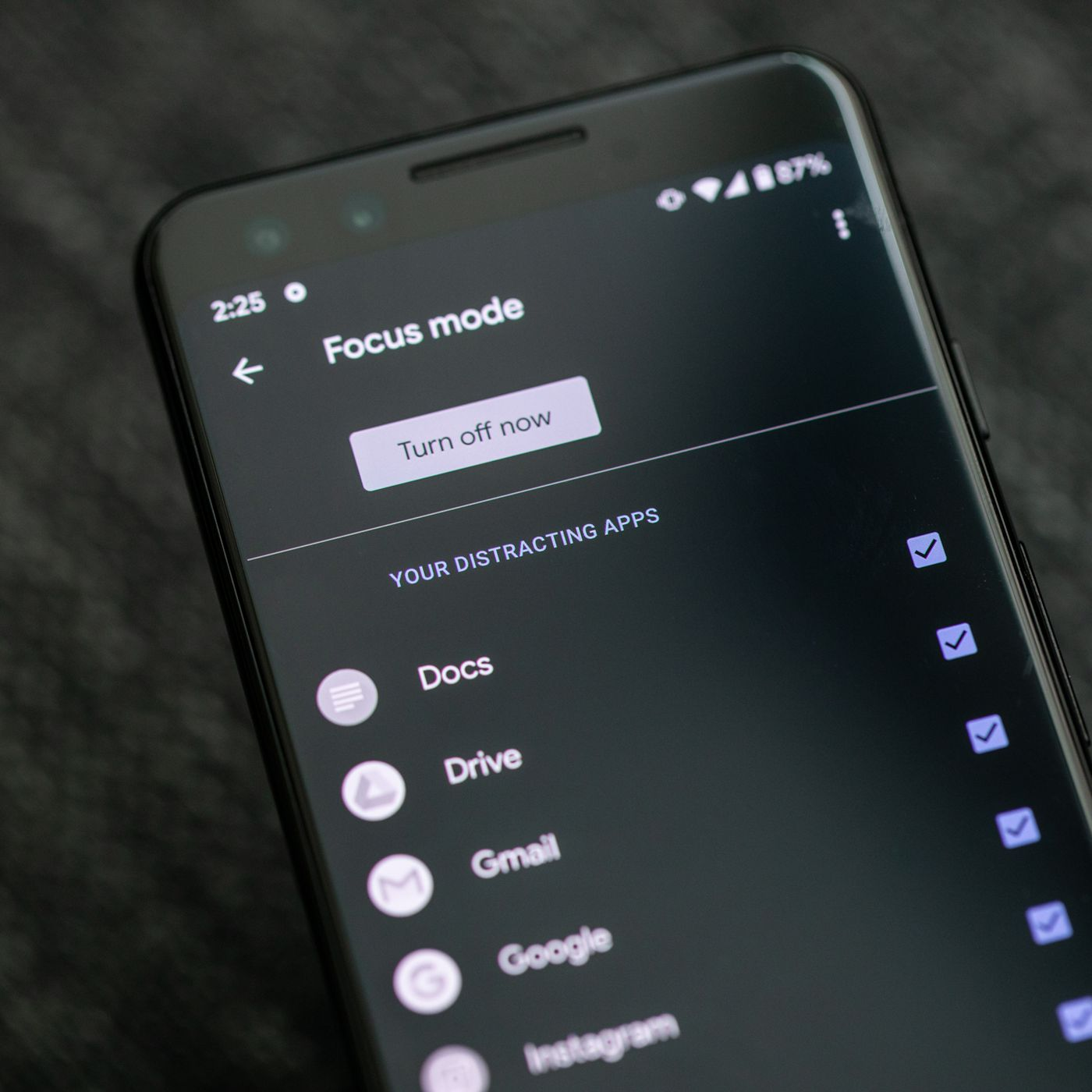 Source: www.theverge.com
9. Bluetooth, WiFi, and Other Connectivity Options:
Android 9 has brought the unique functionality to connect 5 different devices and switch between them in real-time. Android 10 has simplified the process of sharing through WiFi without sharing the password. It has also got you a shortcut to access network settings. An additional feature of Android 10 lets you create a QR code for your Wi-Fi network or scan a QR code to join a Wi-Fi network. Another connectivity feature is the 'Adaptive Wi-Fi,' which enables seamless connectivity. This WiFi feature is very useful at the time of playing online games or making online calls. It prevents the lags and provides a better experience to the users. Hence, these upgraded connectivity features mark Android 10 to be a better version among the Android 10 vs 9 debate.
Android 10 Exclusive Features: 
Now, let's check out some of the new features of Android 10 update which are exclusive to Android 10 giving it an edge over Android 9 and leading the Android 10 vs. 9 war game.
Another feature of Android 10 that has excited the android fans is the Foldable Phone Support feature. This feature clearly makes it accessible on foldable phones like Samsung's Galaxy Fold. This has widened the doors of opportunities for Android mobile app development for android developers.
Accessibility on Desktop:
In the list of Android Q exclusive features, 'Accessibility on Desktop' is one of the finest features that beat the previous android versions. There isn't any further need to explain this feature as it is clear by its name, it lets users connect their devices to desktops and access its characteristics. This feature has provided users with better user experience but made it a little difficult for developers as now they to rework on their strategies accordingly.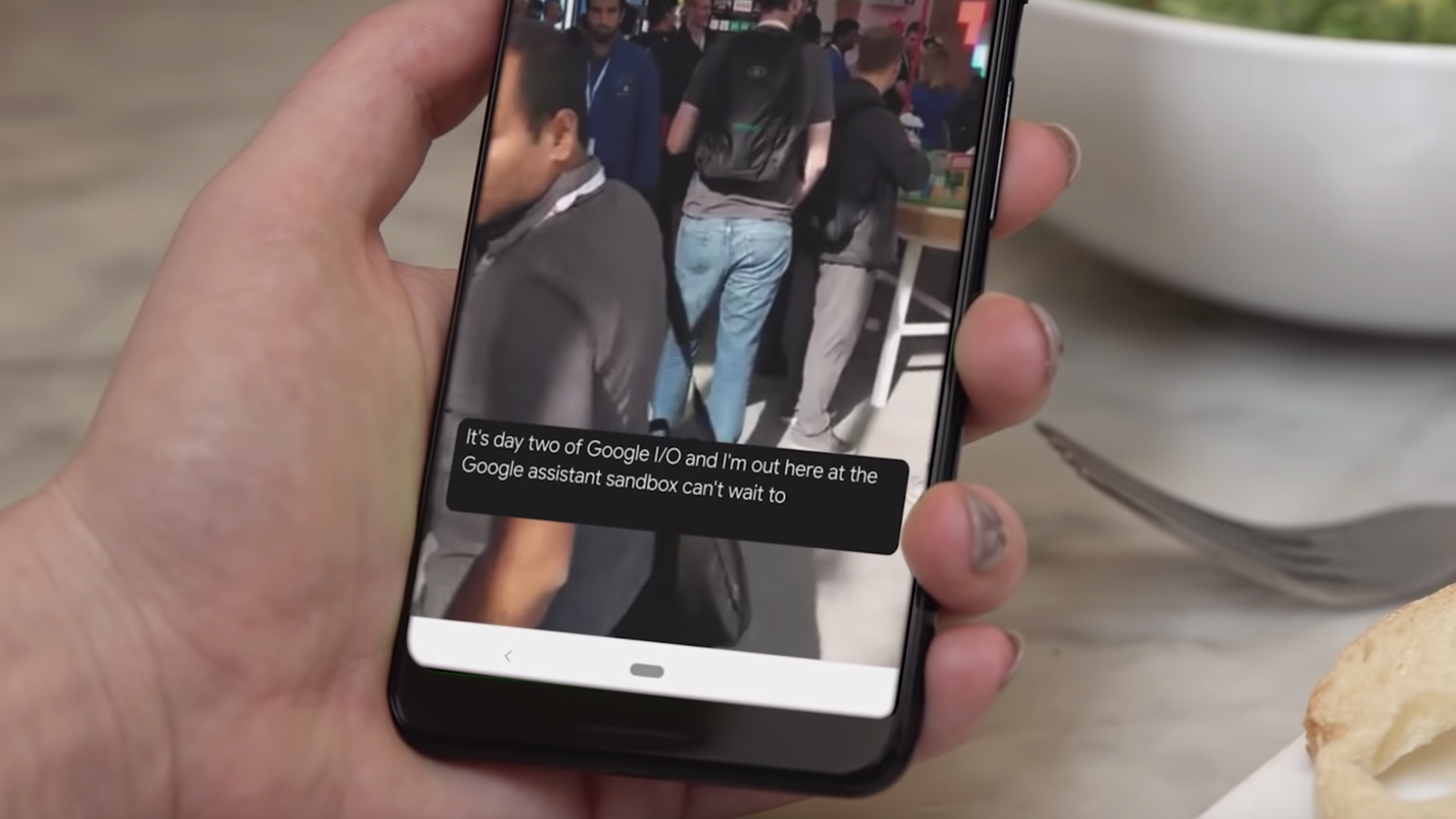 Source: www.techradar.com
With Android 10, the feature of Live Caption has come into play. If you are someone who streams videos or podcasts, this feature is for you. With this feature, users can access automatic captions for all the media files, including audio messages, videos, and even podcasts. And what makes this feature even more special is that it is available in the offline mode as well. 
We often delete an application mistakenly then regret it. Well, Android 10 saves us from the regret by its 'Undo App Removal' feature. With this feature, you can simply undo the action and boom, you have got the app again. Hence, the latest Android Operating System version 10 reduces the hassle of searching and then reinstalling the application from the App Store.
Incognito in Google Maps: 
Another feature that marks Android 10 the winner in Android 10 vs. 9 war is the Incognito feature in Google Maps. Yes, you read it correctly, with android 19 you can actually operate Google Maps in the incognito mode. This exciting and useful feature allows you to search and navigate places privately without having any data linked to it. Isn't it exciting? Next time you visit someplace secretly, use the Google Maps in Incognito mode so that you don't leave any history behind.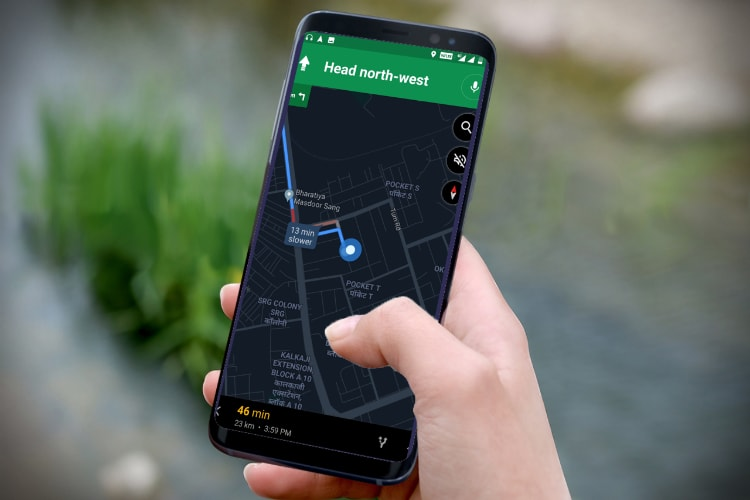 Source: www.google.com
Android 10 Features for Enterprise Users:
The features we discussed till now were focused on the end-users, now let's check out what Android 10 got in its plate for Enterprise users. With Android 10, Google is taking care of the employees by coming out with more and more useful and helpful features for the employees. They are enabling them to work smarter and enhancing their productivity by features like 'Focus Mode'. Additionally, with Android 10 features, Google also focuses on making IT more reliable and ready for a variety of cases that their businesses would workaround. Android developers are hoping for even better updates in the upcoming versions of the OS to make the functionality smarter, faster, and smoother. For that, we need to wait for the next release by Google, till then let's enjoy the amazing features of Android 10.
Here are some Android 10 features making it easy for enterprises-
1. Greater Privacy for the employees:
With Android 10, enterprises can assure productive work hours by providing the employees with company-owned devices during the office with a zero-touch enrollment. The employees can take advantage of it by doing some personal on their work devices and enjoying greater privacy. Hence, it is a win-win for both the boss and the employee.
2. Greater Security: 
Android 10 offers greater security to enterprises with around 50+ privacy and security amendments. The best thing is these amendments are intended to benefit both the enterprise and the employees. Blocking the installation of personal usage apps on a work profile, enabling TLS 1.3 networking protocol by default, setting a private DNS server to avoid leakage of URL queries, are some of the features.
3. Easier Work Management: 
Android 10 comes with a number of smart features making it easier to manage the work-life balance; for example– the 'Smart Reply' feature allows you to reply to text messages smartly from the notifications window only. 'Live Caption' feature provides employees with automatic captions of videos on their device, making it easy for them to follow video conferences. 
Conclusion:
After doing the feature-wise comparison of Android 10 vs. 9, Android 10 comes out to be the winner with all the new exciting features. Still, if you are not a heavy user, Android 9 is a delight with its simple but powerful features. When it is about the technicalities, Android 10 surely beats Android 9 in the Android 10 vs. 9 war but when it is about choosing the OS version for your smartphone, it's totally based on the end-users, what kind of features you need based on your use. Both of the versions withhold some of the topnotch features and are equally good to use with Android 10 having an edge due to dark mode, focus mode, smart reply, and gesture navigation features.
If you are looking for android development then you can hire dedicated android developers from EngineerBabu, we have a team of robust developers who give more than the client's expectations. Having an idea? Want to discuss? Reach out to us now and get started on your journey of app development.