Recooty: Gartner Rated #1 Job Recruitment Software of 2019
If you have any friends in the HR department, you would know how stressful their lives are! It's crazy, the number of resumes they handle per day, going through enormous bundles. They hunt for the right candidates for job recruitment in the profiles that their companies are seeking candidates for.
What if we told you, that there's an applicant tracking system (ATS) software with registered recruitment agencies for all kinds of jobs. From 'work from home jobs' or 'part time jobs'- the ATS job recruitment software has it all! For employees, it means no more Googling 'jobs near me' or 'free sites to post a job'.
ATS is a cloud-based program. The basic function of these applications is to electronically automate job postings on multiple job boards. Then, filtering applications, shortlisting, interview scheduling and hiring!
In this article, we will introduce you to Recooty, one master app to resolve every hiring related issue– from posting jobs, reviewing applications, scheduling interviews and hiring- all at one place.

We will even tell you the story behind how the founders built Gartner rated number 1 Job Recruitment Software of 2019. At present, there are 4000+ registered global companies on Recooty and it already has 20,000+ posted jobs. Till date, 1,50,000+ resumes have been received.
---
What exactly does Recooty do?
SaaS Solution for Hiring
Recooty helps startups and SMEs in automating their entire hiring process. Their team has been working hard to make the lives of every hiring team easier than ever!
It's the world's easiest Applicant Tracking System! From the hiring side, companies or individuals can receive and review the candidates' applications. They can then call the shortlisted candidates and schedule interviews with, thus simplifying the hiring process. Recooty supports 6 languages, including- English, German, French, Italian, Spanish and Hindi. 
All-in-one job recruitment software for companies
Recooty is more than just an Applicant Tracking System! It has a branded careers page to publish all the current openings easily. Recooty has even collaborated with Google Job Board. That means all the jobs posted using Recooty will automatically be visible on Google once approved.
---
The process to post jobs on Recooty is as simple as changing Instagram bio!
To begin, sign up and once your account gets verified, select 'Add Opening'. Then, enter Job Title, Job Description, Required Skills, and other mentioned details. Within a single submission, users post it to the most relevant channels by selecting 'Publish Job' and the job gets automatically posted!
The company can add comments about the candidates. The next step is to shortlist those who can be great fits. You can also add the contacts/applicants who have applied for your open positions from different sources on Recooty's Dashboard. To add candidates click on 'Talent Pool' and then click on 'Add Candidates'.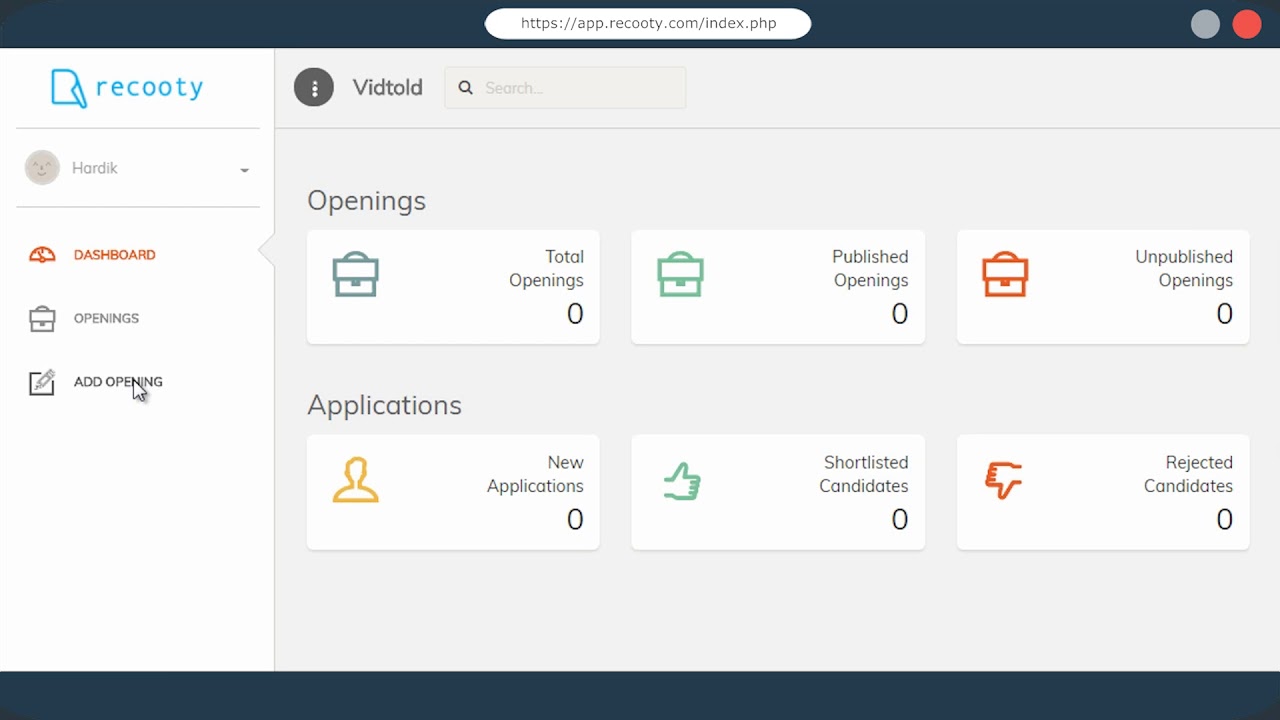 As per statistics, the number of job seekers who will visit a company website if they are interested in working with them is 2/3rd!
Recooty offers a free demo for 15 days with all the features. Also, you can choose pricing plans according to the company needs. Recooty also facilitates downgrading to the basic plan with limited features, in case the users do not wish to upgrade after 15 days.
---
How Did Recooty Acquire B2B Customers in 90 Days?
Avdhesh, cofounder of Recooty, got an idea to solve the biggest problem of startups and companies "talent-hiring".  Working for more than 8 years in the IT industry he figured out team building is one of the greatest challenges. After moving to his hometown, his struggle to find the right tech and marketing talent continued. He used all the best available solutions in the market but struggled to find the right one tool that can acquire talents, filter them out and manage interview hassle. 
"We are on a mission to help this world hire great candidates faster"
–Hardik Vishwakarma, Co-founder
Most of the small agencies, use good excel sheet to manage their candidates and interview process. Other Resumes or Hiring solutions are complicated and HR managers don't like it. He finds the gap in this market and decided to build a simple yet effective, Hiring Engine. helps small & medium enterprises attract, engage and hire great talents easily. 
Let's take a look at some statistics:
| | |
| --- | --- |
| Started: |  2018 |
| Team Size | 8 |
| Paid B2B Users | 4000+ |
| Available in: | US, UK, Germany, France, Italy, Mexico, India, UAE, Singapore, and many more. |
| Jobs Posted | 200,000+ |
| Resumes Received | 15,00,000+ |
| Employees Hired: | 10,000+ |
Were there any hurdles?
Avdhesh being a techie knew, building what customers exactly want has never been so easy and acquiring the right customers was even more difficult. Avdhesh built a great founding team where Hardik played a vital role in building Recooty's powerful brand value globally and Darshna assured the quality of the product is top-notch.
Fortunately, the product was co-created with its customers and that really helped Recooty get massive success. After the beta launch, the team constantly worked on improvements according to their clients' feedback. This made Recooty a full-fledged recruiting software within the 3 months of the launch and one of the best recruiting software within a year. They were looking for a growth strategy where they reached us and we brainstorm together on how to achieve big numbers.
---
Future Expansion Plans:
Recooty is heading towards their 10000+ happy customers! In the future, they wish to integrate the following features in their Saas product-
| | |
| --- | --- |
| Integration with 50+ Job boards | |
| AI Interview(Virtual Interview) | Online Assessment for candidate filtering |
What Helped Recooty Grow So Fast?
1. Partnering with Google, Zip Recruiter, Adzuna and many more:
Collaborations worked out really well! Recooty has partnered with the world's top-most job boards like Google for Jobs, Zip Recruiter, Career Jet, Adzuna and many more that helped it get 10X growth. Any jobs posted on Recooty was immediately visible to all these job partners. 
This helped its customers get 50 times more resumes than ever. Now they don't have to take every job board's subscription, everything was now managed under Recooty. All resumes were coming directly to Recooty, hiring managers were happier than ever, they were able to close faster. This single step helped Recooty acquire 4000+ customers, still, they are getting 30-50 signups daily. 

2. Great Reviews:
Making simple solutions helped them getting HR love, They created a survey and asked "What you love most in Recooty" 290 customers replied "easy to use". Avdhesh believes in simplicity, he is a fan of WhatsApp, apple engineering. When your customers love your product and they can use it without any training they leave happy reviews. Happy customers bring more customers. They also asked their early adopters to leave an unbiased review and get a 1-month free subscription. Which helped them acquiring 62 reviews on Captera, Making them number 1 in the category. Great product with good marketing boost sales.
3. Word of Mouth:
The best marketing is word of mouth marketing, if your product is great and customers love it, nothing could be better than this. One customer referred to his friend, and the journey keeps growing. 
Recommended Reading: How To Set Up An Offshore Development Center In India?
4. Translating in different Language:
Very soon they start getting a request from all across the world, people asked to build a solution in their native language. They knew how translations helped Facebook double its audience from 250M to 500M in the early days. They developed the solution in German, French, Italian, Spanish, Italian and Hindi languages. Which helped them to acquire 2000+ users.
5. Branded Careers Page:
Recooty lets you build your brand, share your vision, and promote your culture with its beautiful & easy-to-use careers page builder. This helped its customers build a powerful employer brand using Recooty.
6. Website Widget:
This is another great feature that Recooty offers. It offers job widget integration on their clients' websites. This lets their customers showcase all their jobs on their career page, they don't need to have a programming language. It's as simple as changing the Insta bio.
---
Take a look at what their customers have to say…
Meet the amazing team of Recooty
---
Beautiful products like Recooty are transforming the way modern professional spaces work. It's innovative entrepreneurs like Avdhesh and his team, who are revolutionizing the approach of millions of customers! Team EngineerBabu wishes them all the success they deserve!
If you need to know more about the development of websites, and cost of building a website… send us an email at mayank@engineerbabu.com.
Cannot wait to get an email response?
---
Recommended Reading for you: